Cunard World Cruise Week One Highlights (Southampton to the Azores)
I travelled around the world in a 12-week trip that started in Southampton UK and ended in Hong Kong. Most of it on segments of Cunard World cruise, first on Queen Victoria and then Queen Elizabeth. This 12-part series covers the journey, experiences and tips – one for each week of the journey.
Week One: Southampton to Ponta Delgada Azores
Day 1 (Sunday 10 January) Embarkation
The first ship to set sail was Queen Elizabeth, which slipped off from her berth at the Mayflower Terminal in Southampton Port just after 6pm. She glided past the Queen Victoria at the City Cruise Terminal, igniting a flurry of camera flashlights from both ships that glimmered though the dark winter evening. A few minutes later this was repeated as she passed the Queen Mary 2 moored at the Queen Elizabeth Terminal. It then slowed down as a four-minute burst of multi-coloured fireworks erupted next from a barge floating in the Solent River. A process repeated for each Cunard ship as they set sail on their world voyages for another year.
Cunard was the first cruise line to provide travellers with the chance to sail around the world in one continuous voyage. This was in 1923 on the Laconia. Some 175 years since the line was formed, their entire fleet, which at the time of writing consisted of three, set off from Southampton on January 10th on world voyages that return there four months later.
In 2016 the Queen Mary sailed around South America before crossing to Australia, through Asia and then into the Mediterranean via the Suez Canal and home. The Queen Elizabeth sailed down the west of Africa, around the Cape of Good Hope and onto Australia, Asia and Japan before returning. I set sail on the Queen Victoria down to the Azores, Florida, the Caribbean, Columbia, through the Panama Canal and up the West Coast of the United States to Los Angeles and San Francisco before heading to New Zealand and Australia. This journey was two months of the full four-month trip.
Security, Check in and Embarkation
I arrived at the terminal just after 11:30am, dropped the four bags of clothes we had brought. There were so many as we needed items to cover the chilly start of the trip and the later brisk weather in China and Japan (which we visited by connecting with the Queen Elizabeth in Hong Kong) as well as the sunny warmth of the Caribbean, Hawaii and Australia.
Check in was smooth and fast, as Cunard provided times for guests to arrive and made them wait for their allocated slot before progressing to the check-in area. This seemed to have reduced the swarm of people all arriving early hoping to board as soon as possible. There was minimal wait to get through security screening, no line for the check-in and then straight boarding of the ship. I travelled Queens Grill and they had already called these guests to board before we even checked in.
The Grills and Britannia
Cunard have three grades that are defined by the restaurant dined in. Queens Grill has the larger and more premium staterooms, which tend to be located midships and in quieter sections. They have butler service and in addition to benefits like early embarkation and disembarkation, have a choice of free alcohol in the cabin, open seated dining and more extensive menus including the ability to order off menu. Princess Grill is the next grade down and has an open-seating dining room and share some benefits with Queens Grill like the dedicated lounge, concierge and deck. Britannia is the bulk of the ship with cabins include balcony, ocean view and inside and have two sittings for dinner (6pm and 8.30pm).
Queens Grill Q4 Penthouse
We travelled in a Q4 Penthouse suite 7082 on deck seven. This large stateroom is around 500 square feet (including the balcony) and includes a seating area with sofa bed for third or fourth guest, mini-bar and desk. This leads into a bedroom area with walk-in cupboard and an additional desk / dressing table. The bathroom has separate bath and shower, and a room with the toilet and basin. It was stylish, comfortable and a quiet haven to relax and rest in.
World Cruise Sectors
The World Cruise on Queen Victoria lasted a total of four months, divided into seven sectors. These have some significance as follows:
Bills are generated and credit cards charged at the end of each sector. Debit Cards cannot be used and anyone that wanted to pay by cash had to deposit sufficient funds before each sector to keep their on-board account open. The currency on the ship is the United States Dollar.
They are sub-voyages that are sold as individual cruises as each start and end at a possible embarkation and disembarkation points.
Some of the Cunard World Club benefits, such as free Internet allowance, are triggered at each segment. I started the trip as a Platinum member (13 voyages and 131 nights) and so received 240 minutes of Internet for each sector I travelled.
The sectors for the full Queen Victoria World Voyage were:
Southampton to Fort Lauderdale (12 nights)
Fort Lauderdale to San Francisco (16 nights)
San Francisco to Sydney (21 nights)
Sydney to Sydney (8 nights)
Sydney to Singapore (25 nights)
Singapore to Cape Town (20 nights)
Cape Town to Southampton (18 nights)
Day 2 (Monday 11 January) Sea Day en route to Ponta Delgada

The Queen Victoria rose and fell as the seas were whipped up by the winds that raged between 40 and 50 knots from the time we entered the English Channel. Stretching out around the ship the sea looked angry, with swells of up to five metres which lasted all day and into the night as we transited the Bay of Biscay. Movement was constant, and occasionally the ship would shudder as it rose on a wave and slapped back down. Considering the state of the ocean, however, the ship remained remarkably controlled as the navigation team used the stabilisers to reduce its impact.
Just before departure last night Captain Peter Philpott had warned over the public address system that "Many of us who have wintered so far in the Northern Hemisphere will know it has been wet and windy so far, and that is set to continue tonight and into tomorrow as there is a low pressure zone causing gale force winds in the English Channel and first part of the Northern Atlantic. By the early part of tomorrow morning we will start to feel the swells from those as we head out into the Atlantic. Forecast is we will pass those areas of Gale Force Winds all day tomorrow. Do not worry, as Queen Victoria is a well-designed ship. No cause for alarm but you will feel some movement. I do recommend if you are prone to seasickness you take the medication before you retire. The winds will be 25 to 30 knots and forecast four to five metres of swells".
His prediction was accurate.
Seasickness
I felt no effects, and have (to date) never suffered from seasickness while cruising. Prior to embarking I always take medication as insurance, with Sturgeon 15 my preferred option. This is available behind the counter at pharmacies in the United Kingdom. I have also used Dramamine, which is the popular brand sold in the United States which equal success.
Departing from Southampton on a World Voyage in winter makes it essential to be ready for rough winter seas, as the ship has to navigate through the North Atlantic on its various routes. Cunard did provide for those that had forgotten to bring anti-motion sickness pills by offering them at the Pursers office. Once people are physically ill there was another solution, which is to pay for a visit to the Medical Centre for an injection. This is highly effective but cost around $100.
The ship remained busy and the venues and dining rooms were full, so it seems the stability of the modern ship combined with people using preventative medicine was a success. Guests had to remain within the ship as the decks were closed due to the winds, although the rear Lido Deck Pool area was left open for the smokers to get their nicotine fix. This was the only place available for them to smoke as it is forbidden on balconies.
Our suite was midships (Q4 7082) and there was noticeably less movement than at the front and rear of the ship. Something I had not really noticed as much on previous trips. We had considered taking a Q6 at the rear of the ship when first booking the trip, and we're pleased with our final choice to go more on the centre.
Weight Gain (and control)
The first sea day is the time when you have to make some decisions as you get to understand the rhythm of an extended cruise, and appreciate the volume and quality of food available.
Bearing in mind on regular seven-night cruises travellers regularly report putting on at least a pound a day, the risk of piling on vast amounts of weight on long cruises. Crew told me they observe guests expanding in size across a World Cruise at an alarming rate.
It was possible to eat 24 hours a day on the Queen Victoria. In addition to our allocated restaurant opening for breakfast, lunch and dinner, there was room service, Afternoon Tea and the Lido Buffet Restaurant serving continental breakfast from 4am to 6.30am, full breakfast from 6.30am to 11.30am, lunch from 11.30am to 3pm, afternoon snacks from 3pm to 6pm, buffet dinner from 6pm to 11pm and finally late night snacks from 6pm to 4am.
I decided I did not want to put on too much weight, and struggle to fit into my clothes by the end of the trip and so decided to take advantage of following:
Royal Spa Menu Choices: The lunch and dinner menus in the main restaurants offer three course meals (starter, main and dessert) that are calorie and fat light. Lunch menus were around 460 calories for three courses, for example Cream of Parsnip Soup (120 calories and 3 trams of fat), Glazed Salmon with Panache of Vegetables and an Orange and Basil Relish (225 calories and 4 grams of fat) and Fresh Fruit Plate (120 calories). Dinner menus were around 570 calories, for example Fruit Coupe (80 calories), Monkfish wrapped in Napa Cabbage with Stir-fried Carrots, Steamed Rice and Ponzu Sauce (320 calories and 9 grams fat) and Chocolate Kahlua Cake (170 calories and 6 grams of fat).
Fitness Centre. I visited the complimentary fitness centre every sea day to do a mixture of cardio and weight training or attend one of the classes. They offered on sea days a 45-minute cycling class at 9am and a 30-minute body sculpt circuit class at 4pm. These are fairly costly, however, at $12 (cycling) and $30 for circuits, with discounts for packages available. There were also complimentary abs and stretching classes. The ship was, however, moving about too much on the first day to achieve much!
Stair walking. I did not use the elevators to move around the ship. This meant never waiting but also burnt some calories every time I headed off somewhere.
Sports Activities. Each day there was the opportunity to play table tennis or take part in other events.
Afternoon Tea. I restricted myself to just one session of the gorgeous Cunard Afternoon Tea sessions each week. These were a long-standing tradition and served in the large Queens Room Ballroom and Queens Grill Lounge for Grills Guests, consisting of a wide choice of teas, sandwiches, cakes and scones served by waiters wearing white gloves from large silver platters.
I decided to not go to these, but on sea days there were talks on how to exercise, eat and diet well during the cruise.
I selected trips that involved walking or activities rather than the more sedate panoramic bus trips.
Day 3 (Tuesday 12 January) Sea Day en route to Ponta Delgada

During the night the movement of the ship changed and by morning things were considerably calmer. I pulled back the curtains to reveal a mostly blue sky with fluffy white clouds gleaming around the edges from the sun rising behind them. It felt like we had emerged out of a dark damp tunnel into the daylight.
The sea was flatter and looked gentler and more restful. Looking at the Navigation Information on Channel 43 on the in-room television I could see the wind had fallen to 25 knots. Over the day it kept falling until it was hovering around just 10 knots by dinnertime. As the ship's movement reduced as each hour passed, the activity and energy through it grew as people's enthusiasm and excitement mounted as each nautical mile took us closer to sunshine and it began to feel more holiday like.
The decks were opened as the day progressed and I started to see people out walking in the increasingly warming air, although it was still only 10 degrees Celsius. Working out in the gym was easier, and there was no longer any need to cling tightly to the Cross Trainer handles to avoid being unsteadied by the ship's movement.
The talk by the Maritime Historian Bill Miller on "Floating Palaces: The Great Atlantic Liners" covering the pre- and post-war glory days of passenger shipping was packed, the White Glove Afternoon Tea served in the Queens Room mid afternoon was full as were the Captain's Cocktail Parties and Black & White Ball in the evening. It felt like the adventure of the World Cruise had started in earnest.
Daily Program and "Rise & Shine"
There were activities from 6am until past midnight each day. These were listed in the "Daily Programme" that was left on the cabin during evening turndown service. There were dozens of events, talks, classes, quizzes, sports activities, games, religious services, meet-ups (such as for LGBT guests, members of Alcoholics Anonymous, knitting and needlework, solo travellers and Masonic members) and shows and entertainment available.
Each evening before retiring I spent time going through it to plan the following day. I then also watched the "Rise & Shine" show hosted by the Entertainment Manager (Sally Sagoe) on waking up on the in-room television on Channel 21. It was repeated across the day and she interviewed members of the crew, guest speakers and entertainers about the events and shopping deals of the day. This helped me to finally decide on what to do.
Only emergency announcements are made on the ship, and so the above routine was essential to making sure I got to know about, and attend, the things that appealed to me.
Most activities were covered by the cruise fare, including bridge lessons, dance classes, talks, seminars, port presentations, classical concerts, shows and quizzes. There were charges made for some fitness classes like "Tour De Cycle Spinning" and "Body Sculpt Boot Camp", activities where supplies were provided (such as Watercolour Art Class) and specialist skills training like camera and digital devices instruction.
Formal Night, Captain's Cocktail Party and Dress Codes
Tonight was the first formal night of the cruise and so the ship was transported back into a more glamorous era as men strolled about in Tuxedos and women in fine gowns. This was the night there were also a series of Captain's Cocktail Parties. There were separate ones at different times for the first and second sittings of the Britannia Restaurant in the Queens Room and for Grills guests in the Hemisphere Bar.
Cunard have two dress codes for the evenings: Formal and Informal. There were around two formal nights each week.
Formal required dinner jacket, tuxedo or dark suit with tie for men and evening or cocktail dresses for ladies. Informal required jacket with tie optional for men and cocktail dress, separates or equivalent for ladies. These came into place after 6pm. People wanting to wear more casual clothes had to eat in the Lido Buffet and were supposed to only relax in the Winter Garden afterwards. Entrance to the main dining rooms was refused if the codes were not followed. Occasionally a few people not in dress code could be seen in the Golden Lion Pub, casino and Royal Court Theatre where crew did not seem to enforce the codes as much, however most guests understood the Cunard way and kept to the requirements.
Day 4 (Wednesday 13 January) Sea Day en route to Ponta Delgada
On sea days the ship's horn blasted at noon and the Captain came on the public address system to update on progress of the journey, share history or insights about the region we were sailing through and make announcements. Today he pointed out that we had increased speed significantly, something I had noticed on the Navigation Channel. He told us it was because he was getting the ship to Ponta Delgada by midnight, at least eight hours ahead of schedule, as there was a passenger in the Medical Centre they needed to get to hospital.
Medical Centre
There is a 24-hour Medical Centre, which is open for walk-in appointments twice a day from 9am to 11am and 4pm to 6pm. Charges are similar to accessing private health care on land in the United Kingdom. They have an extensive pharmacy able to prescribe for most medical issues that arise, but are not able to fill existing prescriptions.
If there is a major emergency there is a high-dependency bed, along the lines of Intensive Care, to keep patients comfortable and stable before they can be disembarked to a land-based hospital. While they can do X-Rays and other simple tests on board, they cannot perform operations or set broken bones. The risk of legal action and the ability to evacuate patients if needed by helicopter or diverting the ship has made this aspect of ship service obsolete.
There is no dental facility on the ship.
Travel Insurance
The medical issue the Captain highlighted reminded me of the importance of passengers travelling with comprehensive travel insurance. The costs of medical attention on the ship can be high, and if a patient has to be medically evacuated by helicopter (or other means) it can involve many thousands of dollars. When getting insurance it is essential to ask for cruise cover, which will usually add onto your premium. But it will be worth it if you fall ill, need to be evacuated off the ship, find yourself in a foreign hospital and need to be medically repatriated back home.
Camera Club
The Photographic Team ran a Camera Club during the entire World Voyage that launched today. They held a number of talks and Photographic Challenges in each sector. The kick off meeting was well attended with at least 25 guests of varied expertise. They ranged from "Happy Snappers" using point-and-click cameras through to experienced DSLR users. Dan and Chris who ran the club even encouraged people who use Smartphones to take pictures to attend.
The talks on the sector to Fort Lauderdale consisted of "Camera Basics" covering key settings and "Using Macros" covering how to take close up images. The three challenges for this sector were (1) Around the Ship (images that capture what the ship means to you), (2) The Ocean (as there were six sea days between Ponta Delgada and Florida) and (3) Food Glorious Food. The photographs were grouped and judged based on Beginners, Intermediate and Advanced for review.
Each person had to submit at least three images in JPEG format with no software enhancements or manipulation. There was a charge of $1.99 for each submission, as 8×10 prints were made, displayed in an exhibition and then given to the photographers afterwards. The submissions were reviewed and discussed in a session before the end of each sector by the Photographic Team and fellow members to help inspire and help provide advice and tips on how to improve. Prizes were also given in each category based on a panel of judges from the Photographic Department (excluding Chris and Dan who run the club to avoid any bias).
The team also offered one-to-one tuition at a cost of just under $50.
I loved the idea of the Camera Club and got very excited by the chance to learn, see what others did and learn. A great idea.
On this first leg I achieved the following success in the competition:
Winner (Advanced) Ocean Photograph
Runner Up (Advanced) Food
Runner Up (Advanced) Around the Ship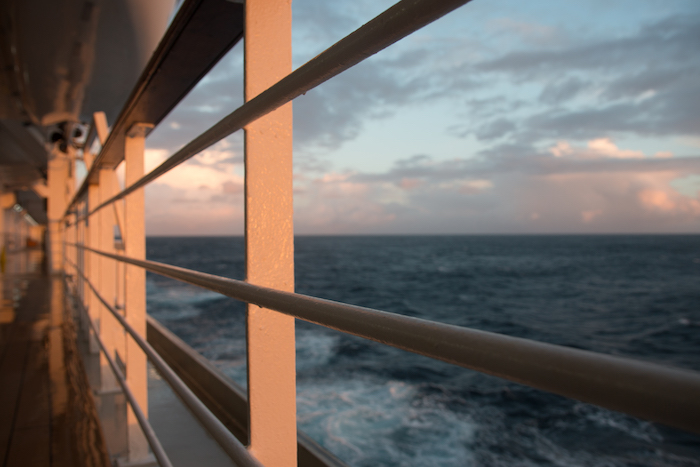 Day 5 (Thursday 14 January) Ponta Delgada (Azores)
An overcast and wet 16-degree morning greeted us in the port of Ponta Delgada on the island of Sao Miguel, one of the nine that make up the Azores. As the various tours headed out to view the lakes in old volcanic caters, we settled down to a breakfast in the Queens Grill restaurant on Deck 11. Through the ceiling-to-floor windows we watched as the clouds lifted a little, and the bright green lush hills across the island became visible.
We had decided to self-explore and just stroll into the town, which was a short walk through the large cruise ferry terminal filled with bars, restaurants and shops. There was free Wi-Fi offered by all and clumps of crew and passengers were at each of them enjoying the access. On-board Internet is costly, with even the best packages costing around 35 cents a minute. As we made our way into town signs informed us that there was also city wide complimentary Wi-Fi provided by the local municipality.
Ponte Delgada has a population of over 70,000 people and is the largest city and capital. The town has a beautiful black and white city gate and the pavements are typical Portuguese styled black-and-white mosaics with different designs on every street. I loved these and spent my time exploring focused on these rather than the museums and churches.
Thanks to the readily available Wi-Fi I was able to post photographs on Instagram, Facebook and Twitter during the day exploring. A number of people had sent warnings about Hurricane Alex, which I later discovered was heading towards the Azores and was due to hit the next day. As we left this evening Captain Philpott made no mention of it but did warn of more high winds and movement tonight and tomorrow.
The show in the Royal Court Theatre was Troubadour, a four-piece male harmony group that I had learnt from their interview on the "Rise & Shine Show" had all been singers in cruise line production shows before the company that develops and supplies these to companies like Cunard had put the group together as another entertainment choice to the line. They were slick, well rehearsed and entertaining.
Day 6 (Friday 15 January) At sea to Port Canaveral
After our stop in Ponta Delgada we had six sea days until Port Canaveral ahead of us. The daily program was filled with activities, talks and events. They were traditional in nature and I felt that it is also important to be able to occupy yourself and not just rely on the ship entertaining you.
The Camera Club had its second session today, which was even better attended than the kick-off meeting with around 70 people. The session ran through all the key settings on a camera to be used in different situations, such as landscapes, night scenes and portraits. Sessions on how to get the most from an iPad, Smartphone and using Photoshop were run, at a cost of $15 for each.
Being at sea also meant that the casino was open all day, and the slot machines were available 24-hours a day. The result was blowing the entire amount I had budgeted (limited!) myself to for the leg to Fort Lauderdale. To avoid spending too much gambling I set myself a daily limit to donate to Cunard.
Afternoon Tea
Every sea day at 3.30pm the grand Cunard Afternoon tea was held. The main venue for this is the Queens Room, which was always full. Waiters with white gloves served crust less open sandwiches, delicate cakes and scones from huge silver platters. A wide choice of teas was also offered. Grills passengers could also have this in the Grills Lounge, while the Lido Buffet Restaurant has a self-service version.
I have written an article previously about the history of afternoon tea and on Cunard
Day 7 (Saturday 16 January) At sea to Port Canaveral
As the temperature rose to 20 degrees Celsius, and the sun rose in a virtually cloudless sky, the atmosphere across the ship made a marked change. As more shorts, t-shirts and flip-flops started to appear; there was a noticeable increase in the cheerful level. It my have been that passengers had unwound from their lives and worries at home, but as we heard about plunging temperatures back in the United Kingdom as icy winds pushed down from the Arctic, own feeling of good fortune was magnified.
During the course of the morning two rainbows were spotted off in the distance. More evidence of luck and promise.
Despite the sun, lower winds and seas that looked pretty smooth, the ship had a fair bit of motion which the Captain explained in his midday address as caused by storms and winds a distance away that were creating a cross patch of swells. However, by now, we were used to sea movement and forgot that it was happening. Though trying to play desk sports and working out on the Cross Trainer in the fitness centre did remind us.
Excursion Port Talks and Destination Advice
The Excursions Manager, Rob, gave a talk in the Royal Court Theatre about the coming ports of Port Canaveral and Fort Lauderdale. These events were very well attended although they were primarily promoting and explaining the excursions options, port and some shuttle bus arrangements for people looking to self explore.
They did not provide much information or insights about the destinations, unlike the talks given by an independent Destinations Speaker we had on our Queen Mary 2 World Voyage legs in 2014. These were missed on this trip as those were full of more depth of the country, history and very practical tips for self-touring like how to use public transport.
To get more depth of information about the countries and places visited you on this trip travellers had to rely on:
The four-page destination guide for each port placed in the stateroom the night before a stop. It had some history, key sights and attractions, tips of what to buy, shopping, dining and some key facts on customs and currency.
Personal research using the large collection of Guide Books in the library. These cannot be taken out if they are about the next port of call and can be borrowed for just 24 hours for all others. I would plan ahead and take them out for a few stops ahead or take photos of the key pages on my iPad to read elsewhere.
Going to the Shore Excursion desk and asking questions.
Using the Internet. However, as this was slow and costly. I avoided doing this on board. I would sometimes search for information in an earlier port using local free Wi-Fi.
Doing research before the trip. This is something I had done by saving Wikipedia or other website pages as PDFs and then putting them on my iPad. I placed them Google Drive and set them to be accessible when offline. This meant I did not have to clutter up my luggage with paper and guidebooks but were easy to read and even access while out and about.
Keep following the series

That was the first week of my 12-week trip. Watch out for the second in the series covering week two where we visited Port Canaveral, Port Everglades and Aruba.