Cruise Tips for Over 50's Travellers From a 50+ Traveller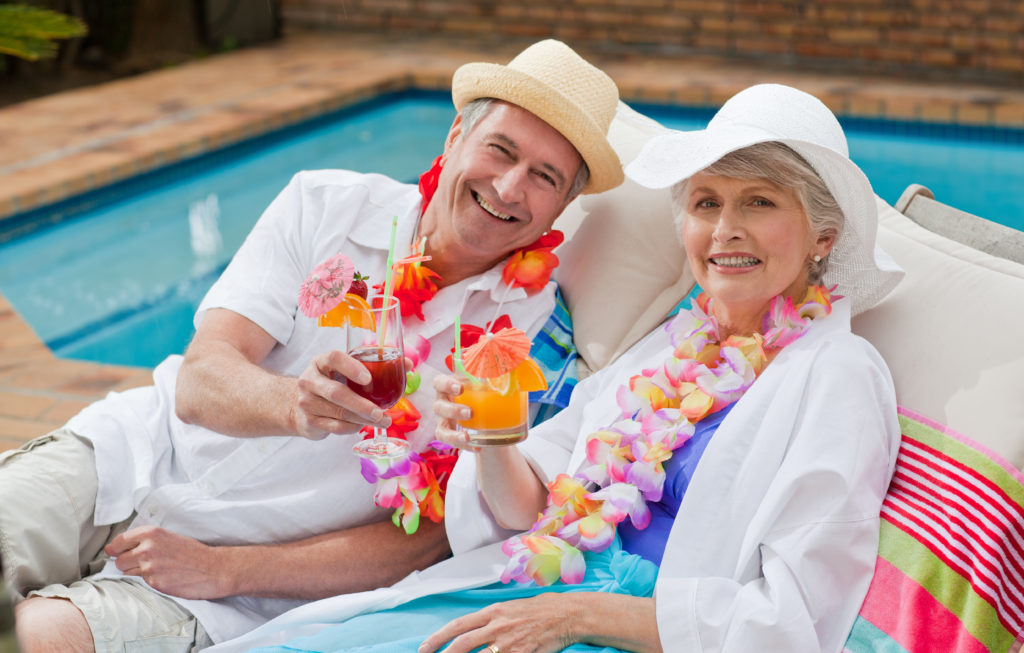 Cruise Tips for Over 50's Travellers
I was frustrated reading another article in a cruise magazine recently with cruise advice, targeted at me and people like me. It was full of out-of-date stereotypes about us and was out of sync with today's 50 plus travellers. We're adventurous, active, love to explore, try new things; and none of that was reflected.
I decided it was time that people like us get what we deserve. Advice and tips proven to work by someone over 50, for other over 50s. So that's, what you're about to get. I'll also cover the basics on over 50's travel insurance as this is something you should never leave on a cruise holiday without.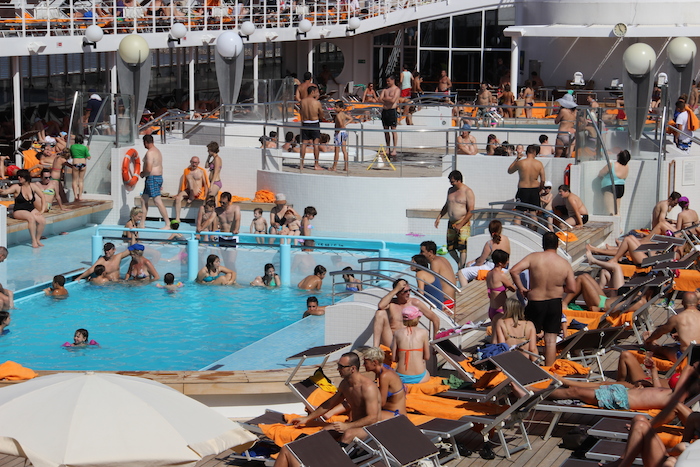 Stop Kidding Around
I can see that cruise lines are obsessed with getting younger people to cruise. This push means they're attracting more families, because many people younger than 50 in their 30s and 40s have kids. Even on lines that have been much more adult focused, I am noticing more families and children every time I cruise. For example, on recent trips on Celebrity, Princess and Cunard.
Most over 50 travellers I talk to, like me, want to avoid families with kids, as some have left that behind because their kids have grown up. Some haven't had kids, like me, and some are looking to escape from kids and grandkids.
So how do we get around this? I have a few tips, which also save money as well as a bonus.
Adult-only cruises
First, go on adult-only lines. In the UK, there is Saga, which are for over 50s only, and lines P&O Cruises and Marella have adult-only ships in their fleet. Viking Cruises and Virgin Voyages are only for over 18s. However, as you can see, our options are limited.
The second thing we can do is use the fact that families with children cruise during school holidays and public holiday times to our advantage. We're not constrained by that timing.
Avoid public and school holidays
I choose to cruise out of school holidays and around any public holidays if I'm going to one of the three biggest cruise regions: The Caribbean, Mediterranean or Alaska. My focus is on shoulder periods, at the start and end of the seasons. For the Caribbean, I will go in November into early December or mid-January to February. For the Mediterranean, I'll go in June and early September into mid-October. And, for Alaska, I'll go in May or early June when the season starts. All these times normally have good weather and are cheaper, and the ships are quieter.
Another way to ensure less kids is to go on longer cruises, as families take these less. For example, what I like to do in the Caribbean is go on the 10- or 12-night trips, like the Holland America Southern Caribbean I've booked for my next Caribbean trip.
Repositioning cruises around April and October time, when the cruise lines move their ships between the Caribbean and the Mediterranean, are another solution. They rarely have families and kids on and are great value too.
Exotic and long-haul trips have fewer families on. Families mostly stick to Caribbean, Mediterranean and Alaska cruises. Exotic trips to Asia, South America, and Expedition cruises that involve flights get expensive when travelling with a couple of kids.
50 plus focus
Of course, an obvious option is to focus on lines that tend to cater for us 50 plus traveller primarily. People often ask me why they don't see much about Royal Caribbean, Carnival, Norwegian Cruise Line and MSC Cruises on my channel. It's because they generally are not the best at catering for people like me. But are for families.
The lines that I cruise on most, and I find are best for travellers like me, are in the premium area: Celebrity, Princess, Holland America, Viking and now Virgin voyages. I find the smaller ship lines are especially good for me, and I like Oceania, Azamara and Windstar. Those are well geared for us 50 plus, don't have any kids' clubs or any facilities for kids (so, families tend not to go on those) and tend to have more interesting itineraries as can call at smaller ports.
If you have the budget, all the ultra-luxury lines work (Seabourn, Crystal, Silversea, Regent Seven Sea) as few families go on those because they're so expensive. I have never been on a cruise on one of those lines with families on board, though it does happen.
However, while I stay clear of family-friendly cruise lines, like MSC, Carnival, Norwegian and Royal Caribbean, if they do appeal to you. I have two tips.
Discounts
First, those four all offer what they call "seniors discounts" to over 55s (some over 50s) on their sailings, especially those out of school holiday periods as they need us to help fill their ships then. Make sure you ask for it if booking through an agent or tick the box on check out of booking direct.
Second, consider cruising in the ship-within-a-ship option as you will likely have fewer or no families in those. Look at MSC Yacht Club and Norwegian Haven.
Should you avoid Disney Cruise Lines? Friends without kids told me there are many adult-only areas and activities and offer a high-quality adult experience. So, I am booked. Using my own tips, I've booked to a destination less popular with families with kids (Norwegian Fjords) and in September (after schools have gone back).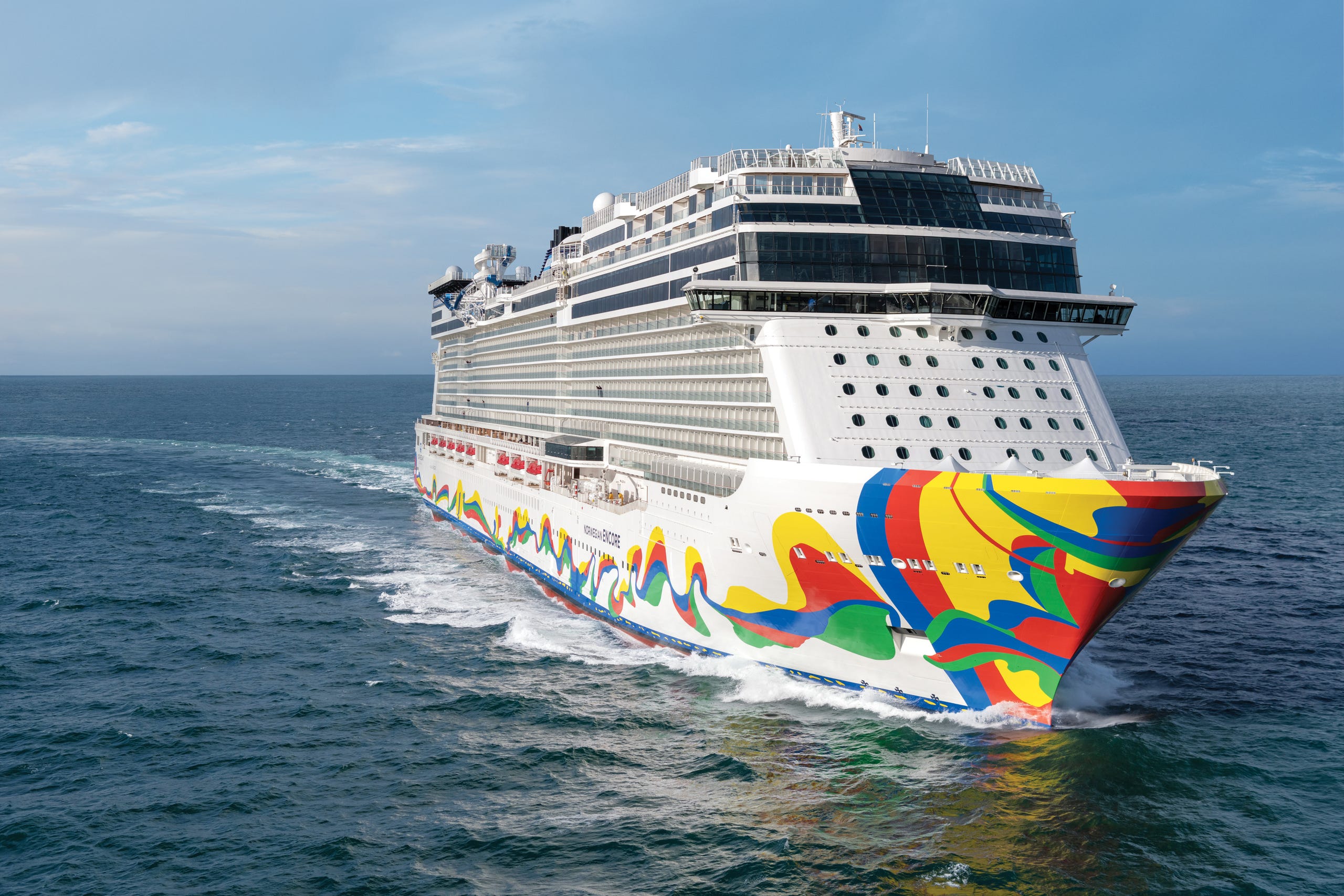 Live A Little (More)
Once on board many of the lines I spoke about that cater for us 50 plus travellers, I find they do not offer enough diverse, challenging and interesting excursions to excite me.
This was brought home to me this past week as I've been looking at ports and excursions for a Panama and Caribbean cruise I've got coming up, and a Western Mediterranean cruise a month after that. The excursions are all rather stodgy. They are bus tours, talk about how little walking and how few steps there are. They assume we want low octane, high-brow, low level activities.
I want to tell you what I think we should be doing as 50 plus travellers when it comes to ports and touring.
Roll calls are your friend
The best tip I've got, is not Google "things to do in X port", buy a guidebook or look at the line's excursions. It is to join the roll call for your cruise on CruiseCritic.com. There, you'll get to engage with others on your cruise, and there's always someone in there who's been to each port recently, found out what is the best thing to do, the best value, most interesting, unusual and fascinating thing to do – and how to do it.
Don't fall into the trap of defaulting into what the cruise line offers. You might want to, and I do sometimes, if the Region has a reputation for being high-risk for travellers or the ship is very far from the main sights. Of course, it's easiest and they have the guarantee that they won't leave me behind if I get delayed.
Excursion choices
I look at their options and ask myself: "are these really going to stretch me, excite me and be a memory for life". I include that last point, because the best experiences I've had, have not been on cruise line excursions. They've been when I've been out more independently either in a small group, with my partner or myself.
So, in places I feel I need more reassurance as I am unsure about the area, want guarantees about getting back to the ship, or have someone sort it out if an issue, I look at the larger independent tour providers, like ShoreTrips.com, CruisingExcursions.com and Viator.com. I do find that they still tend to be like cruise line ones, but with smaller groups and a bit cheaper.
But better has been going on independent one-on-one or small group tours. These I have usually found through recommendations in the Roll Calls groups I was talking about. These are usually a local tour guide and driver and I discuss with them, what I'm interested in, and they work something out. I have reassurance I'm with people who know the territory, the areas to avoid, the best things to do, and they know how to get and make sure to get you back on time.
Self exploring 
Though I mostly like to self-explore. And I do that armed with two things: a guidebook (I rely on Dorling Kindersley guidebooks) or the local app (as most destinations have these now), which tells me how to navigate the public transport, tells me about the places to see and secondly the daily program with the ship or cruise agent contact details if I have a problem or am running late.
My best experiences have been doing this. My partner and I did 10 weeks of a world cruise calling on 35 destinations, but the ones I remember best are doing our own thing. Using Kuala Lumpur public transport and finding incredible local food market. Exploring Tokyo and stumbling across and playing in the crazy Pachinko arcades and watching a school traditional dance competition we came across in Ho Chi Minh city. Those are the stories we tell, not the organised tours.
My tip for ports is to push myself and live a little bit.
Forever Young. Sort Of
It is all well and good saying, Gary, go and live a little and push it. But, of course, I am not as young as I think I am. There are a couple of watch out tips that I do think I need to talk about, for us as 50 plus travellers. These also include the importance of over 50's travel insurance that is cruise specific.
First, some of our needs are going to take some planning ahead because the lines are not always on top of this. They still are focused on the bulk of guests: able-bodied couples.
Over 50's solo travel
For example, here's a simple one: solo travellers. Many of us travel solo at times, and to avoid paying for two takes planning.
I have created a list of all the lines and the ships that have solo cabins as it was hard to find in one place It is on my website https://www.tipsfortravellers.com/solocabins/. They fill up fast, especially when you do Transatlantic crossing on Queen Mary 2, that's a good starting point, but plan way ahead and focus on lines that have solo cabins.
I update it often as more lines add solo cabins, including Celebrity and Holland America on all their new ships. But they are still limited, so I also use aggregator sites, like Vacationstogo.com, which have a specific tab listing all the solo deals and ask my travel agent to track those.
Another is, some 50 plus travellers are not that mobile anymore and have accessibility needs. That takes planning. If you want to get a cabin, that's going to cater for your mobility, you need to plan far ahead as number of accessible cabins on ships are limited.
There are three other things I always now have, that did not always when I was younger:
Over 50's Travel Insurance and more
First, travel insurance which is cruise specific is an absolute must! It's mandatory that is covers medivac off the ship – so always check and double check your policy wording before buying.
It's also important that your over 50's cruise travel insurance will also cover international hospital fees and later flights home, where needed.
Covid cover is also a must these days!
Second, I have created a first aid kit with all sorts of over-the-counter remedies for aliments to reduce need to go to medical centre or try and buy unfamiliar brands in local pharmacies. It includes a home tooth repair kit as ships do not have dentists.
Thirdly, plenty of my prescription medication, with some in my hand luggage and some in main luggage and photo of the bottle and prescription.
Although I'm young at heart, and think I am young, there's still some reality I must live with. More realistic tips overall though than what I had seen being offered up to us as contemporary 50 plus travellers.
ABOUT TIPS FOR TRAVELLERS
—————————————–
Gary Bembridge's Tips For Travellers aims to help you make more of your precious travel time and money on land and when cruising the oceans or rivers of the world. To help you, in every video I draw on my first-hand tips and advice from travelling every month for over 20 years and average of 10 cruises a year.
BECOME A TIPS FOR TRAVELLERS MEMBER
————————————————————
Sign-up as a Channel Member to get perks: https://www.tipsfortravellers.com/Join
Become a Patron on Patreon and get perks: https://www.patreon.com/tipsfortravellers
BUY MY CRUISE-THEMED T-SHIRTS
————————————————
Check out my T-Shirt range: http://bit.ly/TFTStore
FOLLOW ME ON SOCIAL MEDIA
——————————————-