60-second Cruise Tips 029: Planning port activities – who else will be there?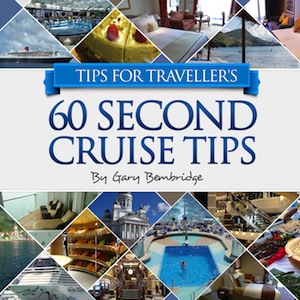 Gary Bembridge author of "The Cruise Traveler's Handbook" provides another 60-Second Cruise Tips. For more visit http://www.60secondcruisetips.com and https://www.tipsfortravellers.com/cruise-travelers-handbook
With the growth in cruising destinations are likely to have multiple ships in port at the same time as yours. As the towns, attractions and sights can get crowded when multiple cruise lines are visiting, planning your time on land in advance is important.
The website I use to help plan my port activities is called CruiseTimetables.com. The site has details of which ships will be in port each day. You input the port and date and it shows the ships and maximum passenger numbers that will be there.
For example, using the site I knew that around 15,000 people would be in St Thomas on one stop and so I booked a quiet day exploring the coastline on a catamaran instead of fighting traffic and crowds on land tours.
Knowing the volume of people in port may also be a good reason to book a private tour or to self explore to get you to key attractions earlier than regular excursions. For example in St. Petersburg it led me to book a private early-morning tour which finished touring the Hermitage as the hoards arrived.