Viking River Cruises Tips, Must-Knows and Watch Outs
Viking River Cruises Tips, Must-Knows and Watch Outs
You're about to discover the six things that you really need to know, and watch out for, if you're thinking of cruising in Europe with Viking River Cruises. The most important Viking River Cruises tips you should know about.
I complied this after a European River cruise along the Danube with Viking on the Viking of Vilhjalm as a guest of Viking Cruises, and I thought it would be a great opportunity to share the things that I wish I'd known, and the things that I learned, to help you better understand a Viking River cruise in Europe. And the things to really watch out for and make sure that you're aware of before you go.
Watch My Viking River Cruises Tips Video
Watch the video on YouTube, and subscribe to my channel: https://youtu.be/8iUPPAc0ONw
Who is Viking?
It was established back in 1997, and so it's not the oldest of the river cruise companies, but it is a large company. It has over 70 ships (at the time of writing) either on the rivers or about to enter the rivers, and they're constantly expanding.
It operates in the premium end of river cruising, so not on the ultra-luxury end – it's in the premium segment.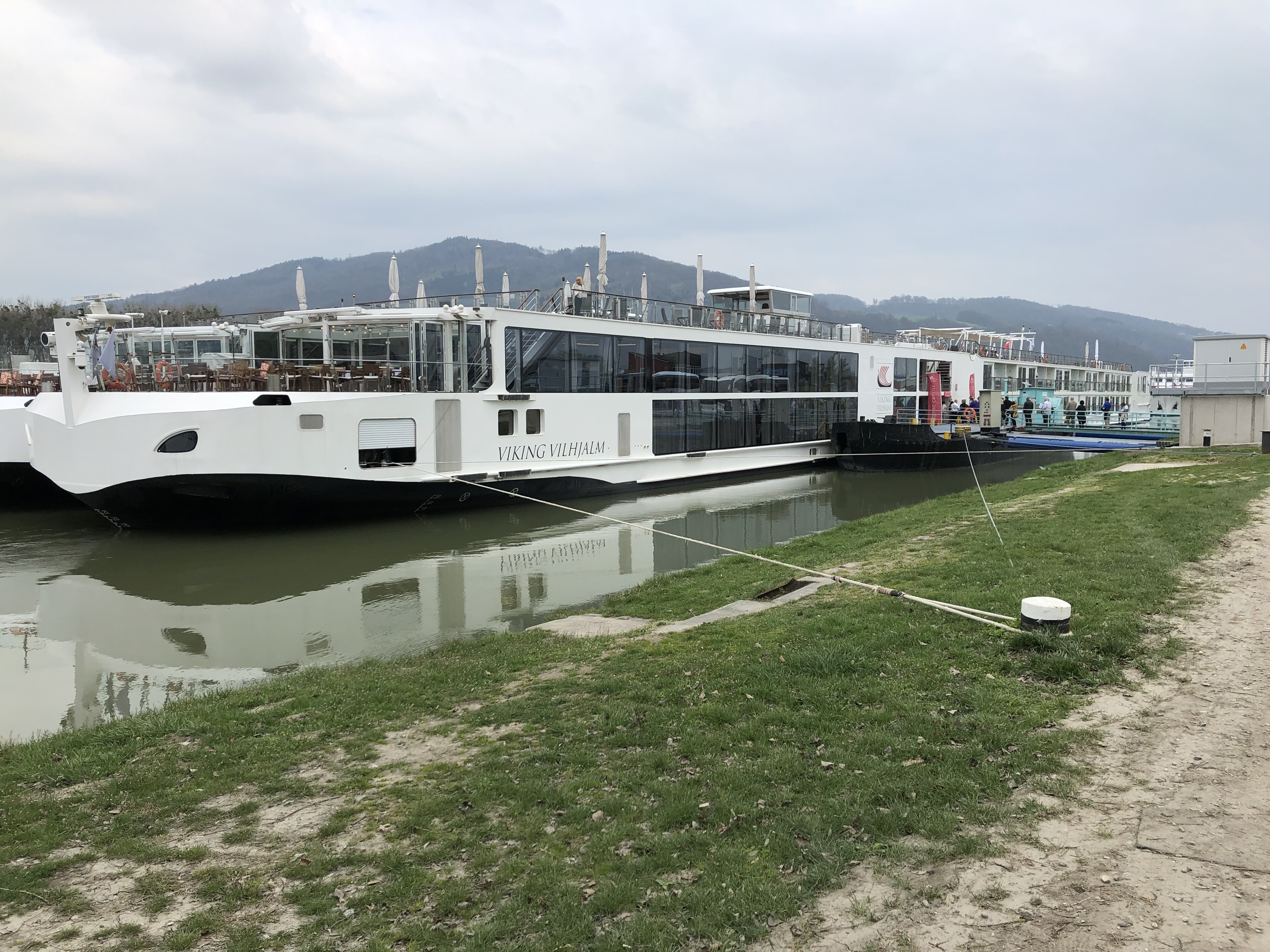 Viking Longships
Secondly, in Europe Viking operate what are known as the Viking Longships. These long ships operate on most of the rivers in Europe. There are a couple of rivers where the Longships are too big to operate on, so they have a scaled-down version.
Let me tell you a little bit about what you can expect on a Viking Longship.
It has 190 passengers and around about 45 crew. So, a high crew to passenger ratio. When you step on board the Longship, the first thing you'll notice is the decor. It's very Scandinavian in look and feel, and that of course links back to the original heritage and the founder who come from Scandinavia.
There are four different accommodation types on board. There are suites at the rear of the Longships, they have veranda suites which have an actual balcony which you can go out on and it has a table and two chairs. They also have veranda cabins which have floor-to-ceiling windows, but these are Juliet balconies and no actual balcony you can step out on. On the lower level they have standard cabins which have a small window at the top of the cabin, and that's because these cabins are partly below the water level.
On the top deck you have the Sun Deck which is a big open space where you can sit out and enjoy the weather and the scenery.
On the next level down, you have the real heart and hub of the ship, which is the lounge. This is where you have the bar. It's also where you will have your daily briefings. It is where people meet during the day and go for drinks before and after dinner. It's where if there's any entertainment it'll also be hosted here.
In the front of the lounge is what's known as Aquavit. It has the early riser breakfast out here and also a lighter breakfast, a lighter lunch and in the evening, you can dine here and it's the same menu as in the
main restaurant.
To the rear of the lounge you have the 24-hour tea and coffee making facilities, which are great. There's also on this level, a small library and a couple of computers if you have not brought your own laptop.
On the level below that you have the Reception area, a small Viking shop, which sells branded merchandise and other products related to the cruise, and then you have the dining room. This is a great open space. Everyone can sit here. It's open seated dining for breakfast, lunch and dinner.
Breakfast is buffet, although they do have an egg cooking station where you can order things like pancakes and Eggs Benedict. Lunch is a buffet, and there will often be a pasta station and again you can order from a menu. The evening is a full multi-course dinner menu where you'll have a regional menu based on where you're cruising through, and a la carte and then some standards which are on every single day.
What's as important as what the ship does have is what it doesn't have.
There's no medical centre on board, and that's true of all river cruising ships because you're close enough to the banks and ports to not have medical centres. Also, unlike some other River cruise companies, it doesn't have a fitness centre, it doesn't have a spa, doesn't have a hairdresser, doesn't have an exercise room and it doesn't
carry bicycles.
The focus of the Longship is very much on the hotel experience, the dining experience and very much around the destinations and the excursions.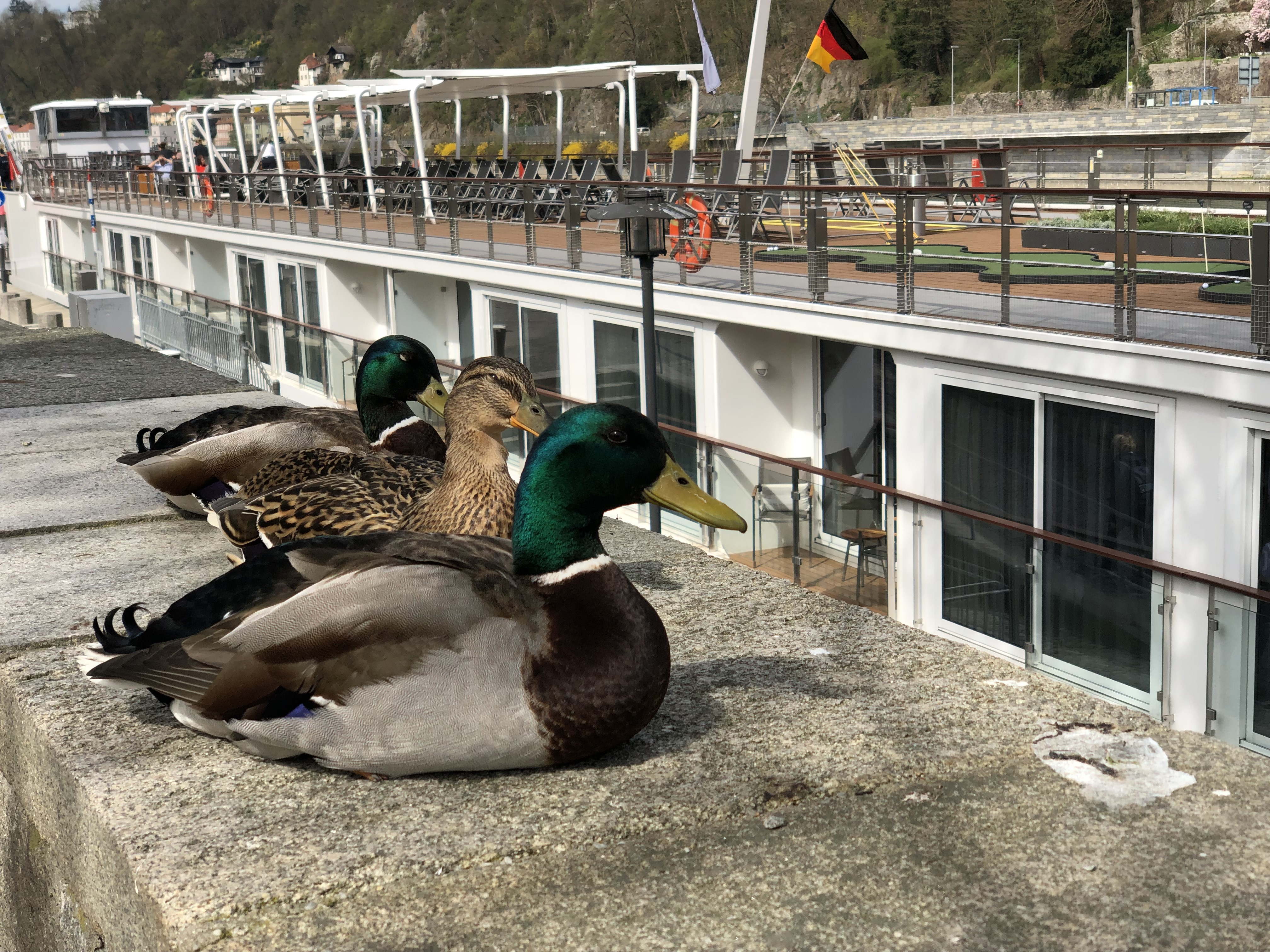 Itineraries
The third thing to know about Viking is they offer you an enormous choice of rivers and also different itineraries on those rivers, because there's such a big fleet in operation they have huge permutations. You should find pretty much any of the rivers in Europe that you want to sail on Viking are there.
For example, they sail on the Danube, the Rhine, the Rhone, the Elbe, the Douro, Volga, the waters of
Bordeaux, they sail on rivers in Holland and Belgium – and even on those there's lots of different itineraries. So, as you look at the rivers that you want to go on there's going to be different itineraries.
Viking Fares
The next key thing to understand, and watch out for, is what is and isn't included in a Viking fare
River cruising generally in Europe is pretty all-inclusive, however, there are nuances and differences based on the different brands. So, when you look at the Viking fare understanding what you are going to get is very important because a lot of people, particularly coming from ocean cruising, take a look at the river cruising fares and think they're on the high side. That's because there's a lot of stuff included.
What is included?
The obvious things are included like your accommodation and Dining is included. Some of your drinks are also included. At lunch and dinner wine, beer and soft drinks are included. You'll normally find there'll be a choice of wines, obviously often a white and a red wine is included.
Also, excursions are included. You'll find at every place you stop there's normally at least one included excursion within your fare. Sometimes there will also be a choice of excursions and you might have a choice of two or three excursions that are included. The excursions do tend to focus on the historical, the cultural and the arts side of a destination.
You will find in some places there are optional excursions, which you do have to pay for. For example, in Vienna there was the opportunity to go to a classical concert in the evening.
Entertainment is also included within the fare. Entertainment is not on the scale of an ocean cruise ship. Every evening there will normally be one activity which could be local singers, dancers or musicians. It could be a quiz. There's also a pianist who will play often around lunchtime, before dinner and after dinner.
Gratuities are included within the fare.
What is not included?
Drinks outside of lunch and dinner you also have to pay for, and you can pay for those ad hoc or they do sell what's known as a Silver Spirits drinks package, which will then cover you for the entire time. Bear in mind of course, your 24-hour teas and coffees are always available and that is included within the fare
If you want to do things like send stuff to the laundry or, of course, buy things in the shop that is not included within the fare.

Passenger Mix
The next important thing to understand is the passenger mix and what sort of passengers you likely to find on board.
Viking River Cruises and also their ocean cruises are an adults-only experience. You have to be over 18
before you can go on a Viking River cruise. River cruising generally still is the slightly older traveller experience, and you are more likely to find people in their 50s, 60s, 70s and even above on river cruises, particularly in Europe.
You're going to find it is mostly people from the USA, UK and often a lot of Australians. It's an English language experience and the whole program is done in English.
What I also find when river cruising, and I did find this very true on Viking, is you find a lot of groups of people travelling together. Some groups of friends or multi-generational people travelling together. So, although there's lots of couples they are often on board with friends and family.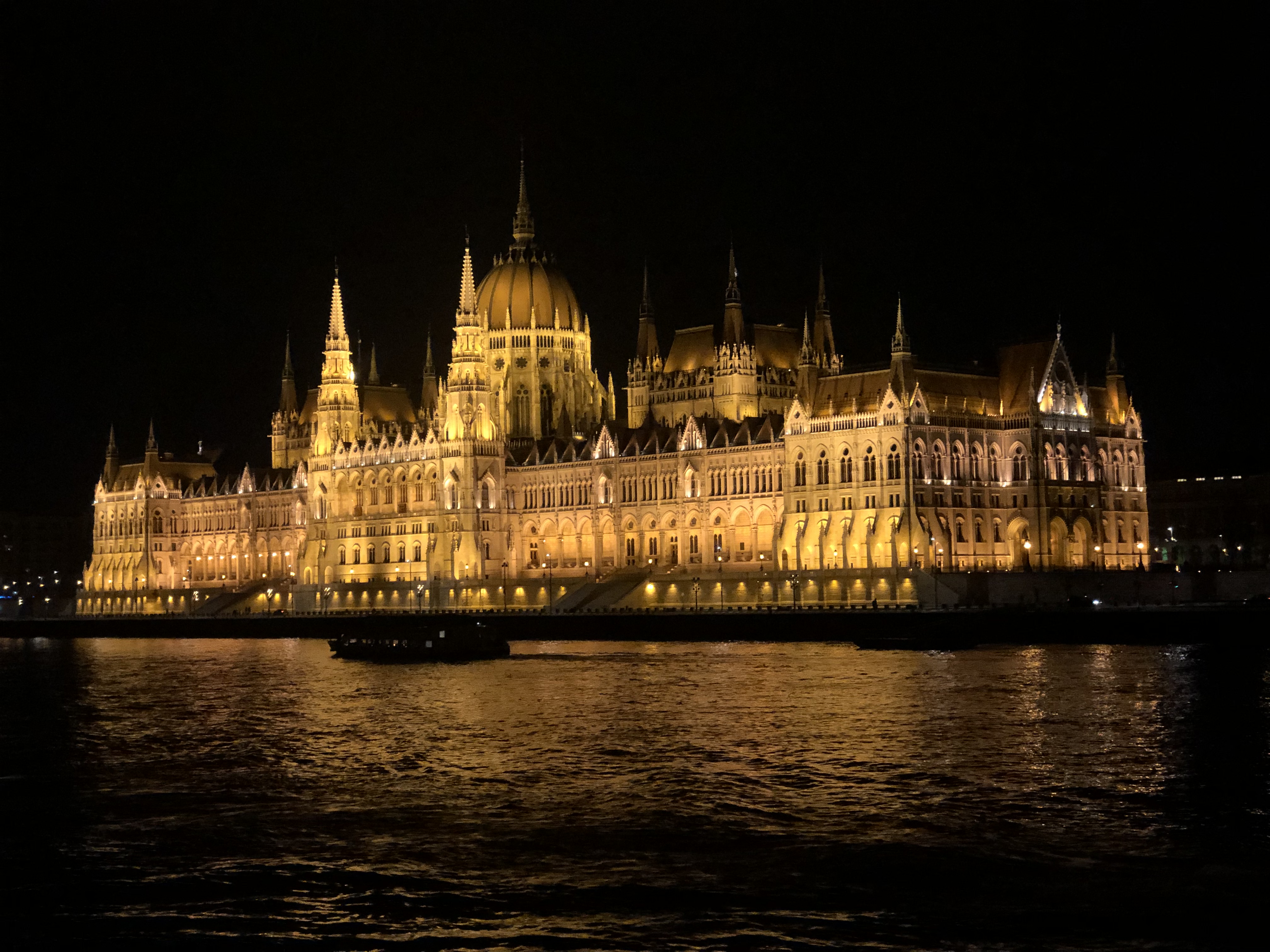 What about solo travellers?
If you are a solo traveller and you want to travel on Viking, the best thing to do is to sign up for their email newsletters or work very closely with Viking or your travel agent as what they do is certain cruises during the year will have either no single supplement or anywhere up to 50% surcharge if you're travelling in a cabin by yourself. They tend to be cruises at the beginning and end of the season, so fewer peak times.
Limited Mobility Travellers
If you plan to go on a Viking River cruise, or any river cruise, do you think about your degree of mobility and how active you are. The Longships do have some cabins for people with mobility issues, however in my personal opinion, river cruises are really best enjoyed by people who are a little bit more mobile.
This is because it can be quite a challenge getting on and off the Longships because the nature of where you're docking and the ramps, and in the places calling on are old traditional places so you find lots of cobblestones, lots of stairs and not necessarily lots of mobility friendly ways of getting around.
One thing I would say about Viking is they do go out of their way to make sure if you do have a mobility
issues that they help you and work really hard to make sure you have a great cruise.
There is an elevator on the Longships, but it does only go between two floors, so between the floor of the lounge and the floor that has dining room on.
Dress Code
Another key watch out and thing to understand is the dress code. The dress code on a Viking River cruise is pretty casual and relaxed. In fact, the only real rule that you need to bear in mind when thinking about packing and what to bring, is you are not supposed to wear denim jeans or shorts in the dining room in the evening. The rest of dress code is pretty relaxed.
Some people do make more of an effort to dress up for the Captain's Welcome Party and the Captain's Farewell Party, then some people dress up a bit smarter.
It's more important to think about things like good walking shoes, layers if it gets cold or if it gets hot you have layers that you can layer up or down, things to protect you against rain if there are showers. These are much more important to think about that when it comes to thinking about a Viking River cruise than which of your "Glad rags" and smart clothes to wear.
Final Thoughts
Viking River Cruises is probably the best-known river cruising company in the world, and certainly within Europe they have a large fleet on lots of different rivers.
They really do focus very much on the hotel, the dining and the food experience and immersing you in the places that you go to.
If you're interested in Viking or you're interested in river cruising in Europe, watch many more of my Tips for Travellers videos. I have lots of videos with lots of tips about river cruising in Europe: http://www.youtube.com/tipsfortravellers
NOTE: I travelled as a guest of Viking Cruises who sponsored my cruise and transfers to and from the ship.
Get more of my content about Viking River Cruises at https://www.tipsfortravellers.com/viking-river-cruises




Follow Tips For Travellers:
Subscribe to Blog via Email