Viking River Cruises Longships Review And Ship Tour
My Viking River Cruises Longships Review and Ship Tour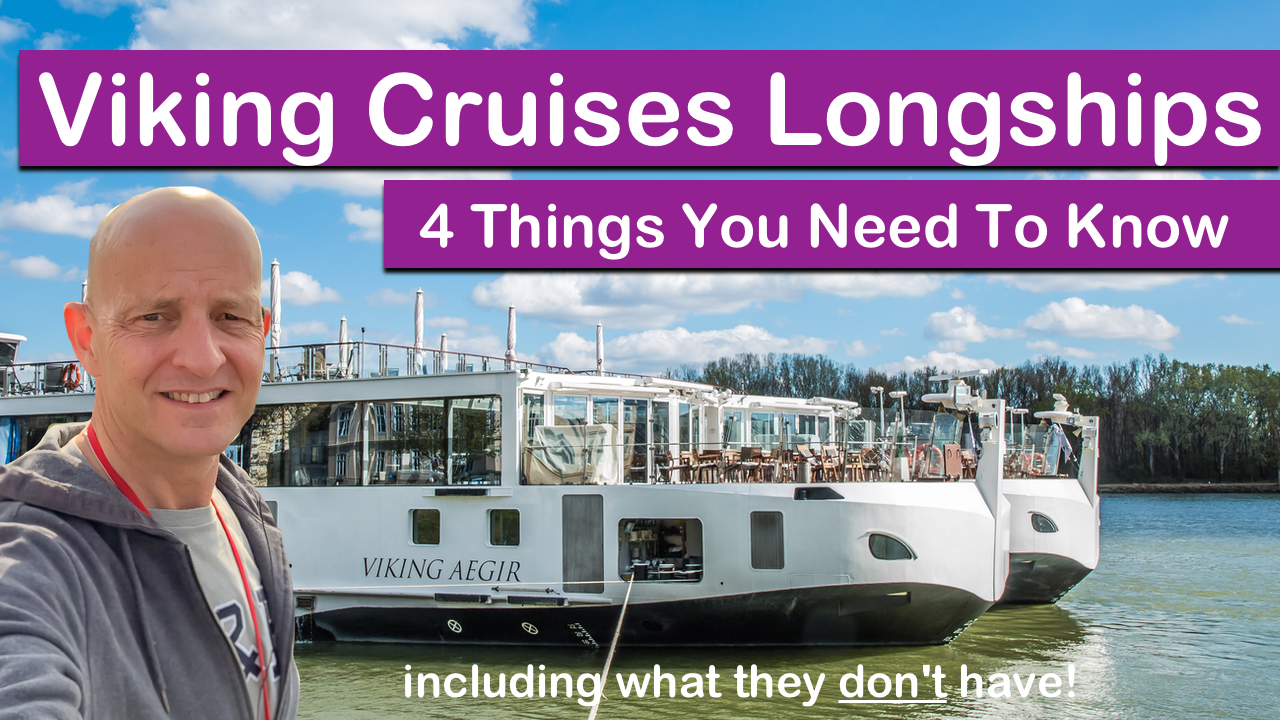 You're about to discover everything you need to know about a Viking Longship if you're planning on going on a European river cruise, including what it has and a few surprising things that it doesn't have. I travelled as a guest of Viking Cruises on a 7-night Danube cruise before making the video and review.
Watch my Viking River Cruises Longship Video
Watch on YouTube: https://youtu.be/nrTPiuJUCZw
Longships
First of all, what's important to note is that the Viking Longship is the ship that they have right across their fleet, and pretty much every single river that you go on in Europe will be on one of these Viking Longship.
There are a couple of rivers which are cannot take the full-sized Longship, like the Douro in Portugal, and these have a slightly smaller version. But pretty much any of the rivers, the bigger rivers, you're likely to be on one of these Longships.
This is very important because they are the same: the same look, the same feel, the same layout. That's hopefully why this will help you understand what you can expect if you're cruising with Viking in Europe.
The Viking Longships take 190 passengers and they have around about 45 crew. A very good crew-to-passenger ratio.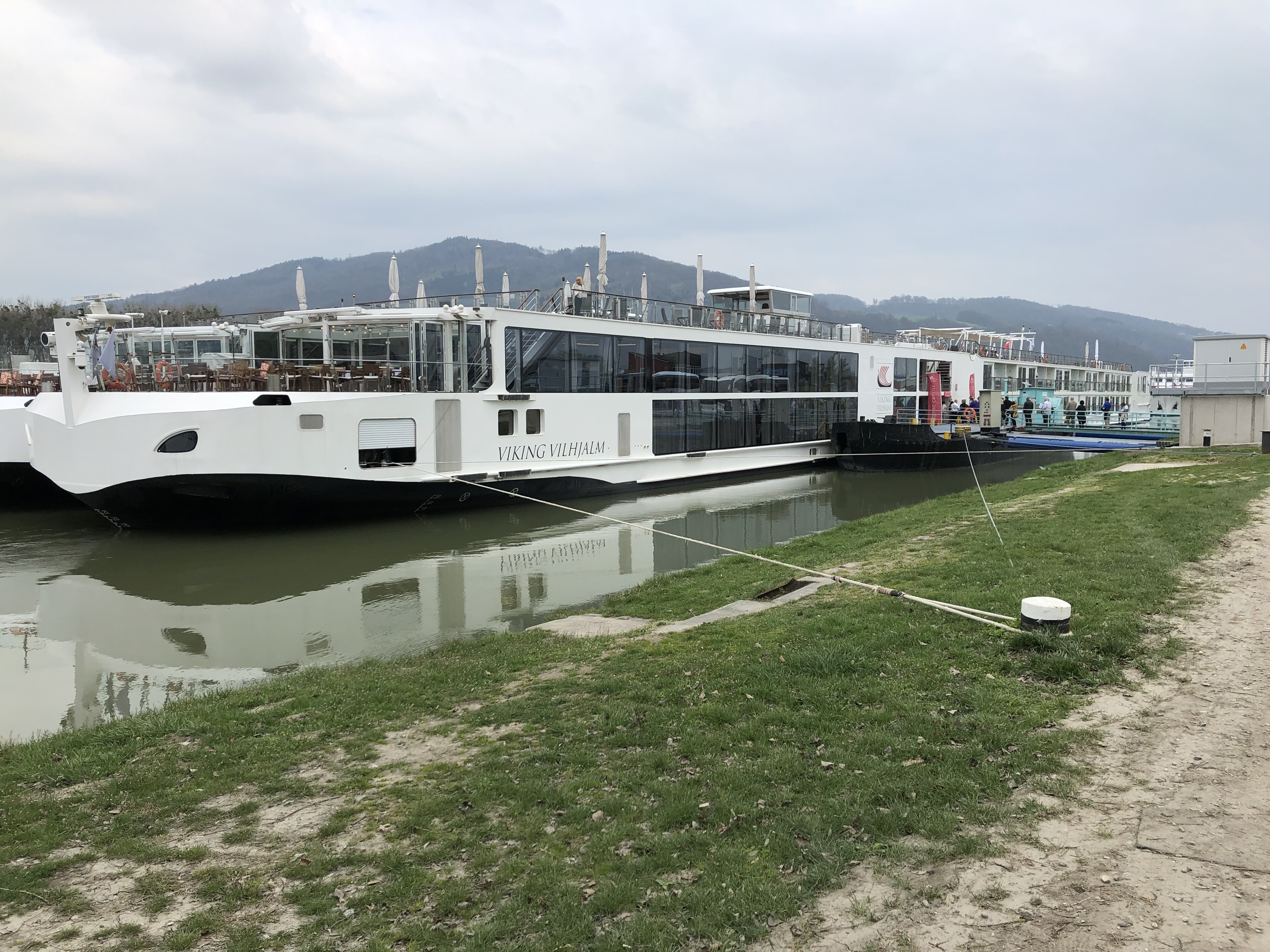 Accommodation
You have a choice of four different types of accommodation on a Longship. There are suites, verandah
staterooms, French balcony staterooms and standard cabins.
Within Suites there are two types of Suites. There's the Explorer Suite at the rear of the ship, and these have a separate lounge, separate bedroom and bathroom. You then have Verandah suites which have a seating area, a balcony and bedroom area.
My favourite cabin type is actually the Veranda Stateroom. These have balconies which you can sit out on, slightly smaller cabin than the Verandah Suites.
The French balconies have floor-to-ceiling windows, but they don't have a separate balcony, but you do have great views and (of course) you can open the windows to get lots of fresh air.
The most affordable of the four types of cabins onboard are standard cabins which are on the lower deck. These don't have floor-to-ceiling windows because part of these cabins is underneath the water level. So, you just have a small window across the top.
There are a couple of cabins on board which are designed for people with accessibility
needs.
Bear in mind on river cruise ships, and this is true also on Viking, the cabins are pretty small because you don't have a huge amount of space.
Facilities
Let's start at the top deck. The top deck is the Sun deck, and is a big wide-open space across the
whole length of the Longship. There's lots of seating up here and a few areas where you can play games like crazy golf and deck games. It is a really popular social place when the weather is
great.
It's also a place where people will come out if you're going through locks. As you pass through the rivers of Europe you're often going to go through a series of locks, and you're find if you go through one of these big locks in day time, people will head up out onto the deck to enjoy and watch at the marvel of these phenomenal locks.
The Sun Deck is a great place to hang out, even if you're in port, and a lot of people go and sit out there have a drink and just soak in the whole atmosphere of the port.
The next level down is where you have the real social heart of the ship and this is the lounge. The lounge is where you have the bar. It's also where all of your briefings take place like the port briefings. The Captain's Welcome and Farewell party is held here.
It's also where all the entertainment takes place, like if local entertainers have been brought on
board. You have an onboard pianist too, and they play at lunchtime, afternoon tea and before and after dinner.
Just before you come into the lounge is the 24-hour tea and coffee making facilities.
At the front of the lounge, right on the bow of the ship, is what's known as Aquavit. It serves breakfast, lunch and dinner here. For breakfast it has the early riser breakfast and has a lighter breakfast.
There is the lighter lunch here, and in the evenings, it has the same menu as the restaurant. It's a really popular place to eat especially if the weather's great. When you're sailing through beautiful
scenery, people like to have meals up there.
Also, on this level you have a small library and a small computer area where you have a couple of computers, for people that have not brought their own laptops or tablets.
The next level down is probably where one of the most important, and popular, parts of the ship is: the dining room. It is a great open space and it is open seated at all times. It's open for breakfast, lunch and dinner.
Breakfast is a buffet and you have a station where eggs are cooked or omelettes are made, and you can also order things from the menus like pancakes or eggs benedict. Lunch is also buffet, often with a pasta station and then you can also order you a starter, main course and desserts from a menu.
For dinner, the menu has three components: (1) a local menu which is very specific to the part of the river that you're on with a starter, main course and a dessert, (2) you'll then have an a' la carte menu which changes every day and (3) you have classics like Caesar salad, steak and chicken breasts that's available every day.
Wine, beer and soft drinks are included with lunch and with dinner. The wine and the beer will normally be very specific to the part of the river or the country that you're cruising through.
Also, on this level you have the reception area with guest services and a small shop which sells a wide range of Viking branded merchandise and other things related to Viking or the cruise or the country that you're sailing through.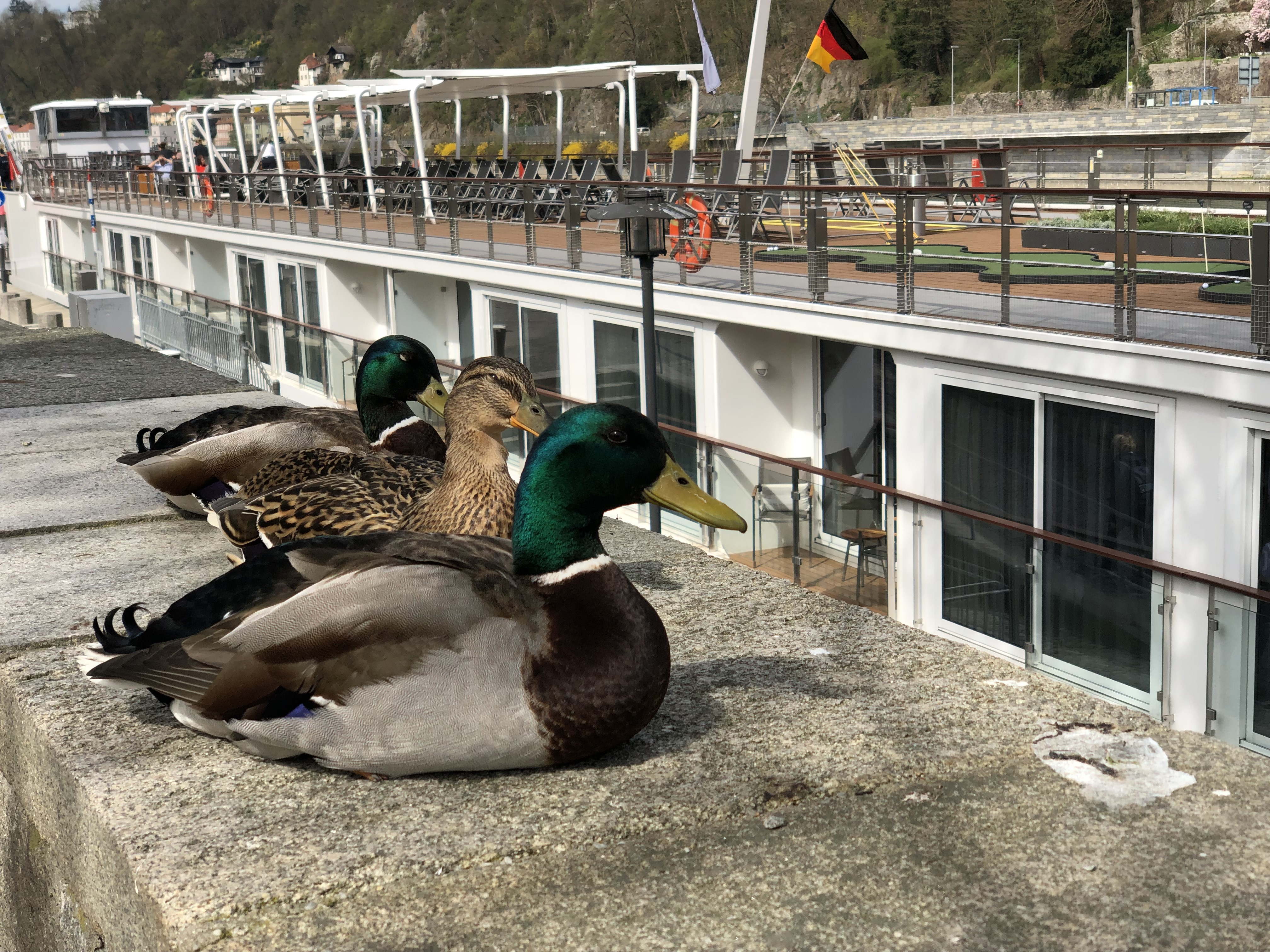 Let's talk about some of the things that you will not find onboard a Viking Longship.
First of all, like all river cruising ships, there is no medical centre. Unlike on ocean cruises, there is no medical centre and that's because party due to lack of space but also, on a practical level, these ships are always really close to land and close to port. So, if there are any medical issues or needs, they can connect you with a local clinic hospital or a medical practitioner.
On Viking there is no fitness centre, no spa, no hairdressers. Some river cruise companies do have those facilities, but Viking Longships don't have those.
There's also no guest laundry on board, and this is also true of other river cruising ship. If you have
laundry needs you can send those away on board and they can do those for you.
Viking Longships are consistent and have the same facilities across the entire fleet. They have a Scandinavian look and feel. If you want to find out more about Viking River Cruises or river cruising in Europe, watch my other Tips for Travellers videos: http://www.youtube.com/tipsfortravellers
Follow Tips For Travellers:
Subscribe to Blog via Email