Small Things That Can Transform Your Cruise
Small Things That Can Transform Your Cruise
I have pulled all these small but transformative things together, as I want to share with you five small and simple things that you can do. things I genuinely believe will transform your next cruise.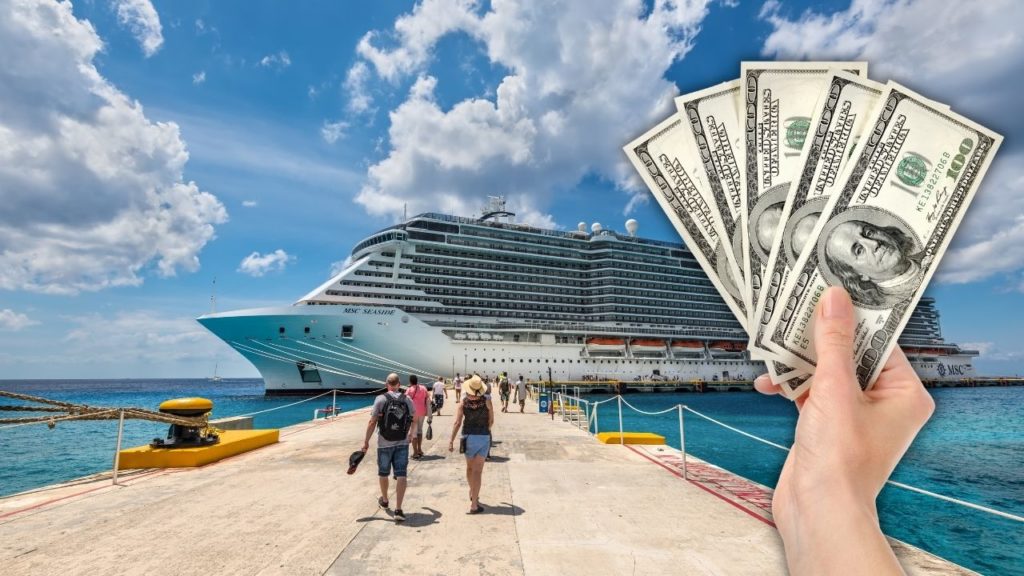 An Important Check
On my next cruise, as I record this, in the Mediterranean on Azamara Quest, I did a dummy booking a month before going and found my cabin grade was now half the price I paid. Half! A staggering $1,800 less.
I asked my agent to contact them, and they slashed my fare to that price, returning $1,800 to me.
If I had not checked and asked, I would have been sailing having paid twice the price of people booking closer to the sailing date.
Before going on a cruise, one small thing I always do is to check if it is on sale cheaper than when I booked or paid for it. If the price has reduced, I usually get money back, additional onboard credit or an upgrade.
I find the quickest and easiest way to find out is to do a dummy booking on the cruise line website. The advantage of this is the website defaults to whatever region you've booked, so most comparable.
I also, which again takes a few minutes, add a tracker for my cruise on Cruisewatch.com (https://www.cruisewatch.com/cruise-price-alerts). They send alerts whenever prices change. So, I then know to go and double check my specific cabin grade.
As Cruisewatch.com does not track all cruise lines, like UK-based lines for example, my alternative is CruiseCritic. I search for my cruise and then go into "Fare Insight" where I can set up a price tracker.
There are a few watch-outs and need-to-knows when doing this simple check:
With maybe one exception, Saga Cruises, the lines will not pro-actively adjust your fare down if they cut fares. You must contact them.
There are lines that make it easier and guarantee to match lower fares if you contact them. At time of recording, this includes Royal Caribbean, Celebrity and Azamara, but this guarantee changes. ALWAYS ask when you book your cruise what happens if the price goes down. Make sure you know.
I am seeing some lines being trickier, like most of the Carnival Group. For example, I've had success with Cunard, where I've managed to get upgrades when fares fell, but other people have struggled to get them to budge when prices go down. Cunard arguing the fare was locked in the terms of conditions of a specific promotion.
Ask what happens if the price goes down
Once you've paid your final balance, the lines are less willing to match any fare reductions, so always do that dummy booking at least before you pay your final balance.
Finally, be prepared to push for or to get upgrades, of which I have had quite a few on my last cruises as prices have been falling, or extra On-board credit if you can't get the fare cut.
A big tip. If you do have to settle for on-board credit, check once on the ship if unspent on-board credit is refundable or non-refundable as you may then be able to get that in cash in the end anyway.
Upgrade The Trip
The second small thing you can do comes with some risk. It may transform your cruise, but perhaps for the worst, and this is around getting upgraded.
This was confirmed just two days ago when a channel follower, Donna, messaged me to say she had been upgraded from the ocean view cabin she'd chosen. She'd been upgraded to a  balcony cabin that was in a terrible position above a noisy nightclub and next to a rowdy bar. She was very upset.
So, what small things can you do when it comes to upgrades, and how do you avoid Donna's issue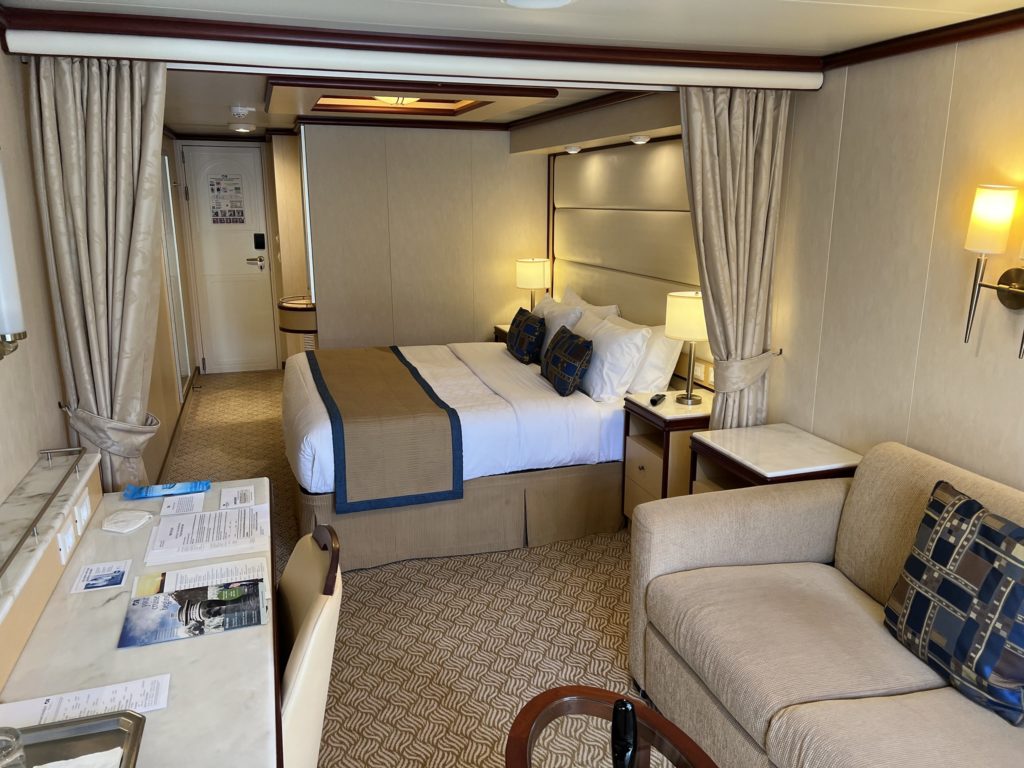 Avoid upgrade issues
To put you in line for an upgrade, the small step you can take when booking is making sure you, or your travel agent, has the "will to accept an auto-upgrade" option ticked.
However, I NEVER do this, as I then usually have no choice but to accept whatever cabin the line upgrades me to. I could find I am in a cabin like Donna's.
My small step is to do the opposite and I make sure the "will accept an auto upgrade" is not ticked. This is because I like to choose my cabin and location. I do not want to take a risk on the so-called upgraded cabin being in a location I dislike.
If you are not concerned about location and happy to risk it, then make sure you take the easy step to opt into an auto-upgrade. If you are concerned, then make sure it is not ticked.
Bid for an upgrade
Another quick thing that could transform the cruise, but will cost, is bid for an upgrade. Many lines will send an email asking you to bid to upgrade. If you're going to bid for an upgrade, bid low.
Don't over bid and end up paying the same as you would if you'd booked the cabin anyway. And also don't assume that there are actually upgrades.
Also take a few minutes on the second day of your cruise, to swing by the Front Desk and ask if they've got any upgrades. Most people go ask on embarkation day and upgrade prices will be at their highest then.
By the next day, prices will have come down. And you get to check the cabin out.
While there is some risk in how these steps could transform your cruise, the next one has no risk and lots of upsides in my experience.
Questionnaire
I have found this one has transformed many of my cruises for very little time and effort, and it is the part way through cruise questionnaire.
Many cruise lines send out a questionnaire a few days in, or part way through, a cruise asking how things are going. It can really transform things as I've found.
What's important to understand, in my view anyway, is the Hotel Director is THE most important person on a cruise, and that's where the mid-cruise questionnaire comes from.
Many people think the Captain is the most important person. Of course, he is in terms of safety and sailing, but all the departments we as guests use report to the Hotel Director. The cabins, bars, dining, shore excursions and entertainment.

Respond
I've had many changes that transformed cruises through this using the part-through cruise questionnaire.
I was moved on day three of a cruise from an ocean view to a balcony cabin on Silversea Silver Cloud in Antarctica. This was because there were some annoying but not totally cruise-ruining noise in the cabin. This was coming from some machinery underneath at random times in the night.
I mentioned in the questionnaire that I was finding it a bit disturbing. The Hotel Director called and asked if I wanted to move. He moved me to a better location, to a balcony and a quiet cabin. As was the person in the next-door cabin who did the same as me.
Speak up
I had vibrations from the engine on a CroisiEurope Mekong River cruise that was again annoying but not a disaster. I mentioned it to the Hotel Director when chatting one day at reception. He immediately said, "We've got another empty cabin up front if you'd like to move".
They have the power to make these decisions and the questionnaire is a direct line to them, usually.
So, use it and remember that the Hotel Director are that questionnaire could transform your cruise. But why limit transformation to just on the ship?
Transform Ports
I have also transformed my time in ports by making a small and not very time-consuming change.
On that recent Azamara Mediterranean trip I spoke about, the line offered me a choice of seven trips in Marseille, so I went onto an independent tour provider group website (ShoreExcursionsGroup.com), and they offered me a choice of 18 excursions.
Their options included more active and unusual ones including e-bikes tours and gastro tours the line did not.
Independent tours 
In Monte-Carlo, Azamara had just 3 tours, plus two private van options that cost over $1,000 a day. An independent shore excursion company had 6 times as many tours (17 in all). Including one driving exotic sports autos. On top of this, their private car tours were almost half the price.
Taking a few minutes checking independent tour provider sites could transform your whole experience in ports. With different and more exotic options available. But it can also cut your budget for excursions.
These are easy and simple as you input your cruise line, ship and departure date and they bring up your itinerary and all excursion options on the date your ship is there.
In minutes you could transform your port into a more interesting and varied day in port than the line is offering.
However, there are a few small things you can also do to get your fellow passengers help transform your cruise for you – as I do.
Connections
One thing that takes little time to set up but provides a mine of information and help are two features on CruiseCritic.com.
First, I sign up for the roll call for my cruise and secondly, I sign up for the "Meet and Mingle" on my cruise too.
Roll calls
In the roll calls, I can chat and discuss tips and tricks for my trip. It's particularly good when going as a solo traveller or perhaps when wanting to have some familiar faces when I arrive.
In those roll calls, people will be arranging getting together for pre tours, post tours, or even clubbing together to book private tailored van tours in some ports.
Meet and Mingle
The "meet and mingle" is also a fantastic thing. Many lines host a CruiseCritic "meet and mingle" at the start of the cruise.
There are free drinks and snacks, and I get a chance to talk to the people from Roll Call. I get at the beginning of the cruise to get to know some familiar faces and people to arrange to go to dinner with or go on tours with.
And importantly, I discover surprising tips and tricks because there are always diehard fans of the line and those who know the ship inside out, and love to share their tips and tricks.
The first one I ever went to was on Holland America Nieuw Amsterdam in Alaska and I discovered some little-known things to do and places to go in Skagway and the other ports.
Some lines are official partners like Azamara, Carnival, Celebrity, MSC, Silversea, Royal Caribbean and Viking. Then some are unofficial partners in the programme, like Holland America, Princess and Norwegian, but they still host the events.
BECOME A TIPS FOR TRAVELLERS MEMBER
————————————————————
Sign-up as a Channel Member to get perks: https://www.tipsfortravellers.com/Join
Become a Patron on Patreon and get perks: https://www.patreon.com/tipsfortravellers
BUY MY CRUISE-THEMED T-SHIRTS
————————————————
Check out my T-Shirt range: http://bit.ly/TFTStore
FOLLOW ME ON SOCIAL MEDIA
——————————————-