Seabourn Encore Review. The Same Seabourn Cruises But Different?
In the article I review Seabourn Encore, the 300-suite (600 passenger) cruise ship that joined the Seabourn Cruises fleet at the end of 2016, and was officially christened in Singapore by her Godmother Sarah Brightman in January 2017. A sister ship, Seabourn Ovation, will join the line in 2018. You can watch my Seabourn Encore video tour and overview to see the main venues, restaurants and public spaces.
More Italian Sexy and Less Nordic!
"More Italian sexy and less Nordic". That was how Adam Tihany, the designer of Seabourn Encore, described his vision for the latest and largest ship to join the Seabourn Cruises fleet. Perched on a stool in the plush Grand Salon in front of a group of cruise journalists the day before its official christening in Singapore, he spoke frankly about his task to change Seabourn whilst also keeping it feeling familiar to regulars.
It was the first time that he had tackled a cruise ship. His reputation was built designing luxury hotels (including Mandarin Oriental Las Vegas, Four Seasons Resort Dubai and the Beverley Hills Hotel), and restaurants like Aplselys London, Aureole New York and The Line Singapore. When he was appointed I wondered if he could understand the needs and subtleties of cruise ship design and passengers. In order to familiarise himself with how Seabourn guests and crew used the ship, he spoke about embarking on a series of cruises in different regions. First port intensive ones and then on a seven-day at sea crossing. Drawing on that he began his task.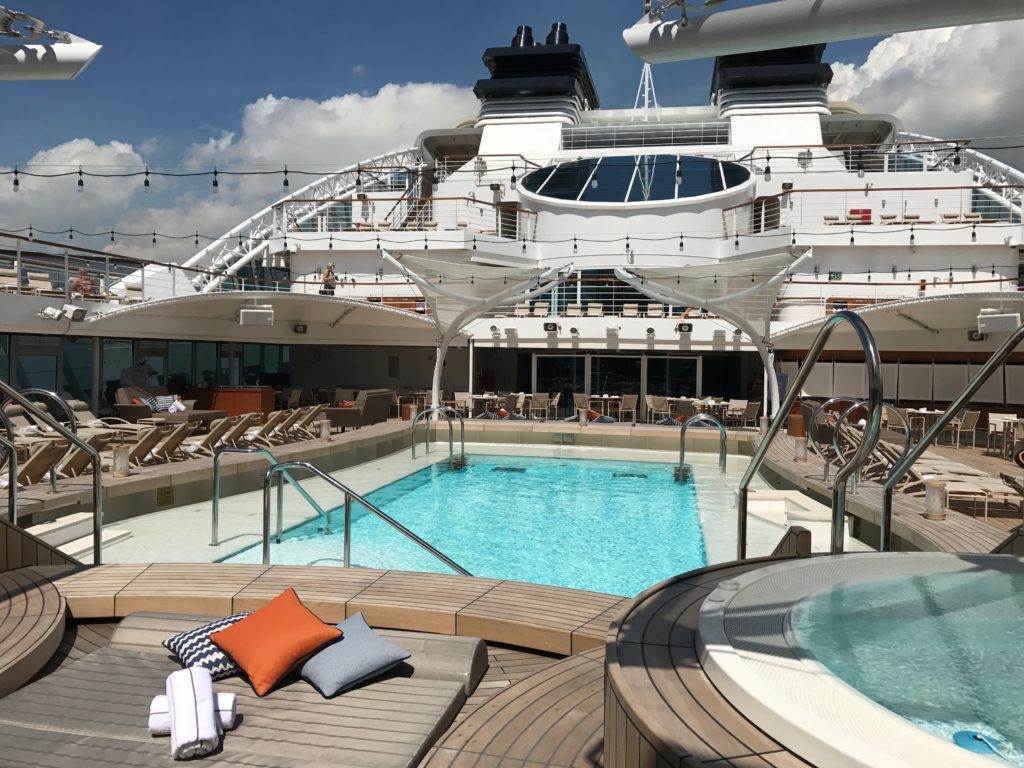 Liberated and Constrained
Looking around the ship, it was clear that he had simultaneously been constrained and liberated by Seabourn. Regular travellers with the line will find all of that all the usual and familiar venues have remained, but have been reimagined in varying ways. There is a different colour palette across the ship. The Nordic-like light wood and sharper shapes and lines on ships like the Seabourn Sojourn have gone, to be replaced with gentler, softer colours and rounder shapes.
Tihany described how he wanted to draw on yachts with fewer hard edges to bump against and incorporating more flowing and gentler curves. It was fascinating to hear how much time in the design he spent on catering for the senses beyond just eyes and look. For example:
I noticed that even the tables in the suites were now round versus square. He claims that crew came to him after he briefed his vision to thank him for creating surfaces and shapes that would be kinder to work in and around.
He said he also spent enormous time and effort to make sure every chair across the ship would be more comfortable than used before. He promised us that if we found an uncomfortable one he would buy us a free cruise. None of us on the tour could genuinely find fault with any we tried!
Another focus area was lighting. Tihany described at length how he took into account the age profile of Seabourn guests, who are mostly Boomers and older. So he balanced his aesthetic wish for stylish and appealing lighting with the need to make sure it worked for guests who needed glasses to read.
The Same But Different
While the usual Seabourn venues on board are kept, they look and feel different. Some have had more significant makeovers such as:
"Seabourn Square". This popular hub hosting the shops, guest services and excursion desk has been opened up, and could now be more accurately described as the "Seabourn Circle". It has a "wow' factor and I noticed Seabourn regulars doing a double-take of appreciation when they entered. The walls hiding the guest services and Purser's desks have been removed, making the space brighter and more personal. The room flows in a seamless way around the space, and the chairs are plusher and more comfortable.
"The Club". The popular evening venue with small dance floor and nightly music has had the casino integrated into it. This makes it feel more like an alive and immersive nightclub. The multi-level layout creates different seating configurations and spaces. My sceptic side could argue the change is to boost gaming revenue, as the separate casino room is intimating and less inviting to enter on other ships. However, the change by Tihany has given the venue more energy and draw.
"The Restaurant". The main dining room, which I like on the other ships, is very different. The walls and ceiling are columned, a bit like the vaulting in grand buildings and churches. It has a grand and impressive feeling. The tables and chairs are more substantial in size and look. I did wonder though if, while the seats look magnificent, they may prove to be a bit too large and heavy for some guests to manoeuvre.
"The Colonnade". The self-service restaurant. The food stations have been redesigned and there are two large areas to eat out on deck. One is right outside the room on Deck Nine, and a similarly sized one is below on deck Eight. The desire to eat al fresco is always great and so the added space will be well received and appreciated. It was a good move.
Some New Venues
There are some other new venues not yet available on all ships such as:
"The Retreat" has been totally transformed from a games area into a private and premium sun bathing area. Cabanas and luxurious loungers surround a whirlpool capped with a magnificent white canopy. The space looks fantastic and welcoming. However, the cost to use it is fairly substantial ranging from $250 to $350 per suite per day. It will be interesting to see if demand is high at this price, or if there will be some reduction over time. It was one space on the ship that even the sceptical and experienced cruise writers I was with gave a big thumb up to.
"The Grill with Thomas Keller". Tihany has an established relationship with this celebrity chef, and his passion for the brand shows in this restaurant. It's a large venue with wine wall, bar, seating area and many tables. It's a beautiful restaurant. There is no charge for dining here.
"Sushi". Simple and clean, this new addition to the Seabourn fleet is a small restaurant that has a sushi bar as well as tables. On first look it seems quite stark and plain, but has an intimacy to it. Again it is included in the fare.
Some Misses?
In the overall litany of design hits I felt there were two misses. These are:
There was no laundry room at launch. Any die-hard cruiser knows that no matter how up-market the guests are, cruise passengers do love their laundry room. Both for practical purposes but also as a social hub. This oversight was addressed within weeks of the ship going into service, which is impressive as they responded to the maiden voyage guest feedback.
The "Grand Salon" feels darker, more oppressive and dated than the rest of the ship. The colours feel more oppressive and the room is more claustrophobic than other of the venues. It jars with the rest of the ship in my view. The seating is definitely comfortable, but there are still some sightline issues as on the other ships. But I was surprised how dark and close the venue felt versus others across Seabourn Encore which felt had more breathing space.
Seabourn Encore Ship Tour Video
To fully appreciate the style and look of Seabourn Encore, watch my Seabourn Encore Ship Tour:
Unfortunately I was not able to see and tour the suites, other than a brief visit to a Verandah Suite (which is in the video). While I cannot comment as much on how they have evolved, from what I saw the theme of palette change and softness seems to have flowed into the accommodation too.
Final Thought
In summary, I liked the Seabourn Encore and applaud the development of the standard Seabourn venues by Adam Tihany. I liked that the signature features and venues are still present, and they have been reimagined rather than discarded and replaced. It still feels very much like Seabourn and the things that make it distinctive. It does feel softer and flows well. The more yacht-like touch and touches work.
Pin It
Disclaimer: I travelled as a guest of Seabourn Cruises to attend the official christening ceremony of Seabourn Encore in Singapore.
If you enjoyed this post:
Want to Support Tips For Travellers?