Popular cruise books
I have written a number of books about cruising which can be read on a Kindle or by using the Kindle App available for tablets and smartphones.
The five most popular books are:
The Cruise Traveler's Handbook
How to find and enjoy unforgettable cruise vacations
The Cruise Traveler's Handbook is one of the Traveler's Handbook series and provides inspiration, advice and tips on how to explore the world from the water, including ocean, river and canal cruising. Using this handbook will help travelers to ensure they find and have unforgettable cruise vacations most suited to them.
The Cruise Traveler's Handbook explores:
When cruising is better than land based vacations.
Which type of cruising is best suited to different types of traveler.
The main destinations you can cruise to, and who they are best suited for.
How to chose the right type of cruise, cruise line and cabin.
How to budget and ensure you get the best fare.
How to get the most out of your time on-board.
Buy the paperback version in the USA at Amazon.com , BarnesandNoble.com ; in the UK from  Amazon UK  and WH Smith;  in Canada from Amazon.Ca .
Buy the eBook version in USA Amazon Kindle Store ; in the UK Amazon Kindle Store
——————–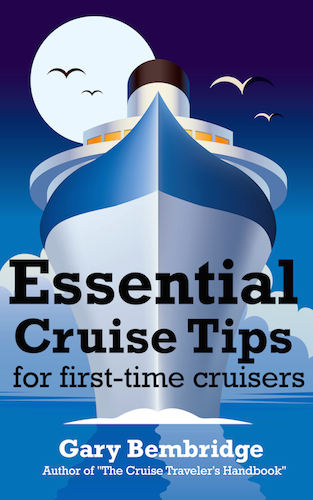 Essential Cruise Tips For First-time Cruisers
Want to go on a cruise but have questions or need help navigating through all the complexities and conflicting advice?
This book is designed to make choosing and getting the most out of your first cruise simple and easy, by providing you with only the most essential tips and advice you need to know including first-time tips, common mistakes to avoid, budgeting and saving money on fares, excursions and on board, cruise contract watch-outs, packing (what to bring and to leave at home) and much more
This book simplifies the process by distilling down the must-know things into a manageable and practical guide to help guide you to and through a wonderful cruising experience . For sale on Amazon.com, Amazon.co.uk and every other Amazon store globally.
————————-
Cruising with Cunard
Advice and tips on planning and getting the most out of cruising with Cunard Cruise Line.
This 236 page book of articles and photographs provides a history, advice and tips on planning and getting the most out cruising with Cunard. It provides first hand advice and tips generated from a decade of cruising with this famous line. The guide draws on my experiences of traveling on all of Cunard's fleet since the Queen Elizabeth 2 and from multiple trips, as well as talking to passengers and crew.
In addition to Cunard advice it also contains general cruising advice and tips including advice for first time cruisers, cruising the Caribbean, cruising the Norwegian Fjords and Transatlantic Crossings.
Buy "Cruising with Cunard"  on Amazon.com or  on Amazon.co.uk
——————–
"Cruising with MSC Cruises"  looks at the background of MSC Cruises and looks in details at cruising with them on both their smaller ships, like MSC Lirica, as well as the large Fantasia Class ships like MSC Preziosa and MSC Divina. I have also a chapter on general cruising tips and advice like the most common mistakes made and best cruise resources.
MSC Cruises is the Mediterranean cruise line that promises to provide a "Mediterranean Way of Life" on their ships. I share experiences of cruising with MSC on  their large resort-style ships and smaller ships. The book contains many photographs by the author as well as interviews with MSC crew. Content includes background and overview of MSC Cruises, coverage of every aspect of life on board including passenger mix, food, gratuities, dress codes and entertainment, reviews of ships like MSC Lirica, MSC Divina and MSC Preziosa, general cruising advice and tips and resources and multi-media content with videos, audio podcasts and photographs.
See the book on Amazon USA and Amazon UK. It is on all Amazon stores worldwide.
——————–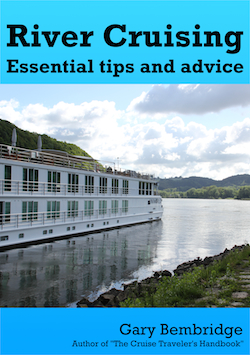 River Cruising: Essential tips and advice
River cruising is growing fast as a vacation choice. This books examines the myths and realities of going on a river cruise and looks at what is river cruising, first-time river cruise experiences, day-by-day on a river cruise, answers to frequently asked questions about river cruising and cruising tips, tricks and advice.
The book provides a balance of easy to read and practical tips and advice and includes: introduction to River Cruising, including pros and cons, day-by-day on a cruise to provide insights and tips about how a river cruise works and what to expect, frequently asked questions answered and cruising Tips, Advice and Resources including the most common mistakes cruisers make.
Buy "River Cruising: Essential tips and tricks" on Amazon.com or on Amazon.co.uk. The book is also available on all other Amazon stores.
——————–