Holland America Nieuw Statendam Review And Ship Tour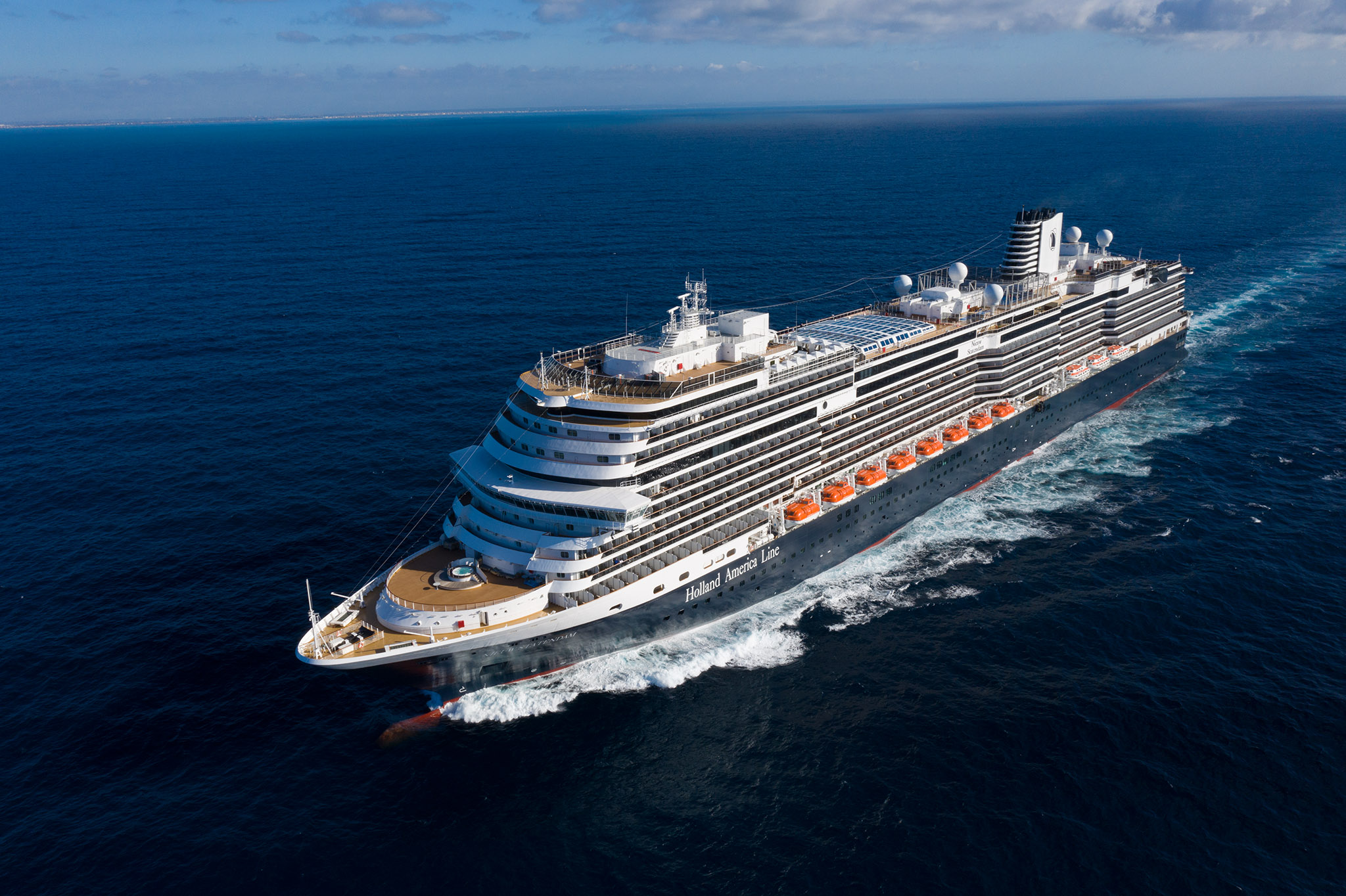 This is my Holland America Nieuw Statendam review and ship tour. I was one of the passengers travelling as a guest of Holland America as the ship accepted the first paying guests,  and so had an early opportunity to explore and review the ship. The following are my thoughts. You can watch and see it all in the video or read the edited transcript below.
Watch my Nieuw Statendam Tour And Review Video
Watch, and subscribe to my channel, on YouTube: https://youtu.be/_023hOcy-X8
You are about to discover everything you need to know about Holland America Nieuw Statendam cruise ship.
What is Nieuw Statendam?
It is the sixth ship in the Holland America fleet to have Statendam in its name. The first dates right back to 1898. At the time of this there were 14 ships in the Holland America fleet, and is the second of the three Pinnacle class ships.
The Pinnacle class ship is a new range of ships which are brought out by Holland America. The first was the Konningsdam and the second was the Nieuw Statendam. The third Pinnacle Class ship will come in
to service in 2021. The layout of the ship and the look of the ship is very similar to the Konningsdam. It holds 2,666 guests in 1,377 staterooms.
Nieuw Statendam took its first paying guest in December 2018.
What's new or the main focus on the ship?
The second thing I want to take you through is what are the innovations and what's new on board.
Holland America focuses on three key things: exploration, excursions and destinations, food and very importantly they focus on music.
One of the big innovations is the Music Walk. The Music Walk consists first of all Lincoln Center Stage. This is where you have classical music concerts and recitals. The Lincoln Center Stage is held in the same venue as BB KIng's Blues Club. BB King's Blues Club is one of the most popular of all of the music venues, and you have a nine-piece band and they perform incredible music a number of times a night.
A little bit further along are two more venues. One of which is Billboard Onboard. The Billboard Onboard has two pianists and they will run in the course of an evening a number of shows like British Invasion or One Hit Wonders or Request Shows. Then opposite that is the new addition, which appeared for the first time on Nieuw Statendam, which is the Rolling Stone Rock Room. This is a phenomenal new venue where,
not surprisingly, they play rock music.
All of those partners screen and vet the musicians before they come on board, so each of them are very much linked to their original host.
Further along from this is the World Stage. This is an amazing venue. It is almost in the round. And what Holland America have done on Nieuw Statendam is move that focus more into music. So instead of having more traditional cruise production shows, they have a lot of guest artists so, for example, on the cruise I was on they had Spanish Rumba Kings and an Opera singer. And all of the shows now relate to music or
dance.
So after music, the other thing they focus on is exploring and destinations. And like some of the other Holland America ships, up on the Crow's Nest is EXC (Explorations Central).
This is where you have the shore excursions desk and innovative interactive screens where you can go and flick through the various ports of call. You can then look at maps and get various information.
Also up there is the Explorations Cafe, which is a partnership with New York Times.
Let's take a look at the dining options.
First of all, you have the main Dining Room, which I really loved the look of. It just felt very different and where you can have breakfast, lunch and dinner. They have fixed seated dining in the evenings although you can also have Anytime Dining.
Of course, one of the most popular things on board cruise ships, and I really liked it on Nieuw Statendam, is the Lido Market, which is the buffet restaurant. What Iiked about it is they have various stations which focus on different things, so at breakfast you have one station which will have perhaps healthy options or bread and pastries options or where they cook you an omelette. Then the stations then adapt for lunch
and dinner to what is appropriate.
Two other venues that are included within your fare. The first is Dive In. Dive In is on the pool deck and is the burger and hotdog restaurant. Really good burgers. Very popular especially at Lunch. The other venue is the New York Deli and Pizza. Fantastic pizzas where you can order off menu or you can create your own and decide what toppings you want.
Another venue that's free for food is the Grand Dutch Cafe. This is a really popular meeting point. You do have to pay for the speciality coffees and teas at the Grand Dutch Cafe. If you want free tea and coffee go up to the Lido Market up on deck nine.
That's the food that included in your fare, and so what are the speciality dining options?
You have the Pinnacle Grill which is the steak house.
What is great on Nieuw Statendam is Rudi's Sel De Mer. This is the seafood based restaurant and this has its own venue. On some of the ships it is a pop-up restaurant on some evenings, but on Nieuw Statendam it has its own venue. Incredible seafood.
My favourite speciality restaurant is Tamarind. Tamarind is a pan-Asian fusion restaurant with incredible food. On Nieuw Statendam they have a standalone sushi bar which is a la carte and called Nami Sushi.
If you like Italian, then they have Canaletto. This operates in evening and is actually a section in the Lido Market that in the evening becomes Canaletto.
A new dining venue was introduced on NieuwvStatendam and this is called Club Orange. Club Orange is a place where people in suites or other guests that have paid to become a Club Orange member. It costs, at the time of writing, $50 per person per day, and there are a whole lot of other amenities built into that. Including eating your meals in Club Orange. It has an adapted Main Dining Room menu and then some special dishes that are only served in Club Orange.
Another very popular spot is the Gelato station which is on the Pool Deck. There you can buy gelato or you can buy popsicles made of gelato.
Because of the focus on food another feature on Nieuw Statendam, like many other Holland America ships, is America's Test Kitchen and this is where they have cooking demonstrations.
What accommodation options are there?
As I mentioned, it holds 2,666 guests in 1,377 staterooms. There are some solo cabins and then a range from inside cabins through to big palatial suites.
One other great thing they have introduced are Family Suites. They can hold five people with a double bed, double sofa bed and another bed that comes out of the ceiling. They have two bathrooms, one bathroom with a bath so if you have young kids you have a bath and another one which has a shower. So, you can actually be bathing and showering at the same time and so you can get ready and out faster.
In terms of numbers, the main class of cabins are Verandah cabins or balcony cabins. They are a pretty good size and many of them have a sofa bed.
What about fitness and recreation?
In terms of swimming pools, there's two. First of which is the Lido Pool, which is in the centre of Deck 9. This also has a roof which can cover over. If the weather is not great, the roof can be covered over and you can swim all year round. This is also where they have movies in the evenings on the big screen.
On the back of Deck 9 is the Sea View Pool, which is much more open so particularly if you are in nice warm climates it is a great place to be out.
If you do want some peace and quiet, you can pay to go to The Retreat. This is a beautiful area, it's very secluded and exclusive.
One of the things I really like about this ship, like all Holland America ships, is it has a Promenade deck that goes the entire way round. If you walk around it three times that is a mile. And a lot of people will do that walk, particularly on sea days.
If you want to do something a bit more active, up in deck 11 is a running track and you've also got a Sport's Court where you can play things like basketball.
Of course, there is the Greenhouse Spa and the Fitness Centre, which is a good decent size, with good wide range of equipment. And also they do have exercise classes like spinning.
What about entertainment and activities?
There is a daily program which will have a wide range of activities like quizzes, competitions, deck games and so on.
They have a casino, a big casino. At the time of recording you could still smoke in the casino, which is not something that I am a big fan of.
You have a whole range of shops which sell everything from branded merchandise, jewellery, perfume, alcohol and the usual stuff you find.
There's quite a big Art Gallery where you can obviously but artwork. The other thing that is very interesting across the whole ship is the huge range of artwork. The decor and look and feel of the ship is quite traditional, it's quite refined, but the artwork is more quirky and really interesting pieces.
Like other Holland America ships they have a partnership with Microsoft and they have a very large Digital Workshop.
If you are travelling with children or teenagers, there is Club HAL. There are three separate clubs, for young
ones, tweeny ones up to 12 or 13 and another for teenagers up to 16 or 17.
There is also the Photo Shop which is a partnership with Fuji Film. You can also take your own photographs that you might have taken on your iPhone or camera to get printed or create your own products like mugs.
What about bars and lounges?
There is Blend which is an area where you can learn about wine, and can even learn how to blend your own wine.
Linked to that there is also a place called Notes, which has a huge selection of whiskies. They have different whiskey tasting events.
Another popular place to meet before meals is the Ocean Bar which is on the way to the Dining Room and near Pinnacle Grill and Rudi's.
At the pools you have the Lido Pool and the Sea View bars.
But most of the bars are really linked to each of the Music Walk venues.
Final thoughts
The Pinnacle Class is the new generation of Holland America ships which are designed to offer a more modern cruising experience. As I have mentioned on the Nieuw Statendam there are quite a lot of introductions and new things introduced for the first time.
The overall look of the ship is a really interesting balance between a traditional feel and a modern feel, and so although some of the decor is sort of traditional the artwork is very funky – so it has quite a nice mix to it.
I would love it if you would watch my Tips For Traveller videos because every week you'll get more travel inspiration, advice and tips on how to make the most of your precious travel time and money on both land and at sea.
Note: I travelled as a guest of Holland America on the ship on a few nights cruise in the Mediterranean to experience the ship