Should You Use Holland America For Your Caribbean Cruise? Pros And Cons
I explore the reasons for and against using Holland America for your Caribbean cruise.
I want to look at a couple of reasons for and a couple of reasons against choosing Holland America for your next Caribbean cruise. Let's start by taking a look at the reasons for choosing Holland America for your Caribbean cruise.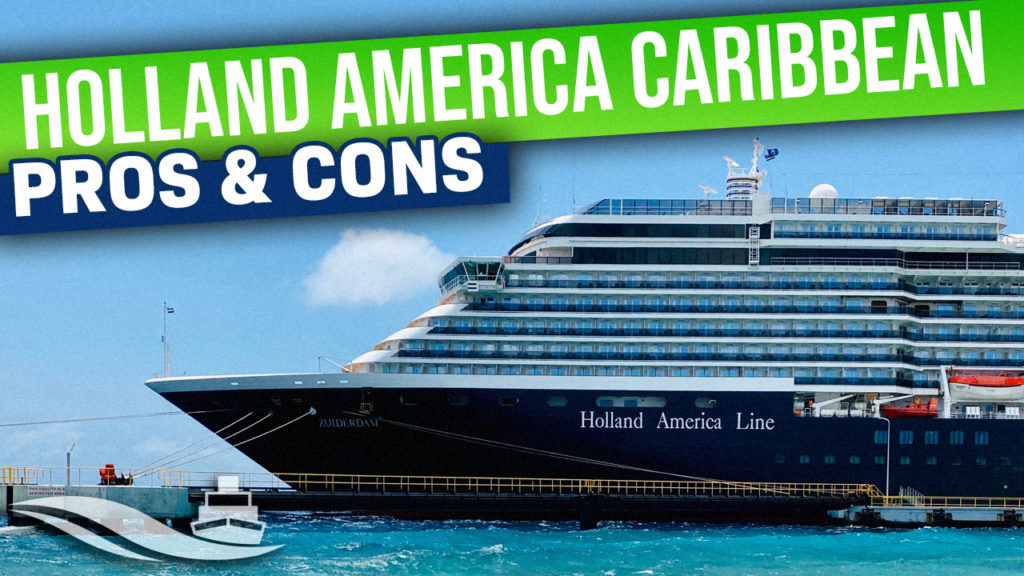 Classic and premium
First of all, Holland America will provide a very traditional cruising experience. So, if you're looking for something that is perhaps a more classic cruising experience, and you don't want big resort ships, and all the bells and whistles that come with those big mega-ships, taking a look at Holland America is a really good idea. I think from a design and decor perspective, their ships do have strong links to the traditions of maritime design. Holland America is a 140-year-old cruise line, so there's a lot of history and tradition. They do have a wide range of ships as well.
On board you're going to find all the traditional things that you'd expect, so you have lots of lounges, bars, restaurants, swimming pools, all those kind of facilities, but you're not going to have all the features that you might have on the more resort ships. So, in terms of entertainment, you'll find pretty traditional programmes, quizzes, lots of enrichment activities, for example cooking demonstrations, digital classes, talks, etc. So, if you're looking for a more traditional cruising experience, Holland America around the Caribbean is a great idea. It's not a party ship, it's a little bit more sedate, a little bit calmer and if that's what you're looking for, it's a great choice.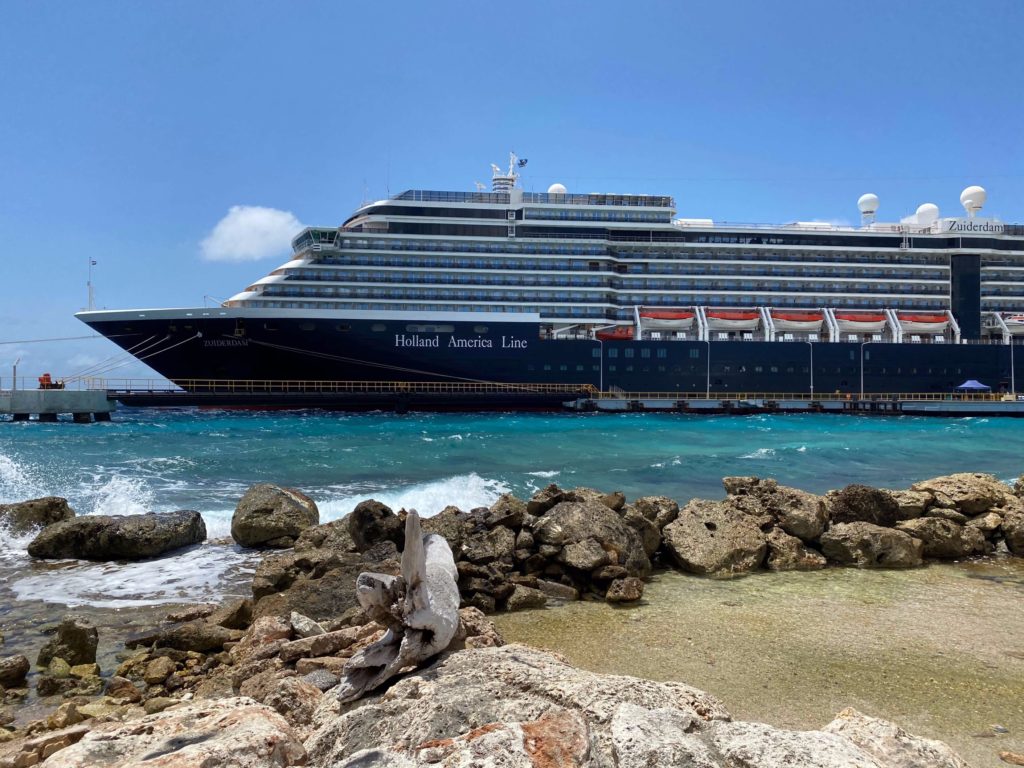 Choice
Another good reason for choosing Holland America for your cruise in the Caribbean is they actually offer a lot of different cruise options.
They last anything from about seven days to 14 days so there's a huge variety. Like most cruise lines, they'll cover the eastern Caribbean, so places like St. Thomas, San Juan, Grand Turk. They'll also cover the western Caribbean itinerary including places like Grand Cayman, Cozumel, Ocho Rios. They also go to the southern Caribbean so you can go St Marten, Barbados, St Lucia.
Then they also do one of the most recent cruises I did on Holland America: a combination Caribbean, part transit of the Panama Canal and this is great because you'll go to places like Aruba, Curacao, you'll part transit the Panama Canal, and you'll go to Costa Rica. So, lots and lots of choice and options of cruises that you can take to the Caribbean on Holland America.
Half Moon Cay
A really good reason for choosing Holland America is their private island, Half Moon Cay. Lots of the cruise lines own private islands in the Bahamas area of the Caribbean and Half Moon Cay is the one that wins the most awards. It's a great experience – it's a very big island actually for a private island, with lots going on, everything from cycling, of course lying by the pool, water sports, you can even go riding on horses through the surf. So, their beautiful private island is another good reason for choosing them.
Excursion Focus
The fourth good reason for choosing them is their focus on excursions.
Now of course all cruise lines will offer you excursions in the Caribbean, but Holland America have made excursions really fundamental to what they do. For example, they converted the Crow's Nest bar area in their ships into EXC, Exploration Central. Up here you have lots and lots of facilities: obviously there's the shore excursions desk, plus interactive stations where you can look at your itinerary, highlights of the destination, different options, etc, and there's also a library.
On the television they have an EXC channel, plus they give EXC talks, for example to help you improve your photography when you're out and about. Of course, they have a wide range of excursions of all different types, for all different fitness levels. If you're going to the Caribbean, many of the islands you can go to will have very similar excursions and I find that Holland America have quite a diverse range of different excursions that you can do.
So, I think the excursion focus is a good reason to try and find something a little bit different when you go to the Caribbean.
Music walk
Another good reason for choosing Holland America to go to the Caribbean and probably anywhere in the world is their Music Walk. This is an innovation they've been rolling out across their ships.
How many of the Music Walk features they have will depend on which ship you're on. In the Music Walk there are a whole series of music venues all focusing on different types of music, so there's BB King's Blues Club, which is really popular – they have an eight-piece band here, and they play really great, funky blues music a couple of times a night.
Billboard Onboard is another hugely popular venue featuring two pianists facing each other. The duelling pianos have different themes during the night, where they might play British hits, one hit wonders, music from the 60s, 70s, 80s, 90s, etc. They have great sessions – people crowd round the pianos and have a drink and it's really, really popular. If you're looking for something a little bit more highbrow, they have Lincoln Center Stage which is a partnership with the famous cultural centre in New York and here's where you'll hear more classical music.
Newer ships
On the newer ships, they also have the Rolling Stone Rock Room which, as the name suggests, is rock music. There's a huge focus on music on board the ships and it's great when you're cruising the Caribbean, come back from a day out at the beach or wherever, and you can basically rotate around those different venues listening to all different types of music.
In addition to those music venues, they have the World Stage, which is where you'll find the production shows, review shows, special guests, etc. Holland America also have a partnership with BBC Planet Earth, and they have some live concerts where they're themed around different Planet Earth shows so you see beautiful wildlife scenery with a live orchestra playing. I was a bit sceptical about the concept, but I went to it and honestly thought it was really impressive.
So, there are a whole bunch of reasons for choosing Holland America. But what are the things against choosing Holland America for your Caribbean cruise? Let's take a look at those:
Fares not all-inclusive
Probably the first reason for not choosing Holland America is around the fares. The fares are pretty consistent with other lines that they compete with in the premium categories, for example Celebrity, Princess, you could even argue Cunard, some of the UK lines like P&O when they're in that region.
However, one of the key things with Holland America fares like those other cruise lines is they're not all inclusive. So, when you go on a Caribbean cruise you do need to bear in mind there are going to be quite a few add-on costs. What's included in the fares? Your accommodation obviously, lots of dining options are included, so the main dining room, the buffet dining, 24-hour room service, the informal dining, whether that's the Dive In, which is the full burger place or Slice pizza if it's on board your ship and afternoon tea.
So, lots and lots of food is included. Access to pretty much all the facilities, with the exception really of the Cabanas which are the little private area you pay for where it's a bit quieter than being at the main swimming pool area, is included. The fitness centre, all that kind of stuff and all your key entertainment and all your enrichment's included.
What's not included
What's not included though, that you do have to budget for, are gratuities, which are also added if you haven't prepaid those, and that can be anything up to about $14 per person, per day, depending on the grade of cabin you're in. You also will have to pay for a Wi-Fi packages, drinks, etc.
There are some basic, standard teas, coffees, tap water, iced tea, lemonade etc that are included in the restaurants at mealtimes, but your specialty coffees, teas, and alcoholic drinks are chargeable. Of course, you have to pay for excursions, and then all the ad hoc things you might decide to do, like shopping or if you need to use the medical centre.
So, the key thing is it's not all inclusive, although that's pretty consistent for the category that they're in, but you need to bear in mind that is a factor.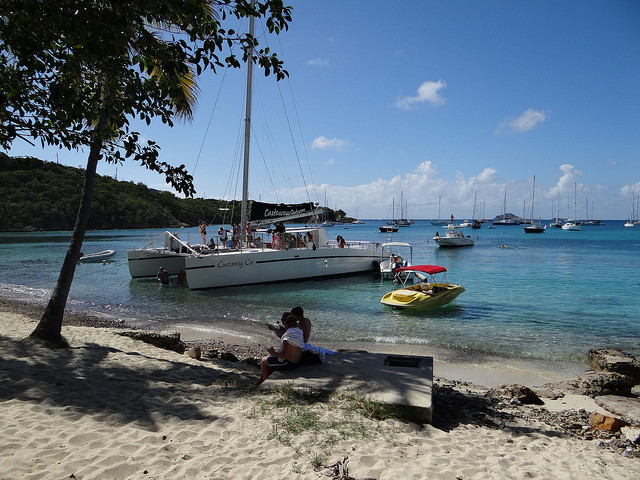 Dress code
The second reason that some people cite for not choosing Holland America when they go to the Caribbean is their dress codes are a little bit stricter than on some of the more informal lines.
Personally speaking I think it's not that strict for a cruise in the Caribbean. So, they have gala nights for example, when gentlemen are asked to wear collared long sleeve shirts, smart trousers (you could probably get away with smart jeans) etc, so you do have to pack some of those. If you want to of course you can wear suits and jackets.
On other cruise lines, for example Cunard, you would have to wear tuxedos and jackets and that kind of stuff. So, although people say they find that Holland America is on the stricter side it's not massively strict and of course on gala nights, you could actually just eat in the Lido restaurant if you wanted to be a little bit more informal.
So, there is a slightly stricter dress code versus perhaps some of the other options or the more mass market, value priced lines.
No resort facilities
One of the reasons that you might decide that Holland America isn't for you is almost the flip side of the classic cruising experience and classic ships argument above.
If you do have sea days, or you want to stay on board in port, you're not going to find lots of resort activities because they don't have them on board. On sea days for example it's really focused around hanging around the swimming pool, perhaps playing some of the sports on the sports deck and dipping into the daily programme where they might have cooking demonstrations or talks or whatever.
So, you're not going to have lots of added features and benefits and things that you can do to keep you busy on sea days. So, if you're really that sort of person who wants that on-tap entertainment, Holland America's probably not ideal for you. They will have a full daily programme but it's very much more focused around relaxing and dipping into things on the daily programme rather than being able to go ice skating or rock climbing, because it's not a resort ship.
Solo traveller options
Another reason that you may want to think about Holland America if you're going to the Caribbean is if you're travelling solo, because most of their ships don't have solo cabins.
They've started to introduce a couple on some of the ships but largely speaking, if you're going as a solo traveller, which I was on my last cruise, you will pay a premium to have occupancy of basically a twin berth cabin. You're not going to find specific solo cabins.
So, if you want to cruise with Holland America as a single traveller, you've got to plan ahead. They do have lots of programmes once you're on board for solo travellers but you need to perhaps look out for times when prices are sharper, for example, some of the shoulder seasons when it's not as busy or you need to look out for when they're doing deals for solo travellers.
Family travel options
If you're travelling as a family, one thing I would add is they don't have family cabins as such, but you can get interconnecting cabins on board. Plus, of course, they do have Club Hal, the kids programme which is included in the fare, and goes from pretty young right through to teenagers.
But again, it's not massively catering for families. You will find more families on board in the Caribbean during the peak holiday seasons, so it's definitely something not to exclude as a family if you are thinking of cruising at those peak times.
Those are the things that I consider for and against going to the Caribbean on Holland America. I loved my time in the Caribbean on Holland America, and hope you found that helpful.
I have loads and loads more videos about Holland America, about Caribbean cruising and about cruising in general so why don't you watch one of those right now?
View my upcoming cruises.
Subscribe to Tips For Travellers YouTube Channel (click image):

Follow Tips For Travellers:
Subscribe to Blog via Email