Crystal Cruises Online Cruise Personaliser Review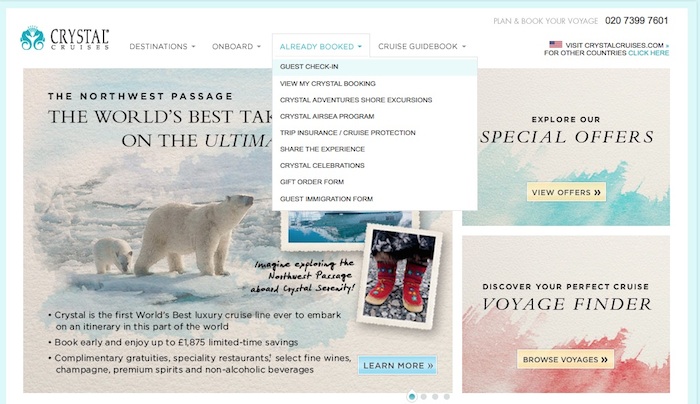 Before heading off on a Crystal Cruise, passengers are encouraged to visit an online personalisation and check-in tool. Here key information the cruise line needs, like passport, credit card and insurance details, are collected and bookings can be made for transfers, dining, excursions, spa and enrichment classes. It is available until seven days before the cruise and completion means that the priority check-in desk can be used on board. I logged on to complete the required information and explore what my cruise was offering. I found it one of the most user-friendly and comprehensive portals I have come across in my cruising experiences.
Log-in Page
The tool is accessed via a link on the home page of the CrystalCruises.com site under "already booked". You simply enter your name and booking number, which you will have been given at time of making your reservation.
Cruise Calendar
After entering all the required personal details, the fun begins. As shown below, there is a detailed cruise calendar with the port, times of arrival and departure and the dress required for every day. Each of these is described in detail by hovering over the "?". It also shows what the main entertainment will be for each evening to help plan your time and day. Above the daily calendar are links to book shore excursions, spa and salon treatments, enrichment classes, dining and The Vintage Room (a premium wine and meal event).
Dinner Reservations
There are a number of options for dining available to pre-book. As the screengrab below shows, if you have not chosen the set evening dining times of either 6:15pm or 8:30pm you can make reservations in the main dining room under the "Dining by Reservation" program. This means you can book a specific table size and guests to dine with between 6:15pm and 9:15pm. Reservations have to be made for each day and are on a first-come basis. You are likely to have different tables and waiting staff each evening.
You can also make bookings for the speciality restaurants: Prego, Silk Road and Sushi Bar and Tastes.
Shore Excursions
All the available excursions are listed by port. Each has a "read more" link which explains the tour, pricing and activity level. To make things simple to review there is also an electronic excursion book for each cruise that explains all of them in detail. That can be accessed via a link on the top right-hand side of the page.
Crystal Spa and Salon
The vast array of treatments available is listed and described with a booking tab. It is always a good idea to book these in advance on sea days as this is the most popular time to use these facilities.
Enrichment Classes
In the enrichment class section, a list of around 20 possible classes is provided. Passengers asked to indicate which ones they are interested in to help the ship decide which to schedule as they cannot run all of them. Some are for PC and some for MAC computers.
The site is not only a practical planning tool but also a great way to build excitement, as you get to go in as often as you wish to fine tune and explore options. I know it made me even more excited about my trip!
Declaration: I travelled as a guest of Crystal Cruises on Crystal Serenity on the 12-night European Cachet trip. Follow my trip and all the videos, audio content, photographs and articles at tipsfortravellers.com/crystal