9 Most Unusual Theme Cruises Ever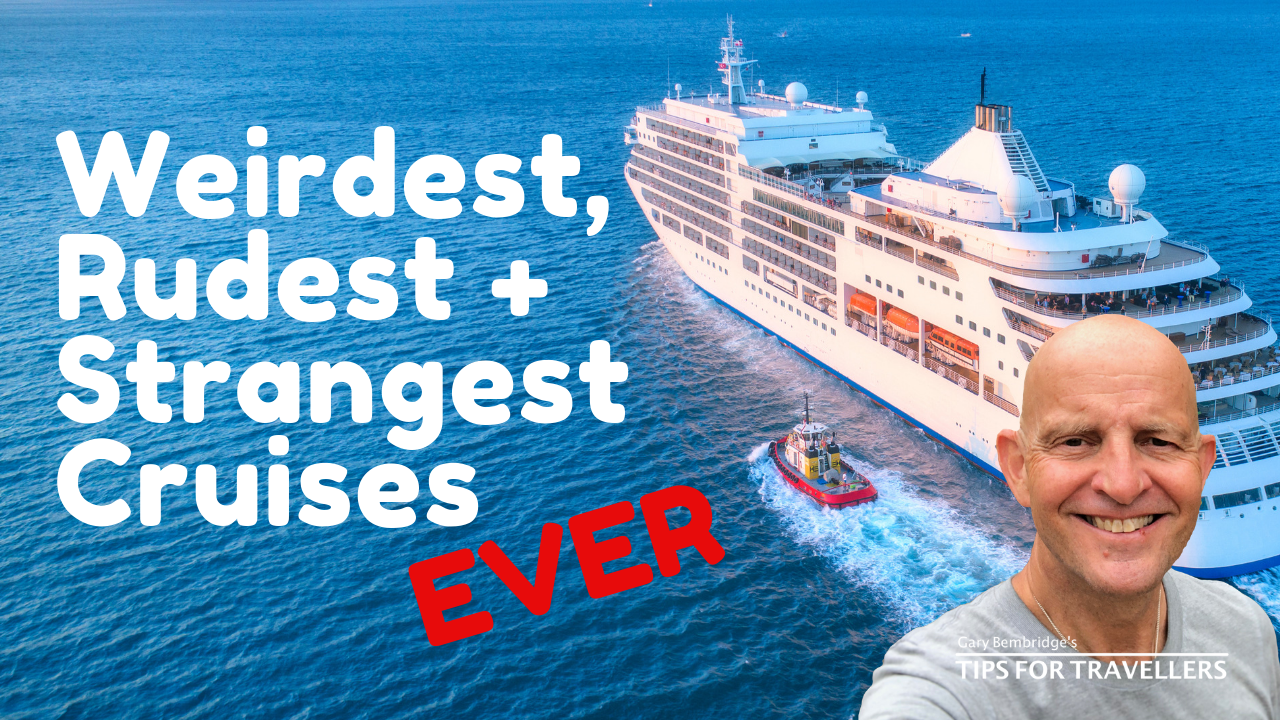 You're about to discover the nine weirdest, rudest and strangest cruises that you can go on.
Watch my video about unusual  cruises
Watch on YouTube: https://youtu.be/G8ZSpVFia-s
Nudist
The first cruise is a nudist cruise. These are surprisingly popular. So, whilst some cruise lines, usually German cruise and Hapag Lloyd, do have nude and topless bathing areas, there are totally nude cruises, there are a number of specialist companies that focus on nudist holidays, and they charter whole ships and the whole ship is a nudist cruise.
I know people that have been in various ports that have pulled up alongside ships that have been chartered by a nudist cruise and looked across and been surprised at the number of bits and pieces flopping about on deck.
So, nudist cruises are definitely something to consider if that appeals to you. There's a couple of sites you can look at, so for example, there's Bliss Travel which focus on nudist travel and cruises. There's a site called Cruise Bare which is organised by Bear Necessities, where they have a lot of nudist cruises.
Swingers
If cruising nude is just a little bit too tame for you, and you want something even more erotic – what about a swingers cruise? I first discovered swingers cruises when I noticed on one of my videos, I was getting a lot of extra views all of a sudden, and I realised it was because a swinger cruise site was chartering that particular ship, and it was driving traffic to watch the video.
If you're looking for a swingers cruise as that does appeal to you, the ships are entirely chartered and
everyone on there is a swinger. There are specific companies and groups that charter whole ships and organize swinger cruises, with all the things that go along with that. It is very simple and there's a site that's called The Swingers Cruise if that's something that piques your interest.
Swingers cruises are generally couples only and normally are for heterosexual couples only.
LGBT
The LGBT community is not ignored at all when it comes to cruising. You'll find that cruising is particularly popular amongst the gay community and on a lot of ships you'll find gay couples and gay groups.
There's also many organizations and groups that organize and charter parts or all of ships. One of the most renowned of all though is Atlantis. Atlantis charter big mega ships and hold massive big parties. These parties are absolutely renowned. There are themed parties every night. It's really full-on and people who've been on them do report all sorts of goings on and very liberal attitudes.
So, if you're looking for an LGBT Cruise and you want a little bit on the wild side, take a look at something like Atlantis.
There's also lots of lesbian cruises, like Olivia for example, and then there's a more sedate kind of LGBT cruising too. If you take a look at sites like Meet Me On Board which caters a little bit more for the tamer side of LGBT cruising, but certainly if you want to go on a focused LGBT Cruise there are lots of options all around the world.
Drag
The fourth unusual cruise to go on is something that's probably grown in popularity because of shows like
RuPaul's Drag Race, and there are drag cruises at sea which I think I will get more popular.
At the moment they tend to charter parts of ships and hold events on them. I'm sure if you take a look, you'll find increasingly whole cruise ships are being dedicated to drag at sea. Even river cruising companies are getting in on the act and, for example, U by Uniworld had a drag cruise down the rivers of Europe. If you're interested in finding more about drag queens at sea take a look at sites like Queens Overboard.
Music
My fifth set of unusual cruises are for people who love music. No matter what type of music you like, increasingly more and more bands have realised that cruising is a great way to diversify. You'll find everything from New Kids on the Block, Kiss and Jon Bon Jovi are all starting to run specific dedicated cruises to target their fans.
If you're a big lover of music you're likely to find a cruise for you. You'll find all sorts of band specific cruises, and you'll also find themed cruisers like Monsters of Rock, Soul Train and Country Music. Pop and music star cruises are growing and if you are big fan of a particular artist keep an eye out as it's high likely, particularly if they are bands from the 80's 90's or in the 2000s, it's highly likely they're going to pop up on a cruise quite soon.
Back in Time
Linked to that is another really popular, and fast-growing, cruise are cruises that take you back in time particularly the 80s and the 90s. These are cruises normally organized by a cruise company, although there are organisations that are set up to run these, and they'll run 80s and 90s themed cruises.
They're proving really popular, particularly as more people from the 80s and the 90s generation are starting to go cruising. For example, a recent 80s cruises had bands like the B-52s, Berlin, Patti Smith, Tony Hadley, Dire Straits, Midnight Star, the Jets and on the 90s there were popular boy and girl bands from the 90s. So, certainly if you want to step back in time and relive your teenage or twenties, cruises themed around the 80s and 90s are really popular and growing.
TV Shows
One of the first areas that tapped into the whole cruising world and themed cruises was the whole area of TV shows, particularly cult type TV shows. You'll find increasingly whole ships are being charted by fan clubs or groups.
Star Trek was one of the first ones, but you'll find Game of Thrones, Walking Dead and Golden Girls. Huge amounts of big popular TV shows are increasingly running themed cruises. The cruise lines are keen to embrace and support these because they often bring a lot of people new to cruise on board for the first time.
If you're a big fan of a TV show, particularly cult TV shows, you'll find if you go and search online for the name of your TV show with the word cruise added, it's highly likely you're going to find a themed cruise. The great thing about those is they will normally bring on board many of the big actors, actresses and people involved in that show, and will be lots of inside information and behind the scenes stuff. It's like attending a kind of a comic-con event on land but it happens at sea. It's a really popular and growing type of cruise.
Hobby
One of the things that I found really interesting, and I think is going to grow more, is if you have a particular hobby, np matter how unusual it is, you're likely to find there's a cruise themed around it. These currently don't necessary take over the whole ship. You'll find if you have a particular interest, so even if you're into knitting or quilting, there are many cruises which charter part of a ship and focus on that.
You'll find there are ones around motorcycling, Zumba, martial arts or pretty much any hobby you can think of, there's likely to be part of a cruise or a whole cruise dedicated to that. So, again if you have a particular interest or hobby it's a really good idea to search that plus the word cruise and find out if there's one.
If not, it is easy to organise one and increasingly I'm coming across people that are part of groups or interest groups that are starting to form their own groups on board. Bear in mind, many cruise lines will give you free cabins. If you can sell eight twin occupancy cabins, the cruise line will give you a free cabin.
So, even if everyone ends up spending what they would normally spend but if you put it all together and do it as through one agent, or through the cruise line, you can very easily organise a group around your particular hobby.
Mystery
The next, and also an incredibly interesting and unusual cruise, is a cruise where you have no idea where you're going. Whilst these cruises are not that big, there are a couple of cruise lines like Fred Olsen, for example, that sails out of the UK and every year they sell a mystery cruise where the captain decides the itinerary.
Of course, I'm pretty sure that the ports are decided beforehand because they have to have booked berths and excursions and all that kind of stuff, but when you book the cruise you have no idea where you're going. Sometimes on the cruise they give you options where you can vote between two possible destinations.
If you love cruising and want to be a bit adventurous, mystery cruises are also a great idea.
Final Thought
Cruising doesn't have to be ordinary. It doesn't have to be all the same. You can still go to great destinations and live out your dreams and fantasies, whether it's nudism, swinging, love of the Golden Girls or knitting, there are lots of unusual, wacky and (as we've discovered) some rude cruises that you could go on.
I have lots of other tips about cruising and cruises, so why don't you watch another one of those videos right now?