7 Reasons You Should Plan 2022 Cruises, Not 2021 For Now
7 Reasons You Should Book 2022 Cruises And Not 2021
You are about to discover 7 reasons you should be looking at 2022 and not 2021 cruises, including the surprising news that the cruise lines agree with this too!
In this article, I look at why booking 2022 cruising vacations and avoiding committing to 2021 right now and waiting, no matter how eager you are to go cruising, is your best bet by far. You can watch my reasons to book 2022 and not 2021 video on my YouTube channel.
Cruise Lines Say So!
Probably the most compelling reason for focusing booking for 2022 is the cruise lines themselves are recommending it.
There are a couple of things to note:
Firstly, at a recent travel agent "Virtual Cruise Showcase", arranged by the Cruise Line Association, the lines were telling agents to encourage travellers to book itineraries earliest from Autumn/ Winter 2021 and to focus more on 2022 cruises.
Why? Because they are more certain that their advertised cruises will actually be able to run by then.
Peter Shanks (the Managing Director of Silversea Cruises), was very explicit and said travel agents should focus on promoting and selling their cruises from the autumn of 2021 and early in 2022, which they could be confident would be operating.
This also explains why the cruise lines have been putting 2022, and now 2023 itineraries, on sale to give travellers and agents further out cruises to focus on.
Secondly, cruise lines still do not know for certain when they will be able to resume sailing in 2021. No-one really knows.
There is no agreed date in North America nor in major cruise embarkation countries like the UK and Spain.  No agreement on lifting bans in places like Canada and Australia. There is a process for a return to sail in most of them, like the US CDC Framework for Conditional Sailing, but no clarity or certainty on the dates when cruises will actually start up in USA, UK, Spain, Australia and so on.
Thirdly, even once they can start sailing, all lines have been clear that they will be staggering their fleet return to service through most of 2021. It will not be one Big Bang.
However, they are still listing and selling cruises across the fleet from the first date they hope to start the first ship or ships sailing. So that cruise you may be eying for 2021 that currently shows as running, may not be in the end. No-one really knows.
Norwegian and Carnival groups, for example, say they only envisage all their ships being back sailing by Autumn 2021. So, it is clear that many advertised cruises will not run.
Others, like Fred Olsen Cruises, are starting to be more upfront and explicit on this. They laid up one of their ships (Braemar) until 2022 as it is used to sail more distant, fly-cruise and multi-country itineraries, cancelling all of 2021 cruises for that ship.
They will only bring back ships in 2021 that run no-fly local departures and cruise to domestic or close ports  out of the UK.
Fourthly, it is also worth considering, as you think about timing, that the major cruise groups have been raising cash to enable them to survive without any cruises running though Summer 2021.
So, if you want to plan your vacation time and budget with maximum certainty, pushing it out to earliest the end of the year and even better into 2022 is your best option. Don't just take my word for it, the lines are saying it too.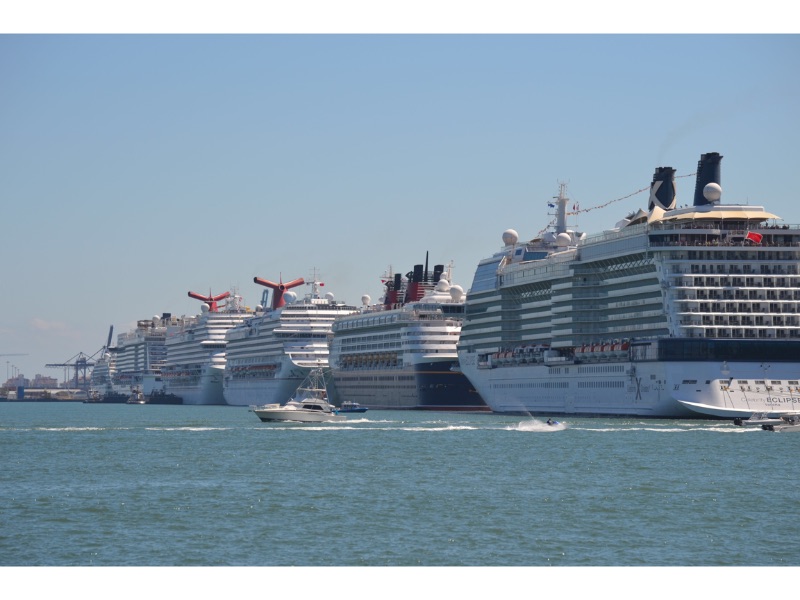 Lines Extending FCC into 2022 increasingly
It is therefore not a surprise then that the lines are making it easier for you to book cruises in 2022 using your future cruise credit from cancelled trips.
If you have future cruise credit don't feel pressured to use it to cruise in 2021, which had been the case for a while. The cruise lines are now allowing you to use your Future Cruise Credit for 2022 cruises, and even for some like MSC Cruises and Carnival Cruise Line for 2023, cruises.
Many cruisers, including me for a time, think that the expiry date of our future cruise credit is by when you have to have cruised.
This is not always the case, so check your line carefully. Most cruise lines only require you to have used your future cruise credit to make a booking before the expiry date, and usually it can be for any cruise on sale at the time you book –  so certainly in 2022.
There are some exceptions at the time of recording like Royal Caribbean and Holland America where you have to cruise before the credit expires, but again that date is well into 2022.
So, from my research, it looks like virtually all enable you to use future cruise credit no, matter when issued,  to sail for some or all of 2022. So consider using it for that to ensure certainty and escape the cycle of booking, cancellations and rebooking.
Uncertain When On-Board Restrictions Will Lift
Another  reason to hold off booking a cruise until 2022 is there is no certainty when all the protocols being put in place for cruising to resume will be lifted. Many of which I have seen many cruisers object to and want to only cruise when they are lifted.
Vaccination is being seen the cruise lines, as I covered in a past episode, as being key to being able to lift many of the limitations and rules.
Although we are all optimistic that vaccination programs will roll out quickly in 2021, we just do not know for certain the time scale right now. It could be quite some time into 2021 before these programs have been rolled out across all age groups.
With the attitude towards cruising being quite negative and cautious by the authorities, permission to lift those protocols on ships will be slower than many of us hope, I believe, even as vaccinations roll out.
So, if you object to any of the protocols for any reason, you should only book far out, and earliest end of 2021 and more sensibly in 2022, to increase chance they have been eased or lifted.
If you object to testing, compulsory mask wearing, physical distancing meaning you have to reserve places to dine, attend events, sit around the pool, go to the theatre and so on, cruise line only excursions in ports, venues like saunas and nightclubs being closed and events like pool parties not being held, then do not book during at least the first 9 months of 2021. And more realistically focus on 2022. Until you know for sure they have been lifted.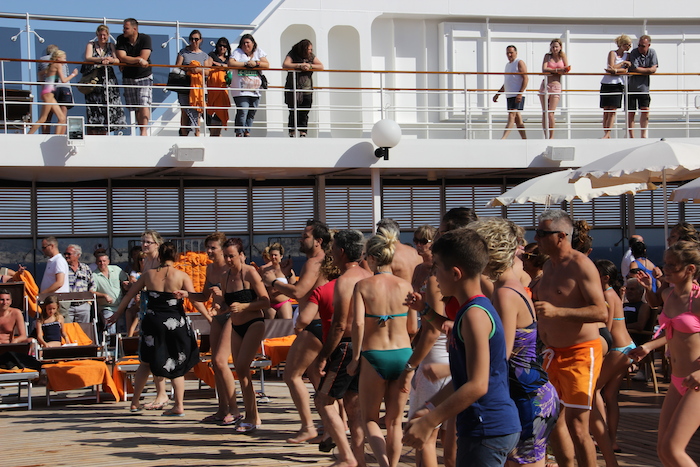 Risk of cruises being curtailed
Until the likelyhood of passengers contracting coronavirus or showing coronavirus symptoms is really really low, you need to consider the risk of your cruise being truncated even if it is able to run too.
The risk of any outbreak is likely to lower the more further out you look, when the combination of wide vaccine adoption combined with ever more effective testing protocols, is in play.
This is important as all the return-to-cruise protocols say that if there are suspected cases of coronavirus on board, usually above a small threshold, the cruise will be curtailed and returns to the embarkation port.
So even if the cases end up being false positives, such have seen for SeaDream in Norway, UnCruise in Alaska, Paul Gauguin in French Polynesia and more recently on Royal Caribbean Quantum of the Seas out of Singapore, cruises still get cut short and while better track and trace means only those who came into contact with the affected passenger or passengers gets isolated, everyone gets quarantined in their cabins until there can be land-based testing and let to go home. But your cruise gets cut short.
So waiting further out to end 2021 and into 2022 should reduce this risk. So, another thing to consider and another reason for booking further out.
Longer Than 7-Night Cruises
If you want to do a cruise longer than 7 nights that leave, arrive or call on ports in the United States, then you do have to wait until 2022 to book those. The CDC has banned longer cruises at this stage until towards the end of November 2021.
Lines have adopted different approaches. Some have stopped selling longer cruises (hoping over time the CDC will relax this ruling). Some have cancelled them and put different cruises in their place, like Seabourn who changed all their Alaska season into 7-night trips. Some, like Windstar, have gone even further and pulled every cruise out of USA ports and scheduled different regions.
But if you want longer cruises book further out
Multi-port and multi-country Cruises
Also consider booking cruises only at the end of 2021 and into 2022 if they involve flying to a foreign destination and include calling on multiple countries. It is uncertain when countries will open and what restrictions they will put in place.
We are all probably being over optimistic at how fast this will all change in 2021, certainly in the first half.
This is especially true if you have big "bucket list" destination cruises which could be once-in-a-lifetime as surely you want to be confident that you can see everything, do everything and not have to be constrained or have to follow protocols like masks, restricted excursions and so on.
As mentioned earlier, no-one knows when countries will be able to open to tourism without having restrictions, requirements for tests, requirement for vaccines and so on. Most countries are hoping that by summer things will be more easy, but as we learnt through 2020 things can be volatile,  unpredictable and slower to happen.
If you have a multiple country trip that is a big bucket list one in mind, I would recommend booking that end of 2021 and into 2022 (as the lines suggest) and focus on more domestic and close to home cruises in 2021.
Then once lines are actually sailing again and offer trips they know they can deliver, we can all revisit our 2021 plans with more certainty.
We saw that in Italy and Germany that when the lines were given the okay to sail, as there were only specific ports and places they could go to,  they scrapped existing cruises and developed and put on sale new trips based on that.
So, once lines get the final okay they will launch new trips they absolutely can deliver and then is the time to book 2021.
For example, already UK lines are working on UK-only ports with UK destinations cruises for when they can start sailing again in 2021, as they think both the authorities and travellers will prefer those initially. We have heard the lines sailing out of US ports talking about creating new cruises focused on private Caribbean islands fro a while once they resume.
Most of 2021 cruises once they resume will almost certainly be new cruises I believe. So wait for those and focus on 2022 for those more "back to usual" itineraries and plans.
Lots Of Deals for 2022 And beyond
Another good reason for looking at 2022 is the lines are really keen to get people to commit to 2022 and beyond as also they sure they can deliver, and want to get the deposits and commitments locked in. So there are many deals and incentives to encourage bookings.
The first few months of the year is known as Wave Season where the lines already traditionally run promotions for cruises, as many people book their vacations this time of the year. Expect lots of deals and offers for 2022. A great reason to be booking as you will find amazing opportunities and savings.
I hope that has given you something to think about as you plan your vacations, budgets and plans.
ABOUT TIPS FOR TRAVELLERS
—————————————–
Gary Bembridge's Tips For Travellers aims to help you make more of your precious travel time and money on land and when cruising the oceans or rivers of the world. To help you, in every video I draw on my first-hand tips and advice from travelling every month for over 20 years and average of 10 cruises a year.
BECOME A TIPS FOR TRAVELLERS MEMBER
————————————————————
Become a Channel Member to get perks: https://www.tipsfortravellers.com/Join
Become a Patron on Patreon and get perks: https://www.patreon.com/tipsfortravellers
BUY MY CRUISE-THEMED T-SHIRTS
————————————————
Check out my T-Shirt range: http://bit.ly/TFTStore
FOLLOW ME ON SOCIAL MEDIA
——————————————-