7 Cruise Dining Traps Too Many Cruisers Fall Into
7 Cruise Dining Traps Too Many Cruisers Fall Into
Everything has changed, so we all need to change, too! When I started cruising there was one main dining room, with a first and second seating option, plus the buffet. All I had to do was decide which seating time and table size I wanted. But now that dining is much more complicated, there are 8 things I see cruisers like you keep getting wrong. But, maybe from today they will be a thing of the past, if you follow these simple tips.
#1: Cruise Dining Traps – Latest Evening Set Up?
Before a cruise I make sure I know the current evening dining set up and options and there are two key venues that I check.
Main Dining Room Types
First, what the main dining room situation is on the ship right now. It's not as simple as it sounds.
For example, I cruised on Celebrity Silhouette and there was one large main dining room. A few months later I returned to Celebrity, this time on Edge, to find that instead of one main dining room, there were four small, themed ones that I had to choose from and rotate around: Cosmopolitan, Tuscan, Normandie, and Cyprus. I had to choose which, what time, what table size and who I dined with every night.
On my next cruise, which was on Disney Magic, they also had no single main dining room option, instead there were three dining rooms (Rapunzel's Royal Table, Animator's Palate and Lumiere's). But rather than being able to choose which and when, I was given a strict schedule and had to rotate through them on set days, always at the same table number with the same table companions and waiting staff.
The cruise after that was on Cunard's Queen Elizabeth, a cruise line I thought I knew the dining set up for quite well. How wrong was I! Onboard, instead of the two set dining times I had known for decades, there now were three. Early, late, and anytime dining.
Another complication with main dining rooms is that on some ships which one you eat in can also depend on what type of cabin you are in.
For example, on Celebrity Cruises, while most dine in the main dining room (or rooms), those in Aqua grade cabins dine in Blu, and those in suites, in Luminae.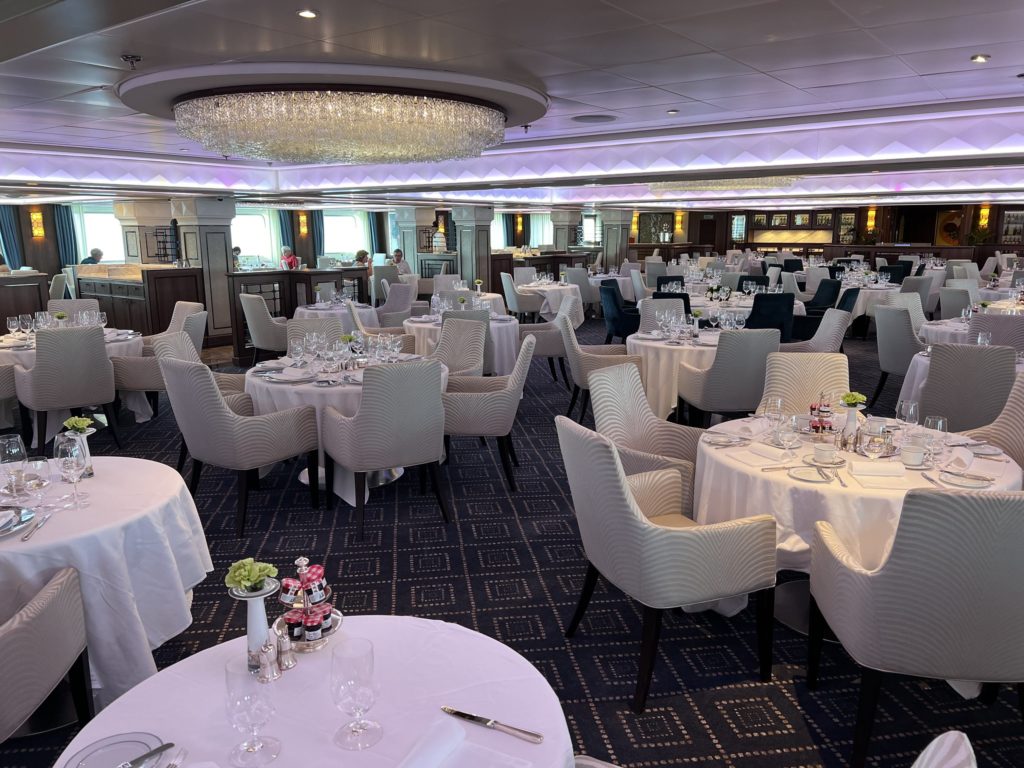 More Than One Main Dining Room
Cunard is famous for having 4 different dining rooms based on the grade of cabin (Britannia, Britannia Club, Princess, and Queens).
On the big resort ships like Norwegian, MSC Cruises and Royal Caribbean, they also have different main dining rooms for suite and regular guests.
Once I'm clear on where I am dining, I prefer to go for the Anytime Dining option if they have that, where I can go when I want, rather than at fixed times.
But, the key is then finding out if I can book those times before, during the cruise or if it is a first-come first served basis each evening. The latter being my least favourite, as it can mean waiting at busy times.
It's important that you find that out, so you can plan your evenings.
You may also want to use the buffet some nights and even that is now not as simple as it used to be.
Evening Buffet Options
These days, I now find I also need to check if the buffet is an evening option – or not.
I had always assumed buffet restaurants would be open most of the day on any cruise line, and always for dinner. But I have learnt that may not be the case any longer.
While it still is on the resort lines, like Carnival, Norwegian, Royal Caribbean, and premium lines, like Princess, Holland America, and Celebrity, it is not always an option on others.
For example, on my Disney Magic cruise, the buffet was closed in the evenings. On some small ship lines like Azamara and ultra-luxury lines like Regent, Seabourn and Silversea, it is turned into an a la carte restaurant at night.
With that all now hopefully sorted, here is the next mistake I see.
#2: Cruise Dining Traps – What's Included?
All too often, cruisers do not take time to understand what food is currently included in the cruise fare. This is key to know because it is changing all the time, as the cruise lines look to cut back costs and increase our onboard spend.
For example, on returning to Holland America, I found they now charge for some items, like lobster in the Main Dining Room. Other lines have and may add some up-charges for previously included items.
What dining and food is included differs by cruise line and again can vary based on grade of cabin.
Let me give a typical example of usual inclusions based on my recent Holland America Koningsdam cruise.
Included was the main dining room (breakfast, lunch and dinner), Lido Marketplace Buffet (open from around 6am until 11:30pm), early riser breakfast options in the coffee shop areas, Dive-In burgers and Pizza on the Pool deck, soft serve ice cream, room service, afternoon tea, regular tea and coffee, and special events like chocolate night.
If in a suite, there was also included food all day in the Suite's Neptune Lounge, from breakfast to evening snacks and canapes.
The more premium the line, the more that's included. So, on lines like Oceania, Azamara, Regent Seven Seas, Viking and so on even speciality restaurants are included.
Don't miss out by not asking and checking what is included.
#3: Cruise Dining Traps – Speciality?
The third big mistake I see is around specialty dining, adding a lot of cost to the cruise by feeling the need to go in case of missing out.
I ask three questions. Do I have the budget for it, like on-board credit? Is there a special event like a birthday happening while on board which makes it worth the extra? Is it food or dishes I can't get in an included venue during the cruise? For example, Holland America's Tamarind Asian fusion speciality restaurant.
Assuming these convince me that I should do speciality dining, there are a couple of things I then check out to avoid blunders.
Included Offers!
First, I check if there are offers or included speciality dining. There often are.
For example, I've just booked an MSC Norwegian Fjords cruise and in my cruise planner there are heavily discounted packages of two or three specialty dining nights. Some lines offer 50% off speciality dining on the first night and all on embarkation day will set up promotion stalls around the ship with deals.
For the MSC cruise I've booked, they status match other cruise line loyalty status, so I am now Diamond, which means I get a speciality dining night for free.
Always check the offers and if there are any inclusions in your loyalty status or fare if thinking of doing speciality dining.
The next thing is booking. Many speciality restaurants fill up fast on popular days, like sea days. So, I book speciality dining as soon as the bookings open online. There are usually no cancellation fees so there's no risk.
Finally, I check on the rules. Some lines limit how often you can book to go, like on Disney Magic I could only go to Palo, their Italian speciality, once. They also had a rule that it was adult only. Many lines also have smart dress codes for speciality dining, so know that to pack.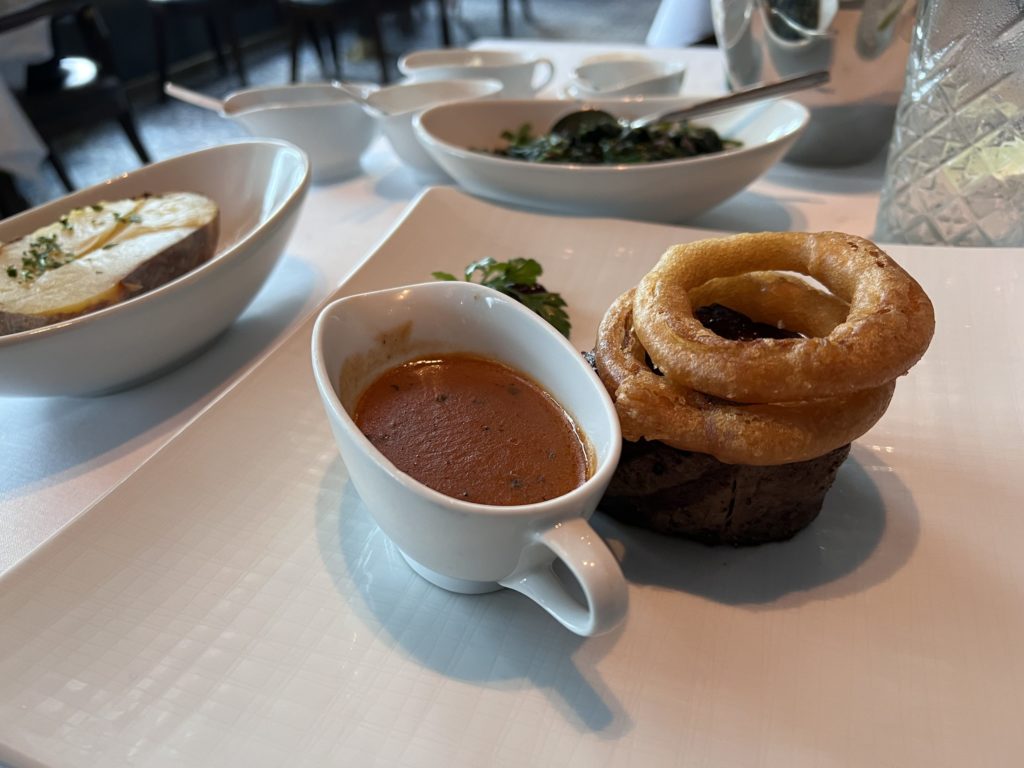 #4: Cruise Dining Traps – Local Tastes?
 Another mistake, or perhaps missed opportunity, is not taking advantage to try local and regional foods on offer while cruising.
I find most lines have local or regional themed nights or dishes. These are often in the buffet with selected dishes in the Main Dining Room. This was the case on my recent Holland America South America cruise with Chilean and Argentinian nights, but they also had Japanese and Indian nights too.
Look out for and go to those. It gives a real opportunity to try unique foods.
By the way, talking of things to look out for, menus these days often have a spa section with lower calorie, sugar, and salt options. And of course, more vegan, and vegetarian dishes.
And don't assume there is no flexibility in the menus. While on some cruise lines, you can go way off menu, like in Cunard Queen's Grill or an ultra-luxury line like Regent, where you can pretty much order anything you want, on most lines there is flexibility.
I have been able to ask for an extra entrée, selection of desserts not just one, dressings on the side, steamed vegetables, or a green salad. Dishes can be adjusted, like they were on my Holland America cruise. They only had creamed spinach and I asked for normal spinach and baked potato which was all possible even though not on the menu.
Many can do this because the kitchens on cruise ships often serve all the restaurants. The most extreme example of that is on Disney, where even though I was rotating around the different restaurants each night, I could order any dish from any of the other menus.
#5: Cruise Dining Traps – Dietary Issues?
If you do have though any dietary issues let the line know when you book, and as soon as you can talk to the Maître D in the Main Dining Room. They will be the key for ensuring that your needs are catered for. How lines deal with it vary, some will give you menus in advance to check, others just at time of the meal.
I encourage friends who have allergies to stick to the main dining room and avoid the buffet, as it is much harder to be sure and check that dishes meet your needs.
#6: Cruise Dining Traps – Buffet Watch Outs
I also recommend following some guidelines that the well-known cruise review site, Cruise Critic, has about what to do and avoid in the buffet. It's a list I follow and has worked for me.
They suggest avoiding foods and serving implements that others will have manhandled. Focus on items served by the crew, like stations making fresh sandwiches, carvery, salad, pasta and so on.
Avoid foods that could go off or not be perfect if sitting for a while, like sushi, and pizza. Grab those as they are being made or just out the pizza oven.
If you're having self-serve ice cream, use a tub rather than a cone. Avoid the big communal sauce bottles and ask the crew for sachets of ketchup or mayonnaise.
#7: Cruise Dining Traps – Food to Go
Another change from the past and so a mistake many make, is taking food from dining venues to take out into port.
On my recent cruises in the Caribbean and South America, the local authorities did not allow us to take food products off the ship. Many ports had security on hand for searches or they used dogs to ensure these rules were being followed. Regions are increasingly concerned about introducing bugs or contaminants.
So, gone are the days of making a sandwich, taking some pastries or fruit out. If want to take something out, they need to be sealed items, like snack bars which sometimes are available in the buffet.
SUPPORT TIPS FOR TRAVELLERS
FOLLOW ME ON SOCIAL MEDIA
——————————————-