I See If an Ultra-Luxury Line Beats Cruising on "Regular" Lines

I See If an Ultra-Luxury Line Beats Cruising on "Regular" Lines
During my recent ultra-luxury line cruise, I realised being able to afford to go on one doesn't mean you should. In fact, I saw it could be one of the worst cruising decisions ever. As I will show you.
Before going a huge surprise hit me. It would have cost me as much, once I included the on-board costs, to cruise in a suite in the Caribbean on lines like Norwegian Cruise Line, Royal Caribbean, Holland America, or Celebrity as it would to cruise on an ultra-luxury line like Regent Seven Seas, Seabourn and Silversea. I know as I compared them all before booking Regent
They all cost a staggering $1,200 to $1,500 per cabin per night. (That's £1,000 to £1,350)
And knowing that they all cost the same, I had a lot of questions. Like you probably have now too!
Ultra-Luxury Vs Regular – Obstacle #1
My biggest question was: how is an ultra-luxury line different from going on one of those, what I will call in this, "regular cruise lines"?
Here's what I found…
The ship had the same facilities as any other ship. A pool and hot tubs, bars, lounges, main dining room, specialty dining rooms, spa, fitness centre, theatre, shops and so on.
It went to the same places, calling at mostly the same ports. For example, in Barbados we were in port with Costa, Celebrity, P&O Cruises and in Antigua MSC and Celebrity.
I discovered my fellow passengers wanted the same things as on any other line. Good and plenty of food and drink. A daily program with trivia, guest speakers, deck games, cooking demonstrations, karaoke, and the like.
They wanted a Captain's Welcome Party, deck parties, and live music. Importantly, they wanted to meet people and to shop and spend their onboard credit. In short, they wanted to get deals by booking on board.
In fact, they were so alike I even saw chair hogs around the pool, and bad manners in the theatre.
There was the usual mix of cruisers as most lines. Lots of couples, a good number of solo travellers, friends travelling together, multi-generational families and same sex couples.
The dress code had about the same level of compliance and was no smarter than other premium lines like Celebrity, Holland America, and Princess.
The average age was the same, and maybe even a bit younger, than lines like Holland America and Princess as this is not a youthful party line.
It was probably a bit of a shock as I kind of expected the passengers to somehow be different to other lines. So, that got me thinking if it's not the passengers that are the big difference, what is it then?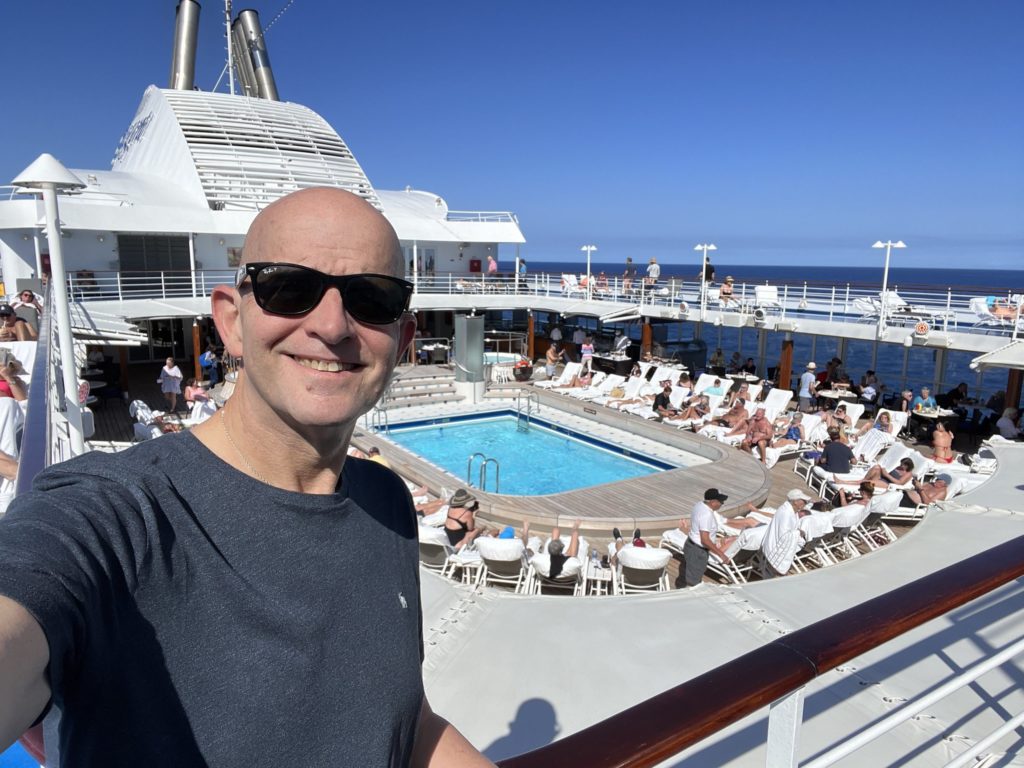 Ultra-Luxury Vs Regular – Obstacle #2
The first and the simplest of course was my bill at the end was zero, as all the extras were in the fare, unlike when in a suite on those "regular lines" where it can be hefty. I knew the exact cost of my cruise before I boarded.  On Regent Seven Sea cruises, even the excursions were included, as were gratuities, speciality dining, Wi-Fi, and drinks.
Cabin
The second difference was having a much smaller cabin for the price. For example, the cruise I did before this was on Holland America Koningsdam in a Neptune Suite. That was a huge suite at 502 square feet, with seating area, bedroom, massive bathroom, and big balcony. For the same price on Regent, it was over a third smaller and more like a large veranda cabin or mini suite.
Experience
Not only was the cabin smaller, but the experience was smaller too. It's a small ship experience and I cannot underestimate the importance of this. Regent Seven Sea Navigator carried just 482 passengers.
A smaller ship means way less choice of venues and fewer facilities. If I go in a suite on say Norwegian Encore I'd have a choice of 11 bars, I counted 4 on Navigator.
The theatre shows were on a much smaller scale. The shows weren't big glitzy productions, like on Norwegian with full Broadway shows, Celebrity's high energy acrobatic shows or even Holland America's One-Step dance Company shows with big effects.
There was way less evening entertainment too. The one band played in the Galileo lounge, and a pianist in the Explorer's bar versus multiple venues with live music, comics, and game shows on Norwegian, Carnival and Royal Caribbean ships or even the four live music venue Music Walk on Holland America.
It was also a dramatically smaller daily program with fewer things laid on. There was usually one trivia a day, one deck game event a day, one talk per day and on port days often virtually no activities when excursions were out.
Smaller facilities
Of course, there were no big activity facilities on deck. There was a small crazy golf course, but on bigger ships I have multiple pools, go-karts on Norwegian, Flow Riders on Royal Caribbean and water slides on so many ships from Carnival to MSC and Disney. I realised if as a cruiser I wanted choice, liked to be entertained, and have a lot laid on for me then an ultra-luxury line is challenging.
This was a big 'aha' moment for me. Paying ultra-luxury line style fares to travel in a suite on "regular" lines means I have the luxury of a large cabin, access to an exclusive restaurant, lounge, pool, and deck like The Haven on Norwegian or The Retreat on Celebrity, but I can also tap into the hustle, bustle and choice of activities and big scale shows and entertainment.
On ultra-luxury I am paying for a smaller, more intimate, and less high energy environment.
I will come back to this when I about when I think choosing ultra-luxury for one of my future cruises over a suite on other lines is a better option.
But first, three aspects that are an upside in their favour.
Food
One of the biggest differences I experienced as an undisputed advantage, is in food.
Food is great on many cruise lines, but certainly on Regent Seven Sea and other ultra-luxury lines while the daily program may be light, the menus are not.
I counted over 50 items on the Main Dining Room breakfast, including caviar some days. The evening menus were vast with a page of standards, a page of daily specials and standalone dessert menu. And high quality and sophisticated dishes.
When they did an on-deck barbecue, it made even the great ones that I've done on ships like Azamara look fugal.
There are no up-charges for lobster and caviar that are appearing or non-existent across regular lines either.
Excursions
The other big plus is excursions. They do small group excursions, and I find this a step change in experience, as even when in a suite like I did on Holland America Koningsdam before this trip, all the excursions were big groups. On Regent, the tours were split so I never had more than 20 people.
Service
Though probably the most significant difference I experienced was service. Right across the ship, in every single department, everywhere I went, the crew got to know me, and greeted me by name.
Everything was quickly personalised, like knowing that I like skimmed milk in my decaf coffee at breakfast, or my Caffeine-free Diet Coke or non-alcoholic wine at functions, and even the carving station lady in the buffet remembering I liked chicken legs not breast.
While I knew, of course, there is more crew per passenger than on other lines, it also felt the training behind it was evident. But also, versus other regular lines it meant crew had time to stop and talk and interact.
For example, Ella my server in the Main Dining Room was very interested in cameras and photography and she was able to and allowed to chat to me about that as she had fewer tables to serve.
The officers were also very engaged, visible, and interacted with guests more than I have seen on regular lines in the last years.
It's hard to describe but I almost felt the ship was geared around me, that I was the focus of every department. But, of course, that was not true. Speaking to other guests they agreed that they felt the same.
The Winner?
It really stuck home to me that when spending this amount of money, careful choice is needed to ensure the overall experience is the best that money can buy for you.
I know my partner, Mark, would prefer to spend it on a bigger cabin to hang out in, varied venues, a busy daily program with lots going on to entertain him, and big scale theatre shows. So, a suite on a regular line would be how he would want to spend these big bucks.
For me, I like the smaller, more intimate, and exclusive environment where it's more about the food, service, and interactions.
Though there is one massive factor I think should swing the decision. The destination and reason for the trip.
I must admit that going to the Caribbean on Regent was a little dull at times in the evenings versus regular lines, and nightlife let the trip down as bit, versus what it would have been on say Holland America in a suite.
On the other hand, as I look at Japan, which I have booked for later in the year, comparing Regent Seven Sea versus the bigger ships like Holland America or Princess, they had a more intensive, off the beaten path ports as well as the must see, and lots of included excursions which are all long days. So, the nightlife is much less important, the small and intimate works better which is why I'm going to spend that money going on Regent Seven Sea.
SUPPORT TIPS FOR TRAVELLERS
TIPS FOR TRAVELLERS GROUP CRUISES
FOLLOW ME ON SOCIAL MEDIA
——————————————-