USA 2020 Cruise Update – New Plans and Protocols
Just after the CEOs of the three largest cruise groups publicly said there is over 90% chance of cruises running out of USA ports in 2020, they cancelled all cruises into December, and for some of their lines well into 2021. So, what is going on? What should cruisers be expecting and why?
The shape of cruising out of the United States in the coming months has become significantly clearer through a series of announcements and revelations by the cruise lines, including the world's largest cruise line (Carnival) finally going public on what cruise passengers can expect on their ships when they start sailing.
Let's explore and unpick the key developments you need to know about, and I discuss what they mean for cruisers.
Watch My USA 2020 Cruise Update Video
Watch My USA 2020 Cruise Update Video on YouTube
NO-SAIL ORDER
First, a quick reminder. The no-sail order in United States waters was extended to 31 October by the CDC, this was after an intervention by the White House Coronavirus Task Force who overruled their reported plan to extend it to end February 2021.
The plan was for the Task Force, led by Vice President Mike Pence, to meet with the heads of the cruise lines to discuss, and hopefully agree, protocols and plans to resume sailing.
However, this was postponed following the outbreaks in the White House. At time of recording, no news on when this will take place. So, timescale on discussions is less clear.
As lines have said it will take at around 60 days (2 months) from approval to sail to getting ships in place and ready to sail, it should be no surprise that they have all cancelled cruises to end November for now.
But there are some key steps and plans announced meantime
TESTING
In my view, one welcome and important development, has been confirmed. CLIA (the international cruise line association) announced on 6 October that all of their member lines, will have testing of crew and passengers a requirement before boarding.
Their statement said: "CLIA ocean cruise line members worldwide have agreed to conduct 100% testing of passengers and crew on all ships with a capacity to carry 250 or more persons – with a negative test required for any embarkation"
CLIA members include all the Carnival Group, so lines like Carnival, Princess, Cunard, Holland America and Seabourn, all the Royal Caribbean Group (so Royal Caribbean, Celebrity and Azamara), all the Norwegian Group (so Norwegian Cruise Line, Oceania and Regent Seven Seas). Lines like Crystal are also members. Viking are not members, so we will wait for their announcement on this.
Ensuring that virus-free people are boarding ships has to be a key element to try and keep ships clear of the virus entering the ship, as much as testing will allow of course. There may still be some people that slip though due to false negatives, but risk is should be much reduced. Testing has worked successfully so far for the European lines like MSC Cruises, Costa and others that have used it as they started cruising again.
Though: It is not clear what form the testing will be, and who pays yet.
Some lines, such as SAGA in the UK, have announced they will be doing 2-stage testing with guests having to do a test before they depart to join the ship and another pier side before boarding. This is covered within the fares.
So, look out for the exact testing approach as each line announces specific protocols, and any impact on their fares. In Europe, testing has been included within the fares.
ON-BOARD EXPERIENCE
The next raft of announcements that came out will definitely not please a section of cruise passengers, who are hoping for a return to cruising how it was. I have to say that I am okay with all of them as a way to be able to start cruising again.
So, what are the changes?
In a recent video, Carnival's Chief Operating Officer Neil Palomba, who took the role after working on the successful return to service of their Italian Costa line in Europe, laid out 5 things cruisers should expect when Carnival is given the okay to sail.
These are broadly the same as those announced by the Royal Caribbean and Norwegian Cruise Line Healthy Sailing Panel for their lines.
These changes will be as follows.
1: Reduced Capacity – this will enable distancing, free up cabins to be set aside for isolation and quarantine if needed. Carnival have not said how much capacity will be cut by. In Europe we have seen ships only putting around 60% of usual capacity on sale per cruise.
2: Face masks and physical distancing – this will be a deal breaker for some, based on the many comments I get on my channel, and have seen on cruise message boards. Masks will be required on Carnival group lines, Royal Caribbean Group lines, Norwegian Group lines and also, we have seen lines like Crystal require them. They will be worn inside when social distancing not possible.
There will be physical distancing in all venues, with limits in numbers at any one time, and also requiring people to dine in household groups for example.
Many cruisers have said they do not want to pay to cruise when they need to wear masks and will wait for a future date when this can finally be removed.
3: Only Carnival Cruise Line Excursions. Cruisers will only be able to step off the ship in ports in cruise line excursions. There will be no self-exploring or visiting ships, bars and so on. Again, this is in the Royal Caribbean and Norwegian protocols and included in other independent line protocols.
Cruise line only excursions has also been a source of concern for many, with what may be a large number of people based again on comments and polls conducted by sites like Cruise Critic, holding off cruising while this is required.
We are still to see what these will cost. In Europe the costs have been reduced and packages sold.
4: Enhanced medical facilities as we should expect will be in place as will
5: Enhanced cleaning and disinfection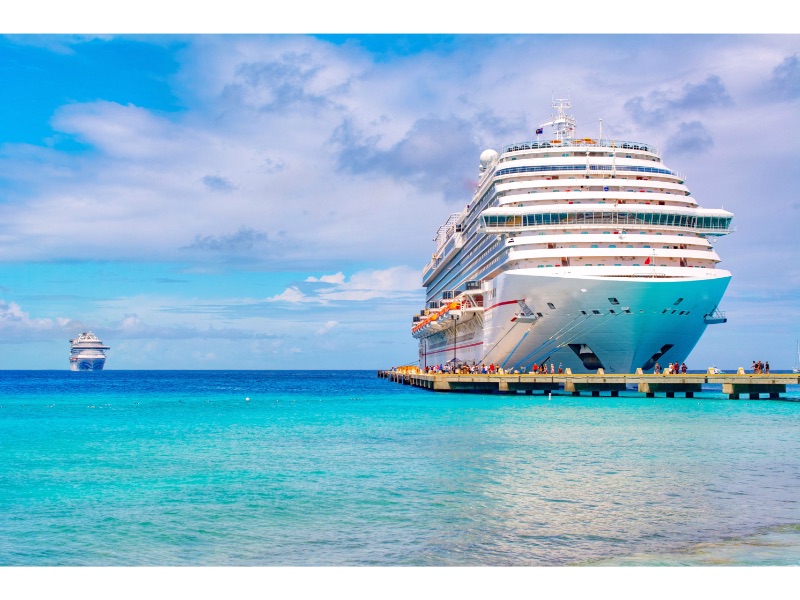 CRUISE ITINERARIES
The next area to note is the nature and form cruises will take when they return.
Many cruisers seem to be expecting the cruises they have booked, and are still advertised as being for sale, running when the lines start cruising again out of the United States. This is not going to be the case based on what the lines are doing, and the CEOs are saying. You should be ready for new cruises and short, limited itinerary cruises, as happened in Europe. Let's see why I say this.
First of all, when Carnival cancelled all cruises out of USA ports except Miami and Port Canaveral in November and December, the announcement made it clear they could not confirm that the cruises from those ports would run as advertising. They offered people cruising from those ports the ability to cancel.
Carnival said it will focus its initial return to operations on those two ports, but it stressed that it still might not sail from those ports in November and December. Carnival President Christine Duffy said, "As we have said throughout this pause, our return to operations will be gradual and phased in,"
Secondly, Richard Fain who runs the Royal Caribbean group (so Royal Caribbean, Celebrity and Azamara) said in the last week in a Travel Agent update that they hope to be able to this year do a series of non-revenue sailings during which the crew can be trained.
"And then," he said, "only with a ship or two at first, we hope to start sailing again. It will be short cruises at first with limited destinations and controlled shore excursions." From there, they will – assuming things go as planned – expand. We won't rush"
Thirdly, ports and countries need to be open and willing to accept cruise ships. This is still a challenge for countries that cruises out of USA ports call on. There are many limits, unlikely to change soon, on countries willing to accept USA residents. Movement between borders is difficult and tightening as we see second waves emerge.
And so, it is even more difficult as lines travel further afield. This is why Azamara and Seabourn have cancelled right into Spring 2021 and lines like Celebrity cancelled all their Asia / Australia winter 2020 – 2021 season.
While the resumption of cruising seems to be more likely than just a few weeks ago, and there are many hurdles to overcome and be addressed, it seems there is agreement on what form protocols will be (largely mirroring what has been tried in Europe), they will be new short and limited cruises on a few ships out of one or two ports, which also means the lines can ensure people booking are aware and willing to accept and follow the protocols.
The key still is agreement with the CDC and politicians too it seems.
What do you think about these developments, and if cruises resume along these lines will you be looking to book and go?
Gary Bembridge's Tips For Travellers aims to help you make more of your precious travel time and money on land and when cruising the oceans or rivers of the world. To help you, in every video I draw on my first-hand tips and advice from travelling every month for over 20 years and average of 10 cruises a year.
SUPPORT TIPS FOR TRAVELLERS
FOLLOW ME ON SOCIAL MEDIA