My 6 Top Travel Hacks for Cruisers
Discover my 6 top travel hacks for cruisers
I have done over 60 cruises to date and have more booked. So, it is clear that I am a total cruise junkie. Based on that, the team at dealchecker.co.uk asked me to share six of my top travel hacks and tips for cruising. So, after giving it some thought here they are:
Stay fit without packing your gym gear or trying hard
It is easy to put on weight on a cruise as there is a lot of food available. I use a few hacks to balance enjoying it without having diet like crazy after cruising. I only use the stairs and avoid the lifts. On larger ships this means a lot of steps and helps burn that delicious pudding from the night before. I choose cruise lines and go on river cruises that carry bicycles for guests to use. It saves the cost of excursions, lets one see the sights and help stay trim. If that is not an option, I focus on tours that are walking based. Lastly, most cruise lines have partnerships with spas or wellness companies and offer at lunch and dinner three-course menus with healthy and tasty alternatives. I have these and indulge, but in a better way.
Pack the alcohol, soft drinks and bottled water allowance allowed
Most cruise lines allow passengers to bring on board some drink, including wine, soft drinks and bottled water. These tend to be quite small allowances as they want you to buy theirs on the ship. They will screen your bags on embarkation and also check your packages when you return from excursions. They will take away and hold any excess drink until the end of the cruise. Check what you are allowed to bring and take it as it will save you some money.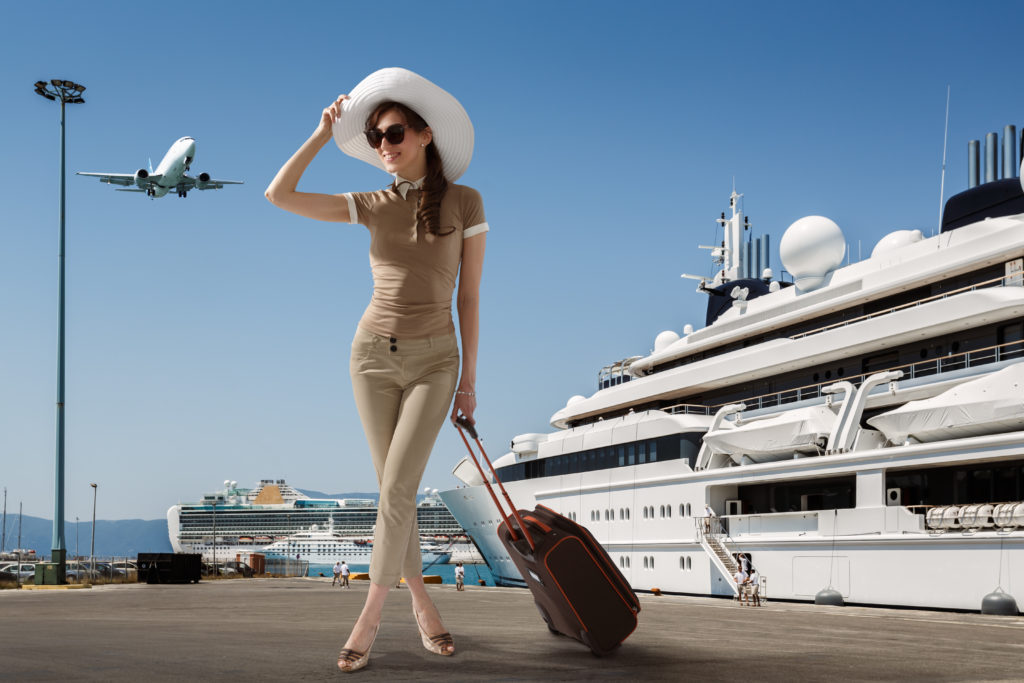 Always take the daily program or photo of it off the ship
The daily program has the contact details for the ship or local agent for that specific port. If you have an accident, incident or are running late to get back to the ship you then have a contact to notify and assist. Cruise ships will not wait for passengers who do not get back in time for the all aboard and departure time, but if they know what is going on then plans will be made. I prefer to take a photo of the details before I head out for a day in port as one less thing to take.
Budget for the "hidden extras"
Cruises are not as all-inclusive as many travellers expect, and what the fare includes or excludes differs by cruise line. When budgeting and working out what your trip will actually cost understand what the fare you are paying does, and does not, cover. You usually pay extra for getting to and from the ship, drinks (including speciality coffee), gratuities (which are often auto-added to your bill on the ship), excursions, Wi-fi and to dine in some restaurants. It should cover meals in the main dining room and buffet restaurant, entertainment and your cabin. You can watch a video I made about all the costs and what to budget for: https://youtu.be/viNKp-FGmJY
Use the Hop-on Hop-off bus
Excursions can add a significant cost to your cruise vacation. They can add more than £100 a day to your trip. I use the hop-on hop-off bus in ports that have them. Many destinations offer them now as they are popular with cruise passengers. These usually include the port as one of the pick-up stops. You get a map, recorded commentary and they take you to must-see sights. It is an inexpensive and flexible way if seeing a destination.
Book last minute
If you are flexible on cruise line and dates, you can travel for great prices by booking late. Cruise lines require people to pay their final balance either 90 or 60 days before the departure date. They then work to sell off unsold cabins between then and departure. Some will promote these deals on their website or email newsletters. However, as that can take time to check them all, one hack I do is to look at sites that specialise in offering the latest late cruise deals site sites.
This article was a partnership with dealchecker.co.uk
Follow Tips For Travellers:
Subscribe to Blog via Email