Norwegian Getaway Review : Style. Choice. Best Suited for?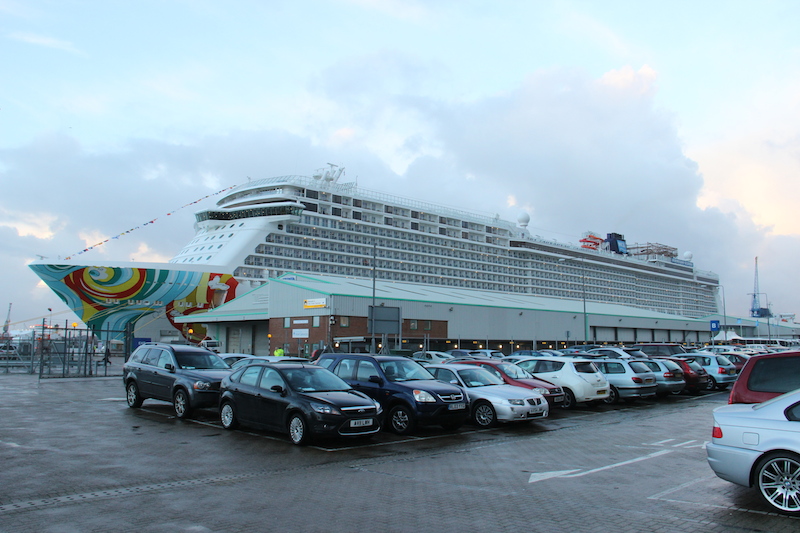 The Norwegian Getaway is based year-round in Miami sailing around the Caribbean. This is my Norwegian Getaway review with observations, advice and tips based on sailing on the inaugural sailings out of Southampton before the ship moved to her new home.
Style and Decor
I really like the look and feel of the ship interior.
One of the things that always surprises me about Norwegian Cruise Line is its style. In my mind I think of Norwegian as being a little bit brash but whenever I come on board the newer ships like Norwegian Epic and now the Norwegian Getaway I enjoy the decor and style throughout the ship. It is not overly loud and has a feel of sophistication.
It is not a very traditional liner style design but does feel like you're in a contemporary hotel and resort.
The Getaway has Miami themes weaved throughout the ship linked to its home base. This includes some of the names of the restaurants and murals of the iconic art deco buildings on Miami beach.
Deck Six, Seven and Eight hold most of the main public areas. On Deck Six is a large atrium area with the usual excursions desk, guests services and a huge video wall. Radiating from here are the many bars and restaurants.
There is a central core with a resplendent chandelier. All the large Norwegian ships like the Epic, the Getaway and the Breakaway have a magnificent chandelier. It's at the heart of the ship and it sets the tone. Radiating from here are more restaurants and bars.
Freestyle Cruising Dining Choice
Norwegian is known for its "freestyle cruising" which means lots of choice.
On board the Norwegian Getaway you have a choice of 28 dining options, including room service. There are a couple of free dining options including the Garden Cafe buffet restaurant, Tropicana, Taste and Savor restaurants. Then you have a multitude of dining options where you pay surcharge including O'Sheehans Irish Pub, Teppanyaki, Cagney's Steakhouse, the Italian restaurant La Cucina,  the Argentinian restaurant Moderno Churrascaria, Ocean Blue by Geoffrey Zakarian, sushi, or noodles.
Entertainment
The other thing Norwegian really focus on is entertainment, including bringing brand name entertainment on board. For example, on the Getaway they have 'Legally Blonde'. They also have a magic show with dinner in the Illusionarium. They have a new innovation on board in the "Grammy Experience", where they have Grammy nominees and winners performing on various cruises. They also have the 'Burn the Floor' dance show with a latin twist. When you look at the daily program you have long lists of bars, restaurants and entertainment!
One of the things that did catch my eye as a huge fan of water parks are the amazing water slides. They're very advanced, including one where you stand on a pad, the floor gets pulled away from you and you zoom down doing almost and entire loop the loop. There is also a large ropes and zip line course.
There is a large Kid's and Teen Club. The Kid's Club has a partnership with characters like Sponge Bob Squarepants and other characters from Nickelodeon.
Stateroom Design
I stayed in a Veranda Stateroom on Deck 11 and you can watch a video tour that I made. I really liked the cabin and feel they are much better than on the Norwegian Epic.

Self Managing of Bookings
All around the ship are giant over sized wall panels like large iPads. These can be used to make all your reservations for dining, shows and excursions using your cruise card. It means that it takes a lot of pressure away from the Guest Services Desk so they can spend much more time helping with more important problems than booking shows and meals.
Smoking
The policy follows the US approach and rules on smoking. It's not as strict as some cruise lines as smoking is allowed in balconies. You cannot smoke in your Staterooms. There is some smoking possible out on the decks and in the casino.
Busy and Large
The Norwegian Getaway is a big ship and it holds over 4,000 passengers. Officially it holds 3,969 guests based on double occupancy, however on most cruises there will be many more as families and groups of people traveling will often have a third or fourth person also in the cabin. There are 1,640 crew to look after those passengers and so a pretty good crew to passengers.
As  it is a large and busy ship embarkation and disembarkation can be  slow and you do have to line up.
Budgeting and Add-on Costs
Norwegian is a value line and the fares to get you on board are attractive usually. Because of the freestyle approach to cruising there is the potential to spend a lot more money on board and you do need to bear in mind to budget properly. If you want to take full advantage of everything that it has to offer you need to make sure that you are budgeting for dining surcharges, gratuities which are added on around $12 per person per day, excursions, drinks and gambling and gaming.
Dress Code
Norwegian does embrace a more relaxed approach to the dress code. It is very different to more traditional cruise lines like Cunard, Holland America, and P & O which have formal nights, semi-formal nights and smart casual nights.
The Norwegian Getaway dress code dress code is "resort casual", and shorts are allowed in most dining venues, except for the Tropicana Room which is the main dining room, Ocean Blue and Le Bistro after five o'clock.
In the evenings you will find a mixture of dress codes around the ship. Even if you do wear a suit you don't feel out of place, but overall it is a much more relax and informal.
Best Suited For:
Lovers of Resorts: If  you are the sort of person who wants a huge amount of choice and like going to resorts, then the Norwegian Breakaway is for you.
Families: The ship, facilities and choice means the ship is great for families as there will always be things that everyone finds they like.The pricing and accommodation works well for families too.
Solo Travelers: Norwegian does embrace solo travelers with dedicated cabin area for solo travelers. It has its own lounge, meeting areas, and lots of events for solo travelers.
Premium Travelers: The other thing they have is the Haven, which is the premium ship within the ship. This has larger suites with butler service and dedicated dining, pool and spa.
Youthful Mindset:It's a young vibrant, young minded cruise line and ship.There is a lots of things going on. The daily program is packed. I don't think I've ever seen a daily program on any cruise line that's quite chock-a-block as that on Norwegian Epic or Norwegian Getaway. They're both absolutely jam-packed.
Overview
The Norwegian Getaway is a modern ship. It's large. It's busy. There's lots of choice. It's for the people who want to be on the go and have lots of things to do.
For more on the Norwegian Getaway including an audio podcast, photographs, articles and videos visit my tipsfortravellers.com/norwegiangetaway page