MSC Cruises Kids Clubs : Exclusive Interview with Head of the Program
Most cruise lines are trying to encourage families to choose cruising as an alternative to family based resort holidays. This is leading to ever more advanced activities, facilities and programs to appeal and satisfy the needs of modern travellers – and to differentiate them from other lines. In this article I explore what MSC Cruises is doing and get an exclusive insider perspective through an interview with the head of the entire program across the entire fleet.
MSC Cruises have revamped and increased the size of four of their smaller ships, the MSC Armonia, Sinfonia, Lirica and Opera, with a key aim being to attract and satisfy families more than ever. This means better kids' clubs and facilities which are:
Baby Club, in partnership with the Chicco range of toys and babycare equipment, is for babies and toddlers under three years of age. There are toys to enable parent-baby playtime and a sleep area where MSC staff supervise the children while parents enjoy meals or other facilities on board.
Mini-Club. This is for three to six-year olds. The room was developed partnership with Lego and is a treasure trove of Duplo and Lego bricks and games where children can play under the watchful eye of MSC Youth Team members.
Juniors Club is for 7 to 11 year olds and provides a different Lego experience. In addition to an endless supply of bricks and more complex challenges to build are video games and a dance floor to meet the changing and varied needs of this age group.
Young Club, for the 12 to 14 year olds. This cosy room has trendy seating, mood lighting, a large dance floor and video games.
Teens Club for 15 to 17 year olds. At the entrance is an arcade with high-energy simulator rides and traditional fair type games. Inside the club itself is plenty of space to mingle with seating, a wall of video games as well as more traditional table soccer.
There are other diversions for kids beyond the clubs. On the new extended pool deck, there is a Doremi Splash Park.  This is an area of water cannons, fountains and other aqua-based features where children can play safely, while also freeing up the regular pools for the adults to enjoy.
High up on the upper decks is another area for more active pursuits with a basketball and soccer court and a multi-hole golf-putting course for kids and families to enjoy.
Catering for families by providing supervised clubs enables parents to have private time to dine alone or enjoy other attractions around the ship. A focus on the needs of the entire family is something you will find on all the MSC fleet – and especially the revamped MSC Armonia and sister ships that went through the "Renaissance Program". To find out more we interviewed Matteo Mancini from the line. He looks after the entire program across the entire fleet.
Tips for Travellers Interview with Matteo Mancini, Youth Activities Coordinator MSC Cruises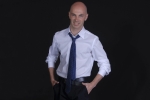 Tips for Travellers: Tell us how you came to be in charge of the entire children program for MSC.
Matteo: After ten years as a host on children's television in Italy, I joined MSC Cruises in 2006. I started an on-board entertainer for children before being made the Chief of the Mini Club. Then the main office called me to work in to take care of the entire entertainment program for children and teenagers on all the ships.
Tips for Travellers: So you know a lot about what kids like and what they don't like then.
Matteo: Definitely my goal is that one, and I'm really happy that it's the goal of MSC Cruises to listen to kids and be open to their suggestions about what they really like and what they are looking for.
Tips for Travellers: Families are important to MSC. Could you tell us what the MSC's philosophy and approach when it comes to kids' entertainment and programs is?
Matteo: The owner of MSC is a family, not a corporation. They really care about families and their children and want to give them an unforgettable vacation, something different to other cruise lines. They want them to come back. That's the goal, that's the mission I have been set.
Tips for Travellers: Can you explain the specific kids clubs that are available on board, particularly with all the changes that have been introduced on some ships through the Renaissance Program.
Matteo: There are four clubs for over three-year olds: Mini Club which is three to six years old, Juniors Club for seven to eleven year olds, Young Club which is twelve-fourteen years old and then the Teenagers Club which is fifteen to seventeen years old. There are also two services for babies under three years old: MSC Baby Time and MSC Baby Care. Baby Time is the time for parents to spend with their babies, while Baby Care is when the parents can leave their babies with the Youth Staff.
On ships that have been though the Renaissance Program, the Mini Juniors Club is a partnership with Lego and the baby clubs with Chicco.
Tips for Travellers: Can you tell us more about why you decided to partner with Lego and Chicco?
Matteo: Chicco is the best brand for babies that we have in Italy, but it's well known not just here but around the world. We were looking for expertise. When you want to do something for babies and parents and you want to give a good vacation to them, you have to give excellent things otherwise best not to do it at all. They have the expertise; they gave us suggestions about toys and activities to do with babies and their parents. They were the first brand we thought of when our owner said, "Let's create something special for babies."
That's why we approached Chicco as also behind that brand there is a family that owns it. The same is also true for Lego. This is why Lego wanted to work with MSC and not other competitors. One reason definitely is because we have the value of a family, but also MSC is a bit different to other cruise lines as we have children on board from everywhere in the world. We often have on board 35 different nationalities of children, which is sometimes difficult. So when we were talking about an experience to give them what better than bricks! Bricks don't speak, they don't even have language and so every kid from everywhere can play and create something special. Bricks are okay for everybody.
Tips for Travellers: I've been lucky enough to see the rooms, the two Lego rooms and the Chicco room, but for those that have not, could you describe the rooms, and what passengers can expect in those rooms?
Matteo: Inside the Baby Club they will find toys by Chicco. Every single toy can be used for an activity between babies and their parents. Then we have an entire zone for sleeping time, which is something really cool.  There is also a diaper change station where parents or youth staff can take care of this.
Then in the three to six years old room, there is a number of Lego brick areas for children to build things with. In the seven to eleven year old room we don't just have bricks but also a zone with Wii, Xbox, PlayStation 4, and a dance floor. There is also a Lego-themed toilet which when I saw it I said, "I want that in my home to one day!" It's fantastic and kids definitely love it.
The clubs are open from 9 am to 11 pm every day.
Tips for Travellers: Are the rooms supervised? Do you have youth staff all the time when the kids are there?
Matteo: Yes we have dedicated staff, the Youth Team of MSC Cruises and every club has a mix depending the age they are working with. We have this for the babies, for the mini, for the juniors and obviously for younger and teenagers.
We usually don't like to keep young and teen groups together, it's better if they have different activities. So, for example, if there are two brothers with one about twelve years old and the other one seventeen, they will want to do different things and not to stay together so we give them the chance to do just that.
All clubs are supervised all day long. The children can have breakfast, lunch and dinner with the youth staff. This is something parents really appreciate.
Tips for Travellers: Are there any charges involved with having your children in any of the clubs?
Matteo: No definitely not.  All entertainment is free all day long. The only thing that they have to pay for is the late night party, which is group seating that we have in the club from 11 pm to 2 am but the rest is all free.
Tips for Travellers: What other events or entertainment do you put on for kids on board?
Matteo: Every day the staff has a running order of activities and the parents receive a program in their cabin each day. For example, for the Mini and Juniors they will have breakfast with the youth staff, followed by an arts and crafts session, sport time and then family activities like with a Doremi family disco or the Doremi live talent show. There will be group games, lunch together and then they start again in the afternoon. We place the children into teams for every challenge and at the end of the cruise there is a winning team. So every activity is a challenge.
Tips for Travellers: Can you tell me more about the new Splash Zone on the ships that are part of the Renaissance program?
Matteo: There is a pool dedicated to children and to children's fun with the Doremi Spray Park where the Youth Staff host events and supervise the children playing.
Tips for Travellers: What do you think that MSC Cruises offers parents that is unique or different to other cruise lines?
Matteo: Again it's very important to remind everyone that there is a family behind MSC Cruises, so every parents that chooses MSC can be sure that we really care about kids and not just as business. We have the Lego and Chicco experiences on board, which is something unique. The last but not least is that we have our own mascot Do Re Mi which is the best friend of the children on every ship.  We are also really open to suggestions from parents, so we have an email address which is [email protected] and anyone can write to me and to MSC with any suggestion or any special request. We are here to listen to everyone because we really want to give the best for them and their kids.
Watch my video tour of the MSC Kids Clubs:

For more on MSC visit my MSC Preziosa, MSC Divina, MSC Lirica and MSC Armonia pages