Last Minute Cruise Deals Tips. 10 Best Ways To Find And Get Them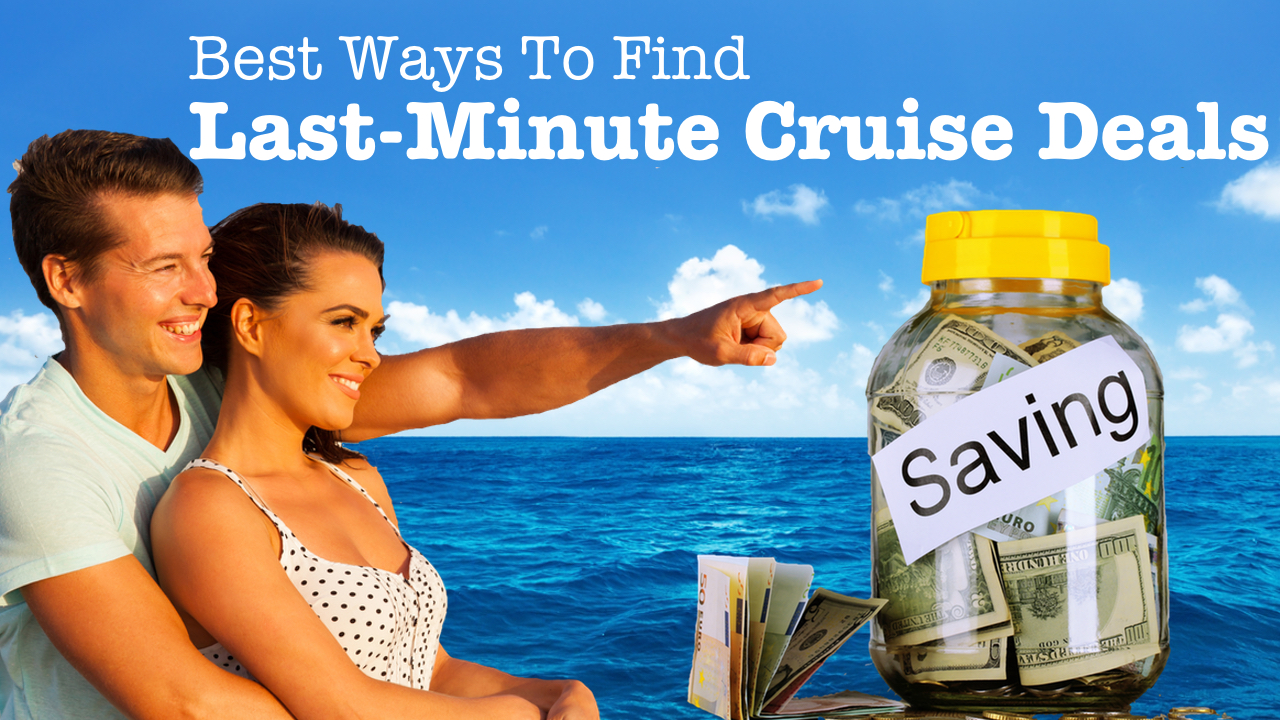 Find the 10 very best ways to get a great cruise fare and deal last minute. In this video I shares the secrets on where and how to seek out and find the very lowest and best price for a cruise when you looking to go in the next three months or less.These are all practical tips and advice that should ensure you get a great cruise deal
Watch my video with all the tips:
The 10 ways to get a phenomenal last-minute cruise deal are:
#1: Timing
First, and most important thing you should know, is don't start looking for a last-minute cruise deal until at least 90 to 60 days before your cruise. The reason for that is that cruise lines require passengers to pay their final balance 90 days before the cruise. So those people who have booked in advance have to pay the full amount. So 90 days before, the cruise line know how many cabins they still have to sell. That's when they start to look at putting on deals. Obviously the closer you get to a cruise, and the more cabins that are unsold, the more likely you are to find a deal. So do not start looking until at least 90 days before you want to cruise.
#2: Non-Peak
The second critical thing to do is focus on non-peak times of the year. You are unlikely to find an incredible deal last minute at peak times like school vacations and holiday times like Thanksgiving, Christmas or Easter. The other thing you should do is avoid public holiday weekends. Take a look at when US, UK or European long weekends are, and avoid cruising around that time because that's when people will take vacation and go cruising. You are less likely to find deals then.
#3: Be Flexible
The third most important tip is flexibility. The more flexible you are, the more likely you are to find great last-minute cruise deal. If there is a specific ship, on a specific itinerary at a specific time you want to go on, you probably are not going to find a last minute cruise. But, if you decide broadly you want to go to the Mediterranean, the Caribbean, South America or have a broad basic region you want to go to, and you are flexible about cruise line and ship you are on, this is going to give you the greatest chance of finding a deal. The more flexible you are, the more you are going to find an incredible cruise deal at the last minute.
#4: Large Ports
My fourth tip is to focus on the larger embarkation ports. Ports where lots of cruises sail. For example, Miami (which is the biggest cruise port in the world), Fort Lauderdale, Barcelona or Rome. Those ports have lots of ships sailing out of them and lots of cruises starting and ending there, so those are the ports to really focus on because that's where most of the capacity is, most of the flexibility is and where most of the competition is. You are more likely to find a great deal.
#5: Longer Cruises
My fifth tip is when you are looking for a great deal, look at longer cruises. Most people like to go on one week, ten day or two week long cruises, with one week being the most popular cruise. So the longer the cruise, the greater the chance you are of finding a deal.
One key tip is to look at repositioning cruises. These are when cruise lines move ships from one region to another. It tends to happen twice a year and largely happens between the Mediterranean and Caribbean. Repositioning cruises tend to have quite a lot of sea days, and so are less popular. They also tend to be a little bit longer. Repositioning cruises are usually cheaper on a per day basis, and combine a couple of ports at the beginning and end, but there will lots of sea days.
#6: Older Ships
Tip number six is look at what new ships are being launched and avoid them! If a cruise line is launching a new ship, you will find they are very popular. There is lot of marketing effort; lots of publicity and many people want to go on the new ship. Instead look at the older ships in that cruise line, because they may be finding them harder to fill – particularly if they are adding capacity to the line. You are more likely to find last-minute deals on the older ships as everybody tries to go on the new ship in the cruise line.
#7: Local Ports
My next tip is also to focus on ports that are drivable from where you are, as getting a flight last minute is often expensive. Flight prices tend to go up the closer it gets to departure. So while you might get a great cruise deal the savings may be negated by the cost of the flight to the port. So I recommend focusing on ports that you can drive to. So if you are lucky enough to have a port which is drivable to, or you can get there on a bus, you are more likely to find a great cruise deal – because you are not going to find you are having to spend a lot of money getting to the port.
#8: World Events
This tip may sound a bit ghoulish, but you should keep an eye on the news. Look for activities or events that may put off people travelling to a particular region. If there is something happening in a particular area, people may want to cancel their cruise and you may find there is much more capacity available. Reality is things happen and cruise lines are committed to certain itineraries and some travellers may be reluctant to go to a certain region and fares come down. Do make sure that your government is still saying it is okay to travel there and your insurance will still cover you.
#9: Newsletters
This tip is an important one. Make sure that you sign up for newsletters with any cruise line that appeals to you. Cruise lines use their email newsletters to push out activities and promotions, especially related to last-minute cruise deals. I have signed up for many cruise line newsletters, and pretty much every week I get an email with different offers for cruises in the coming months.
The second option is focus on online cruise agencies that collate and bring together all the deals and their email newsletters. Two examples of those are:
#10: Cruise Agents
My last tip, and again an incredibly important one, is relying on your cruise agent. Get a hold of your cruise agent, and I always strongly recommend you use a cruise agent to book a cruise, get hold of your favourite cruise agent, tell them that you are looking to go on a cruise in the next month or two, tell them what your budget is, what you are looking for and ask them to look out for deals.
Although you may be signing up for newsletters, cruise lines talk to agents when they have some capacity to sell. Particularly agents that are very strong with a particular cruise line, and they may offer them deals or promotions that they don't want to make public. Your cruise agent is probably going to know special deals that you will not find out anywhere else.
So there you are, that's 10 ways that you can get a phenomenal last-minute cruise deal. Just remember, be flexible and keep using these different ways of finding out of finding great cruising deals. They should enable you to go on a phenomenal cruise at a phenomenal price.
If you have any other ideas or tips, please leave those in the comments.
Looking for a cruise and great cruise deal?
When looking for a great cruise deal on any line to any destination search on or talk to Tips For Travellers cruise agent partner CruiseDirect.com
To get more cruise advice, consider buying my books:
Please leave a thumbs up and subscribe to the channel now: http://bit.ly/TFT_YouTube2
Pin It
If you enjoyed this post:
Subscribe to Blog via Email