La Antigua Guatemala – Tips For Travellers Podcast #230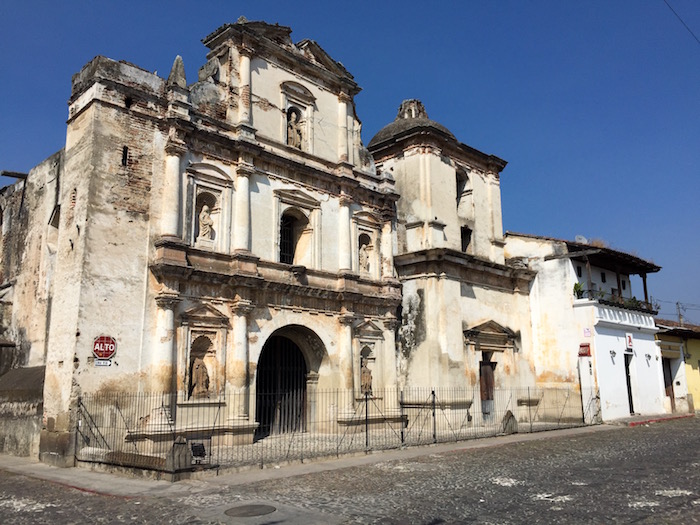 In this episode Gary Bembridge of TipsForTravellers.com, provides a historical overview, need-to-know facts as well as inspiration, advice and tips for visiting La Antigua Guatemala.
Surrounded by three vast volcanos thousands of metres above sea level, is the remarkable city of La Antigua. It was the capital of Guatemala until a series of  earthquakes in the 1700s convinced the Spanish, who controlled the country, to abandon it and create a new one called Guatemala City. The huge partly ruined Cathedrals and grand buildings lay exposed being reclaimed by nature until people started repopulating it. Today these magnificent structures are dotted around a quaint, colourful and fascinating city. Its significance led to it becoming a UNESCO World Heritage Site.
In the podcast hear about the must-see sights including:
Town Square which includes old key governmental buildings like the Palace of the Captain's General (Palacios de Los Capitanes) and City Hall with the Antique Books and Weapons Museum.
San Jose Cathedral dating back to 1680.
Colonial Art Museum.
The temple and convent of Santo Domingo which hosts the Pre-Columbian Art Museum, Archeology Museum, Silverware Museum, Modern Glass Museum, as well as Arts and Popular Crafts of Sacatepequez Museum.
Capuchinas Convent.
Santa Catalina's Arch.
La Merced Church and Convent with gorgeous baroque façade.
San Jeronimo and Antique Costume House with displays of indigenous Guatemalan costumes.
The viewpoint at Hill of the Cross (or Cerro de la Cruz).
Archbishop Palace Museum, San Juan deal Obispo.
La Azotea Cultural Centre which houses three museums: K'ojourn House with Mayan instruments, Coffee Museum and a museum of regional costume and crafts.
Resources:
This episode was supported by DK Eyewitness Travel Top 10 Guides
After listening to the podcast and have any thoughts please leave a comment on Tipsfortravellers.com/podcast, email me or leave a review on iTunes.
Subscribe (and leave a review) to the podcast on iTunes, Google Play, Stitcher or TuneIn Radio.
Want to support the podcast? Consider becoming a Patron. Find out more at tipsfortravellers.com/patron
Listen to this episode…
Save