Holland America Nieuw Amsterdam Review and Video Tour.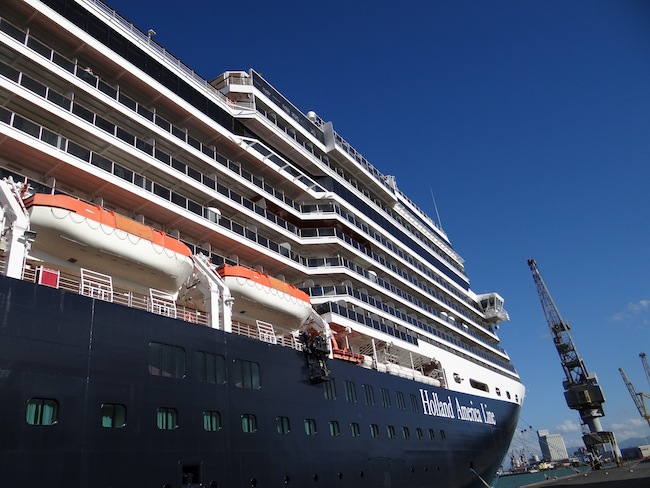 Watch my video tour and thoughts on the ship:

The first Nieuw Amsterdam ship was launched by Holland America LIne in 1906. The current one is the forth to take this famous name.
Today, many of the 2,000 passengers congregate at the Sea View Pool at the rear of the ship for the sail-away parties. Some, of course, prefer, to relax in the more enclosed Lido pool, which has a retractable roof. As well as lots of recliners and seats you can also hire pool side cabanas.
The Cabana Club though a deck above offers an exclusive sanctuary to sunbathe, eat breakfast, lunch and tasty afternoon treats. You can hire them for the day or entire cruise.
Inside the ship in areas like the Atrium, the decor is plush, subdued and inspired by Holland America's history of grand ocean liners. Around the atrium you will find the 24-hour Front Office desk, Future Sales Office and the usually busy Excursions Sales and help desk.
There are many bars and lounges around the ship:
The Pinnacle Bar is one of the smaller and more intimate of them.
One of the most popular is the Explorer;s Lounge, especially popular for before and after dinner drinks.
Next to the casino is the aptly named Casino Bar. The TV screens above the bar show sports channels round the clock.
The Piano Bar, also near the casino, is extremely popular for late night sing-a-longs are parties.
Situated above the atrium is the Ocean Bar. A large lounge, it is a more quiet spot ideal to meet new friends to share experiences of your day on board or on excursions.
The Silk Den up on Deck 11 is slightly out of the way and is one of my favourite bars and places to meet for that reason.
The Crow's Nest (also on Deck 11) is a large bar and lounge with spectacular views across the bow and out to sea. It is popular all day and night.
For the party animals there is the Northern Lights Night Club. It stays open for dancing until the last guest finally heads back to their cabin.
Dining is key focus for Holland America:
The Manhattan Dining Room is the main restaurant. You can choose to dine anytime with open seating downstairs or go for fixed dining tables and times upstairs.
The Lido Buffet restaurant is open for breakfast, lunch and dinner. It serves an impressive selection of food from around the world and a range of free beverages. It is comfortable and stylish.
The popular Terrace Grill at The Lido Pool serves hamburgers, hotdogs and similar informal meals.
For an additional charge you can eat at The Pinnacle Grill. A premium dining experience focused on steaks and fine dining. Or you can eat at The Tamarind. An Asian Fusion restaurant with all female waiting staff and incredible food.
There is also a wide choice of entertainment on board the ship:
The Showroom At Sea is a massive theatre with nightly production shows and regular guest artists.
There are regular art auctions.
A large and busy casino with slot machines and tables.
Screening Room cinema.
Large spa and fitness centre including a salon and barber shop, thallaso pool and large gym with lots of equipment and regular classes.
The HAL Club is the kid's club. It is trendy and unusual – including having New York taxi. There is lot going on to keep kids out of mischief and in fun.
Shopping is important and there is jewellery, watches, clothes, perfumes and Holland America merchandise.
Meetings rooms host card games, services and meet-ups.
Photo gallery.
Holland America has a number of partnerships with brands which include:
Queen's Lounge Culinary Arts Center in partnership with Food + Wine Magazine which hosts cooking demonstrations. The room also hosts Dancing with Stars exhibitions and competitions.
Windows sponsors the free Digital Workshops.
The Expectations Cafe in partnership with the New York Times not only serves coffee but is also an internet cafe, library and has magazines and newspapers.
Holland America has been serving premium passengers for over 140 years – a tradition they still live up to on the latest version of the Nieuw Amsterdam.
Please visit my tips for travellers on Holland America Page for all my articles, videos and podcasts about this line.
Declaration: I travelled as a guest of Holland America Cruises on their MS Nieuw Amsterdam ship on a 7 Night Mediterranean Cruise from Barcelona visiting Naples, Palermo, Civitavecchia (Rome), Livorno (Florence/ Pisa), and Toulon. Holland America are a Premium Cruise line with Dutch origins dating back to 1873.