The Ghan Train Celebrates a Decade of Luxury and Adventure
As I write this, it is just over two weeks before I embark on my "Big Trip 2014". This consists of a ten week long adventure taking me through a large chunk of Australia for a month and then just under six weeks on Cunard's Queen Mary 2 from Sydney to Dubai. While away I will be sharing what I see and learn. You can see all the places that I will be visiting tipsfortravellers.com/BigTrip2014
One of the things that I am most excited about – and had a major influence on the route and places I am going to in Australia – is a trip on The Ghan train. This luxurious train travels right through the centre of the massive continent and takes three days to do. I am a total travel geek (as you know) and my passion for travelling on trains was further ignited when I travelled on the remarkable Rovos Rail Train in South Africa. I am so excited about going on the train, and I have to admit it is the experience I am looking forward to more than anything – even more than seeing the Great Barrier Reef, the crazy water rides at the themes parks on the Gold Coast (water parks being my other huge passion) and exploring the cities of Melbourne, Darwin, Brisbane and Sydney!
It is quite fitting that 2014 marks two major milestones. The Queen Mary 2 has been in service for ten years this year – and so has The Ghan. So I will be travelling on two major travel icons in their tenth year!
The best way I can tell you about The Ghan is to share some facts that were kindly sent to me by Sam Kirton who works on PR in the UK for The Ghan. While on the train I will be making a video tour of the train and the experience, taking photos and recording an audio podcast along the way and talking to key train staff member.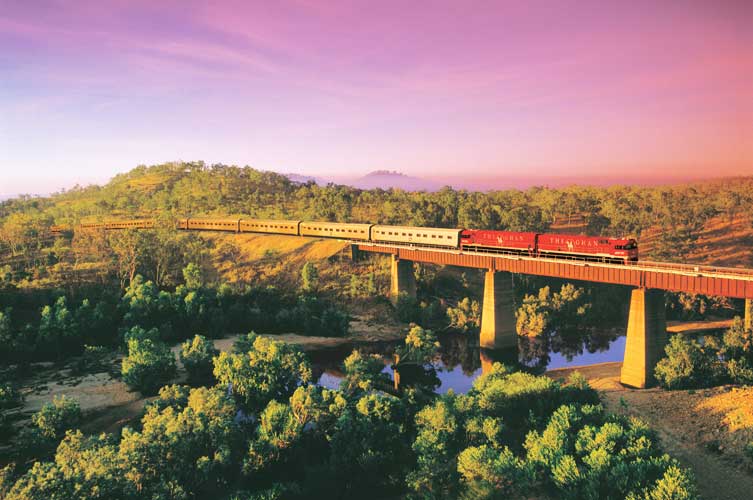 2014 is the Year of The Ghan
January 2014: This year, Australia's legendary train, The Ghan celebrates 10 years since its inaugural transcontinental journey across the heart of Australia. On 1 February 2004, The Ghan departed the South Australian capital city of Adelaide on its 2,979km crossing through the heart of the country to the Top End. Two days later the train arrived at the Northern Territory capital of Darwin amid public celebrations.
To mark the milestone, The Ghan gives their  top 10 reasons to explore Australia by rail in 2014:
1. Size matters. When it takes three days, two nights and a staggering 2,797km to complete a rail journey, you know you're in for an adventure of sizeable proportions.
2. Train your palate. More than 1.3 million restaurant-quality dishes are served aboard The Ghan every year. Whether you're up for grilled saltwater barramundi, pasture-fed pork cutlet with macadamia and sage, Coorong Angus beef medallion or wild lime and coconut tart, it's on the menu.
3. Half a million ticks of approval. More than half a million travellers have experienced The Ghan since its journey was extended from Alice Springs to Darwin ten years ago.
4. All-inclusive all year round. Platinum and Gold Service guests aboard The Ghan are now free to enjoy all regionally-based dining, quality on-board beverages and fascinating Off Train Excursions at key stops as standard extras.
5. Prestigious history. While The Ghan has traversed Australia for the past decade, the train itself dates back to 1929 when it used to travel between Adelaide and Alice Springs.
6. See 40,000 years of history in one day. More than 35,000 guests last year enjoyed the ancient wonders of Katherine Gorge. Marvel at the sheer sandstone cliffs, Aboriginal rock art and cruise the tropical waters where you might spot a croc!
7. Meet new mates. The on-board Outback Explorer Lounge is open day and night to enjoy a complimentary beverage or two and meet new travel companions.
8. Visit a town called Alice. The quintessential Outback town of Alice Springs is there for you to explore with your choice of complimentary Off Train Excursions.
9. Go your own way. Whether you are up for a backpacking adventure in Red Service, travelling in comfort by yourself or with a partner in Gold Service or immersing yourself in luxury in Platinum Service, there's on-board accommodation to suit all needs and budget.
10. Advance purchase saves 25%. Book your Ghan adventure by 30 April 2014 for travel from 1 November 2014 to save 25% off your journey. Prices start from £964 per person for Gold Twin Service with dining, beverages and Off Train Excursions included.
10 things you may not know about The Ghan:
1. The name and symbol of The Ghan was inspired by the pioneering cameleers (many of them Afghans or as they were widely known, 'Ghans), who more than 150 years ago first established a permanent trail to the Red Centre.
2. In World War II, The Ghan played a vital role in transporting troops. Each year, The Ghan pays tribute to veterans with its special Anzac Tribute journey between Adelaide to Darwin.
3. From Adelaide to Alice Springs, The Ghan track originally consisted of wooden sleepers. The desert termites called them food and they dined on the sleepers as quickly as they were laid. Flash flooding also frequently washed the track away so in 1980, the old rail track was abandoned in favour of a new standard gauge line built with concrete sleepers.
4. When The Ghan departed Adelaide for its inaugural journey to Darwin, it was the longest passenger train in Australian history, stretching more than 1km with two locomotives and 43 carriages.
5.. The 43 carriages on the first journey to Darwin included four 'Special Carriages' – the Chairman's, Sir Hans Heysen, Sir John Forrest and Prince of Wales carriages.
6. The average weight of The Ghan is 847 tonnes (single – 16 carriages) and 1,344 tonnes (double – 26 carriages), excluding the locomotive. For the inaugural journey to Darwin the total weight exceeded 2,000 tonnes.
7. Work on the 1,420km line commenced in April 2001 with the eventual cost reaching AU$1.34 billion – AU$741 million from private enterprise and AU$559 million from the government. It remains one of Australia's largest ever infrastructure projects.
8. When construction was finally completed in January 2004, workers had used 15 million cubic metres of earthworks, 146,000 tonnes of metal rail, 2 million concrete sleepers, 3,500 tonnes of structural steel, 2.8 million tonnes of ballast and built 93 bridges.
9. The average speed of the train is 85km/hour with a maximum speed of 115km/hour.
10. The total length of the journey is 2,979km, which takes 54 hours to complete.