14 European River Cruise Watch Outs. What You Need To Know Before Doing One.
European River Cruise Watch Outs
I'm going to tell you 14 things that I think you need to know about river cruising that are watch outs or things you need to know before you go that the cruise lines probably won't tell you, and certainly the brochures won't warn you about.
The goal of this is not to put you off river cruising, but it is a very different way of travelling and there's a whole bunch of things that I think you need to know to make sure that if you decide to go, you're going to you make the most of it.
Watch my European River Cruise Watch Outs Video
Watch the video on YouTube and subscribe to the channel: https://youtu.be/oqhz54wStyk
Cruising Season
First of all, you can only cruise a relatively limited part of the year. The season runs normally from
April through to October in Europe, and although there might be some Christmas cruises or New Year's cruises like Christmas market cruises, the ships are normally put into harbour and basically retired for at least the first three months of the year. So, there's only a relatively limited period of time that
you can go cruising.
Water Levels
The second, and really important thing to note, is that it's very possible (and sometimes almost likely) that your itineraries will get adjusted because of water levels – so either to high water levels or too low water levels. You might often find on a cruise that quite close at the time you booked to go that the itinerary might get changed, or even when you're on the cruise you might find that you end up staying in one place and getting bused to excursions. What's very important on river cruises is you don't actually travel that far, so you might only be traveling maybe 20 miles or 30 miles, so it is relatively easy for the river cruise lines to then just bus you on the different excursions. In some seasons that can be pretty bad, so for example, in 2018 there were big problems particularly on the Danube and itineraries were constantly being changed.
Limited Facilities
River cruising ships are basically all the same, because they have to be a certain length, width and height to be able to cruise the rivers of Europe, so seen from the outside you'll find that all river cruising ships look the same. Therefore, if you really want to understand the differences you need to look inside and so that's why video sites are really important, so you get a chance to look inside the ship. When you're going to go on a river cruise you can't really tell by the outside of the ship, you need to really look inside.
Also, it's very important to note that river cruise ships have relatively limited facilities. You normally find there's a large lounge area with a bar, you might find at the rear of the ship there's either another lounge or special dining restaurant, there's a main dining room there's maybe a small fitness centre, maybe a small hairdresser and massage area and a Sun Deck. So, facilities are very limited, and choice is very limited.
You don't have a lot of choice of dining options, so you normally find for dinner you have to eat in the main
restaurant and there's no room service or no alternative. That is really important to know because it tends to be a sit-down dinner with multiple courses, so you're going to find in the evening you have to commit to going to dinner which is going to take several hours. If you one of those people that like some evenings just to have a relatively easy evening, like if you're an ocean cruise you might just go to the buffet restaurant, that's not an option on river cruise boats. You have to go for a full sit-down dinner on most ships.
Docking in A Row
Another thing, which is a big surprise to a lot of people on river cruises, is that the ships will normally park parallel to each other, sometimes three or four deep. You'll often find that you are surrounded on all sides by another ship.
So, if you're in your cabin for example you're basically looking straight into another cabin and can be quite dark, and to get onto land you either have to go through or climb up and over the sun deck. On the big busy rivers, you're going to be docking in many places multiple deep.
Similar Places and Excursions
The places and excursions you call on are extremely similar across all river cruise lines. You'll find they tend to stop at the same places. They'll often the same excursions.
Historically the excursions have tended to be much more historical and you're going to see lots of cathedrals on walking tours of the town. Now more cruise lines are trying to diversify that, and you'll find a lot of them will start to have a more active hiking or a bicycle tours, but you'll find wherever you go to they are stopping at the same places and doing pretty much the same excursions. There's no real
big difference in excursions.
Importantly, most cruise lines include at least one excursion in every port of call. That's true across most cruise lines. There are one or two exceptions to that but generally speaking cruise lines include an excursion and they will be very similar across cruise lines.
Regimented
Another thing that surprised me a lot when I started going river cruising is just how regimented it is. now having been used to ocean cruising with as much more flexibility you can get up when you want to, dine when you want as lots of different choices, but river cruising is very regimented.
You'll find that there are announcements waking you up at a certain time to have breakfast at a certain time, because you need to get out on excursions a certain time, you need to be back because the ship might be moving a little bit along the river and then going to more excursions. Lunches are at the same time with a very tight narrow amount of time, again with limited choices. And as I mentioned earlier dinner will be at a certain time and will be a multi-course dinner. It's very regimented. They will run port briefings or talks, maybe some local entertainment.
It's a very regimented and set experience. Of course, you can decide not to go on the excursions and build more flexibility that way but most of the time you will have paid for the excursions within your fare, so by not going on them you actually paying for something that you're not using.
A lot of the river cruising lines have developed out of escorted tour companies and a lot of the people
who go on river cruising are people who enjoy escorted tours and a more regimented way of travelling.
Expensive
River cruising is quite an expensive travel option, certainly versus ocean cruising. If you take a look at say July on the Rhine even on a more budget line, you're probably paying about US $200 – $250 dollars per person per day. That's about £190 pounds and about the same in Euros. The premium lines you're
probably spending 300-400 dollars per person per day (so about £300 pounds per person per day).
It's a relatively expensive option certainly when you compare to versus ocean cruising. That is partly because the ships are much smaller so, of course, they can't amortize the costs across as many people,
and also, because a lot of things are included within the fare.
All-Inclusive (or not?)
One thing you'll notice in river cruising is that pretty much all of the cruise lines will say that they're all-inclusive. However, you need to understand what that means because every cruise line has a different definition of what all-inclusive means.
Generally, of course your accommodation is included, your meals are included, maybe things like afternoon tea. Some Cruise Lines, particularly more premium lines, will include all of your drinks and premium drinks at all times of the day. For example, Uniworld will do that. Others will include beer, wine and soft drinks at lunch and dinner only.
All the river cruise lines will offer free Wi-Fi. Most of them will offer one excursion in all the places that you call on, an exception for example is CroisiEurope which is a more value line where you can buy a package of excursions, and your fare doesn't include excursions.
Also, what's important is when you're looking at all-inclusive is it will differ based on where you're coming from! So, for example using the CroisiEurope example, if you're booking to cruise Europe from the United States, you'll find that excursions are included. So, it depends a lot on where you're travelling from.
Gratuities are included on some lines and not in others. It's important when you're looking at a river cruise line and it says it's all-inclusive that you understand what that really means, because it is different pretty much across every single cruise line.
Not Ideal for Limited Mobility
River cruising is not suitable for people with accessibility issues, particularly those in a wheelchair.
River cruising is something that is not likely to work because first of all you'll find most of the cabins on ships don't have facilities for people in wheelchairs or with limited mobility. Some of them will have elevators which go between some or all of the floors. But what's very challenging is when you're docking in some of these small towns, particularly on the Danube and the Rhine, there may be very narrow ramps which you have to go up and there'll be cobbled streets and steep inclines.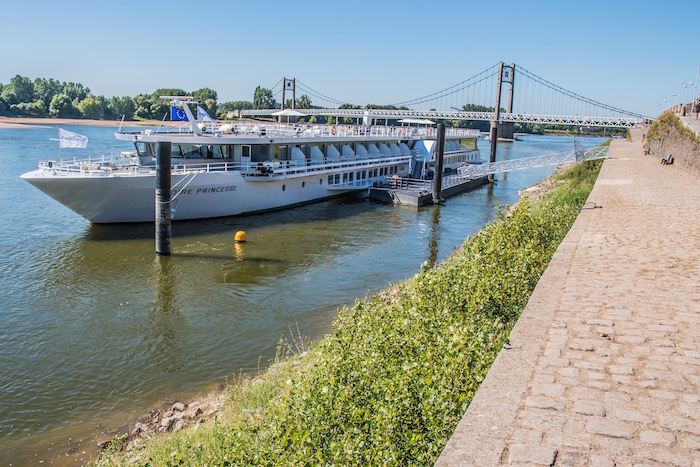 Active Travellers
So, it's not really suitable for people with wheelchairs and there's not that many cruise lines that have accessibility cabins. If you are in a wheelchair or you have accessibility issues, check very carefully with the cruise line.
Linked to that is you do need to be relatively active and fit because most of the excursions are walking tours on cobblestones and up steps. Although most cruise lines will have a gentle walking option and they may have a little mini bus which moves you around, it is a quite an active way of travelling and there's lots of walking involved.
Not Suitable for Everyone
River cruising has an image of being for an older traveller and, in practice, it still is mostly an older traveller who goes on river cruising – people in their 50s, 60s and 70s and above.
River cruise lines are trying to attract more families and you'll find in the key school holiday periods some
cruise lines have more family or multi-generational cruises, where they try and build in more activities and
features for kids.
In my view, river cruising is much more of a baby boomer product and a much more of a baby boomer way of traveling, because those are who most of the people on board are going to be and a lot of the tours and
excursions are going to historical places or have a historical or sightseeing bend to them. The whole structure, the facilities and the way of dining is a more adult experience and certainly a slightly older adult experience.
Solo Travellers
Solo travellers are one of the traveller groups that are very drawn to river cruising. However, it can be a very expensive way for solo travellers to cruise because you'll find most cruise lines, certainly in the peak season, will charge double to occupy a cabin. Increasingly cruise lines are offering in the shoulder periods out of season is more solo deals. If you're a solo traveller and want to go river cruising it is a very social way to travel, because of small groups and you can get to know people very easy, making it a great way of traveling as a solo traveller. It is a relatively expensive option so look at the beginning and the end of the season when Cruise Lines find it slightly harder or more challenging to fill and will do more solo deals. A couple of cruise lines are introducing smaller cabins and more solo cabins but again this still tends to be a premium on those.
Locks and Locks
The other thing to bear in mind is when you're cruising down the rivers, and particularly on the Danube, is you're going to go through a lot of locks and you find as you cruise along, and you might be sleeping,
there will be noise and bumping as you go through the locks.
Personally, I love locks and find fascinating their technology, but it's one thing that people don't really think of. They think they will be sailing up rivers for miles and miles and miles, but you will find you go
through a lot of locks. It can be slightly odd when in your cabin because suddenly you might find you have a big concrete wall up against your window.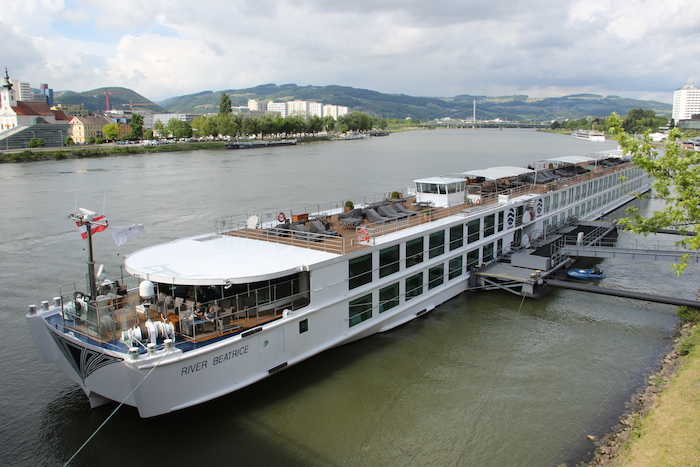 Noise
The other thing I would say with River Cruises is they are slightly noisier than ocean cruising. In terms of people walking around and talking. More noise because they're much smaller vessels and there's less ambient noise of the ocean.
When I go on a river cruise, I always take earplugs with me as I find that much easier to sleep. It is a little bit noisier and I have had some experiences where I can hear the people in the room next door snoring for example or televisions or whatever, so if you are a light sleeper take some earplugs.
Final Thoughts
These are the things that I think you need to know and aren't going to be told about river cruising. It is not to put you off river cruising but to ensure you better understand the process of river cruising, so that when you go you know what to expect. There are some surprises and some differences.
I would love it if you watched many more of my Tips for Travellers videos as I have lots about river cruising and
lots of tips, ship tours and reviews of river cruising lines