60-Second Cruise Tips 032: Bring your favorite toiletries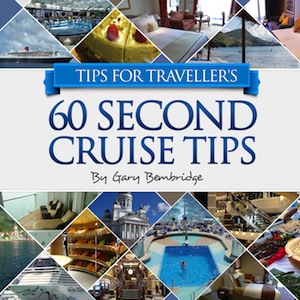 Gary Bembridge author of "The Cruise Traveler's Handbook" provides another 60-Second Cruise Tip. For more visit http://www.60secondcruisetips.com and https://www.tipsfortravellers.com/cruise-travelers-handbook.
Listen to the episode:
Mass-market cruise lines now usually only provide non-branded shower gel and shampoo in large refillable pump dispensers in your stateroom bathroom. This is instead of smaller individual bottles of branded products you may be more familiar with if you have been cruising before or stayed in land-based hotels. Many lines will not even provide individual bars of soap. Therefore, you should consider bringing your own preferred brands of personal cleansing products when heading off on a cruise.
While luxury cruise lines still provide premium branded toiletries, and often give you a choice between two different brands, the trend towards bulk product dispensers of everyday toiletry products is growing across the cruise industry. This appears to be an example of how cruise lines are finding ways to reduce costs without completely withdrawing products like these.
You will still find prestigious brands like Bulagri on Silversea, L'Occitane on Uniworld River Cruises and Penhaligan of London on Cunard ships. However, if you are cruising with mass-market lines like Carnival, Costa and MSC Cruises then remember you will only be receiving pump-dispenser bulk toiletries and decide if you want to bring your own instead.