MSC Cruises Tips: My Observations, Review and Top Cruising Advice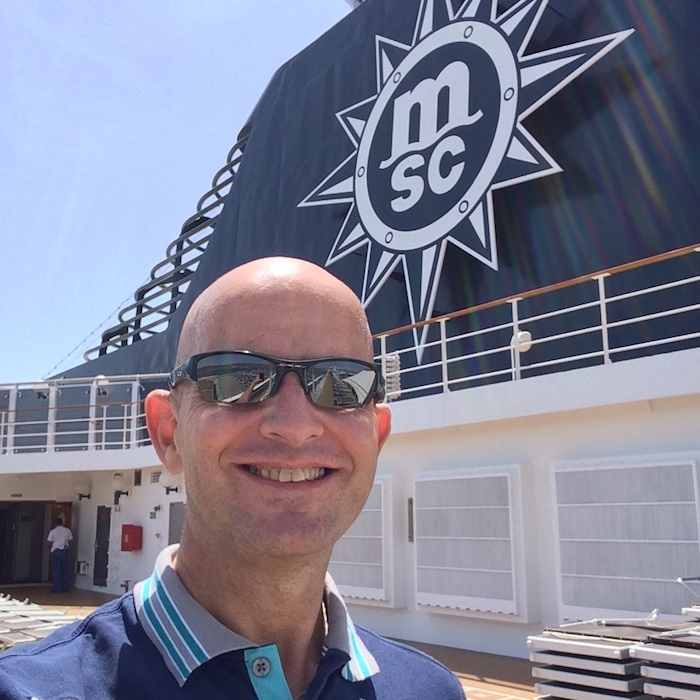 I travelled on MSC Cruises ship MSC Lirica on a seven-night Mediterranean cruise. It was the third time I had cruised with the line – and the first on one of their smaller ships. This is my detailed review, observations and tips about the ship, cruise line to help anyone considering going on a cruise and with MSC Cruises based on this trip. I also recommend you read "Who MSC Cruises if for – and Why" and the pages I have with videos, audio podcasts, photographs and articles on the MSC Preziosa, MSC Divina and MSC Lirica.
Impressions and Details
The first time I saw the MSC Lirica docked in Marseilles it looked really small. I had cruised on large resort-style ships over the previous year and am used to seeing vast structures waiting to welcome me on board. The ship is not that small as it holds up to 2,069 passengers in 646 cabins. But as the taxi pulled up along the ship, it did feel more manageable and petite versus the vast monster cruise ships that dominate the sea today. Big is the mantra of the cruise industry as they look to leverage costs to keep fares low and meet growing demand.
The MSC Lirica carries about half the passengers of MSC Cruise's Fantasia class ships like MSC Divina and MSC Preziosa that can host up to 4,300 guests. It is also one of the older ships in the fleet having originally been constructed in 2003. Its age is clear in the design, as it has relatively few balconies and predominately provides ocean-view cabins. This means it has an external style reminiscent of traditional cruise ships unlike ships built recently that look like floating apartment blocks. New ships have to offer as many balconies as they can to meet the demand of modern cruise passengers. The ship's internal decor is well maintained and understated, avoiding the Las Vegas glitz of many contemporary ships.
Some of the main differences of this ship and the larger Fantasia class are:
• Fewer proportion of balcony cabins.
• Facilities are smaller, including the fitness centre, spa, theatre and casino.
• Theatre shows are less sophisticated and high-tech, relying on dance and song shows without complex sets and staging.
• No speciality restaurants, including Eataly.
• No water slides, 4-D ride or Formula-1 simulator entertainment
• No Yacht Club. This is the exclusive suite ship-within-a-ship area with butler service, dedicated lounge, pool deck and restaurant.
The MSC Lirica spends the European summer cruising around the Mediterranean, mostly on seven-night cruises, and usually relocates to Brazil in the winter. The routes are planned satisfy family vacation needs providing good weather in familiar and popular destinations like Spain, Italy and France.
It is a bustling ship and feels busy much of the time, especially on the pool deck in the day and around the theatres and restaurants in the evening. The atmosphere is like that in a thriving family resort hotel with lots of excited children and teens about. This feel transfers into an informal lifestyle on board with casual dress predominating. There are dress codes but most nights they are based on party themes, like Carnival or Italian, rather than traditional cruise codes of formal and smart-casual.
My Top Tip: Book a balcony cabin if you think you will want to have a quiet spot to relax outdoors. The decks on the MSC Lirica are busy and there are outdoor activities and entertainment all-day and so finding a quiet and calm area to relax in is difficult. Some people retire to the decks at the rear of the ship that few passengers seem to use.
Itinerary and Implications
I travelled on a seven-night Mediterranean cruise. The ship operates a circular route calling on the same ports throughout most of the European summer. It then usually relocates to South America during the winter where it is popular with Brazilian cruisers.
My cruise travelled from Marseilles to Palma de Mallorca, Valletta in Malta, Trapani in Sicily, and Civitavecchia and La Spezia in Italy. The constant circle means that passengers embark and disembark at any port they wish although Marseilles, Civitavecchia and La Spezia are the three stops with the greatest changeover with roughly a third of passengers leaving at each.
The implications of this approach to cruising the Mediterranean is:
• Check in and disembarkation is more painless as the entire ship is not changing in one go. It is faster to get on the ship and cabins are ready by 1pm. Getting off is also slicker as there are less bags to off-load and people cluttering up the public areas waiting to disembark.
• There is one currency in all ports: Euro.
• VAT is charged (22%) in on-board shops. Non-EU residents can claim this back when leaving the country.
• Duty-free alcohol and cigarettes are not sold on board. You can only buy one packet of cigarettes at a time in the bars and shops.
My Top Tip: Consider joining and leaving the ship at one of the quieter ports on the itinerary as you will find it easier and a more leisurely start and end to your vacation. You can avoid the long lines and waiting usually associated with big ships in big ports.
Passenger Mix
Passengers on MSC ships cruising the Mediterranean are mostly Italians, French and Spanish. Although there will always be a good representation of Germans, Portuguese and English. On my cruise there were 1,000 Italians and 700 French with groups of Spanish, German and English speakers from United States, UK and Australia.
Unlike traditional and long-established cruise lines like Cunard, P&O Cruises and Holland America, I noticed much less grey haired passengers on board. The line predominantly attracts families with children, ranging from infants through to teenagers, young couples and groups of young friends. The older people on board seemed to be travelling as part of an extended multi-generational family group than alone.
Cruising is seen as an attractive alternative to land-based family vacations among travellers from countries around the Mediterranean. It is also easy and convenient to join the ship with so many port options around the region. MSC Cruises has embraced this attitude and their marketing and promotion is clearly for these groups and so is the on-board experience. It is a product designed to satisfy families. The pricing, the food, the on-board dress code, entertainment and facilities like kid's clubs and family friendly excursions make this a line that world for these passengers.
My Top Tips:
• You should like being surrounded by children to enjoy cruising with MSC. It is not a quiet couples ship with lots of cosy spots to retreat to and be romantic. Children of all ages will be active around the pools, shows and on excursions.
• English-speakers are usually in a minority and you should relish being immersed and surrounded by other languages and cultures. It does mean though that you will feel you are truly travelling abroad versus exploring Europe (or other region) in a bubble of the UK or United States.
• Expect European cultural norms such as some topless sunbathing, later mealtimes and more smoking than on UK and United States cruise lines.
Multi-lingual ship
MSC Cruises embraces the all the Mediterranean although it has a strong Italian influence based on its roots and ownership. It is very different to the major United States and UK-based cruise lines as it does not just accommodate different languages but gives them equal prominence. While most lines ensure they have one host dedicated to the needs of non-English speaking guests and keep those guests are suitably briefed and informed, MSC have a totally different approach.
Everything on board the ships is always communicated in 6 languages: Italian, French, German, English, Spanish and Portuguese. This includes the brochures, daily programs, excursions, announcements and TV channels with shows from each country. Even the movies (of which are 12 showing through the day) run in each language.
Based on the language you have identified when booking, everything you receive before and during the cruise will be in your specified language. Every member of crew you engage with can hold a conversation in your chosen language. When you book an excursion you are allocated one with a guide that speaks your tongue. You may occasionally find that you are on a dual-language tour with a guide speaking two languages.
My Top Tip: Ensure you are comfortable with the multiple language approach. Announcements will always be repeated in different languages and English speakers used to US and UK cruise lines find this unfamiliar and jarring at first. Use it as an opportunity to broaden your language skills – and maybe brush up on those languages you studied at school!
Embarkation Process
The multiple ports of embarkation in the Mediterranean lead to a more painless process, as the ship is not changing over in same port. On my MSC Lirica cruise there were only around 500 passengers joining the ship in Marseilles out of the over 2,000 on board. It was a very fast and simple process and from arriving at the port to stepping on board took only about 15 minutes.
The following was the procedure:
• Cases with the pre-supplied tags are left at the pick-up point just inside the check-in hall. These were delivered to the cabin arriving around 3pm.
• At the check-in desk they swiped passports, took a photo using a webcam for security and credit card details to cover on-board expenses before issuing the Cruise Card. This acts as an ID card for leaving and getting back on the ship, the key for the cabin and for charging items bought on board too. Each guest was also issued with a red card with a number identifying him or her that was to be handed in when attending the muster drill. This ensures that MSC can check every passenger has attended the drill and been briefed on the safety process and how to put on life jackets.
• After check-in you pass a wall of people trying to sell various offers including drinks packages, spa treatments, excursions and photographic and cruise DVDs.
• You pose for a photograph with a background of the ship.
• Board the ship where your cruise card was scanned in.
• Cabins were available after 1pm and those boarding before this were able to explore the ship and have lunch in the buffet or one of the main dining rooms.
My Top Tips:
• It is best to use a Credit Card for your on-board expenses. MSC will ask your bank for an initial authorisation and hold on the card of around 250 Euros. This will increase based on your expenditure and to make sure that the charge for your final bill is cleared. MSC Cruises will reluctantly accept Visa and MasterCard Debit Cards but charge your card an initial amount and updates these regularly depending on your expenditure – with a balancing process at the end of the cruise. It does mean that the balance at your bank reduces as these are charged. If you want to pay with cash you will have to make a deposit, which you have to top up if your expenditure exceeds the deposit. Your card gets frozen when spending exceeds the deposited amount.
• Pack valuables, important documents and medication in a hand luggage bag and keep that with you. It is also a good idea to carry swimming gear or more casual clothes in there as well so you can enjoy the sun, swim or use the hot tubs before your bags are delivered to your cabin.
Embarkation Events
Embarkation day is an exciting time. There are a number of events that MSC Lirica held on these days that included:
• Safety Drill. This was held at 3:30pm on my day of joining the ship. I had to hand in the red card I had been given at check in at my Muster Station to show that I had attended the event. These compulsory events have to take place before the ship departs and include a briefing on the process should there be an emergency, some key safety information (such as not throwing anything overboard, what to do if you spot a fire or a man overboard) and how to put on life jackets.
• Excursion Presentation in the theatre. The team ran through the options and offered a chance to win a 50% discount off an excursion in La Valletta.
• Sail-away party on the Pool Deck where the entertainment team and dancers from the theatre group put on a show and held audience-participation games. It was very busy, energetic and popular.
• Captain Gala Cocktail Party for new guests with a chance to have a photo taken with him.
• Theatre pre-show presentation where all the department heads are introduced and the Captain gave a welcome speech in all languages where he spoke about MSC, the ship and itinerary.
My Top Tips:
• You have to attend the safety drill and risk being asked to leave the ship if you refuse to attend.
• Attend all the other events too as they offer great insights into how to enjoy and get the most from your week on board.
• Before taking part in these events I recommend you collect a map of the ship from reception and tour it to get a feel for where everything is. Start on the top deck and work your way down. The ship will be quiet and most places empty giving you an efficient and comprehensive overview of what the ship has to offer and where you are likely to want to spend your time.
Promotions and Spending
Like most cruise lines, MSC will be trying to entice you to spend money while you are on board. Generating income is an essential part of the revenue model for every cruise line. Attractive fares get passengers on the ships and the more you spend with the line the happier they will be. As result you will find many promotions and activities every day to try to urge you to part with more Euros.
On MSC you will usually hear announcements of special events and offers broadcast once or twice a day. These are not broadcast into your cabins but only in public areas and corridors. The only announcements piped into your cabin are those related to the safety drills and in the case of a real emergency. You should also expect to receive a daily sheet of offers along with your daily program called "Daily Specials".
The following are some examples of the promotions offered during my cruise:
• Cruise DVD deal offering three for price of two. These were "My Cruise" (highlights of events on board), "My Excursions" (highlights of the destinations) and "My Ship" (tour of the ship). The offer was 49,90 Euros versus 69,70 Euros.
• Photographs. There are many photographers touring the ship all the time including at the muster drill, dinner, around the pool, cocktail parties and on leaving the ship for excursions and with the Captain. These sold individually, 3-for-2 for embarkation photos or all your photos on a CD as a collection.
• Drinks packages. There are many options for both adults and kids ranging from deals on drinks with meals through to unlimited drinks and cocktails all day.
• Daily cocktail and alcohol-free cocktails (e.g. Sex on the Beach & Cosmopolitan and Spider-Man & Dirty Banana Shake).
• Excursion bundles called "Explorer Formula" with three set excursions in different destinations offered at a discount of around 10%.
• Laundry offers. For example you could buy a package for 25 Euros allowing up to 20 items per cabin to be cleaned and ironed.
• Spa treatment discounts.
• Copies of newspapers from your home country (3,50 euro a day)
• Shopping Bazaars each evening that were tables with different offers like 3-for-2 handbags, watches, fragrances and inch-of-gold necklaces and brackets.
My Top Tips:
• You should budget carefully and thoroughly before heading going on a cruise to avoid an unpleasant surprise. You can spend more than the fare while you are on the trip without careful planning. The main items to take into account for most travellers are excursions, drinks, gratuities, Internet access and mobile roaming charges. I cover budgeting in more detail in my book "The Cruise Traveler's Handbook".
• Set a daily budget for your cruise and monitor your spend. You can request interim statements from reception to help track and stay within your target.
• If you are travelling with children remember they can also make charges to their cruise card. MSC offer the ability to have pre-paid cruise card to give to your children and I recommend these. I cover this in more detail in the section about child facilities on board.
Cabin
I was staying in 10069 on Deck 10. The room is called a suite although strictly speaking it is a balcony cabin as there is no separate bedroom or divider between the sleeping and seating area. However, most cruise lines call their larger rooms suites and so this is consistent with the rest of the industry.
Watch the video tour I made of the room: http://youtu.be/yMe-cN09lNo
Positives:
• It was a good-sized room with clever use of wall-length mirrors to increase light and feeling of spaciousness.
• Double or twin bed configuration options.
• Balcony was a generous size and held two comfortable chairs and table.
• Flat screen TV with lots of channels in multiple languages and free movies.
• Plenty of storage including space under the beds for large suitcases, walk-in cupboard, safe and storage behind one of the mirrors and many cupboards.
• Many electrical plug sockets of both Euro round 2-pin and USA flat 2-pin types, with appropriate voltage. Both types of shaver chargers in bathroom.
• Bathroom had a bath with stand-in shower.
• Quiet and sound proof. There was the occasional running from the pool deck above but overall the room was very peaceful and quiet.
• Turn-down service at night.
Negatives:
• Although more environmentally sound, I was less keen on the soap, shampoo and shower gel dispensers in the basin and bath and would have preferred individual items.
• Water pressure of the shower was low, although there was always lots of hot water.
• Pillows, sheets, towels and bed linen were fine but not as plush as on premium lines.
Watch outs:
• If you smoke in the cabin or on the balcony you will be fined at least 70 Euros for additional cleaning.
• If you put anything down toilet other than the supplied paper you could face a 200 Euro charge if there are any blockage issues. The suction system used in ship plumbing is very sensitive to anything other than human waste and paper.
My Top Tip: Always check the ship deck plans in the brochure or online before committing to a cabin to check what is above and below you to help avoid areas of likely noise. For example, on the MSC Preziosa my suite in the Yacht Club was right above the fitness class area and every day at 8am and 6pm the room filled with loud music while a class was held. Rooms under restaurants or open decks where runners exercise may create scraping and thumping noises in your cabin.
Meals and Food
MSC offers plenty of food with good variety that was popular with passengers. The food is comparable to a good resort hotel, there is plenty of choice and caters for different dietary needs and tastes. In my view the food is not at the same level as premium cruise lines I have travelled on, but this is to be expected as they charge much lower fares than those lines. Their real strength is in Italian dishes and food and the pizza, pasta and risotto are excellent.
Fares include all meals in the buffet or main dining room. 24-hour room service is available with a small charge for delivery. You should not need to use this though as, such as, on the MSC Lirica there was somewhere open to eat from 6am to 2:15am. On the larger Fantasia Class ships there is an extra charge speciality-dining restaurant, such as Eataly on MSC Preziosa and MSC Divina. The smaller ships, like MSC Lirica, do not always have speciality dining venues.
Breakfast and Lunch
This is in the buffet and one of the main dining rooms. It was in the La Bussola on the MSC Lirica.
Dinner
You can eat dinner in the buffet after 7pm although most people eat in the main dining rooms. On my cruise there were two sittings with the first at 7pm and the second at 9:30pm in both of the main dining rooms: La Bussola and L'Ippocampo. There were many table size options from intimate tables for two through to large tables seating ten or more.
The menu follows a typical Italian approach with multiple courses. The following is an example of the menu:
• Starter: Choice from two or three each night. These included Shrimp Cocktail in Marie Rose Sauce, Bresaola Carpaccio, Mediterranean-style Eggplant Rolls, Sautéed Mussels Marinara and Mozzarella e Pomodoro alla Caprese.
• Salad: These included a Sweet and Sour Salad and a Lettuce and Grilled Bell Peppers.
• Soup: A choice of two each night such as Oxtail, Rock Lobster Bisque, Neapolitan-style Soup and Cream of Tomato).
• Pasta and Risotto: A choice of one pasta or risotto each night. On my cruise we had Ravioli Di Margo, Spaghetti alla Carbonara, Ricotta Cheese and Spinach Pasta, Risotto alla Zucca, Truffle-flavoured Pumpkin Risotto, and Risotto ai Gamberetti.
• Main of Fish, Meat or Vegetarian. Choices included Fillet of Gilthead Bream, Seared Fillet of Cod, Leg of Lamb in Aromatic Herbs, Oven-baked Veal Goccia d'Oro, Fillet of Beef in Porcini Mushroom Sauce, Turkey Escalope au Gratin, Mixed Vegetable Tempura and Puff Pastry Crescent.
• Cheeses.
• Dessert: There were a choice of three or four on each menu including Cocoa and Pistachio Cake, Panna Cotta, Fresh Fruit Plate, No-added sugar poached pear in red wine, Sucker Torte, Apple Crumble and ice cream or sorbet,
Service in the restaurants is efficient but not effusive as waiters are covering multiple tables. The food comes fast as it is pre-plated in the kitchens.
Pizza
The highlight on every MSC ship I have been on is the amazing pizza served most of the day. On MSC Lirica there was a pizza kitchen on Deck 11 that was open all day and late into the night. It was very popular and there was a constant flow of freshly made pizza.
Room Service
The room service menu is simple and provides some key popular staples as an alternative to the dining venues. There are around 15 items available and includes: Soup of day, Italian Antipasto, Mozzarella Caprese, Chicken Caesar Salad, Sandwiches (smoked salmon, tuna salad, ham and cheese), Cheese Plate, Fresh Fruit Plate and a dessert of day
Tea, Coffee and Water Station
These were in the buffet restaurant and on Deck 11 offering a choice or regular and herbal teas. If you like decaffeinated coffee you needed to get this from the coffee shop or when in main restaurant at a charge.
My Top Tip: Stick to the Italian dishes and meals. This is where MSC excel on the culinary side. This includes their pizza, pasta, risotto and Italian desserts like gelato and Tiramisu. If you travel on a ship that has the Eataly chain you should spend the extra to try it at least once. The food is outstanding.
Dress Code
MSC suggests dress codes each day in the daily program. The codes come into effect from 6pm each evening but they are not enforced, allowing passengers to wear what they feel comfortable in. There is a range of styles of dress in the evenings although people dress smart casual most evenings and will dress up more smartly on Gala Nights – reflecting a European approach to clothes and dress. MSC discourages people wearing shorts to dinner and the shows and most people comply with this. During the day people wander about the ship in shorts and swimwear – and a number of people attended the muster drill in their swimsuits!
The four codes on MSC are:
• Gala: Dressy outfits, formal gowns or cocktail dress for women and tuxedo, dinner jacket or dark suit and tie for gentlemen.
• Informal: More casual dress or trousers and blouse for women and jacket and trousers for men. Jeans are not to be worn.
• Casual: Dress, trouser suit or sporty outfit for women and t-shirt, trousers or jeans for men.
• Theme Nights: These are based on the event planned.
On my seven-night Mediterranean cruise the themed nights played a major part in the cruise. This is mix of evening dress codes through the week:
• Four theme nights. These were a "White Party" where guests were asked to wear something white, "60s 70s 80s Night", "Carnival" and "Red, White and Green" (Italian night). On these nights the Entertainment Team would decorate the public areas of the ship, dress up and host activities around the ship. A good proportion of the guests would dress to the theme.
• Two Gala Nights, which included Captain's Cocktail Party for guests recently joining the ship
• One Casual.
My Top Tip: Bring something smart to wear and embrace the Gala Nights as a chance to have your photograph taken in your finery with the Captain as a souvenir of the trip. Bring along a number of core coloured items that can be used on theme nights.
Excursions
MSC Cruises excursions are each run in different languages. This means that they have to offer many permutations and so minimum numbers are required before an excursion will take place. To avoid disappointment they occasionally combine two language groups on one tour. For example on my city tour of Palma De Mallorca the tour consisted of both French and English passengers so we had one French and one English-speaking guide. They alternated giving the same commentary on the bus and then escorted us separately when off the bus. In Rome it was also a joint tour but the guide escorting us on our walking tour but he spoke both French and English.
There are eight categories of tours offered by MSC, and most are available in each port. These are:
• City Tour: exploring the city centre mostly on bus with stops to view significant sights mostly from the exterior.
• Culture and History: visits to must-see locations with guided tours through them.
• Scenic Route: drive around and through the destination with minimal exercise and walking.
• Family Fun: designed to keep children interested and occupied.
• Active and Adventure: these include sporting activities such as trekking, snorkelling, 4-wheel drives and kayak tours.
• Natural Wonders: explore the flora and fauna of the region.
• Something Special: focused on interest areas like gastronomic tours, guided shopping or religious sites.
• Sea and Sun: takes passengers to popular beaches or on boat rides.
If you are planning to go on an MSC excursion consider the following:
• The tours look good value compared to many cruise lines, which I assume is to make them affordable for families.
• They are in fairly large groups with a full busload on each tour group.
• You need to be sure of what tours you want to do before booking, as they are not refundable unless you have a medical centre certificate.
• MSC allows parents to go on excursions and leave their children in the Kid's club. However not everyone does and you should expect small children to be on your tour. This can get frustrating when there are family tours available. For example on my all-day Rome City Tour some parents brought along young children who soon got bored and were disruptive as the tour did not engage them instead of choosing the family focused tour with attractions more suited to them.
• If you plan to do a number of tours check what the Explorer Package is for your cruise as you may make savings rather than booking each individually.
If you are considering self-touring in ports:
• There are no on-board destination speakers or detailed port information sheets provided beyond a very brief overview of the port in daily program, so come prepared with travel guides or having done some research on the port, sights and getting around. I always recommend checking if there is a Hop-on Hop-off bus as this can be a cost effective and comprehensive way of seeing a destination.
• MSC Cruises do not offer free shuttle busses from the ship into town but will offer an option if the town centre is not within easy walking distance. You need to buy tickets before leaving the ship. In Palma the 20-minute shuttle into town was 12,5 euros and the shuttle from Trapani to Erice was 19,90 Euros for adults and 9,90 for under 12s. You have to buy tickets before getting off ship. There was an exception was in La Spezia, which is a container and freight port, where the authorities provided busses to the gates to avoid passengers walking through the active working areas.
My Top Tips:
• If you are a keen photographer or video maker, cruise line tours are not ideal as they very structured and move quickly through the sights. Many of the places visited involve external viewings only. It is worth considering hiring an independent guide or self-touring.
• If you are on an MSC excursion the ship will always wait for the tour to return before leaving. However, if you are taking an independent tour or self-touring and get back late you are likely to find the ship will have departed and you have to make your own arrangements to catch up with the ship in the next port.
Child-Friendly Services
MSC Cruises provides many services and facilities for families with children. Some of these include:
Teen Cruise Cards
Every cruise card issued is used to charge for items on board. This means your children can buy food, drink and goods on board with their cards. MSC Cruises offer the option to buy a pre-paid Teen Card for children under 18. They also act as the key card for the cabin. You order them via Reception and as they are non-refundable you must make sure all the credit is used before the end of the cruise.
Family and Teen Excursions
In most ports there will be an excursion designed to meet the needs of families and visit attractions and shops known to appeal to children. They usually build in time for parents to have some downtime while the MSC Kid's Club team entertain the children
In some ports there are also excursions that only teens can go on. These supervised tours allow teenagers to explore a destination together.
Child Drinks Packages
There will be a number of packages especially for children to help you set and control your budget. On my Mediterranean cruise these included:
• Cheers Child (9 Euros/ day): unlimited soft drinks, fruit juices and mineral water at lunch and dinner.
• Allegrissimo Child (12 Euros/ day): unlimited soft drinks, fruit juices, mineral water, hot drinks, non-alcoholic cocktails, smoothies and milkshakes and takeaway ice cream in a cone or cup.
• Allegrissimo Premium Child (21 Euros/ day): unlimited soft drinks from the bar (including energisers, fruit juices, mineral water, hot drinks, non-alcoholic cocktails, smoothies and milk chakes), non-alcoholic drinks and snacks from the minibar and minerals water in the cabin as well as items from the ice cream bar, pastry shop and food from room service menu.
• Doremi Package (30 Euros): ten non-alcoholic cocktails, smoothies, milk shakes, soft drinks and fruit juices along with an MSC Souvenir glass.
Children and Teenagers Club
There are four clubs available on board:
• Mini Club for children from three to six years.
• Juniors for seven to eleven year olds.
• Young for twelve to fourteen.
• Teenager from fifteen to seventeen.
In addition to running daytime clubs the following programs run to help parents enjoy some time alone during the cruise:
• Fun-time Dinner. Children between three and eleven can eat together in the buffet restaurant supervised by the Entertainment Team up to four nights a week. This enables parents to dine alone in the main restaurants. There is no charge for this service.
• Happy Dinners. Children eat a meal from a special child menu while parents are eating their starter in the main restaurant. They then take them to a Happy Dinner Meeting Point at the restaurant entrance and the children go to the Kid's Club where they are collected once parents have finished their meal. There is no charge.
• Kids Around the Clock. Children between three and eleven are entertained and then encouraged to nap between 11pm and 2am allowing parents time to go and party or have some personal time. There is a charge for this service and it is booked on an ad-hoc basis or as a package for part or the entire cruise.
Children under the age of twelve have to wear ID wristbands throughout the cruise to help in case of any issues and for identification purposes.
My Top Tip: If you are travelling with children use these facilities and options as they enable them to meet new friends and give you time alone to enjoy yourself knowing they are being carefully supervised and entertained.
Entertainment
MSC has a range of entertainment throughout the day. The following was offered on my Mediterranean cruise on the MSC Lirica:
Movies
Recent release movies with a family bias show 24 hours a day on the in-room TV. Twelve films were rotated with differing start times across the cruise. They are shown in English, French, Italian, Germany and Spanish / Portuguese.
Production Shows
Theatre production shows ran most nights except in Palma when the ship docked until just after midnight. The shows are on twice each night (7:30 for second-sitting diners and 10:30 for those on the first-sitting). The shows are consistent with those on many cruise lines and are a mix of dance, singing and variety acts like acrobats and jugglers. Overall they are entertaining and appeal to the broad audience by relying on popular standards and many costume changes. On the MSC Lirica the stage is quite narrow and does not have the special effects that the larger Fantasia Class ships have and so the shows run with static and limited scenery and sets.
Examples of the shows staged were:
• "Parfum D Orient" which focused on a mix of eastern dance through to the French can-can.
• "Broadway Hits" which drew on mainstream songs from Abba, Grease and Phantom of the Opera.
• "The Four Musketeers" a more dance and acrobatics focused show, which included some magic tricks, juggling and balancing acts.
• "Starwalker – The Michael Jackson Experience". This was, in my view, the best of the shows with innovative use of video clips, a Michael Jackson impressionist and dances based on his most famous music videos.
• "Tropical Serenade" which celebrated Latin rhythms.
• "Cuore Italiano" which was a medley of popular Italian songs featuring the 2 singers
Despite the warnings that guests should not video or photograph the show this was ignored by many guests on my cruise and it proved distracting as there was a steady flow of flashes going off and the lights of people videoing the shows with their smartphones and tablets. Guests also were comfortable coming and going throughout the show and the presence of young children in the audience meant it was inevitable that parents sometimes had to leave the show if their child got bored or restless. Personally I found this disruptive so I would sit as near to the front of the theatre as possible as this would minimise the intrusion.
Passenger Participation Activities
Throughout the day and evening there are many passenger participation events including talent competitions, bingo and dancing lessons.
During the day these take place around the pool on Deck 11 that serves as the daytime entertainment hub. It is a popular area and is noisy and busy. Activities include aerobics, beauty demonstrations, aqua gym, beer games, mega bingo, T-shirt making, water games, Pilates, dance lessons and fashion shows.
There are also regular demonstrations held in one of the bars or lounges like chocolate and martini making.
Bingo is held every day with a 25,000 Euro prize if won in first 40 numbers and 10,000 Euro if called between 41 and 44.
My Top Tips:
• Sit as far to the front of the production shows to avoid being distracted by the coming and going of people during the show and the distractions of those videoing and taking photographs.
• If you want to avoid the all-day activities around the pool deck you should consider having a balcony cabin to retire to, or seek out the quiet spaces at the rear of the ship on the lower decks. Few people are aware these exist and go there.
Facilities
Although the MSC Lirica is smaller than the large Fantasia Class ships there is a vast range of facilities and choice. Some of these are:
Medical Centre
There is a charge to see the doctor unless you are simply seeking regular seasickness tablets. It is open to see guests between 9am and Noon and 16:00 and 20:00 hours.
Fitness Centre
This is open from 6am to 10pm. You need to sign a waiver to use the gym and it is only open to passengers over 14 years of age. Although there was a good selection of equipment they were a bit dated. It gets busy at times like on sea days in the morning where you may need to wait to use the cardio machines. I found it quiet in the early evenings when people were preparing for dinner and in the daytimes in port when most people were out on excursions.
Free fitness classes are held every day around the pool area and there is a male and female sauna, steam room and a relaxation lounge with great views over the ocean.
Aurea Spa
Bali therapists provide massages and treatments. I counted at least 26 different types of massages including hot stones, candle, sports and shells. They also provide facials and hairdressing.
I had two sessions:
• Bali massage (60 minutes. This is the most popular massage in the spa. It is a traditional massage with oil.
• Bali Sun Rise Lulur (90 minutes). This includes a body scrub, massage and facial.
The treatments were excellent and the therapists friendly and skilled. The only unusual, and jarring, aspect is that the ship announcements are piped into the massage rooms. This was not ideal as it interrupted my relaxation.
Shopping
There are a number of on-board shops in an area called Rodeo Drive. They include a candy store, perfumery, clothes and MSC logo shop.
Casino
The casino is called the Las Vegas Casino and has a choice of the usual tables and a good selection of slot machines.
Virtual Reality Games Room
There is a hi-tech games room with a number of virtual reality simulator bikes and car rides.
Library and Card Room
This is a small area and the library is not very extensive so best to bring your own books than rely on finding a lot of choice here.
Social Events and Occasions
MSC Frequent Traveller Club
Once you have cruised with MSC you can join their loyalty program to get added benefits. One of these is an invitation to a special cocktail party hosted by the Captain for all repeat cruisers on one of the Gala Nights. Guests are given free drinks and snacks.
On my cruise there were over 400 guests invited to the event in the beautiful Lirica Lounge. The event also celebrated couples with long wedding anniversaries as well as guests with many repeat voyages.
Special Event Treats
There is a menu of items that can be ordered to celebrate special events. A brochure is left in your room and these include:
• Romantic Sunset (Moët & Chandon champagne and chocolate dipped strawberries).
• Deluxe Indulgence (chilled Ferrari Perie and ten canapés).
• Anniversary Package (served at your dinner table with sparkling wine and a personalised cake for a birthday or anniversary).
• Chocolate Dipped Strawberries.
Wi-Fi and Communication
Wi-Fi is available in the cabins and public areas. It proved reliable most if the time and was stable and fast enough for me to use FaceTime and make Skype voice calls on sea days when out of mobile phone range. I found it worked better on my smartphone and tablet using apps than on the Internet browser (e.g. when posting photos on Facebook it worked faster and consistently versus when I tried these same tasks via my browser).
On sea days and after leaving port there was no mobile phone signal but you can use your in-cabin phone to make satellite calls at 5 euros minute. It was actually cheaper to do FaceTime or Skype calls by Wi-Fi.
Like all cruise lines relying on satellite connections it is fairly costly to use. You can buy packages that bring down the cost per minute as follows:
• 60 min packages cost 28c minute (US 38c)
• 100 min packages cost 25c minute (US 34c)
• 5 hour packages cost 18c minute (US 25c)
• 8 hour packages cost 15c minute (US 20c)
My Top Tip: Buy Skype phone call credit before your cruise, download the app onto your smartphone or tablet and use that over Wi-Fi if you need to stay in touch with the office or friends and family. It can work out cheaper than mobile roaming in many cases based on your plan. It also means you can stay in touch on sea days or at night after you lose your mobile connection.
Gratuities
MSC Cruises add a charge to all bills to cover tips for the staff on board. A service charge is also added to drinks and coffees purchased throughout the ship. You are not expected to tip staff in addition to these.
The rate changes based on the length of cruise and destination but as a guideline you can assume the following charges will be added to your bill:
• Adults (18 and over): 7 Euros per night
• Child (14 and over): 3.5 Euros per night
• Child (Under 14): No Service charge applied
My Top Tip: Gratuities are an important element of crew pay and although you are not expected to tip in addition to the fixed charge, if there is anyone that has made your trip special a small additional tip is always a nice gesture. As important though is mentioning that crew member by name in your end-of-cruise survey. Comments about crew are noted and are likely to be taken into account when considering people for promotions, special awards and future contracts.
Alcohol Policy
The drinking age on board MSC ships varies based on the laws of the region you are cruising in. This is usually 18 in Europe and 21 in the Caribbean and cruises sailing out of the United States.
You can't bring alcohol on board at the start or at any point during the cruise to consume on board. If you do it is taken by security and held by MSC until the end of your cruise. If you do have it taken then make sure you get receipt from the team taking it off you.
When cruising in the Mediterranean MSC cannot sell duty-free alcohol on their ships but can in other regions. However you will also only get given it at end of cruise.
If you are cruising to destinations that are known for local drinks like wines, port or liquors this should not put you off taking some back home. You will find that many suppliers understand the restrictions that cruise lines like MSC have in place and offer shipping direct to your home.
My Top Tip: There are blogs that share tips and tricks on how to avoid alcohol being detected while taking it on board ships. However remember that cruise lines are aware of these and it is simpler to follow the policy.
Smoking
Smoking is fairly prevalent on board to meet the demands of its Mediterranean guests. I did encounter smokers fairly often around the ship and found the smoke in bars and lounges intrusive – as it is something I am not used to on land and many other lines.
Although the policy is constantly being reviewed, and was tightened up on the MSC Divina when sailing out of Miami to satisfy the demands of North America passengers, there is a fairly generous smoking policy around the ship.
Smoking is permitted in many of the bars, the casino and on one side of the pool deck. It is not allowed in the restaurants, children's areas, lifts, public toilets, corridors, medical centre and theatre. It is also prohibited in the cabins and on balconies and the line will charge an additional cleaning fee if people do.
Charity
MSC Cruises support UNICEF via their "Get On Board for Children" campaign. This raises finds to support programs to cut malnutrition around the world. Guests are encouraged to make a donation via their bill or by buying branded merchandise in the on-board logo shop.
MSC donated over 3 Million Euros (US$4 million) in 2014 alone as a result of this campaign through their own contributions and guest support.
Future Cruise Sales
There is a sales desk on board and a booth open on the pool deck in day. If you book a cruise on the ship you will be given extra on-board credit based on the length of the cruise and cabin grade reserved for that trip. It ranged from 150 to 400 Euros per person. This credit can be used for items like excursions, drinks, on board shops.
Disembarkation
Every day is a disembarkation day on the MSC Lirica in the Mediterranean. This makes it a less hectic process as the ship is not eager to leave at the same time. The process is slick and well organised.
Two days before disembarkation every party is asked to send someone to a talk about the process. It is not essential to attend but is advisable although the materials given explain the process very clearly.
Each cabin is allocated a time to leave the ship which is indicated by the colour of the tags supplied for your suitcases. The times are staggered across the morning starting around 30 to 45 minutes after docking to allow time for the ship to be cleared by the local authorities and the suitcases to be taken off the ship. You leave your cases outside your room by 1am of the morning of departure with the proper tags on. The next time you see them is on the quay.
Cabins have to be vacated by 8am to give the crew time to clean and reset the room for the new guests. You are allocated a waiting area in one of the bars or lounges based on your time slot and when the ship is ready for you to disembark they collect everyone from that venue. This avoids people cluttering up the exit area where guests will also be heading off to self explore or go on tours.
Cruise Survey
Guests are given a cruise survey to complete with a prize draw incentive. The surveys are very important and the crew make a point of stressing that the ratings and comments are used on the ship and reviewed by head office. It is a good idea to name people that have made a real difference to your experience as these count towards recognition awards and promotions.
My Top Tip:
• Book your transfer and flights home with MSC Cruises. They will then prioritise your disembarkation to ensure you make these. Often the transfer to the airport is the first group of passengers to be scheduled to leave the ship. I had a private transfer as I had an early flight and they made sure I was off the ship as soon as it was cleared.
• When packing your cases to be left outside the room, make sure you have kept clothes for the next day to wear as well as toiletries you will need in the morning!
Summary
Travelling on one of MSC's smaller ships like the MSC Lirica does not mean you will lack choices, as there are many dining options, bars, lounges and a wide range of entertainment.
The Mediterranean Way of Life is still provided in all aspects of the cruise experience. The fewer numbers can mean that getting on and off the ship at the start, end and in ports can mean less lines and hassle too.
If you enjoyed this post:
Want to Support Tips For Travellers?