Cruise News Update 27 : CDC No To Cruise, Cancellations Into 2021 And More
It's been another busy week of cruise news and developments, including a surprising CDC intervention against cruising, why April looks like when cruises will really resume among more cancellation news, lots of progress in the UK, what Caribbean ports are saying and doing about cruises calling again, cruise lines cash burn and much, much more.
This is another of my Tips For Travellers cruise updates, where I will unpick the biggest breaking cruising news, and discuss what it means for all of us as cruisers. You can watch this as a cruise update video on my YouTube channel.
CDC No-Cruise Advisory
First up, I want to discuss the latest move by the CDC (Centers for Disease Control and Prevention) in the United States.
In the past week they surprised pretty much everyone by ramping up their advice against cruising to the highest possible level.  It is now "Level 4: Very High Level of Covid-19".  It says (and I quote) the "CDC recommends that all people avoid travel on cruise ships, including river cruises, worldwide, because the risk of COVID-19 on cruise ships is very high".
The timing is interesting as first of all, there are no options for US citizens to go cruising at the time this announcement was made. Yet they still made it.
Remember, there are no cruises operating in or out of  USA ports, the option for US residents to cruise in the Caribbean is gone after SeaDream put their cruises on hold after the outbreak on their first voyage, and the limited cruises operating in Asia and Europe are only open to local residents.
On top of this, the CDC and lines are supposed to be working, and partnering, together to get cruising to resume out of USA ports as soon as possible – based on the CDC's own Framework for Conditional Sailing which replaced a no-sail order!
This plan includes lines running test voyages, which the lines are hoping they can do as soon as early January. The implications of the advice is on these running is not clear. Seems hard to see how they can.
Many will remember that when the current White House Coronavirus Task Force placed pressure on lifting the no-sail order in October, it was reported that the CDC wanted it to be extended to at least the end of February 2021.
Over the coming weeks, it is worth remembering this and also that the CDC decide the pace that cruise lines will pass through their defined stages to resume cruising. And so, in my view, their latest update advising people not to cruise does not suggest an easy, smooth or fast timeline ahead.
UK Cruises Take Small Step
The UK is another country with strong travel advice against ocean cruising. There is now some progress towards cruises resuming in the UK with three new items of news.
First of all, the UK government has agreed a pathway for cruising to reopen as they accept the CLIA and cruise lines proposed protocols.
In an interview with The Telegraph in the last few days, Grant Shapps, the UK Transport Secretary, said the cruise sector had worked hard to guarantee Covid-secure travel and added that, for the final clearance, lines had to first prove compliance to the protocols and secondly the Government required guarantees that lines would pick up the cost of repatriation if there were any outbreaks on ships while cruising beyond the UK.
He said (and I quote) "Provided that [the agreement on repatriation] is agreed, this green lights cruises as long as they are Covid secure and using Covid tests".
However, there is a catch as a specific date has not been agreed, and the UK Global Travel Task Force recommends cruising should only restart once the country's national coronavirus alert level is reduced from the current level.
Although they have not set a specific date, this is in my view a key step forward as the UK have accepted the proposed cruise line protocols, which include the testing before boarding, reduced capacity, masks, social distancing and controlled excursions, and unlike the US which added many more layers and requirements, the UK have only added the repatriation costs requirement.
CLIA, the cruise line association, is lobbying for a more specific date to be set especially to allow lines to start running UK only port sailings for UK residents.
In other good cruise news in the UK, MSC Cruises will homeport a ship every year in Southampton from summer 2021, starting with the massive MSC Magnifica. This is the first time a ship has been home ported by them in UK for many years.
And Southampton, the biggest cruise port in the UK, has announced it will open a 5th cruise terminal also in the summer of 2021 which can handle ships capable of carrying up to 6,000 passengers.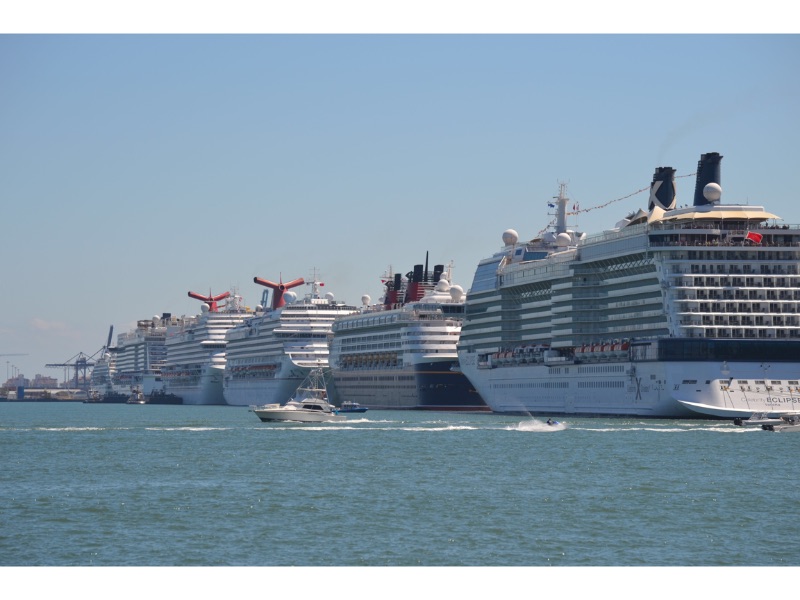 First Carnival Ship back in USA
Returning back to the United States, One milestone did happen this past week as the first Carnival cruise line ship returned to US waters !
Early on after the shutdown, Carnival Cruise Lines (and sister lines like Princess and Holland America) pulled all their ships out of USA waters. They have been out of the US for months.
Many of Carnival Cruise line ships stayed close to Bahamas or other Caribbean islands, while others sailed to Europe or Asia to repatriate crew. But a few are now heading back to the USA to start the process of being able to sail again.
The Carnival Horizon was the first ship back, and it returned to Miami early on 23 November to start the complex process to prepare for returning to service. Horizon is the first Carnival Cruise Line ship that is scheduled to return to sailing. The second will be Carnival Breeze, also due to return shortly.
So, the return of the first Carnival ship to the US is definitely a milestone and a step on the journey for them to resume cruising. Other ships that also left the US are also on their way back including from Disney and Holland America .
Lines Cancel Further into 2021
As I covered in the last update, cruise lines especially those that rely on multi-country itineraries are having to cancel deeper and further into 2021. This continued this past week.
Despite the moves in the UK, P&O Cruises based there has just extended their cancellations into April 2021, They say this in response to the current uncertainty around if and when European ports will be open.
To be honest, looking at the way cancellations are moving globally, the signs are increasingly that April looks like the month most lines realistically believe sailings will really resume globally, after winter has passed.
People have asked me to include the latest situation on the return to cruising for the major lines in these updates.
So, here is the latest at time of recording, though I have to say I am sure almost 100% sure the January resumptions will move back. The dates I am going to give you are based on when at least one ship in the line's fleet is due to start sailing
January: Royal Caribbean, Norwegian, Celebrity, Marella, Regent Seven Seas, Oceania and Virgin
February: Carnival, Disney Cruises, Fred Olsen and Viking Ocean
March: Azamara, Celestyal Cruises, Crystal, Cunard and Windstar
April: P&O Cruises, Star Clippers, Holland America, Princess, Saga Cruises, Seabourn and Silversea
Although these are target dates and rely on much to happen, MSC Cruises has just announced that they are the first international cruise line to receive the required health and safety certification to be able to resume cruising in Japan as scheduled in April 2021.
MSC Bellissima will be deployed to Japan, homeport in Yokohama to sail six to nine-night cruises in April, May and June 2021 and again during October and November 2021. Although unfortunately for most of us, these cruises will be for Japanese guests only. But it is good to see countries opening.
Caribbean Prepares For Return
Many of the popular ports across the Caribbean are using the shutdown, especially as it drags on, to upgrade and increase capacity to take more cruise ships.
We are seeing big investments to make it easier for ships to call at some ports, especially the large mega-ships. Clearly,  Caribbean governments believe people will return to cruising, and in growing numbers in the years ahead. Showing huge faith in cruising bouncing back and building.
Cozumel, already one of the busiest and well-known cruise destinations, has been given the green light by the Mexican Government for a fourth cruise ship dock.
Cozumel already has the Punta Langosta cruise pier located downtown at San Miguel, the Puerto Maya cruise facility that caters for Carnival Corporation ships further south of downtown, and nearby is the International Pier, which is mainly used by Royal Caribbean group vessels.
Construction on the new development is set to begin in December and the pier is set to cater for the new mega cruise ships coming into service.
Meanwhile Nassau, the main cruise port in the Bahamas, is ramping up its cruise capability with major  work also starting in December.
In addition to repairs to existing piers, they are adding a berth that can hold two Oasis-class ships and extending a pier to handle a third Oasis-size vessel while also transforming the waterfront with new shops, restaurants and cruise facilities.
Bahamas expects to become even more important to cruise lines sailing out of US ports through 2021 as it is the closest island to Florida homeports, and they expect lines to return initially with short cruises focused on their own private islands (most of which are in the Bahamas too) and possibly stops in Nassau.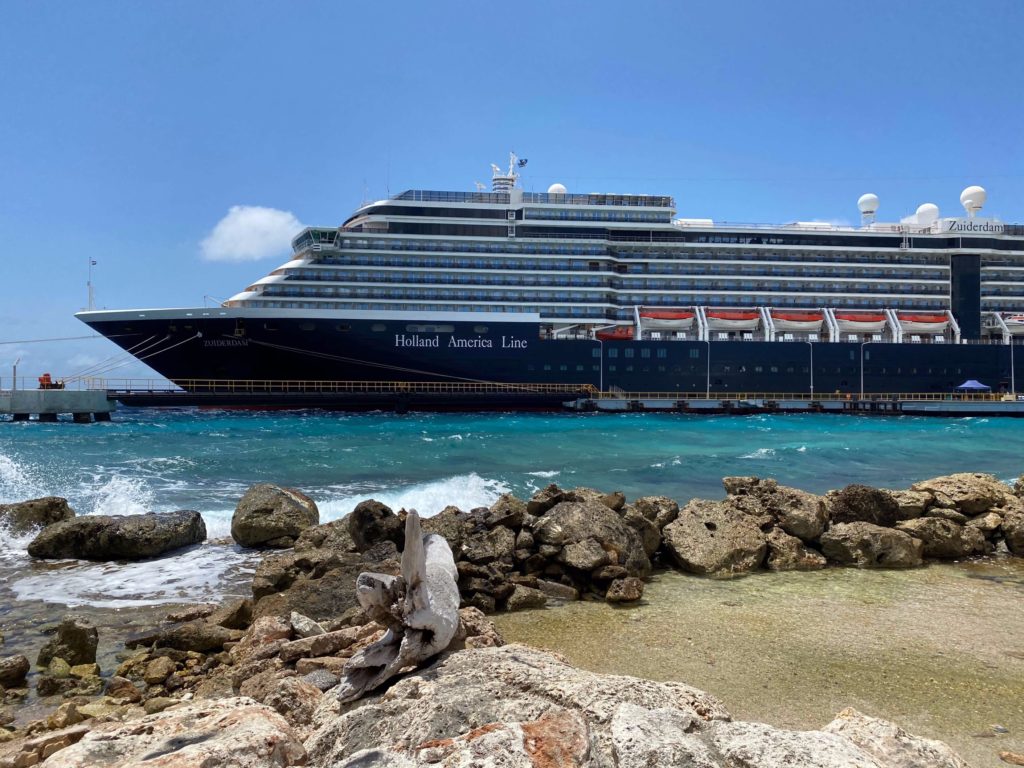 Cruise Lines Raise More Funds
I am often asked if the major cruise groups and lines will survive, and which will go bust.
These questions started up again with more urgency following with so many lines extending cancellations into 2021.
An analysis I received this week from an investor group calculates that the Cruise Industry will Lose Almost $20 billion in Revenue across the world, a 71% Plunge in revenue year on year. Massive
I have made a specific episode looking at the financial health of the major groups, and the huge amounts of funds they have raised from the investment community if you want to delve into that more.
However, In the last week, they have just taken even more cash in to tide them over even longer.
Norwegian Group, which includes of course Norwegian Cruise Line, Oceania and Regent Seven Seas, issued 40 million shares and raised $830 million of cash during November. With a projected burn rate of at least $175 million every month, this adds another 5 months of cash. They now have enough money to have no sailing right into and through the summer before facing a cash problem.
The Carnival group, so that includes Carnival, Princess, Holland America, Seabourn, Cunard, P&O Cruises and others,  which is losing about $650 million a month, had already raised a staggering $12 billion from investors, have this month added another $2 billion through issuing debt notes. They also now have enough cash to  carry them right through summer with no sailing.
So, the major lines have funds. The financial community and investors are confident that cruising will return and grow and are putting a lot into the lines. Lines of course are not getting government bail outs as they are incorporated and their ships are registered in tax-havens like Panama, Liberia and so on.
Those are the biggest news stories breaking that I felt you need to know about, and what I think they mean for us as cruise lovers.
ABOUT TIPS FOR TRAVELLERS
—————————————–
Gary Bembridge's Tips For Travellers aims to help you make more of your precious travel time and money on land and when cruising the oceans or rivers of the world. To help you, in every video I draw on my first-hand tips and advice from travelling every month for over 20 years and average of 10 cruises a year.
BECOME A TIPS FOR TRAVELLERS MEMBER
————————————————————
Become a Channel Member to get perks: https://www.tipsfortravellers.com/Join
Become a Patron on Patreon and get perks: https://www.patreon.com/tipsfortravellers
BUY MY CRUISE-THEMED T-SHIRTS
————————————————
Check out my T-Shirt range: http://bit.ly/TFTStore
FOLLOW ME ON SOCIAL MEDIA
——————————————-