Cruise News Update 28 – 2021 Cancellations, Test Cruises, Australia, River Cruising And More
It's been another fast-moving period of cruise news and developments, including Royal Caribbean's first post pandemic cruise, Test cruises in Europe, how volunteers for US test cruises will be chosen an update on Australian cruising, news on European River cruising , more domestic only cruises announced and much more.
This another of my Tips For Travellers cruise updates, where I unpick the biggest breaking cruising news, and discuss what it means for all of us as cruisers. You can watch this as a cruise update video on my YouTube Channel.
Latest Cancellations
The big news of recent days, is that pretty much all lines have now confirmed a full year without any cruising.
The challenges of working through the US CDC's Framework for Conditional Sailing, has led to waves of cruise line cancellations
In recent days, Norwegian, Royal Caribbean and Celebrity have now cancelled all of their January and February cruises.  Carnival had already cancelled everything except for Miami, Port Canaveral and Galverston until March.
Norwegian will only have a few ships sailing in March. They have cancelled cruises for 11 of their ships until April (Norwegian Bliss, Breakaway, Epic, Gem, Getaway, Jade, Jewel, Pearl, Sky, Sun and Pride of America).
The other lines in the Norwegian group, Oceania and Regent Seven Seas, now hope to resume in April
To help you keep up with the constant changes, I have  a page on my site TipsForTravellers.com that is kept up to date with all ocean and river cruise return to service dates. The link is in this episode's notes.
As I predicted in past updates, as you look at it, April is increasingly looking to be the month lines are realistically seeing as when they will return to service.
https://www.tipsfortravellers.com/cruise-line-cancellations/
Royal Caribbean First Cruise Update
The first Royal Caribbean ship has returned to service. The huge Quantum of the Seas has begun a four month season of 3- and 4- night cruises to nowhere out of Singapore carrying local residents only.
The line first ran a two night non-revenue shakedown cruise with local Royal Caribbean staff, their friends and family along with local travel agents to test everything out. The first cruise set sail on 1 December.
I have reviewed the protocols and some of the things that stand out are, firstly guests have a PCR test 48 hours before the cruise, which is included in the fare, and has to be done at an approved facility so the line has visibility of the results. Guests are also tested at the end of the cruise.
The ship is sailing at 50% capacity, masks are to be worn, social distancing in venues, and guests must wear the new Royal Caribbean "Tracelet" to assist with contact tracing.
What I found interesting are the financial arrangements, as this may be a sign of what will be the case when cruising resumes in North America and Europe
Firstly, 100% refund if anyone in your travel party tests positive within three weeks prior to the cruise, or at the boarding terminal.
And then they also offer a 100% refund for you and your travel party if any of you tests positive during the cruise.
Secondly, if there is a Covid issue, Royal Caribbean will cover onboard medical treatment, cost of any required land-based quarantine, and travel home
Royal Caribbean Tests Update
In other Royal Caribbean news, they announced that they will also be running test cruises in Europe before cruising resumes.  We know they had to run them in the United States as the CDC requires them, but no European authorities have expressly required them so far.
Ben Bouldin, U.K. Managing Director and Vice President of Europe, said in an interview with Cruise Critic  (and I quote) "there will definitely be trial cruises on the ships sailing out of Europe".
In the US, Royal Caribbean have a site for volunteers to sign up for test cruises. As I mentioned, in Singapore it was invited trade and employees on that test cruise. In Europe Ben went on to say (and again I quote) "We haven't yet figured out how to do it in Europe yet. Whether or not we open those up to the public is still to be defined. I suspect we may well need the help of our very loyal Crown and Anchor guests to come and help put some of the ships and the crew through their paces".
This reflects news that Volunteers in the US will be chosen by loyalty level. Royal's CEO and President Michael Bayley said in an address to a Madrid cruise conference (and I quote): "We haven't figured out our protocols yet for the volunteers but certainly loyalty status will be a key selector"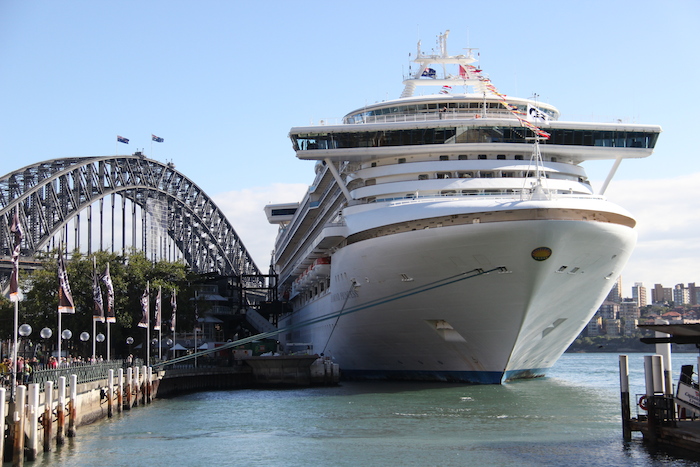 Australia Update
Quite a few people have asked me to give more regular updates on the outlook for Australian and New Zealand cruising. So, let's look at the situation right now. There are four key things to note
First of all, at the time of recording, the Australian government has a blanket ban on any international cruise ship returning to Australian waters until the 17 December.
Although it is likely the date gets extended, The Australian Department of Health said in the past week that although they are not ready to set a date for the resumption of either larger domestic or international cruises, a spokesperson said: (and I quote) "Options being considered include a staged approach to cruise resumption" and ""Above all, the Government will need to be assured that cruise ships can operate in a COVID-safe way and that the risk of transmission is acceptably low before cruise operations will be permitted".
Clearly, the main cruise lines home porting for all, or some of the year, in Australia are not expecting to be able to sail until at least February, as of now.
One of the big players, P&O Cruises Australia, cancelled all cruises to February so far.  They are, though, thinking positively as 2 ships are due to be added to the fleet (Pacific Adventure at end of April and Pacific Explorer in early May).
Royal Caribbean have also cancelled cruises until February.
Carnival Cruises is due to start sailing out of Australia on Carnival Splendor from mid-March and  Carnival Sprit from June. However, in late November they announced they were dramatically scrapping 30% of their planned international itineraries out of Australia, replacing them with domestic only cruises. A  trend that I will come back to shortly.
Princess Cruises,  Celebrity Cruises and Norwegian Cruise Line have all cancelled their 2020 – 2021 Australian and New Zealand summer season.
Then, of course, as all 2021 world cruises have been cancelled, all the many ships that were due to call into Australia and New Zealand will not be visiting.
A few small lines with intimate ships have recently been offering domestic expedition-style cruises for Australians. Though even those have had limits on who could join based on which territory people live in. But Australians desperate to cruise can look at Coral Expeditions which carry 60 guests.
The Australian Cruise Line Association has  presented a  plan to the Australian government on the limited resumption of cruises early in 2021, which suggests what to expect here.
CLIA's Managing Director, Joel Katz, confirmed they are requesting initially local cruises for domestic residents only. These would sail with reduced capacity, 100% testing of passengers and crew and other protocols other regions have agreed. They are even open to cruises being limited to state borders – so New South Wales people only would cruise from Sydney, Queenslanders would cruise from Brisbane and Victorians from Melbourne.
How this will play out is uncertain. The key thing to look out for is the date that Australia extends the cruise ship ban next too, and then what P&O, Royal Caribbean and Carnival announce next.
Domestic Only Cruise Update
Following on from this, domestic cruising for local residents does look to be the most likely outcome pretty much everywhere as we head into the first months of 2021 at least, if not longer.
In the past week we have seen MSC Cruises having to return ships they had sent to Latin America for the 2020 / 2021 Summer season there, as border closures and restrictions on international travellers made it impossible. MSC Musica and MSC Sinfonia have left Brazil and are on their way back to Europe.
They have left MSC Seaview down there, hoping to get approval to start cruises for Brazilian residents only in the middle of January  from Santos and Rio de Janeiro.
The problem of moving people in and out of Latin America saw Ponant became pretty much the last expedition line to cancel the entire Antarctica season that ends in February 2021.
China is another country allowing cruises for residents within China, starting this month. These will be cruises to nowhere to and from the southern Chinese resort island of Hainan.
This is not good news for the international lines like Royal Caribbean and Norwegian as only Chinese companies can sail domestic only ports.
Zinan Liu, chairman of Royal Caribbean Asia, said in the past week that he expects mainland Chinese ports to be among the last in Asia to reopen to foreign-flagged cruise ships, which have already been allowed to sail in Singapore and Taiwan. Among China's main concerns, Mr. Liu said, is the risk of importing the virus through travel.
To grow in China and get around this, Viking Cruises has recently formed a Joint Venture there with China Merchants Shekou, moving and registering Viking Sun in China to run high-end domestic cruises.
River Cruising Update
Many people have also asked me to include updates on river cruising.
Cruise lines that cater for mostly European travellers started some limited cruising during the summer, mostly on the Rhine in Germany on the Douro in Portugal, with varying results as the travel advice and restrictions keep changing as the virus developed.
They all eventually cancelled the end of the season and all the Christmas Market cruises.
Lines that mostly cater for North American, Australian and British travellers did not resume any service in 2020 due to travel restrictions.
It is important to remember that the European river cruise season runs between March / April and October/ November mostly. So this means that all river cruise lines are not planning to start sailing in 2021 until March / April, and by then the progress of the virus, testing and vaccines should make things likely be able to open in a less constricted way.
So, if you want to river cruise in 2021 the earliest lines are offering is March.
Those are the biggest news stories breaking that I felt you need to know about, and what I think they mean for us as cruise lovers.
ABOUT TIPS FOR TRAVELLERS
—————————————–
Gary Bembridge's Tips For Travellers aims to help you make more of your precious travel time and money on land and when cruising the oceans or rivers of the world. To help you, in every video I draw on my first-hand tips and advice from travelling every month for over 20 years and average of 10 cruises a year.
BECOME A TIPS FOR TRAVELLERS MEMBER
————————————————————
Become a Channel Member to get perks: https://www.tipsfortravellers.com/Join
Become a Patron on Patreon and get perks: https://www.patreon.com/tipsfortravellers
BUY MY CRUISE-THEMED T-SHIRTS
————————————————
Check out my T-Shirt range: http://bit.ly/TFTStore
FOLLOW ME ON SOCIAL MEDIA
——————————————-