Best Ways to Avoid The Crowds In Cruise Ports
Best Ways to Avoid The Crowds In Cruise Ports
You are about to discover my tips on the 8 Best Ways to Avoid The Crowds In Cruise Ports
Do you love cruises, but hate the hustle and bustle? In this article, I'll share eight of the best ways to avoid crowds in a cruise port.
Watch my Avoiding Cruise Crowds Video
Watch on YouTube: https://youtu.be/myVcEqeBNmM
#1 Check the ports before you book
I always check before I go on a cruise how busy each of the ports are going to be. There are some good sites that you can do that very easily on. For example, the one I like to use is called cruisetimetables.com. You input the ports or your itinerary and check how busy each of the ports are going to be.
This is fantastic, as bear in mind some Caribbean ports could have 15,000 to 20,000 people there!
Places in Europe (such as Santorini) can be absolutely swamped depending on how many ships are there. I always take a look at how busy the ports are going to be and then plan what I'm going to do, so I can avoid the big crowds there.
Shoulder periods
The other thing to do is if you book a cruise in 'shoulder periods' it will be less busy. For example, in the Mediterranean, if you go May/June time or September / October time you're going to find that the crowds are much less, because the land tourists are not going to be there. It's much more popular in the summer months such as July / August.
The same goes for the Caribbean – if you go in the August period or you even go in the December period, all of those places are going to be really busy.
#2 Stay on board
My second tip is a very obvious one – stay on board when the ship arrives in port. There's an enormous number of things to do on board a ship in a port.
Cruise lines run full activity programs even on port days, so there'll be loads of things to do. There will be classes, talks, and facilities to use – you'll be able to keep busy and happy on board.
#3 Go local
Another good way of avoiding crowds in a port is go local- seek out and find people who live and work locally and ask them for tips and advice. There's a couple of things you can do. The simplest thing is to just get a taxi and ask the taxi driver to take you to places that the locals go. These will be less busy with tourists.
There's a whole load of websites which are set up by locals. Some are just local tips; some will provide local guides – some of which are free guides.
An example of some of those is spottedbylocals.com, globalgreeternetwork.info. freewalkingtoursbylocals.com and toursbylocals.com.
Those sites are really helpful as a resource, because these are run by people who live there and know all the tricks and tips around how to find quiet places. Many of them provide free tours and all you do is pay tips or gratuities for their time.
So definitely go local and look for locals to help you avoid the crowds.

#4 Get as far away from the pier or port as possible
Another of my favourite ways of avoiding crowds in ports is quite a simple one, and that's to get as far away from the port as possible, and to be as active as possible. Most of the people on a cruise ship will come off the ship and stay close to the port, and that's where most businesses and activities set up because they know that's a captive audience.
However, if you head off in the opposite direction and find little local back streets, there is lots to be found. For example, in Venice, it's crazy busy but if you head off in a different direction down the side streets you find lots of really interesting places and you won't find all the crowds.
Get as far away from the port as possible. There are different ways you can do that. You can hire bikes or e-bikes or go hiking. Plan in advance but get as far away as possible – plus the more active you are, you'll find less crowds.
For example, if you go to Kotor, it's very busy, but if you walk up the huge hill behind the old town, almost no one does that because it looks really scary and it looks really active.
To be honest, it's not actually that bad at all. If you look for more active things there will always be less people there, so go as far away as possible and be as active as possible as you can. That's something that I do a lot, and I find it's a really good way of avoiding crowds from cruise ships who tend to congregate close to the port.

#5 Avoid the obvious and famous
Another great way of avoiding crowds is to avoid the obvious and the famous places. Most ports of call have iconic and significant things that people want to go and see, that's often why the cruisers are going there – the crowds will congregate.
What you should do is look for either tours or places that are not the obvious ones. For example, in Barcelona, everyone heads off to the Ramblas but very few people actually head up the hill where the Olympic Park was.
If you're going to Grand Cayman, everyone goes to Seven Mile Beach so if you want to avoid the crowds, go to the beaches on the other parts of the island. In Civitavecchia everyone heads up to Rome. There are other excursions that go to an ancient Etruscan City of the Dead called Ceteri.
So, when you head to a place, don't just go to the famous places.
Off the beaten track
Look for the things that are off the beaten track, look at the things that are lower down the list of things to do, either through the excursions offered by either the cruise line or independent providers. Look at the tours which are going to places you've perhaps never heard of, because it's unlikely that the crowds are going to be heading there.
One thing linked to that is I love in ports is using the hop-on hop-off bus. I find them a really inexpensive way of getting around, you can hear some commentary and take you to the usual places. As you head around on the hop-on hop-off bus, you're going to find that people are getting off at certain stops where the famous things are, but to avoid the crowds, get off on the stops where no one's getting off.
There's still going to be something interesting to do, otherwise the bus wouldn't be stopping there. I have found some great places, some great beaches and some really interesting sites by getting off at the stops that other people aren't.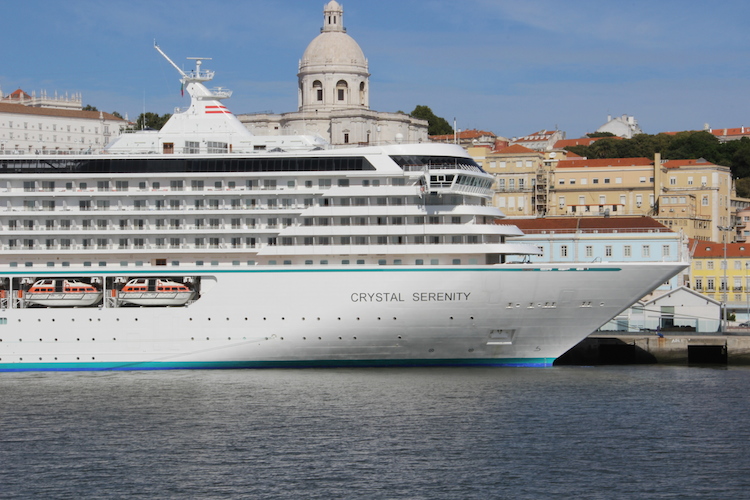 #6 Timing: early, lunchtime and later
Another really good tip and thing that I do to avoid crowds is to plan timing when I leave. The way that cruising works is the minute that the ship is cleared in a port, the tours start going and people are in a rush to get off the ship.
People leave as early as the ship docks, and they tend to then come back around lunchtime to eat on board the ship, and often then spend the afternoon on board the ship. The critical thing to do is to go in order to find peace and quiet is to go against that flow.
Afternoon exploring
For example, go out exploring in the afternoon or if you've got an overnight, stay out later. Get up early in the morning – even before breakfast – and head out on your sightseeing adventure super early, perhaps have breakfast ashore as a treat. The morning is going to be really busy wherever you go.
Lunchtime is a great time to go to some of the key sites. You'll find a lot of the cruise passengers will head back to the ship to have their meals as people don't like to pay for meals out and about, so lunchtime is a really great time to go to some of the famous and big sights if that's where you want to go.
Bear in mind that as soon as the ship arrives, everybody will be rushing out on excursions. So, afternoons, lunch times and as late as possible is when to go. If you have an all aboard time of 7pm, 8pm or later – you could even do your sightseeing at the end of the day. It's also really good of course for photography, because the light is better for it.
#7 Book early opening or skip the line tours and tickets
Timing is key to avoiding crowds. Cruise passengers are very predictable in the way that they see places and sights, and I go against that flow to avoid the hustle and bustle.
Another thing that I like to do to avoid crowds is to go on tours that have either early access or after closing access, or to book tickets which enable you to go early to places or will give you a skip the line entrance into a place.
Early access
There's a couple of ways you can do that. Some cruise lines have tours which have early opening access. For example, in St. Petersburg we were able to get into the Hermitage Museum an hour before it opened, so we'd almost finished our tour before the big crowds arrived.
There was a slight premium for that. You can also usually go online to the places you want to go and see and book Fast Pass entries. What I often do if there's specific sites, museums or tall buildings like the Empire State Building or whatever that want to go and see, I buy a Fast Pass ticket and scoot past everybody and go and see the sights, to avoid the lines and crowds. It's much more efficient.
Online resources
There are a couple of resources online, for example avoid-crowds.com (which at the moment is focused on Europe only).
That website gives you lots of tips for all of the key cities on how and when you should go to avoid crowds. So, look at resources like that. Cruise lines will often offer early access tours and fast passes, or you can use resources online to find ways of going when the crowds aren't there.
You can use Google to see how busy things are by the hour. So, look at when the crowds are going to be there and try and plan to buy tickets for entry, or to go on tours, when it's not going to be busy. This sounds kind of obvious, but people don't look before going, usually.
#8: Home cooking tours
I've also learned another little trick over the years of cruising to avoid crowds, which is particularly useful in really busy ports – go on home cooking or craft type tours.
There are lots of tours where you can go and eat in family homes, go to a small artisan bakery or cooking class with small numbers. It's a great way of avoiding crowds because you're going to have a small group.
Increasingly, Cruise Lines are starting to offer those types of excursions, or you can also find a lot of those yourself. For example, one of the sites that I like to look at is a site called eatwith. In lots of places around the world you're able to book home-cooked meals or cooking classes with people who live locally. It's a great way of avoiding the crowds, because some of them only take 4 to 6 people.
View more of my cruising tips.
SUPPORT TIPS FOR TRAVELLERS
FOLLOW ME ON SOCIAL MEDIA
——————————————-