Barbados. How to make the most of your time there.
Bathsheba Barbados
I adore the exotic and beautiful Barbados, in the Caribbean. An island I have been to 3 times to date. One of the most easterly of all the Caribbean islands, it is also one of the most stunning.


The island itself is pretty small. It's only about 20 miles by about 14 miles. And so when you fly in, you can see the whole island from the air usually. You see the very lush and green island, surrounded by a ring of turquoise, blue, and green water. It is one of the most breathtaking and beautiful things I've ever seen, with its gorgeous sea and little slithers of sand that dot all around the island.

Some general observations I have of Barbados
Friendly and welcoming people. The population of Barbados is only about 275,000 regular inhabitants. And they are the most incredibly friendly, outgoing, charming people. They have great spirit, and are very welcoming. They're very well‑educated, and have a point of view they love to share. You don't feel threatened, even by the guys and gals on the beach who come by trying to selling things. 

They'll chat to you; give you tips and advice and they won't hassle you. If you see them the next day and you said "no thank you", they won't hassle you. Unlike some places in other tourist resorts where you almost feel threatened by people.

Barbados is more British in feel than American. This is due to its long links to Britain. Even Admiral Nelson visited Barbados not long before the famous Battle of Trafalgar, and there is even a square that used to be called Trafalgar Square, which still has a statue of Nelson in it, which was erected even before the one in London. 
Cars drive on the left‑hand side of the road, as you do in the UK.

You'll find the spelling of places and words is the British spelling, versus American spelling.

You generally find that most of the tourists there are from the UK. There's a very large tourist industry, with both British Airways and Virgin flying in very regularly, and daily in the season and pretty regularly out‑of‑season. A lot of UK charter airlines also fly into Barbados. So the tourists who really go there are much more from the UK and not even that many Continental Europeans go as there are not that many direct flights from Europe.
All beaches are public. Although there's a beach in front of a development or in front of a resort, it's not only for the guests or residents of that resort. All beaches are public, which I think is a great idea. People tend to stick more to wherever they're staying, usually, but anybody can swim on any beach.
Barbados itself is a relatively expensive island to visit. That may be why it tends to attract a certain type of tourist and is seen as an upmarket place to visit. In the UK, for example, it tends to be seen as a playground for the rich and famous. In fact, to give you an example of that, Concorde, when it was flying, used to fly to from London to New York but in season it also flew from London to Barbados, so this gives you a sense of the type of people who go there.
It is a pretty expensive place to go out eating. There are some very upmarket and world class restaurants, and I cover these in another blog posting about the best places to eat in Barbados. But take a big wallet with you! 

If you're worried about how much you'll spend, there are quite a lot of all‑inclusive resorts where, obviously, you can make sure that you know what you're spending when you go. But it can be a pretty expensive place to visit.

Property is very expensive. There's a lot of property for sale in Barbados and a lot of developments taking place. On the West Coast, for example, you'd be struggling to buy a one‑bedroom place for  US $300,000 US. In many of the developments, the starting price for a one‑bedroom apartment is around $600,000‑700,000. There are also many villas for sale for over $6 million and more.
Risk of over-development.One of the things that I felt and concerned me is that the scale of development of building holiday homes and developments, matched by the increasing tourism will eventually turn the island into an over‑developed island and it will lose some of it's charm. 
The roads in Barbados are not particularly good in general. There is one major highway, which runs from the airport and runs right the way up to the St. Peter area, which is where the Sugar Cane Club is at the top of the island. It is really more of a dual carriageway, with many traffic roundabouts along the way. Mostly there are just regular 2 lane tar roads, and then secondary roads on the map which are often dirt roads.
There seems to be a good bus service. There are two types of buses: one owned by the state and one which is private, which are very inexpensive. There's no train system, so people are pretty reliant on cars and busses. So traffic in Barbados can be pretty bad.

It feels like the roads don't really have many signs. Maybe that is because it's not a particularly big place, and so people just kind of know their way around! Although, we have hired cars when we have been there and found it pretty easy to find your way around, because, at the end of the day, you can't get that lost!
Despite the glitzy resorts and monied visitors, as you drive through Barbados, it feels relatively poor, but not as poor as other places I've been to, like Mauritius. You do feel that the growth of tourism is not really filtering through to the population as much as it should. But the island does have flair and has a very distinctive architecture, like wooden houses which are built up on concrete blocks and are generally are painted bright, vibrant, exciting colours.
Golf! The other thing Barbados is known for is golf. There seems to be very many golf courses in Barbados. Sandy Lane itself has two new ones and one of its original ones. There are golf courses galore.
Beach on Barbados West Coast: Fairmont Royal Pavillion
In addition to being an amazing holiday destination, what else is Barbados famous for?
Rum and Rum Shops. Probably one of the most important things that they are famous for is rum shops. There are about 1,000 rum shops on Barbados! Barbadans will gather there to have a rum drink, play dominoes, discuss the issues of the day, so it's kind of like the equivalent of Starbucks, if you like. I was not a big rum fan, but I really enjoyed the rum in Barbados, and the rum punch, which is a very popular cocktail and was really great.
Tuk Band. Tuk bands are composed of a trio of musicians. There's a tin flute, a snare drum, and a bass drum. It's kind of a mixture of British military music with African rhythms. It's part a Creole sound and part dancing music. You can't march to it, although it's got very clear military origins in there. But, even classical music and hymns are now played in tuk style.
Flying Fish. We actually saw a couple of these, and really quite close in to the beach. Barbados is known as "The Land of the Flying Fish." The national dish is actually "Flying Fish and Cou‑cou." The fish do fly, it's amazing! They can fly out of the water for up to 13 seconds at a time. It's a very tasty fish, and it's eaten steamed or fried. Pretty much every restaurant you go to has Flying Fish.
Rihanna. The singer comes from Barbados.
Living long. It is a very good place to be born in if you want to live to over 100 years. They claim about 20 people per year become over 100, which is not bad when you consider you only got a population of 270,000. This is likely because they live a very active lifestyle, and very healthy lifestyle. 
What are my tips for travellers visiting Barbados to get the most out of a visit here?
#1: Best way of getting there?
The most common way to get there is flying.
It takes about 8 1/2 hours to fly out of the UK and about 4 1/2 hours out of New York.
The airport itself is to the south of the island. The Grantley Adams International Airport is pretty big, busy and modern. But with the growing popularity of the island it is already too small. 

For despite the long runway and terminal buildings, the volume of traffic, particularly at the peak seasons in the run‑up to Christmas through to Easter time is large. And so, what some of the airlines do, like Virgin Atlantic and British Airways, is that you can check in away from the actual airport. So Virgin, for example, checks in as many of their passengers as possible at the hotels and take away their luggage. So when people arrive at the airport, they can just basically go through to a holding pen, if you'd like, to get onto the airport.
Another growing way, is to get there on a cruise.
Many cruises, particularly by UK based or European based cruise lines, start their Caribbean cruises out of Barbados, using charter flights to get passengers in and out of Barbados.

One good way is to travel on ships doing their relocation or repositioning cruises. You can get the ship from Southampton in the UK take a week to get there, stay a while and then fly back. Repositioning cruises are generally cheaper than normal cruises.

The island does seem to be targeting Americans more and more. And many US visitors to Barbados tend to come in for the day on the cruise ships, because Barbados is a very popular stopping point for cruise ships, and there's a developed deep harbor, which actually can take ships even as large as the huge Cunard Queen Mary 2.
#2: Best time to visit?
The most popular time to visit Barbados is in the run up to Christmas through to Easter time. Which theoretically is the winter, but it's pretty warm all the year round. It's between about 24 degrees Celsius and 32 degrees all year round, the only difference is how much rain you get. We have been in both and both were great.
It's much cheaper to visit in their summer (may to July time), because people get scared away by the thought of rain. Prices can be half the price of the December/ January period.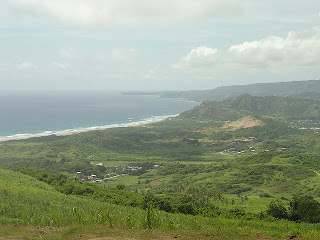 Cherry Tree Hill Barbados
#3:Where to stay?
Chose very carefully where you stay, but stay on the coast as Barbados is really about the beaches and the sea.
The West Coast of the island is called the Platinum Coast, and I think this is really the best for swimming. It's where you have the nicest beaches and the most up‑market hotels, including probably the most famous, which is the Sandy Lane Hotel. This part of the island is where the up‑market tourism is.

The west coast has the best hotels, it's the most expensive. It's where most of the nice restaurants are. There's not many all‑inclusive places on the west coast but there are a couple, like the Almond Club & Spa.

On the south coast, which is around St. Lawrence Gap, and actually where Bridgetown is and down through St. Lawrence Gap, through to an area called Oistins is the more popular, more medium to lower priced resorts.

The south coast it tends to be much younger. It's where St. Lawrence Gap is, and so there's much more night life. There's also much more family stuff, including things like KFCs, and Chefette which is their own local equivalent to McDonald's. So if you've got families or you're much younger, and you want more of a nightlife, that's the place to go.

On the southeast coast, it is more open although there is the well known Crane Hotel and the Crane Beach. This is a great beach. It has more waves than the west coast does as on the west coast you have the clamer 

Caribbean Sea, and on the East coast you have the Atlantic.

On the east coast, it's very quiet. So if you like lots of quiet, it is worth perhaps considering sort of hiring a villa or somewhere along this stretch. 

Once you get past the southeast, and up on to the East coast, while it is very beautiful, you can't swim there as the sea has very strong currents and is much less geared for tourists as a result. So, although a lot of people like to go and visit it and walk, you cannot swim there. 
If you are worried about the budget, I would strongly encourage you to go all‑inclusive. There's a lot of all‑inclusive places which tend to be more on the south coast. Eating out is pretty expensive. My partner's father and partner stayed in an all‑inclusive up on the west coast, and it was great quality.

The other thing to consider, particularly if you're there with a family, is Villa hire. There's lots and lots of property available around the island. Many of the airlines in their holiday brochures now include Villa hire options

If you're not all‑inclusive, really try and go and experience the restaurants beyond the hotel options. There are many amazing restaurants, and I'm just going to mention a couple, although as I mentioned earlier I have a posting about the best places to eat in Barbados.
"The Cliff," which is probably "THE" restaurant in Barbados, is literally on the side of a cliff. It

 

is very special, very popular,

 

with incredibly good food. It is also expensive.

 

"The Mews in Holetown on "2nd Street," where there are a bunch of restaurants and bars. Their sister restaurant "La Mer, " is at Port St. Charles is also very good. It is based in a complexwith a lagoon, and where lots of wealthy people own property, because they can sail their yachts and boats up to their properties. Both have great food, and are a bit cheaper than The Cliff, but very nice.

The "Sandy Lane Hotel" is probably the most famous of all the hotels, and the most expensive. It's really worth going to visit. You need to dress smart, avoiding jeans. Try the L'acajou, restaurant which

 

was stunning. It is worth just visiting Sandy Lane, and if you're lucky you'll see celebrities.

Tides is another place that is very popular, and is near Holetown, which is incredibly popular, more focused on sea foody.

Daphne's, which is the sister restaurant to Daphne's in London, which is a very famous restaurant
#5: Should I stay in my resort area, or h
ire a car and explore?
I would really encourage you to hire a car and explore beyond just the area your hotel or resort is in – as the island although small is very different based on the coast as I mentioned above.
Hiring a car is incredibly cheap they don't seem to have only the international car hire companies there. There are more local companies offering very reasonably priced options.

Taxis are relatively expensive and so we actually found that hiring a car was almost as cost efficient as we were going out most nights. Taxis have a minimum charge is about twelve local so about $6 US. So you're going to spend quite a bit money on taxis, but if you hire a car it's a really good idea. Even if you are there on a cruise for the day consider it, because the island is small.
Bridgetown Barbados
#6: What must I make sure that I see and do?
There is not massive amounts of typical attractions to see, and it is mostly about exploring and seeing what the island has to offer. These are the areas and places you should try and ensure you visit:
Towns and Destinations:
Bridgetown is the capital. From a tourist perspective it has geared itself toward the cruise industry. It's packed full of duty‑free jewelry shops, duty‑free alcohol and perfume shops, and that kind of thing. Bridgetown is at best an ok place to visit. It's not particularly exciting, although around the harbor area, it has been renovated and looks very pleasant. I was a little bit disappointed, to be honest, with Bridgetown. I expected to see it a little bit richer in culture.
Holetown, which is up on the west coast, is very tiny, and Speightstown, which is a bit further up on the west coast are the main towns. But still small, but have more charm.
Explore Saint Lawrence Gap in the South. You should have a wander around there. Lots of energy and people out and about both daytime and at night.
Also go out up to the west coast and past Sandy Lane and up to Port Saint Charles, which is really just worth visiting as they have created this as a second port. There used to only be two ports of entry into Barbados, which was obviously the airport and the main Bridgetown Harbor. Now Port Saint Charles has created a third entry place, and has immigration and customs capabilities.  It is a beautiful place with apartments and yachts. 
On the East of the island, visit the Crane Beach (which has a huge long beach and great waves) and further up visit the fishing village of Bathsheba which has stunning views and various stalls selling crafts.
Water Sports and days out
Most of the places you stay, if you stay in a hotel, will have all‑inclusive water sports. Go out on a kayaks. Barbados is great for kayaking, because there's beautiful reefs and stuff so you can kayak. Snorkeling. 

Swimming with the turtles is a very popular thing to do so sometimes depending on where you stay you can just sort of snorkel out to them, or hotel will take you along in a boat to where the turtles are. The turtles are huge and have been swimming with tourists for a long time. Conservationists are trying to clamp down on it because the turtles are being attracted there everyday by the tourists and they are getting a little bit lazy and little bit fat. And becoming more and more susceptible as they go on their migration to being attacked by turtle predators.

Glass‑bottom boats are very popular because of all these reefs and things, as are Catamaran sailings. There are many catamarans taking people out for the day, offering. You have punch and food as they take you around parts of the island. This is very popular.

Party Boat. If you're young and like drinking a lot and partying, there's the party boat which leaves from Bridgetown and there's a couple of stories high and makes a hell of a lot of noise, music‑wise. You see that chugging up the west coast up to around about Port Saint Charles and coming back during the day and doing the same thing at night. So if you're a party animal that's the thing to do.
Polo Match. The other thing I would encourage you to do is to go to a polo match. We were actually invited very kindly by the hotel to go to a match they were sponsoring. I've never been to polo and it really was an amazing thing to go and do. Barbados, has four polo grounds and the one we went to was called Lion Gate, which is on top of the hill. Probably the one with the most spectacular views and that's really worth going to. Unfortunately they're going to be building a lot of houses and stuff around it as developments. So that might block the view but really go to a polo match. Particularly if you go in the season, as it were, all the polo teams seem to be full of "Sir, this" and "Sir, that." "Lady, this."
Animal Flower cave. This amazing cave is right up at the most northerly point of the island. The name comes from the sea anemones in the pools. Some of the pools you can swim in. You climb into the caves and there are openings where you get great views of the sea. The caves are really worth a trip, and are interesting colours from oxidation of iron and copper deposits.






Have you been to Barbados? What advice and tips do you have? Please leave a comment, and share this posting using the sharing buttons below: