Tips for Travellers Audio 156: Singapore (Revisited)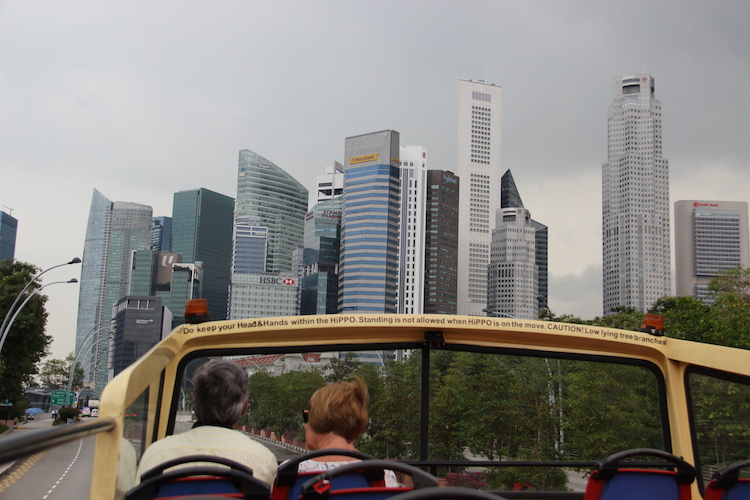 Gary Bembridge of Tips for Travellers shares observations, tips and advice for visitors to Singapore. Subscribe free to the show on iTunes, Stitcher Radio or TuneIn Radio.
This show covers among other topics:
General Observations
Country and city in one – there are actually 63 islands but one main one which has been constantly expanded through land reclaimation.
One of wealthiest countries in the world and one of most expensive to live in.
Singapore means "lion city" – also known as "Garden City of Asi"
Many see it as too sterile and lacking warmth – been many times and I like the efficiency, cleanliness and order and  mixture of cultures.
Strict and regimented state – authoritarian democracy – bit of "nanny state" with lots of rules and fines.
Although trying to promote arts and culture constant struggle against state censorship with strict rules on anything seen as pornographic, promoting homosexuality etc.
Economy very export and services focused – one of worlds busiest harbours – lots of head offices for Asia region based here.
About 4,5 population – 75% Chinese – multi cultural though – lots expats – Buddhist is main religion.
For visitors is easy as English spoken all over and very well
History
1819 Sir Thomas Raffles wanted to protect British trade routes for British East India company in Asia and landed in singapore to establish a base as was along the shortest route between India and China. Free port was established and he encouraged migrants to come and settle and boomed from there- he is very fondly regarded even despite some policies like Raffles plan which segregated ethnic groups. 1963 joined union with Malay States but did not work as rest were suspicious about the Chinese so broke away 2 years later to become independent state.
Best time to go
High humidity all year round – but pretty constant weather too. Rains most of the year but usually in short bursts.
Great to visit when  big events like Singapore F1, Fashion Week and Big Singapore Sale are on.
Getting there
Changi airport is a major hub – only about 25-30 minutes into centre
Cruise ship – big modern cruise terminal in Marina bay development opened in 2013 – public transport accessible
Getting around
Good transport and not too bad traffic as strong disincentives to private ownership of cars.
Metro (mass rapid transport ) easy to use and cheap – also the stops usually named by the tourist feature there so Chinatown is at Chinatown MR.
Taxis use meters and inexpensive – lots of them.
Trishaws – expensive but good for sight seeing.
Pedestrian friendly with lots if walkways over roads.
Hop-on Hop-off bus has many options and routes and brands – very frequent – CitySightseeing has 3 routes with a cross-over station for all routes at Suntec mall.
Duck Tour also available – leave from singapore flier
General tips
Know and watch out for the rules and fines – compliance is important.
Drug laws very draconian and mandatory death sentence
Tipping not expected or encouraged ! Though never had anyone turn it down.
Pick up the brochures at the airport arrivals or tourist information centre – excellent ones focused by topics like Chinatown and little India , shopping, river walks.
Tips on must-do things to see and do
Chinatown
Vibrant, busy, exciting day and night – old Chinese shophouses been restored – Pagoda street is where main activity is – Free wi-fi – Chinese heritage centre in series of 3 restored shophouses.
Temple – Sri Mariamman Temple at one end of street – oldest Hindu temple in the city – ornate roof of characters
Chinatown escorted walk from 230pm- 5pm every Mon/Wed/Fri departs Heritage Centre – free but give a gratuity based on what you think worth
Little India
Shops and stalls selling Indian food, spices, clothing etc – flower garlands popular momento- Packed at weekend when many expats gather here
Visit Masjid Addul Gafoor mosque and Sri Veeramakaliamann Temple with decorative tiered front facade / roof
Also free walking tour every Tues/Thur/Sat from 1030am-1pm – meet at The Verge off Sungei road
Kampon Glam area
Arab-Malay district
Muslim heartland includes Sultan Mosque  – large gold dome built 1825 though current one from 1928 designed by same architect as designed Raffles Hotel
Raffles Hotel
Raffles Museum, Long bar to get singapore sling (1903) and throw shells of nuts in floor, High Tea in Tiffin Room and Gift shop with expensive souvenirs.
Merlion fountain and Marina bay hotel and development
Merlion (8m high statute fountain) symbol of the city – around its are old Colonial buildings and high rises – Statue where Raffles said to have landed – views across to the Marina Bay development hotel.
Botanical gardens
Hugely popular – 60000 plants – 52 hectare – claimed to be world's largest orchid collection.
Singapore Zoo
Famous – opened 1973 – highly respected as creates as natural as possible environments for animals with boundaries of moats hidden as mush as possible by vegetation  so feels more natural and up and close.
Night Safari – can include dinner and show options – take the tour in the tram cars – run from about 730pm
River Safari – opened 2013 – recreates different river Eco systems like amazon, Congo, Ganges, Mississippi.
Singapore Flyer
Was highest in world until Las Vegas Linq opened in 2014 – 35 minute rotation – 165 metres – Singapore Food Trail – clever fast food court creating street food sce
Shopping
Orchard Road
Marina Bay development
Sentosa Island
Take cable car or ferry
Good beaches and Universal Studios Singapore and Underwater World Aquarium
Check out this episode!