Paul Gauguin Cruises Tips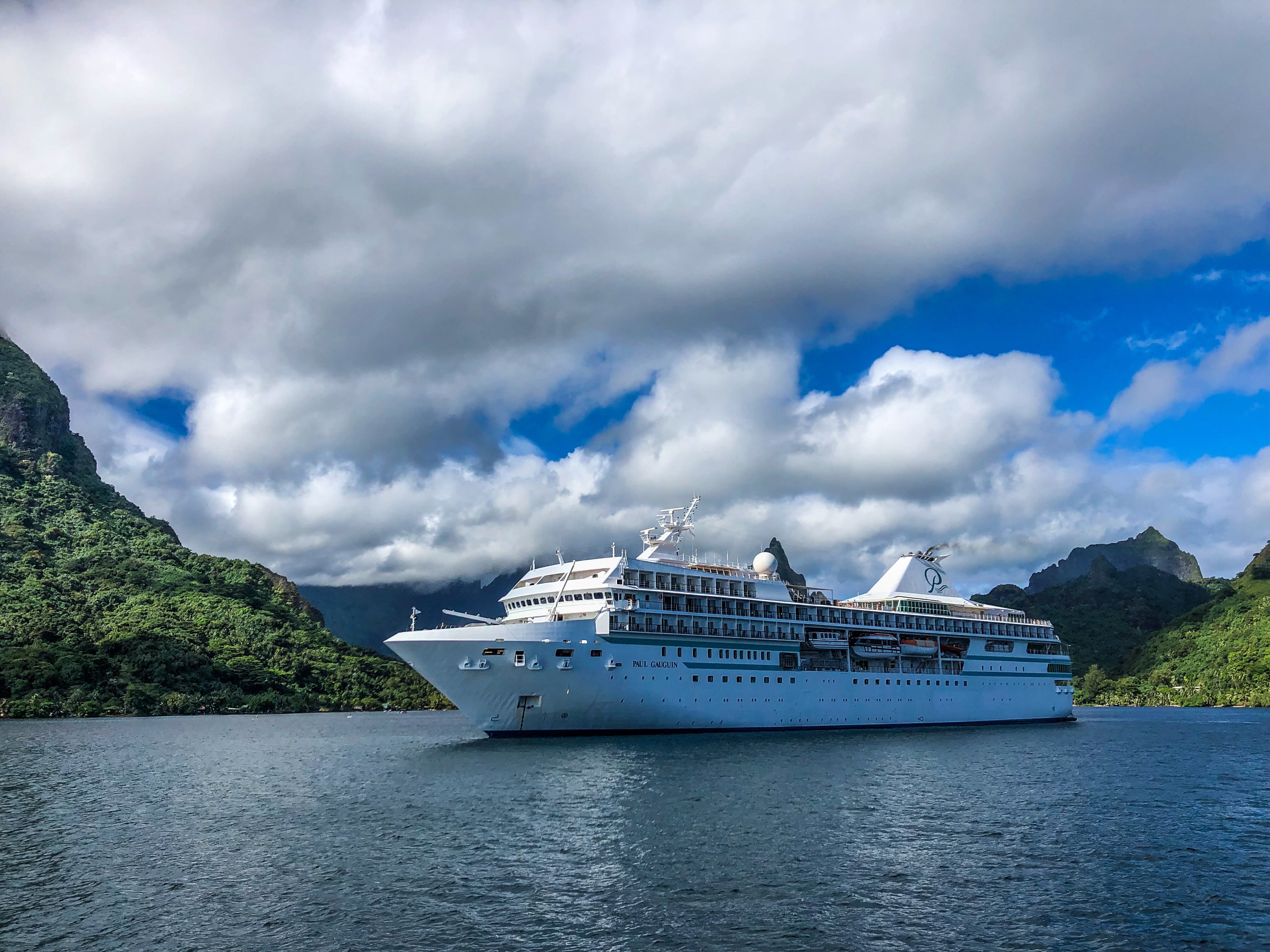 Paul Gauguin Cruises Tips
You're about to discover everything you need to know about Paul Gauguin Cruises. What's good? Who it's really for and important watch out?
Watch My Paul Gauguin Tips Video
Watch on YouTube: https://youtu.be/G_R52Pu9jP8
Who is Paul Gauguin?
Paul Gauguin is a small ship luxury cruise line. It's a one ship cruise line, and they cruise around the French Polynesian islands. They focus on 7 to 14-day round trips out of Papeete. They're owned by a company called Pacific Beachcomber, who are the biggest operator of luxury resorts across the French Polynesian islands. They've been in business for over 25 years, so real experts in the region. The ship that serves as the Paul Gauguin originally came into service in 1998 and was bought by the Pacific Beachcomber in 2006 and became the Paul Gauguin to sail around this region.
What do Paul Gauguin do that's unique, different or better in my view?
Small Ship Luxury Cruising
There are five things that they do incredibly well. First of all, small ship luxury cruising. The ship only has 332 guests and 217 crew, so a very high crew to passenger ratio. They have quite a wide range of cabins, which range from very large owners suites down to porthole cabins. I was cruising in the most common on board, which is a balcony cabin, and because it's so beautiful it's great to have a balcony if you're cruising through French Polynesia.
Dining and more
The ship has quite a lot of choice. There are three dining venues onboard, all of which are included within the fare. The main dining room is called L'Etoile. They also have the Veranda, which is a buffet for breakfast and lunch, and in the evening turns into an up-market French restaurant. They have the Grill, which is up on deck, and again it's a buffet breakfast and lunch and in the evening, it becomes a specialty dining venue.
The ship also has the kind of usual things that you would expect despite being a small ship. It has a theatre, it has a small casino, a couple of bars, a pool deck, spa and a fitness centre. The ship also has a water sports platform which opens at the rear of the ship.
It's a small ship and it's a pretty luxurious ship. It's fitted out in a luxurious way and the service, attention to detail and the quality of the food is very high.
Regional Expertise and Immersion
The company has been operating for over 25 years within French Polynesia, so their understanding and relationship with all of the islands and people is very strong. They really know and understand the islands and have incredible connections. The Paul Gauguin itself has been designed to cruise around the French Polynesian islands, not only is it small but also it has a very shallow draught and that's important because it can call on a lot of the islands that other ships can't get to.
Les Gauguins
On board, they have what is known as the Les Gauguins. These are billed as Tahitian ambassadors and also Polynesian entertainers. They provide much of the entertainment and many of the activities are run by the Les Gauguins. They dance, singing and provide demonstrations on how to make local crafts. The Les Gauguins are a key part of the whole Polynesian experience that is created on board the ship.
There's also an enrichment speaker who gives talks about the region. They have a big Polynesian night, normally held in Moorea, where they bring on board local entertainers, have a Polynesian buffet with Polynesian food.
I think one of the key things they do is bring alive the whole connection and the Polynesian experience.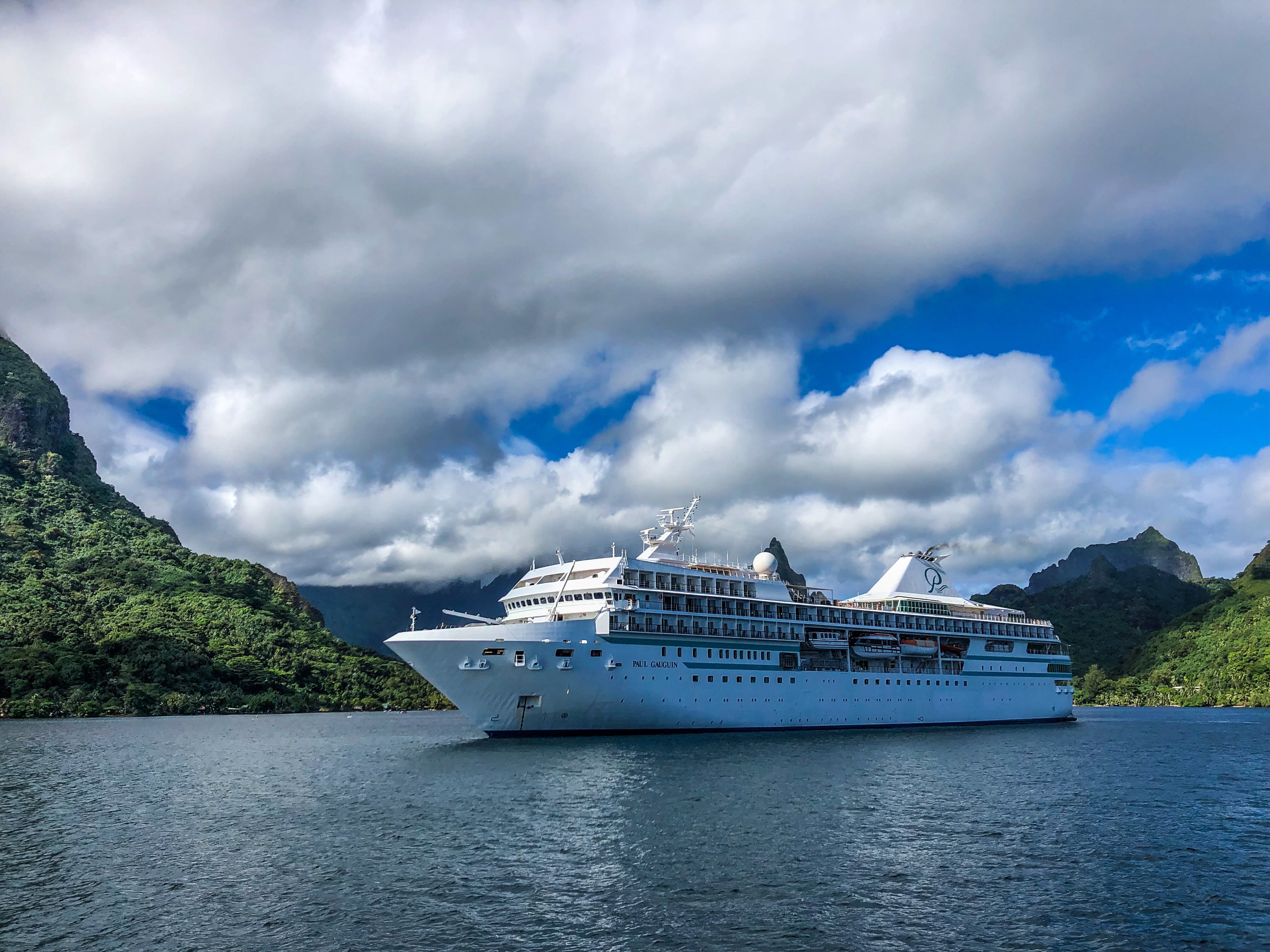 All-inclusive
The third thing which I think is really good is the fares are largely all-inclusive, and pretty much everything is included. Of course, your accommodation is included, your Dining including eating at the specialty dining restaurants, all your gratuities, your drinks like wine, beer, spirits and soft drinks, use of the water sports platform and they also provide your snorkelling equipment, also time at their private beach in Bora Bora and also access and the day on their private island Mota Muhana and all the entertainment on the onboard and enrichment activities.
What's not included?
Excursions are not included. Wi-Fi is not included, and you can buy various packages of Wi-Fi. For example, on the cruise that I was on it was around US$29 a day for unlimited Wi-Fi, and the Wi-Fi was pretty good.
Private Beaches
Another thing which I think is something they do incredibly well is some of the access to their private facilities.
They have a little private island called Mota Muhana. It's located in the island of Faaa, and this is a beautiful day out where the whole ship heads across and they have entertainment, water sports and a fantastic and huge barbecue. In Bora Bora they have a private beach and they shuttle people to and from the beach.
These private facilities are really top-notch and they're absolutely beautiful, and they included within the fare.
Excursions
Another thing that I thought was a phenomenal thing they did were the excursions. There was an enormous range of excursions, particularly considering it is quite a small ship with just over 300
passengers.
They had scuba diving, snorkelling in every port, Wave Runner activities in every port, catamarans, simple gentle sighting, glass-bottom boats, days out at very premium prestigious resorts which was one of my big favourites. You had access to the beach, pool and lunch included. They had more active excursions like ATVs and 4×4 drives, cultural and archaeological activities as well. On top of that you could also then go on helicopters and float planes to get view over the islands.
So, an enormous range of excursions were offered, and that I thought was a big plus especially because it's a small ship with not that many passengers.
Who do I think that Paul Gauguin is most suited for?
Most of the passengers are in their 50s and 60s and pretty active. It is a pretty active cruise for a start all of the stops are tender stops, and you have to be nimble enough to be able to climb in and out of the tenders. A couple of places, like on the private beach, there was a wet landing, so you had to be active and able enough to get off the tenders into the water.
Most excursions are pretty active, like snorkelling, ATV drives, wave runners and cycling. So, it's a pretty active experience.
So, you'll find that the passengers tend to be 50s and 60s, but they are very active.
Of course, it is a luxury line so it's relatively expensive so that does by definition attract the people who are able to have the time and the money to do it. French Polynesia is quite a long way to get to, from Europe it's about 21 hours and even from LA it's over 8 hours.
There were, of course, younger people on board because French Polynesia and a luxury cruise is attractive for honeymooners or people celebrating some significant birthdays or events.
Mix of people
In terms of the mix of people, it's quite an interesting mix. It's predominantly American, lots of Canadians and there was a good representation of people from Asia, because airlines like Air Tahiti Nui flies from Japan. Quite a lot of French, because of the strong French connection with French Polynesia. And as with all cruises wherever you go, you'll always find lots of Australians and New Zealanders who love cruising.
The language onboard is primarily English, but all the announcements are done in English and French. The menus are in English and French. The daily program you can get in either English or French. So, it definitely is bilingual, but it is predominantly English onboard.
What about solo travellers and what about families?
There were a couple of solo travellers on board the cruise that I was on, but it can be a relatively expensive way to cruise. What's very important is you need to work with your agent, or with Paul Gauguin, if you are a solo traveller I want to come on their cruises, because they do have various offers and deals at times of the year. But you can end up paying, particular in the premium cabins and the Suites, the price of two people even if there are only one of you.
So, work with your cruise agent or Paul Gauguin and find out which of the cruises they're offering different discounts and offers with better prices for solo travellers.
Paul Gauguin family cruises
For families Paul Gauguin can be a pretty attractive option if want to come to the region with a family for a couple of reasons. They are introducing, certainly during the key summer school holidays and the more significant holidays like Christmas, incentives for families to come on board.
What are the deals for families? If your child is aged 17 years old or under, they sail free if they're in the same cabin as you. Of course, you have the various taxes and the flights to get there. They have introduced a new program which is called the Mona Explorer program. They run the program for kids on board aged between 7 and 15 with lots of activities really related to the marine life and ocean conservation. It's really educational but fun at the same time, and those are run on selected cruises. If you're planning to travel on Paul Gauguin with your family, work with the line or your agent too ensure that your cruise has those offers and check if they do have the Moana Explorer program on board because that's going to make your child's life on board fantastic.
Dress code
The dress code on board is relatively relaxed and informal, and it's what is called "country casual" or smart casual. In the evenings you're asked to dress up a little bit, so you're asked to wear a collared shirt and ideally no jeans. So, slacks if you're a gent and the equivalent for ladies. No torn jeans and no shorts.
If you're one of those people that want to get dressed up you can and if you're one of those who like to cruise in a relatively informal relaxed way, you'll certainly find that on-board Paul Gauguin that people did dress relatively smartly, but not overly. The key thing to think about is collared shirts and slacks is the
most that you need to worry about.
Final Thoughts
The key strength of Paul Gauguin is that it's a small ship, it's luxurious and they are absolute experts in French Polynesia. I have loads of videos of tips about all the regions of the world, including more about French Polynesia, so why don't you watch one of those right now? http://www.youtube.com/tipsfortravellers
Follow Tips For Travellers:
Subscribe to Blog via Email