Highclere Castle (known as "Downton Abbey" on TV). Worth taking time out to visit, or just see it on TV?
Highclere Castle (also known on TV as "Downton Abbey")
You realise the power of TV when you visit Highclere Castle. 


This large and impressive house, designed by Sir Charles Barry the same architect that designed the iconic House of Parliament in London, plays the "part" of "Downton Abbey" in the highly popular ITV drama of that name.


"Starring" as Downton Abbey on TV….
Thanks to its starring role in the TV series, Highclere Castle is now wildly popular as a "must see" stately home.


The limited dates when the house is open to the public are usually sold out, and bus after bus draw up to the Castle during the day to offload excited tourists. This also can also make visiting the Castle less calm than other properties. But it's recent fame makes it a hot property to visit. And I am glad that I did.


As people who have seen the TV show will know, it is a stunning breathtaking building from the outside. You can see the touch of the Houses of Parliament style in the design. It stands amid a large green field and is very striking. Hopefully the photos I have posted and video illustrate that.


Inside the main "family rooms" are very familiar as they are used in the show, as these are all filmed here. Things like the Dining Room, Grand Hall, and Library. However, the kitchens, servant quarters, and some of the bedrooms, are filmed at Ealing Studios on sets designed for the show.


A bit of history, with a linkage to Titankhamun too!
Highclere Castle is the family home of 8th Earl and Countess of Carnarvon. The estate has a very long history, but the current incarnation dates back to 1878 when the house we all recognise was completed. It is near Newbury Berskshire, which is about 1.5 hours drive from London down the M4 motorway.


Like so many Stately homes, during the wars they were used as a hospital (WWI) and for evacuteed children (WWII).


The estate has an important link to Egypt, and the 5th Earl and Howard Carter were the ones that discovered the tomb of Tutankhamun. The Earl was one of those that superstition claims died from the "Curse of Tutankhamun" as he died, like many of the other party members, not long afterwards. He died, according to the displays at the house from a Mosquito bite complication.


The house has an Egytptian exhibition which has one area with original artefacts collected by the Earl, and are over 3000 years old from his various visits. Then there is a section with replicas of the tomb and some of the things found inside.


Highclere Castle (also known on TV as "Downton Abbey")


What are my observations and tips for visiting Highclere Castle?


Booking. This is a must. Access to the house is fairly limited, and only open for some of the year in summer and then only on limited days during the week (no weekends seem to have access to the house). The house is still used and lived in, and also days have to be set aside to do filming of the TV show. You must book, and will need to plan ahead. Bookings are done via the Official Highclere Castle website. It is around £16 per person for the grounds, house and Egyptian Exhibition. You may also want to look for tour groups offering this visit if you are unable to get tickets. 


Timed Entry. To try and manage the many people visiting, there are 2 slots of time you can buy a ticket for: from 10:30 – 1pm and 1:30pm – 4pm. They try and encourage independent travellers to try and visit at the end of each time slot, as it can be very congested in the house at the start as bus loads arrive. I can vouch for that. I was there just after 10.30am and you were in a shuffling line of people right through the house. It was quite frustrating at times as people would stop to look at things on the wall and block hallways and discuss.


Photography. You can film to your heart's content outside the house. Unfortunately, no filming and photography is allowed inside. There is a great guide book (£9.50) that has many images of the inside that one can buy to remind yourself.


Touring the house. You get to walk through the ground floor, where all the main entertaining rooms are, and also go up to the First Floor where many of the bedrooms are. You cannot go to the top floor. It can be very slow walking around as I mentioned, but as the family live there still, it is a more personal experience than visiting some homes that are no longer occupied and just full of furniture from the period or some of the original items. There personal photos, touches like radios and so there feels more depth to touring around. Of course the house has been modernised, since people live in it. But it is not "modern" as all and you do very much feel you are stepping back in time.


Egyptian Exhibition. This is at the end of the house tour on the way out. I think it is worth the extra payment to see it, as it has more insights about life at the house at the period of the 5th Earl as also covers more about his trips, passion for cars and of course Tutankhamun. 


Downton Abbey. There is not a lot of coverage in the house and grounds about the TV show. There are a few signs pointing out what some of the rooms where used for, and in the gift shop you can buy the DVDs. Fans may have wanted more insights and background on the show, but here the star is the original house and the story of the family that own it in the real (versus TV) world.


Gardens. Huge and sprawling, with lots of exotic plants. I did not see as much of the gardens when visiting as was a very rainy day so did not explore as much as would have. They are very popular usually to stroll in and explore.


Tea Room. This was okay, but not exceptional, but friendly and fairly good selection. It is a small place, with an "overflow room". There is also one outside, and looks like a tent area that I assume bus parties use. But as this property is a home, the tea room is not as core.


Gift Shop. This was popular and has a good cross section of branded items 
(the chocolates are very yummy) and some Egyptian bits and pieces.


In Summary
A very beautiful and stunning house, set in a large and green estate. Fascinating to visit as it has a long history and as it is still lived in, has a warmth and depth to it. It will be of special interest to fans of the TV show, to see where things are filmed an took place – and so the 1,5 hour trip from London will be worth the trip. But even without the show, it is well worth a visit. Just try and get your timing right to avoid the shuffling through the place due to its popularity.


See all the photos I took and have posted on Flickr Highclere Castle Set, and watch the video I made of the house and grounds:




Watch a video where Lady Canarvon takes you on a tour inside the house by Telegraph TV:





Links:
Official Highclere Castle website
Other Stately homes reviewed on Tips For Travellers: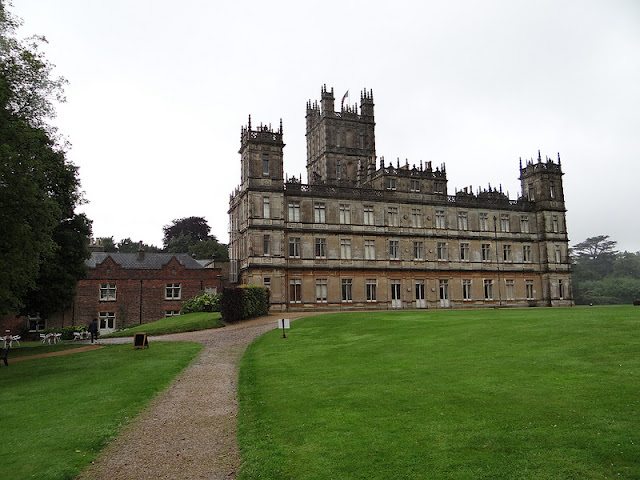 Highclere Castle (also known on TV as "Downton Abbey")