9 Best Ways To Cruise For Free
How To Cruise For Free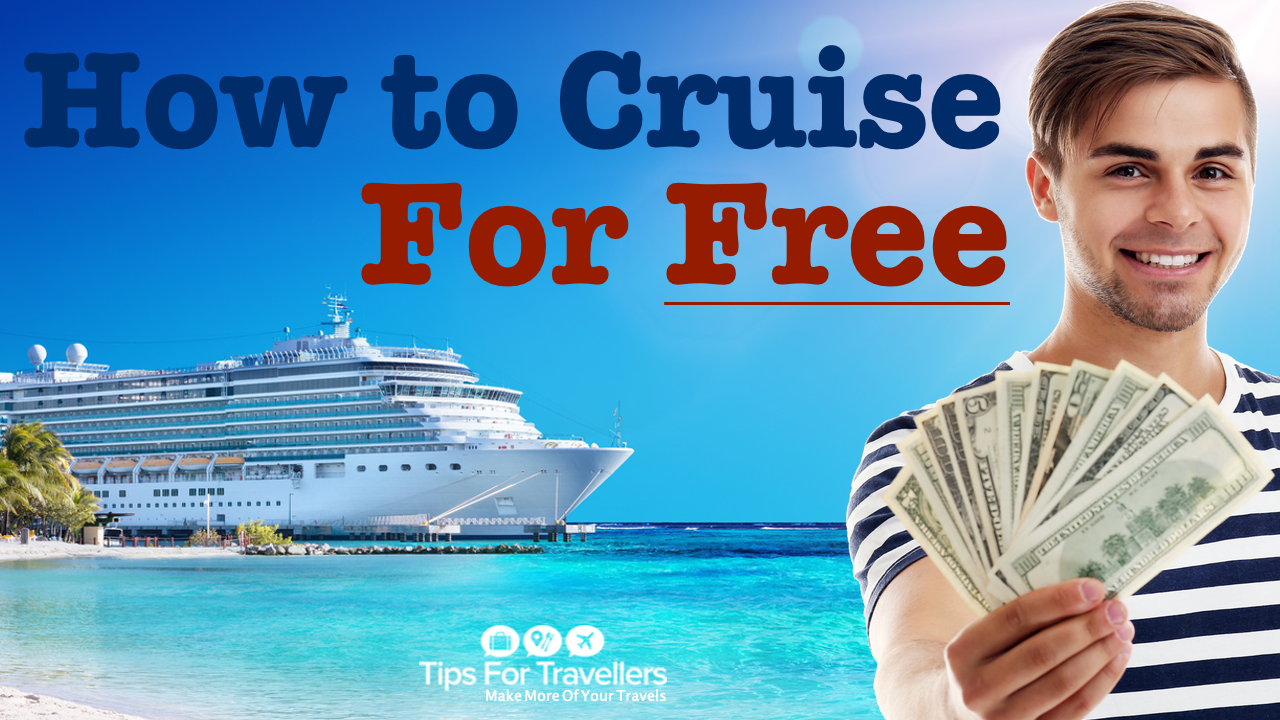 You're about to learn how you can go cruising for free. In this article, I share with you nine ways that you could cruise for free.
Watch my How To Cruise For Free Video
Watch, and subscribe to my channel. on YouTube: https://youtu.be/XkPNiuIsDXg
While most of them are very practical and easy to do, some of them are perhaps a little bit more outlandish. However, you're likely to find a number of ways that you could go cruising for free.
Crew Member
The first, and most obvious way, is to become a Cruise Line crew member. Of course, this is not for everybody because you're going to have to commit to going between three months, six months or in some cases even nine months contracts where you're working seven days a week and very long hours.
However, if that appeals for you as a way to cruise for free and if you want to get paid for cruising. A couple things to bear in mind if you want to see a lot of the ports, do not look for jobs which are
going to keep you onboard when you're in port. The secret is to look for jobs which are in departments and functions that are closed when you're in port. So, for example, the shops and the casino as they have to close when in port.
Another great department to be in is in the Entertainment Department. If you're one of the singers and dancers in one of the production shows, whilst they do rehearse some days in port days, you'll often find when you are in port you will see the dancers and the singers around and about exploring the ports. So, that's another great role to consider if you have those talents.
Guest Speaker or Specialist
The second thing to consider, if you've got any special skills or talents, is to look at one of those roles which are not actually paid to go on cruises but get free cruises. Some of these are the guest speakers onboard, gentleman dance hosts which some cruise ships have, or perhaps running some sort of craft workshops, run bridge classes or even some of the digital workshops.
A lot of those roles, whilst they're not paid, you do get free cruising and you're normally allowed in some of those roles to bring up a partner along as well.
The other thing to do, if you're a professional singer, dancer, comedian, juggler or have some novelty act is to become a guest entertainer. Guest entertainers are employed constantly by every single cruise line. Every week they'll have a number of guest entertainers on board.
Loyalty
Another great way to cruise for free is to look at being loyal to a cruise line. Pretty much every single Cruise Line has a loyalty program, and if you want to cruise for free if you choose one cruise line as amass points and nights on board, they can qualify for either discounts or completely free cruises.
It's very important that you choose the right cruise line if that's the route you want to go. For example, I've found that most of the Carnival Corporation Cruise Lines loyalty programs do not include free cruises, so lines like Cunard, Princess and Costa.
However, if you take a look at the Royal Caribbean group of cruise lines (Royal Caribbean, Celebrity, Azamara, Silversea) their loyalty programs, at the time of recording, as you build points lead to free cruises. Also, Norwegian Cruise Line, again at the time of recording, also you can build up to free cruises.
The great thing about sticking to one cruise line and building up loyalty points with that cruise line is, whilst I may not lead to free cruises, it will give you lots of benefits that'll save you a lot of money anyway. You'll get things like free laundry, free Wi-Fi, speciality dining, priority embarkation and disembarkation at any grade you're in.
It'll give you all sorts of benefits and perks that certainly will reduce the cost of cruising. So, whilst it doesn't always give you a free cruise, it will significantly reduce the cost of cruising.
Competitions
My next tip and one of the easiest of all are competitions.
There are a huge amount of competitions running at any one point of time, and pretty much every single major cruising country which offers free cruises if you go to a search engine and put in "free cruise competitions" it will throw up many competitions. There's a surprisingly large amount of competitions offering cruises as a prize.
Two-for-One
The other thing to do is to look out for two-for-one cruises.
This means that's only one of you cruising, if you're cruising as a couple or with a friend, will get a free cruise. Whilst these are not very common, there are a couple of cruise lines that use them quite a lot.
Again, you can just go online and search for two-for-one cruises and it will throw up whatever's being offered at that time.
Whilst it's not very common, they are offered at various points of the year. Normally out of peak season, but it's definitely a great way for a couple to at least get one of you to cruise for free.
Kids for Free
Related to that, my next tip is around children. If you're a family and you have kids, there are a number of cruise lines that let your kids cruise for free.
The two most obvious examples are MSC Cruises and the other one is Hapag Lloyd. MSC Cruises is much a more mass-market value line and Hapag Lloyd are an ultra-luxury and expensive line. Both of these have schemes where if your kids are cruising in the same cabin as you, they cruise for free. They have different age limits, some of them your kids have to be under 11 years old and some a little bit older.
Certainly, if you're travelling as a family, take a look at cruise lines that will let your kids cruise for free.
Group Cruises
My next tip is also relatively easy one to do, and that's organize a group.
Pretty much every Cruise Line, whether it's an ocean cruise line or a river cruise line, will offer free berths and free cabins if you can get together a group of people. If you want to travel with a group of friends or perhaps some members of a club or a society or even if it's
just on an extended family cruise.
The way this normally works is if you book 16 people (i.e. eight cabins) you will get a cabin for free. It does differ a little bit by cruise line but pretty much for every eight cabins you'll get one cabin free. All you have to do is get together eight couples, friends or people from your club or society and you will get a free cruise. You can either do that through the travel agent or what I recommend also as you talk directly to the cruise company.
Even if you have a relatively small club or Society what I recommend you do is take a look for themed cruises and you're probably going to find one that your club or society members will be really interested in
doing.
And if you have a big extended family, it's a great way of getting a free cabin for yourself and your partner. Bear in mind that the rest of the people in the party will not be paying anything more. All you perhaps have to do is do a little bit of organization or perhaps onboard organize a few activities. It's not a lot of work
for a free cruise.
Cruise Line Credit Cards
My next tip on getting a free cruise is to take a look for cruise line companies that have credit cards.
This applies much more in the United States at the moment than other countries, but many of the cruise line companies have a credit card and for every dollar that you spend your collect points which you can then use to redeem either for onboard credit, activities, discounts on cruises and of course ultimately for a free cruise.
So, if you put all your spend on everything you buy onto that credit card, it is surprisingly how quickly points mount up and that could lead to a free cruise. At the time of recording I could find credit cards for Carnival Cruise Line, Disney Cruise Line, Norwegian Cruise Line, Princess Cruises, Holland America and Royal Caribbean. And literally by every time you spend something put it through on that credit card points build up and you will soon find yourself on your way to free nights, discounts and hopefully a free cruise in its entirety.
Bingo
Another great way of getting a free cruise is when you're on board take a look at bingo and find out what the prize is. A lot of cruise lines have a free cruise as their ultimate prize in bingo.
On many cruise lines the big prize on the last day is a cruise lasting normally around about seven nights for two people. Of course, that's a game of chance and you may not approve of game of chance, but it's certainly definitely a way that you could find yourself on a free cruise because somebody has to win
that cruise.
Final Thought
Cruising for free is very possible. Whilst there are some more extreme ways of doing it where you become a crew member or you become a guest entertainer or run workshops on board or give talks, but there are very practical things you can take. Whether it's being loyal to a cruise line, having a cruise line credit card or being very clever about looking for competitions or two-for-one deals or cruise lines if you have kids that let kids cruise for free.
I hope you found that helpful and has given you some ideas on how you can get a cheaper or free cruise.
I'd love it if you watch them any more of my Tips For Travellers videos because I will give you more inspiration and advice and tips on how to maximize and make the most use of your very precious travel time and money with a land and of course very importantly at sea.
Subscribe to Tips For Travellers YouTube Channel (click image):

Follow Tips For Travellers:
Subscribe to Blog via Email