10 Reasons to do a European River Cruise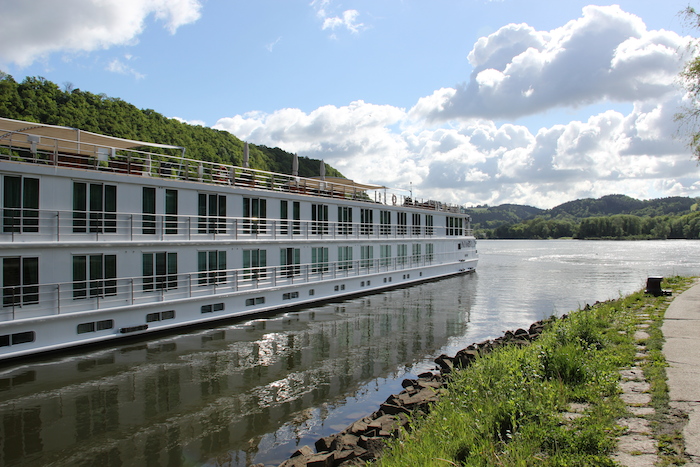 In this article I give you ten reasons to do a European River cruise. I have done a few European river cruises including with Uniworld (Danube and Northern Italy), CroisiEurope Loire and Emerald Waterways Eastern Europe along the Danube. Each of them has been a delight. Based on these experiences I have identified these ten reasons to do one:
#1: Immerse you in and give you a feel for a region
River cruises aim to connect passengers with local cultures both on and off the ship, and they visit numerous places over the course of a week (or sometime longer). This means that you will get to see a cross-section of key places and attractions in a specific region of Europe. The ships usually dock right in the heart of the city, which makes it easy to stroll into town and explore local markets and sights. They will also regularly stay overnight in a stop which gives you time to see and experience the nightlife.
European river cruise lines will often have on-board port talks and include walking tours run by local guides in the fare. They bring local entertainers or speakers on board while the daily menu and drink is usually tailored to the area you are passing through.
#2: A chance to explore iconic, significant and historic rivers
There are many important rivers throughout Europe, including the Danube, Rhine, Seine and Rhone. They have all played an important role in the history of the region and they are where important towns and cities were and thrived. The history of Europe, especially before the days of mass transport systems, is linked to the rivers. A European river cruise lets you explore and discover this.
#3: Safety and Security
It is a safe and secure way to explore Europe. The Tour Manager and fellow guests are always around to help, look out for you and keep you company. The river cruise line runs the routes constantly, and know how to deal with any issues and problems guests may experience in the region. This makes a European river cruise well suited for any traveller that does not want to navigate a foreign European country, language and customs on their own.
#4: Unpack and pack once despite visiting lots of different places
You will not lose valuable vacation and sightseeing time moving between destinations in Europe. You stay in a floating hotel so your travel time is less stressful and becomes part of your sightseeing time. Instead of travelling to airports and sitting around waiting for (and on) planes, every minute of your river cruise is a chance to relax or sight-see – as you are  always close to the shore with sights all around you. If you do a land-based tour of Europe you will change hotels often and end up living out of a suitcase. This is not the case on a river cruise. On a river cruise you unpack once and settle in for the duration.
#5: Stay in comfortable rooms with a view
There are no inside cabins on river cruise ships. All rooms have a view which range from full-length glass doors with balconies to picture windows. Although not large, the cabins are usually plush and have bathrooms, air conditioning, comfortable beds and Wi-Fi.
#6: Five-star dining
River cruise lines focus on, and have a great reputation, for serving great food. You will have a buffet breakfast, either buffet to three-course lunch and three-course dinner. Drinks are included.
#7: Removes lots of hassle in vacation planning
Once you choose your itinerary and cabin, everything is arranged for you. There will be no need to plan excursions, make reservations at dining venues or work out how to get to each destination or attraction. Every aspect of the trip is sorted by the line and many will also include or offer transfers to and from the ship. Some even offer a door-to-door service and will collect you from your hotel or home.
#8: Certainty on the total cost of your vacation as largely all-inclusive, with few added extras
River cruises are "all-inclusive". There are some differences by line on what that means, but usually meals, beverages and Wi-Fi on board are complimentary. Most cover gratuities and include excursions in the fare.
#9: Intimate and often adult-only experience
European river cruise ships vary in size from 50 guests to at most 200 due to limits on size to navigate rivers. This smaller guest number means the crew get to know you and can spend more time catering for your needs and serving guests more personally. While some ships may cater to families at peak school vacation time, river cruising is generally adults-only.
#10: More relaxing and overall less stressful way to see a region than land-based tours
Based on my experience I believe river cruising is more relaxing and less stressful than doing a land-based tour, even an escorted one. This is partly because you do not need to keep moving hotels, packing and spending time on buses and trains between locations.
Video of what to Expect on a European River Cruise
Watch the video below on the page or on YouTube at https://youtu.be/qgYdXo5cRcM 
Download my free eBook with more advice and tips
Want to find out more? Then downland my free eBook "European River Cruising Tips and Tricks" which has lots of advice, explains how different river cruises work and also the itineraries and line. Download it at https://www.tipsfortravellers.com/RiverCruisingBook
What do you think? Do you have any other reasons you would like to add? Please leave a comment below the article.
Pin It:
If you enjoyed this article, please follow Tips For Travellers on: