Qatar Airways A380 Business Class Review
I have never felt compelled to take a photograph of the toilets on a plane until I travelled on the inaugural flight of Qatar Airways A380 from Doha to London! As other passengers rushed around excitedly capturing images of the sparkling new plane, I stumbled across the room that is usually totally functional and sterile looking – even in First Class on airlines like British Airways. The fact that even this area had been carefully thought through and was so attractive showed the attention to detail and style that I experienced in all aspects of Qatar Airways on my flight.
I was on their first A380 flight with paying passengers. These planes are the new monsters of the air and on board were 517 passengers: eight in First Class, 48 in business and 461 in economy.
As we sped off down the runway at Hamad International Airport and soared into the air I noticed how much quieter the plane is than the ageing Boeing 747s I am used to flying in. The whole trip was a more hushed affair as there was no need to battle to communicate over the roar and noise you usually have on long haul flights.
Business Class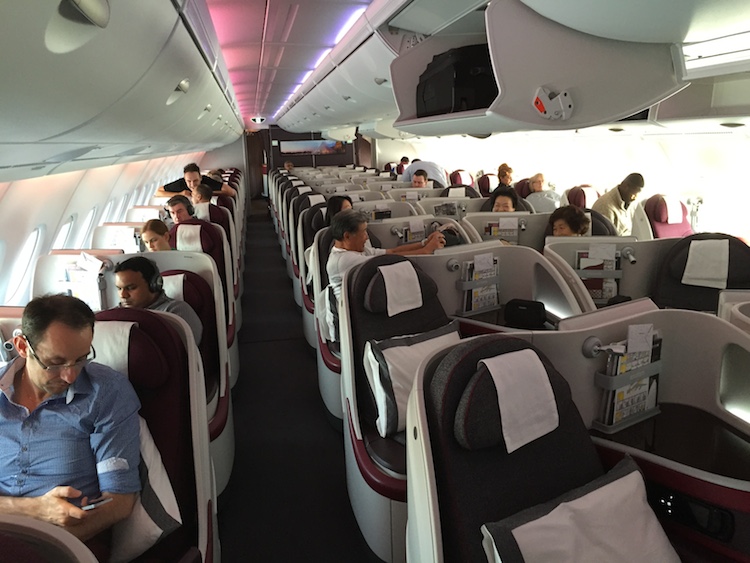 My seat was in row 20 in the upper level in Business Class, with First Class in front and the on-board Lounge behind. Beyond this was small economy section of 56 seats with the rest on the lower deck.
The business class seats are new for the airline and designed for use on the A380s. Every seat has aisle access and are laid out in a 1-2-1 format. They are set at a slight angle so when you turn it into a flat-bed your feet slide into a recess to the side of the chair of the person in front. The seat felt spacious as there was a huge amount of space to store items including a large shelf slightly behind the seat, a magazine storage race, a box to the side to place items in, a drawer under the seat in front to store things like laptops and shoes and a final storage area next to the armrest facing the aisle that stores a bottle of water and the noise-cancelling headphones. The overhead lockers were a decent size – though could only just fit two carry-on wheelie style cases.
I was given a sleeper suit, even though it was a daytime flight, which was made of a grey flannel material with drawstring trousers and a chinese-style collar. They were very comfortable and it was helpful to use them to lay about in and nap without creasing up the clothes I was travelling in. There were male and female amenity kits by Giorgio Armani with a good choice of toiletries, eye shades and socks.
As I settled in I noticed the seat control panel that provided a multitude of one button options to set the seat to various stages of recline, correct landing setting, dining position, adjustments to lumbar support and to turn it into a flat-bed. There was a very large HD television screen operating their Oryx entertainment system that had a big collection of movies, TV shows and music with the ability to select from about five different languages. I enjoyed watching movies on a decent sized screen and the audio quality was excellent. No doubt aided by the reduced background noise in the cabin.
Once in flat-bed position, I found the seat very comfortable to sleep in. It is broad, as both the armrests recline into the seat, and even though I am 6'2" I was able to stretch out without touching the top or bottom of the seat. Something that does not happen on many other seats.
Qatar Airways stress that they offer a five-star service and I found they added many small touches that reinforced this. For example, the food was by a Culinary Council that includes renowned chefs like Nobu Matsuhisa, Vineet Bhatia and Tom Aitkens and there is a wine list that a fellow passenger who is a wine expert raved about. As it was a morning flight the menu was breakfast and brunch orientated with items like Grilled Chicken Sausage and Tomato Omelette, Arabic Breakfast Plate, Vegetable and Mozzarella Salad and Artichoke Filled Pasta.
On-Board Lounge
The Lounge on board is a great addition and was very popular as it provided a venue to talk and have a break from sitting in your seat. First and Business Class passengers can use it and it has an S-shaped bar and seating where you can enjoy drinks, cup cakes and soft drinks. It is stylish in design and, like the toilets I mentioned earlier, shows careful attention to detail and thought about how to make the flying experience feel more up-market and refined.
Overview
Qatar Airways have put a lot of thought and flair into their A380. It has a smart and stylish feel and layout. It was spacious and welcoming in all areas. The attention to detail is what made the experience good with small things being taken care of, like storage, contents of the amenity kits, food choices and (of course) those pleasant to visit toilets!
See more of my photographs of Qatar Airways A380
Declaration: I travelled as a guest of Qatar Airways
Qatar Airways Information
Qatar Airways has seen rapid growth in just 17 years of operation, to the point where today it is flying a modern fleet of 137 aircraft to 144 key business and leisure destinations across Europe, the Middle East, Africa, Asia Pacific, North America and South America.
If you enjoyed this post:
Want to Support Tips For Travellers?