I Cruised On The "World's Most Luxurious Line". Here's what I thought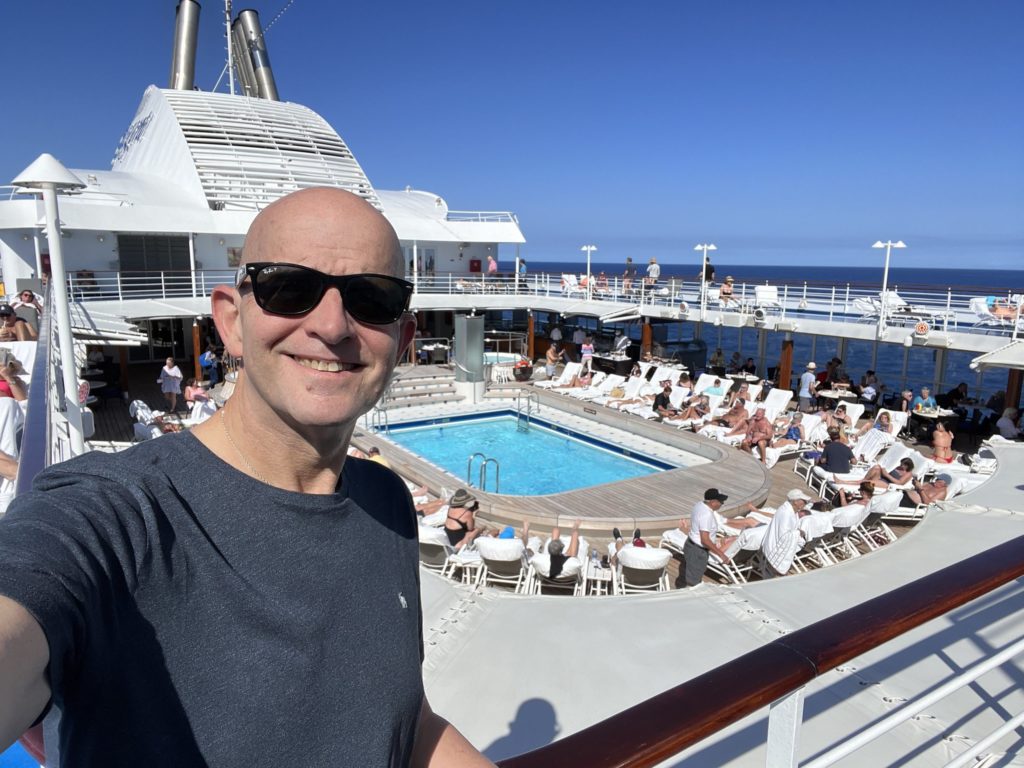 I Cruised On The "World's Most Luxurious Cruise Line". Here's what I thought.
As we set sail from Miami, I was wondering whether splashing out on what is supposedly the world's most luxurious cruise line for my milestone 100th all-time cruise was not a good move. Things hadn't gone too smoothly, nor been that luxurious, to that point.
So, why did I have doubts? Well, when I arrived at the airport the day before, even though I had booked an included transfer, no-one was waiting at the airport. Later, myself and some other passengers found they were waiting at the wrong place. We were taken to what was supposed to be an included luxury hotel. It was more a business conference hotel.
The next morning's transfer to our ship, the Regent Seven Seas Navigator, was late and when we finally got on board, the cabins weren't ready. So, as we set sail, cruising ultra-luxury had not yet seemed very elevated for the price.
Attention to Details
However, I must admit when I first got into my suite a few hours after boarding, I had seen some promising signs. It had struck me as cosy, plush, and spacious. Though granted, it was a little old fashioned, but the Regent Seven Seas Navigator is an older ship. This meant it did lack some mod-cons, like USB outlets.
And I started to discover signs of the luxurious experience promised. There were premium L'Occitane toiletries, rich plush bedding, and a top-drawer coffee machine.
I also started to be reminded of how much is included in the fare. The minibar was, for example, and they even had stocked my requested choice, caffeine-free Diet Coke, which not many lines have. There was a note telling me laundry was also included in my fare.
But a telling touch was the chocolate cake waiting for me, congratulating me on my 100th cruise. I hadn't told Regent Seven Seas, but discovered my travel agent had. I also got a call from the Hotel Director Norbert congratulating me. It was this attention to detail and little added touches that encouraged me.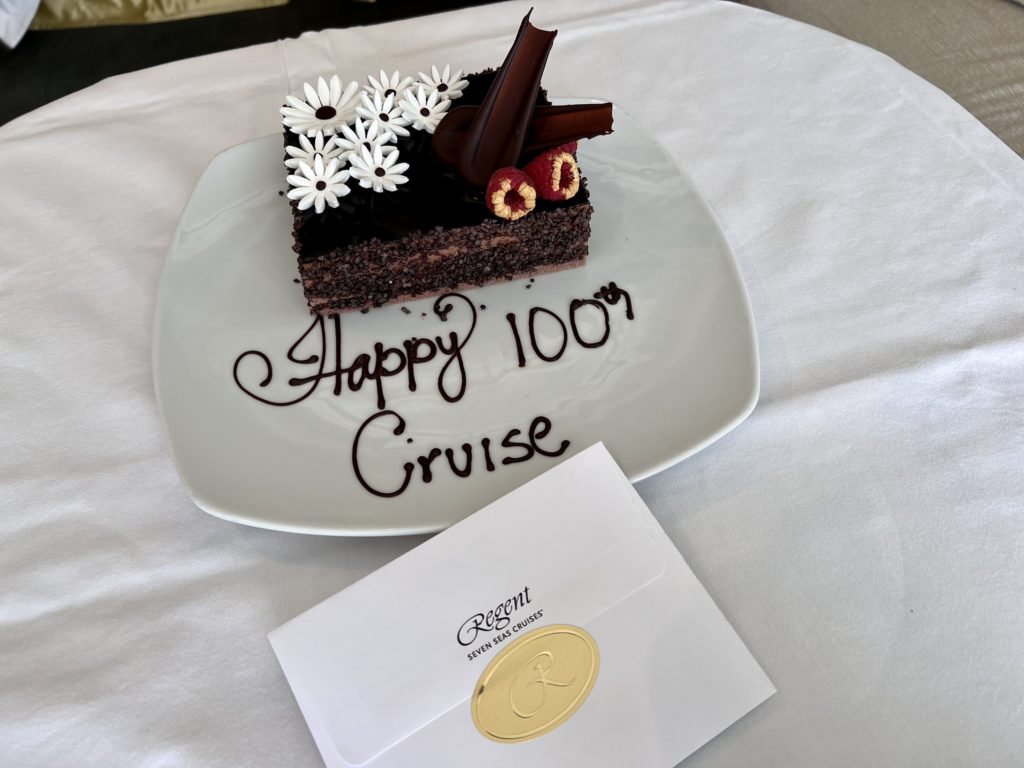 Amazing Crew
It was something I encountered even more as I met the crew over the coming days. My two cabin stewards, Derlen and Dewa, were friendly, helpful, and attentive.
Since the covid shutdown, with the shortage of staff, I haven't really seen crew all as well-trained and on the ball these two were. And I experienced it everywhere.
There was JHomer, on the pool deck at the sailaway party, who when I said I didn't drink alcohol sought out a non-alcoholic wine. Then every time there was an event, he would track me down with a glass.
Even though they don't allocate set tables in the main dining room, the maître d', Mark, would put me at the same table or section so I had the same serving staff, meaning I got to know Ella and Joel because they always served me.
I started to realise this attention to detail was everywhere, as crew quickly got to know me and my likes, and more than any line I have been on.
For example, at Coffee Connection Yuli would make me decaf coffee without asking, Dselvaz at the Internet desk sorted out some connections issues and kept following up, and Simone and the team at the Destination Desk would suggest trips and port tips spontaneously based on what they saw I enjoyed.
It was also a relaxed, friendly, and chatty service which I especially appreciated travelling solo.
Do I think I was getting more attention versus other guests because of my channel? I really don't think so, although a few of the crew that watch my channel were excited to meet me, I had booked and paid for this cruise myself like everyone else and I feel we all got the same care.
I'd sit in Coffee Connections and watch Dselvaz take ages helping people discover things like video calling home for the first time, Yuli also spontaneously making other guests their favourite drink and the excursion team also chatting and offering advice to so many.
There was only one issue with the service. People asked me far too often if I was having a good time, and if everything was okay! At dinner, I would be asked around five times by different people if everything was okay. Probably a little too much!
Even with service that good, I still felt I needed to be getting more for the price I had paid. There were probably three areas where I really saw where my money went, and one where it wasn't.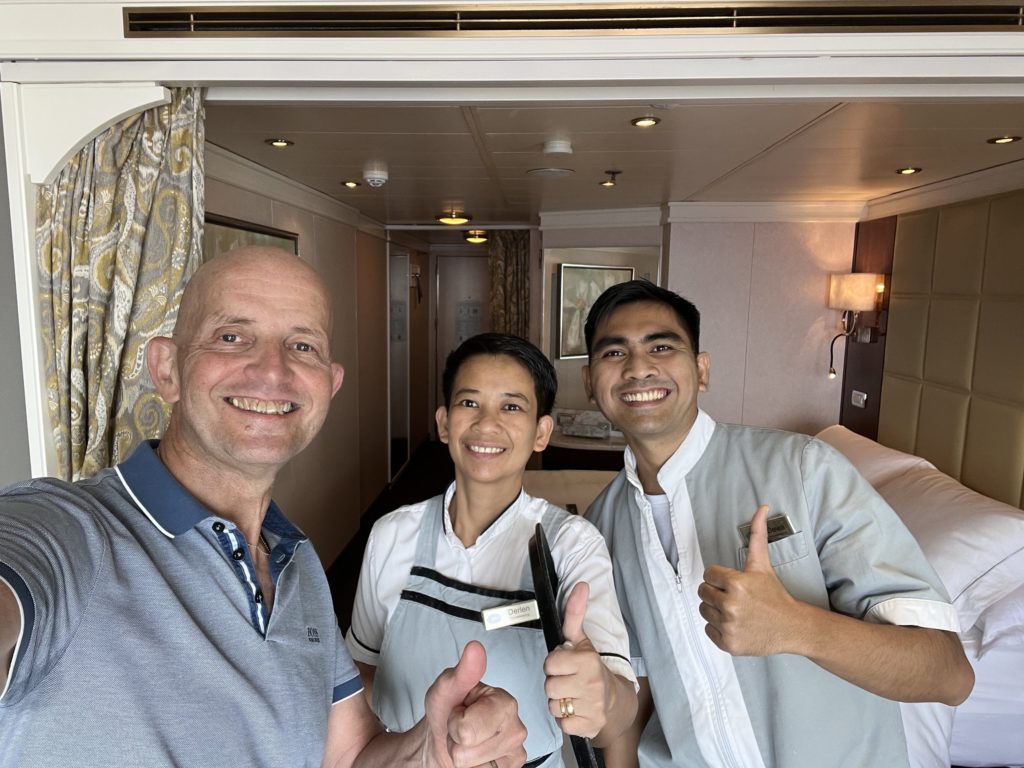 The Food
Let's start by talking about the one thing everybody wants to know about: food. Until now, I've always believed that Cunard Queens Grill has the best food at sea. But I found the food on Regent Seven Seas Navigator fantastic in every place I went to, giving them a run for their money in my book, anyway.
Breakfast
They had enormous menus. At breakfast in Compass Rose (the main dining room), I counted about 45 different items, including caviar on some days. At La Veranda, which has a breakfast and lunchtime buffet, there was an enormous spread of incredibly high-quality food. And it was also the little things that elevated it like the quality of the fruit versus regular lines for example.
Afternoon Tea
Afternoon tea is a big thing on Regent Seven Seas. Which pleased me enormously! It's held in the Galileo Lounge, and themed every day around something, whether it's cupcakes or cherries jubilee. It was spectacular. The only let down was the use of tea bags over leaf tea!
Dinner
At dinner, Compass Rose was the main dining room. There was a vast menu with a page of items available every night and a page of daily specials. It had a spa menu too, which I appreciated and great desserts.
I also had the choice of a couple of other included restaurants. La Veranda turned into an Italian in the evening called Sette Mari which was good. The problem was that it was difficult to get into. It opens at 6pm and gets full quickly and I was turned away because it was too full once and gave it a miss a few other nights due to the line outside.
The same was true of Prime 7, the steakhouse on board. I managed to have a brilliant meal only once because when I tried to book again, it was sold out.
There was also a massive and impressive Deck BBQ one evening. Quite the spread and event!
There was literally only one dish I was not impressed with across the whole trip, which was the mussels and monkfish in Sette Mari on my second visit there.
The only other food issue I had was the lack of informal dining for dinner. All ultra-luxury lines are like this, and I couldn't get a quick, easy meal in the evening other than room service. All venues were waiter-served multi-course options at night. No simple buffet.
I came away from this trip clear that food was where a lot of my money was going.
Drinks
The second area where I could see my premium fare going was on drinks. Of course, it was wasted on me because I don't drink alcohol.
So, I was paying a premium but drinking Caffeine-free Diet Coke, Heineken Zero and non-alcoholic wine.
But when I looked at the bar menu, there were 39 cocktails, three sparkling wines, four white wines, one rose, five reds, 16 beers, 10 vodkas, six gins, six rums, four tequilas, four ports and five coffee liqueurs. Just incredible, a huge amount of choice.
Excursions
The other area in which I think my money went a long way was on excursions. As excursions were included, I expected them to only be so-so. However, I was delighted.
There were so many choices, and they were always in very small groups. The least amount of excursion choice was six in St Barts. But usually there were up to 15 options, ranging from walking tours to adrenaline-pumping zip-lining.
I mostly went on catamaran snorkel and beach tours because I was in the Caribbean and escaping cold London! These never had more than 17 people on board.
The small-group excursions coupled with the choice on offer in each port clearly was also where a big chunk of my fare was going.
Entertainment
I don't think my money was really going on top-notch entertainment though. The daily program was light, and predictable following classic cruise lines, like Holland America, Princess, and Celebrity.
They had trivia, deck games, karaoke, piano bar, and an enrichment speaker. But it was light overall.
When it came to the production shows, they had spent money on a surprisingly large cast of 12 considering the size of the ship and all were very talented. However, the shows they got them to perform were predictable, and focused too much on 50s and 60s music for my liking.
We had shows like the Brill Factory celebrating songs from the fifties and sixties and Musicals, though again mostly older ones.
They did have a live band which played at deck parties, the shows and in Galileo's lounge. The casino was also big for the size of the ship and was popular.
Overall, it wasn't particularly exciting or elevated entertainment, and it was the weaker area.
One of the things that did really strike home to me is that, once I'd paid my fare, I didn't spend a single cent on anything else. And I never had to get my cruise card out to charge anything. My end of cruise bill was zero.
I felt so cared for, well fed, and pampered throughout my time on board that I am booked on another cruise on Regent Seven Seas Explorer around Japan. Although this trip was costly, I felt that I could see where my money was going and for that bucket-list trip I felt it was worth another splurge.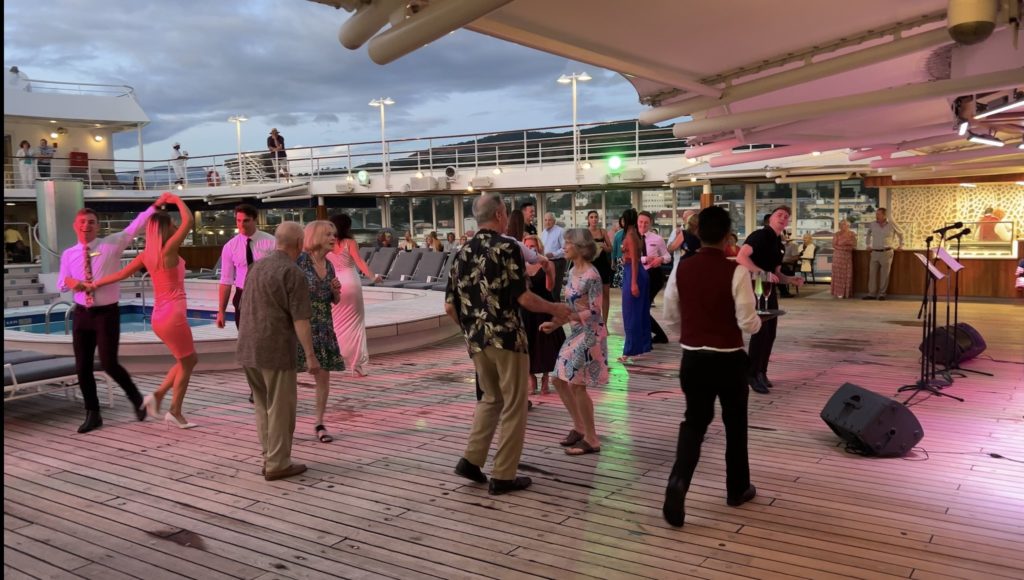 SUPPORT TIPS FOR TRAVELLERS
FOLLOW ME ON SOCIAL MEDIA
——————————————-