10 Best Ports For Greek Islands And Eastern Mediterranean Cruises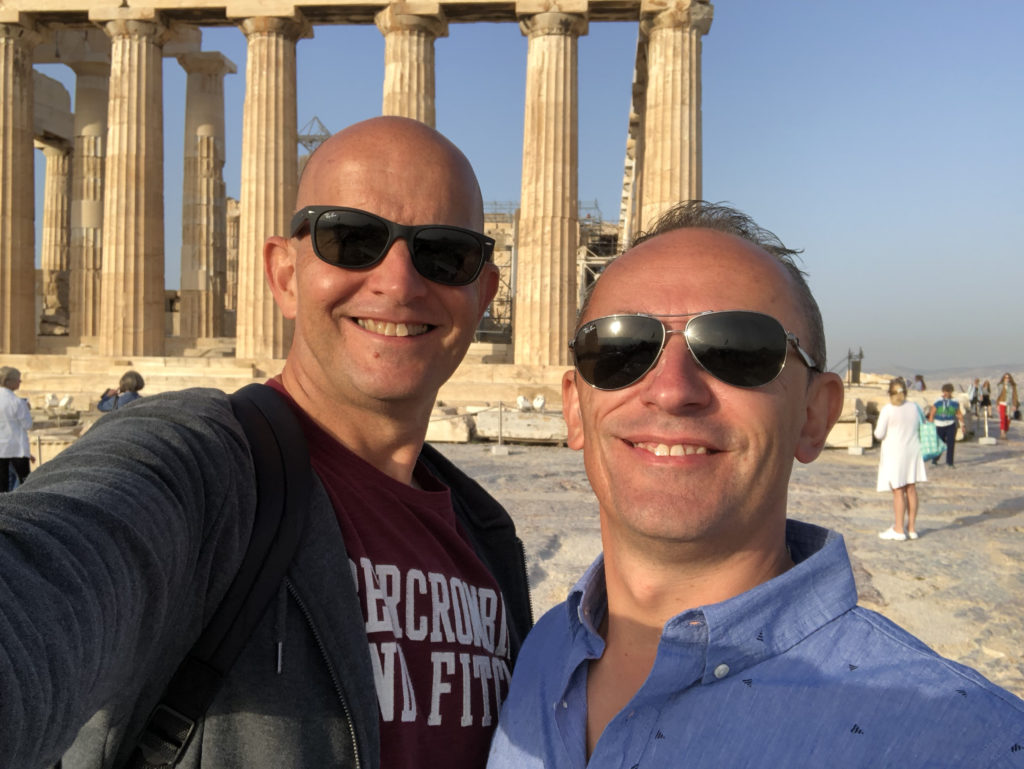 10 Best Ports For Greek Islands And Eastern Mediterranean Cruises
I am going to look at and suggest 10 best things to see and do if you're on Adriatic and Greek islands cruise. It's a magnificent part of the world and most of the cruises will start at either Venice or in Athens and travel between them. It means you take in parts of mainland Greece, the Greek islands and a couple of stops on the Adriatic coast.
If you're looking at booking a need to make sure are on your itinerary to have the best way of seeing and doing this part of the world. Make sure you don't miss any of these incredible places.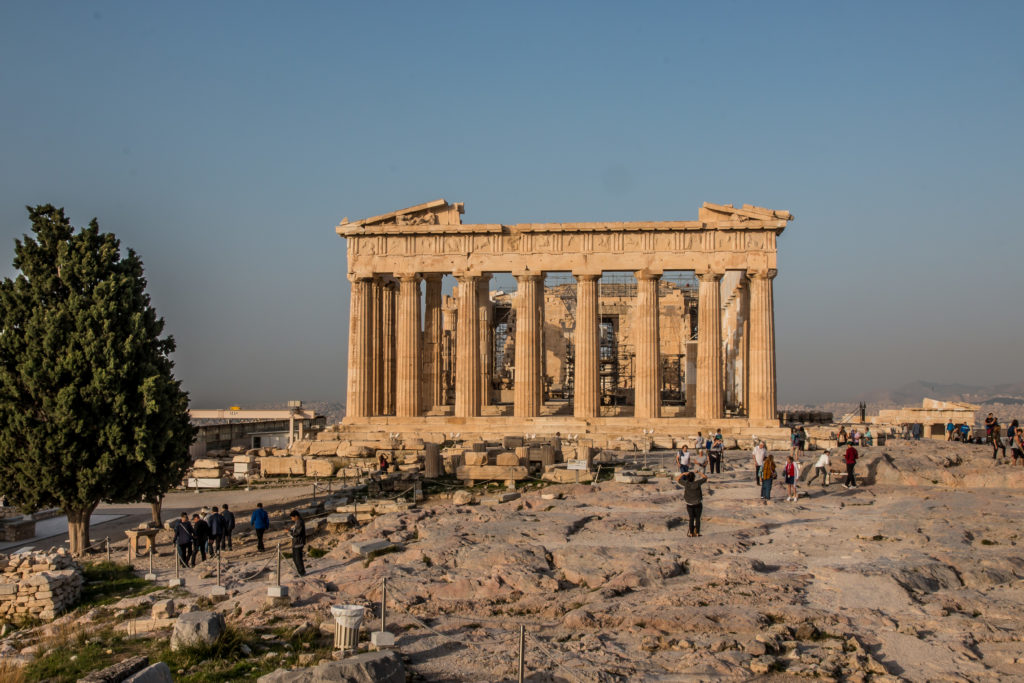 Athens
Let's start in Athens, a firm favourite on a Greek islands cruise. You're either going to embark or disembark in Athens and make sure that you go to the Acropolis. This is an outcrop overlooking the city and on the top are the ruins of most magnificent temples, the most famous of which being the Parthenon which is a temple which was created and built in the honour of the goddess Athena – who is seen as the patron of Athens and really where they got their name from. Also, nearby the Acropolis is the new Acropolis museum, a massive complex with remarkable artefacts.
If you're going on a cruise that starts or ends in Athens, make sure you build in time to go to the Acropolis.
Since we've been talking about important archaeological areas what I'm going to do is talk about some of the really other great and important archaeological sites to see.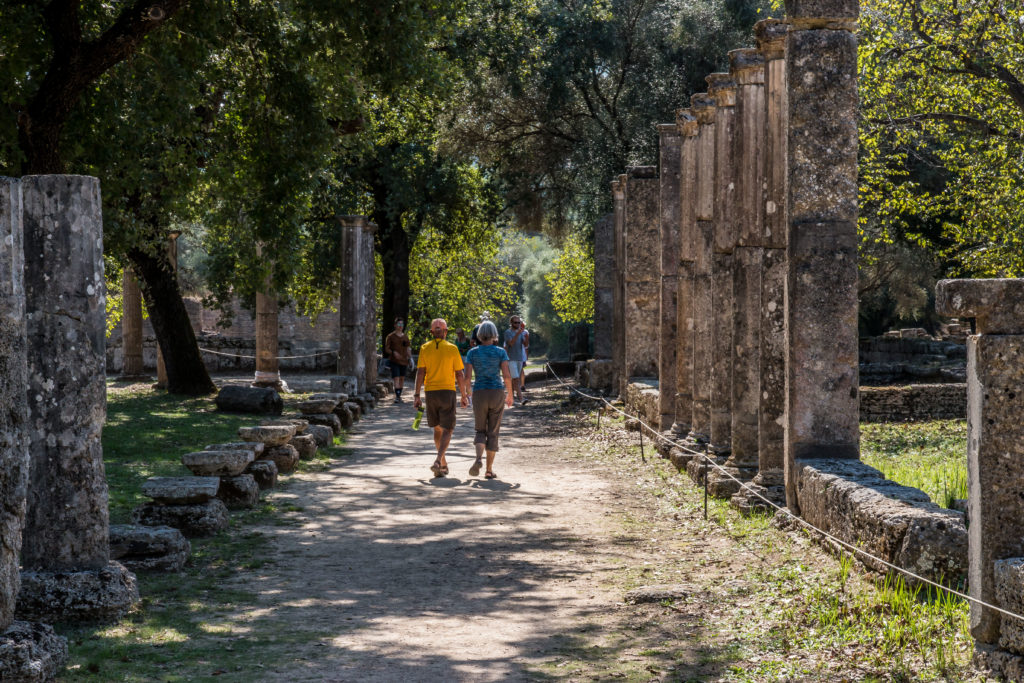 Katakolon (Olympia)
One of these is in Katakolon, and the place you go to is Olympia. It's about an hour or so from Katakolon. If you go on a cruise that's going to Katakolon make sure you go to Olympia.
Olympia is the site of the original Olympic Games and many of the buildings were built in the honour of the god Zeus, and it is a huge sprawling complex including the huge big stadium where many of the races were run. It's a fascinating complex and there are two museums nearby.
The one that I would really make sure you get to, which is not far from the entrance into Olympia, is the museum which tells you the whole history of Olympia. Make sure you go to Olympia it is absolutely magnificent. This is another popular stop on Greek Islands cruises.
Crete (Knossos)
Another great place to go if you are interested in culture and art is make sure that your cruise is stopping in Crete and ideally calling at the port of Heraklion. It's the closest to what's known as the Palace of Knossos.
The Palace of Knossos is again another big sprawling complex. Some of it has she been reconstructed and it ready was deserted at the end of the Bronze Age. It was the centre of the Minoans and it became very famous for a legend about the Minotaur which allegedly lived in the labyrinth underneath the Palace of Knossos.
But it's a beautiful place to visit, with history and story. It's not known why it was deserted when it was such a major structure, but it's felt that was probably there's lots of volcanic activity and also lots of battles which probably drove the people out.
So those are some really important historical sites if you're interested in that side of the Greek islands. My next two suggestions are round two really famous and iconic islands. The first of which is Santorini.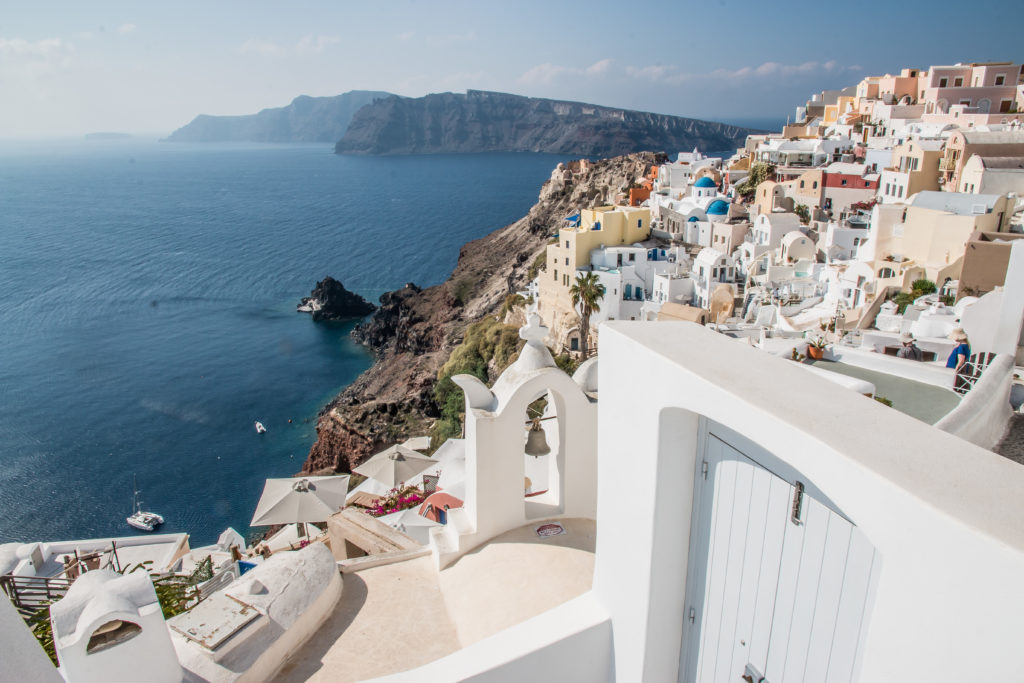 Santorini
Santorini is absolutely fascinating because it is created by a lot of volcanic activity, and so you have these massive 300-meter-high cliffs and perched across the top of them are the towns.
When you actually call into Santorini you are likely to be docked outside the main town which is known as Fira and you can then either walk up or get a donkey ride up or you can wait for the cable car and when lots of cruise ships are in it can be very busy. But I really recommend you head to the other town which is called Oia.
Oia is a much more beautiful town. The very easy way of doing that is when you get onto the dockside, you'll find a number of boats there which will do a shuttle service. So, they will take you from the dockside in Fira about a 15-minute drive to Oia, they'll have a bus which takes you up the hill into Oia.
This is where you're going to get those famous and classical scenes of Santorini. If you want the classic pictures of Santorini, this is the place to go.
From there they normally include a bus which will take you back to the town of Fira, which you can then explore, get the cable car down or walk down or get a donkey ride down. We actually walked down. It's about 800 something steps and it's not a bad walk down.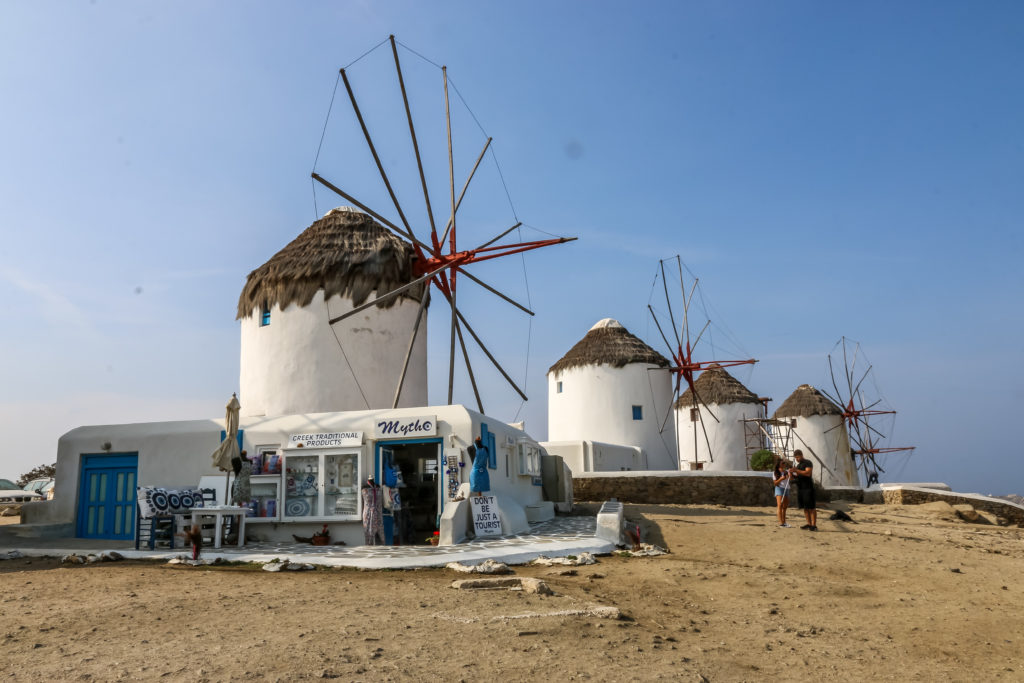 Mykonos
The second really famous and iconic island is that of Mykonos and Mykonos Town. One of the great things to do in Mykonos town is to stroll through the little winding streets. There's lots of complex little winding streets and it's full of little boutiques and shops and restaurants and bars and it really is quite magnificent.
Many people walk through the old town to head towards the windmills, which are the famous and iconic sight and picture that everyone wants to get.
Mykonos is really fascinating. In the 70s and 80s it was a really important and vibrant place and attracted lots of celebrities. It reportedly caught on because Onassis took Jackie there and they really loved it there and it also then became a big centre for gay culture and gay holidays. It sort of waned a little bit in the 90s and the early 2000s, but it's really come back and it's again a very vibrant and trendy place to go.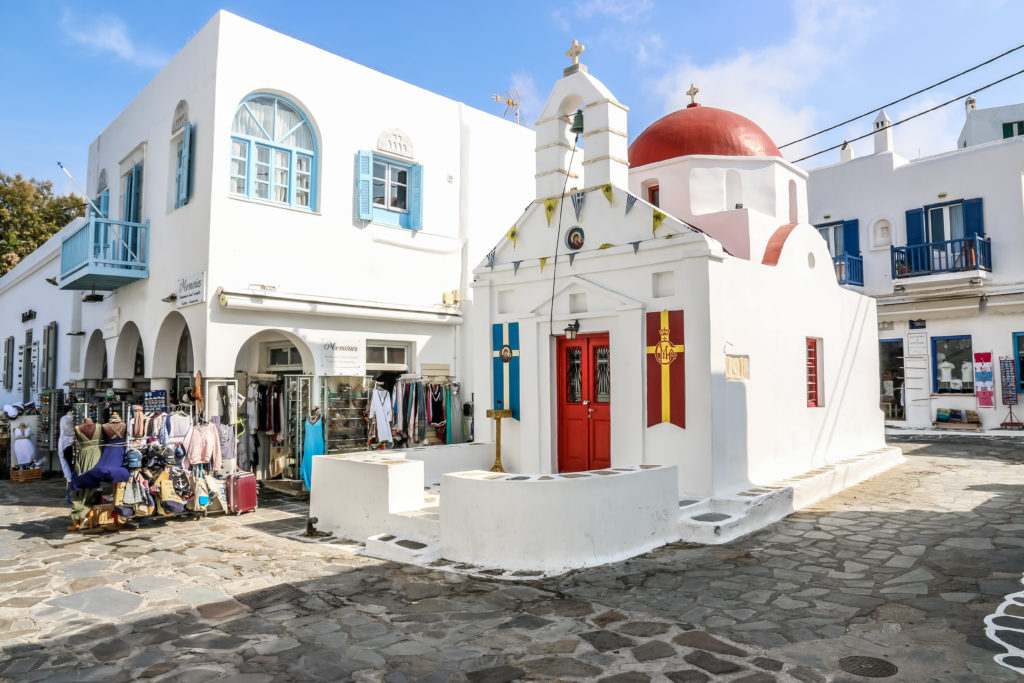 Santorini and Mykonos are great places to go but can be very busy if there's lots of cruise ships in. Now two slightly more unusual islands that I really loved, and I would recommend when you're looking at a cruise, try and make sure that these are included. The first of which is Patmos.
Patmos
Patmos is a quiet island and you normally tender in, and only the smaller ships come in and then you can head from Skala which is a town on the bottom and head up the hill to Hora. If you're really energetic you can walk although I recommend it's much better to get a taxi up there because it's really steep.
You can then go to the Monastery of St. John. Inside there they have some original scrolls from the Bible, but it's also really well known for the cave of St John further down the hill. Although a lot of people like to go there, many are disappointed when they go there. The cave is where John had the revelation and saw Jesus and he wrote the book of Revelations which is the last book in the New Testament. So, it's a very popular place to come for pilgrimages.
It's a very beautiful place and the town is very lovely. The island of Patmos is a great one to include.
Gythion
Another Greek island which is very fascinating is Gythion. Again, the smaller ships tend to cruise here. They normally will tender you in although sometimes one of the ships can dock. Gythion has a very beautiful town. They have lots of dockside and Harborside restaurants, fantastic bakeries and its really great place to hang out.
But the thing I recommend you do is head out to the Glyfada cave at Dira. It's about a 40-minute drive, so you may want to book an excursion through your cruise line. These caves are absolutely fascinating. They were only discovered in 1949 and are vast underground caves. You go a little boat trip, which will take about half an hour, winding its way through the caves. It's quite an enclosed space so if you're claustrophobic not the best thing to do! It is absolutely fascinating.
Corfu
Another great place to go to is Corfu. Corfu is much more of a land-based tourist island, but it's a great place to go. Get the hop-on hop-off bus and you can head out and explore the island particularly head away from the old town more towards the beach areas and some great places where you can go swimming. For example, we went swimming at the base of
the old fortress with magnificent views. Really quite something.
If you are going on an Eastern Mediterranean cruise which either end or start in Venice, you will also call on other ports along the Adriatic coast. The two most famous of which are Kotor Montenegro and Dubrovnik in Croatia.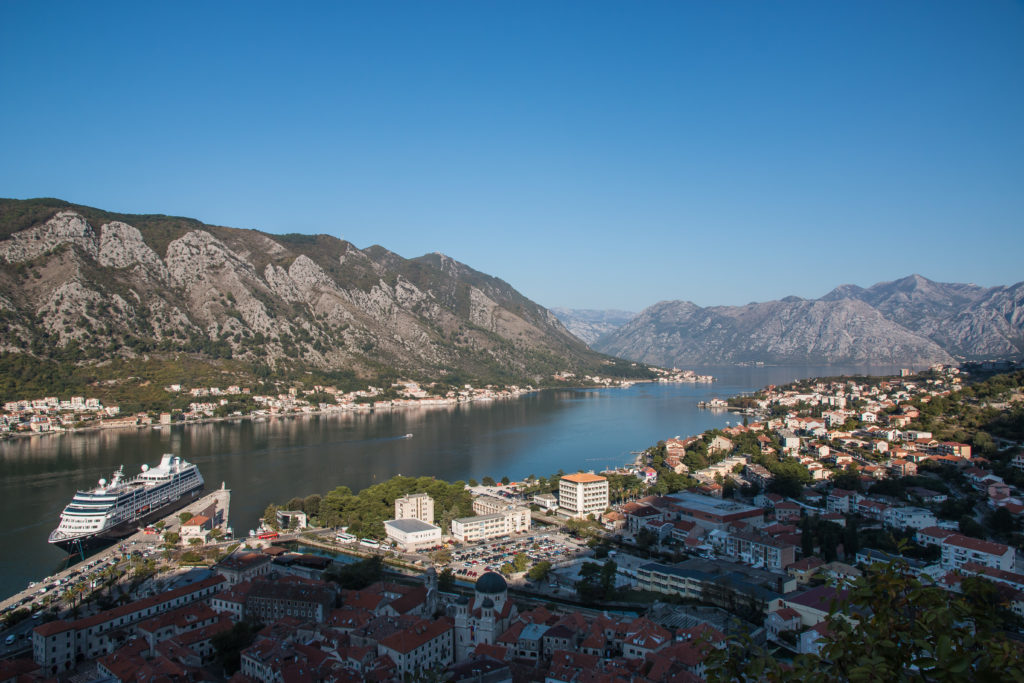 Kotor
Kotor is a magnificent and beautiful place to call on, so when you look at your itinerary, I really recommend you include one that has Kotor on. It's a bit like cruising into the Norwegian Fjords with beautiful mountains on either side of a beautiful bay. You sail quite a long way inland and the old town of Kotor is very charming. It's quite small. It's a walled city and very easy to stroll around. Lots of interesting shops but one of the things I recommend you do, if you've got a bit of energy and fitness, is to climb up the massive mountain behind Kotor.
It's over a thousand steps so it you need to be relatively fit to head up there, but the views are absolute magnificent looking back across the bay.
Dubrovnik
Dubrovnik is of course a very famous city and, in some ways, it's becoming almost over busy with tourists. Fans of Game of Thrones will know Dubrovnik from early parts of the series Dubrovnik was used for some of Game of Thrones. The old walled city is very beautiful, and you can walk right along the old walls. Really magnificent.
You can head up on the cable car and get great views of Dubrovnik. Spend time around the Old City and go on a walking tour and find out about all the different churches and the stories of Dubrovnik. Absolutely fascinating.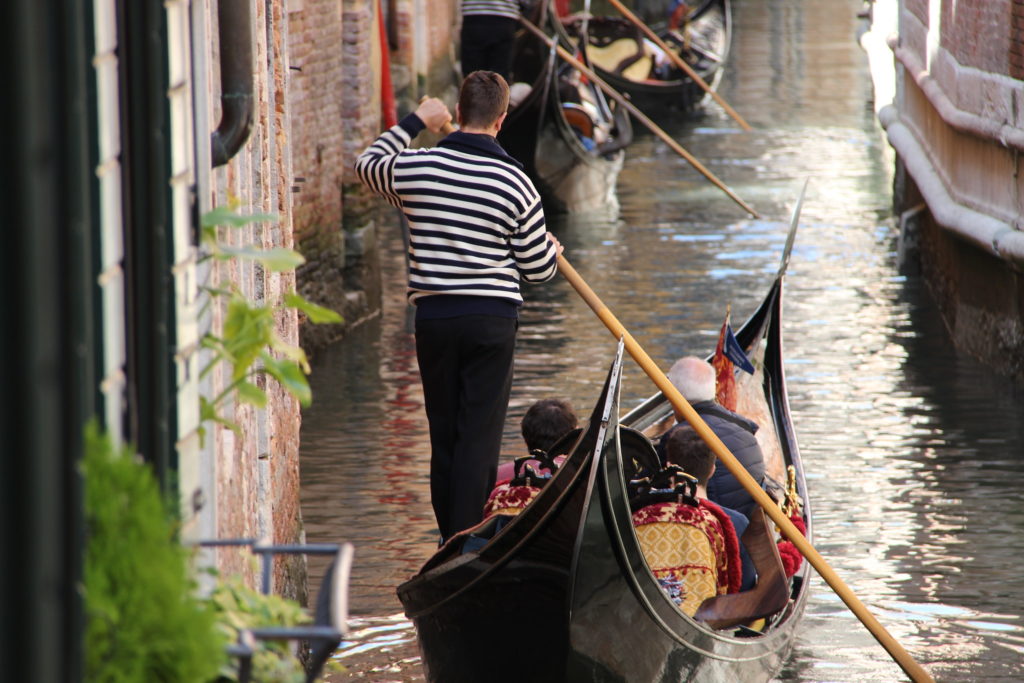 Venice
Of course, if you're starting or ending in Venice (although the ports now used are 2 hours away) make sure that you do spend time in Venice, and have whole videos dedicated to finding out things about Venice.
Overview
If you're heading on an Eastern Mediterranean cruise or a cruise that includes the Greek islands these are the things and places that I strongly recommend you consider when you look at an itinerary. Make sure that all of or many of these places are included.
A lot of the cruises will only call on the really big islands, so Mykonos and Santorini, and they will miss out some of the other islands which are much more fascinating, and you won't get the true Greek experience.
Whatever you do and wherever you go, enjoy your Greek Island holiday to the fullest.
ABOUT TIPS FOR TRAVELLERS
—————————————–
Gary Bembridge's Tips For Travellers aims to help you make more of your precious travel time and money on land and when cruising the oceans or rivers of the world. To help you, in every video I draw on my first-hand tips and advice from travelling every month for over 20 years and average of 10 cruises a year.
BECOME A TIPS FOR TRAVELLERS MEMBER
————————————————————
Sign-up as a Channel Member to get perks: https://www.tipsfortravellers.com/Join
Become a Patron on Patreon and get perks: https://www.patreon.com/tipsfortravellers
BUY MY CRUISE-THEMED T-SHIRTS
————————————————
Check out my T-Shirt range: http://bit.ly/TFTStore
FOLLOW ME ON SOCIAL MEDIA
——————————————-