60-Second Cruise Tips 031: Who is Seabourn best suited for?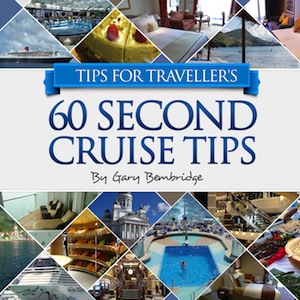 Gary Bembridge author of "The Cruise Traveler's Handbook" provides another 60-Second Cruise Tips. For more visit http://www.60secondcruisetips.com and https://www.tipsfortravellers.com/cruise-travelers-handbook. Subscribe to the podcast on iTunes, Stitcher Radio or TuneIn Radio
Seabourn is a small ship cruise line that is part of the Carnival Cruise Organization. It promises passengers an intimate and luxurious alternative to the large ships used by their other brands like Carnival, Princess and Costa.
Seabourn calls itself the "World's Best Small Ship Cruise Line" regularly winning industry accolades, including prestigious Conde Nast Magazine Awards. Travellers who enjoy staying in boutique and Five-Star Hotels should enjoy it, as they offer similar experiences and service.
The small ship size means they visit destinations that large cruise ships cannot. Like, cruising up the Thames into Central London and docking at small towns on the Greek Islands.
Passengers tend to be couples over 45, although honeymooners looking for that special vacation will be found on board. They do not have extensive child facilities, although in vacation times they bring resources on-board to entertain children.
It is a good choice for solo travellers both due to size, which makes it easier to meet and engage with people, and they make a point of welcoming them. For example, Senior Crew host tables in the dining room to ensure they will have people to eat with.