My 11 essential Holland America Tips and Tricks for Cruisers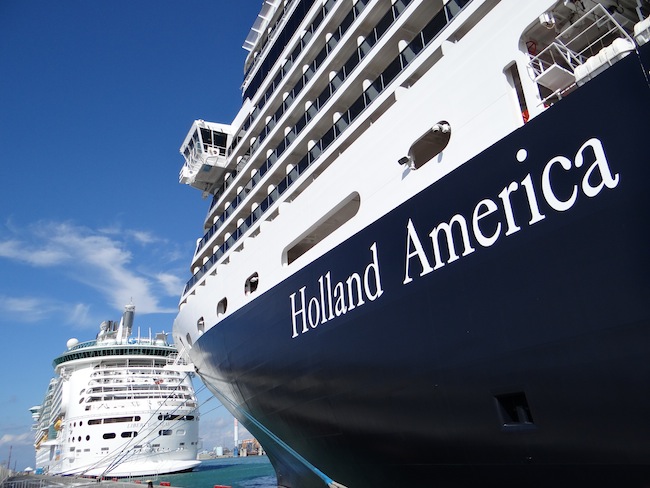 In this article I share my 11 essential Holland America tips and tricks for cruisers thinking of cruising with this line. They are based on my decade of cruising experiences and a Mediterranean cruise on Holland America Line's Nieuw Amsterdam. Drawing on both of these, I have put together 11 essential tips to help anyone considering cruising with the Holland America Line.
1: Ensure Holland America is the right cruise line for you.
My number one cruise tip is always to make sure you are going on the right cruise line. Lots of cruise lines can take you to the same or similar places, but the experience, accommodation, fellow passengers, activities and services provided will differ greatly. If you get it wrong you may have miserable time. If you get it right it will make your vacation magical.
In my view, Holland America is perfect for people who enjoy a sophisticated and refined environment. It is important to note the following when considering if they are the line for you:
Holland America is built on a heritage of 140 years of transporting passengers around the world. They try to retain some of the traditions of cruising into its on board offer. It provides an up-market experience. You will find a focus on food with fine dining and cooking demonstrations. You will find decor that is subdued and full of art and maritime artifacts.  You will find entertainment that focuses on the classical and classics, with most passengers preferring to sit around the piano in the piano bar singing popular tunes than disco dancing the night away. You will find talks about the history and culture of destinations. You will not find water slides, high energy on deck games and round-the-clock partying.
Despite the line's Dutch roots, most of the passengers will be American. Though most cruises can have up to 40 or 50 different nationalities on board. In the European summer season the British and the Commonwealth countries, like Australia and Canada, are well represented.
The language spoken on board is English in all announcements and publications, although they will cater for other language groups as needed. The entertainment caters for a North American and English speaking sensibility in my view.
For people new to cruising it is worth thinking of Holland America as an alternative to staying in a smart five star hotel.
2: Make sure you chose the right cruise itinerary.
The passenger profile changes based on the itinerary and this is worth bearing in mind when considering which cruise will be best for you. The following is worth noting:
Passenger profile tends to be in their early 60s as an average, with many couples or solo travellers in their 50s, 60s and up to 70s on board.
The average age reduces in school vacation time when more families come on board. You will find quite a few children and families on the ships in peak holiday periods.
The age profile also reduces in the Caribbean when younger couples looking for a calm and sophisticated break chose this line.
The age profile increases on the repositioning transatlantic crossings and on the long grand voyages. This is due to the time of the year that they happen in and the time required which means they best suits people with plenty of leisure time.
3: Make sure you sign up for their emails with offers and promotions.
Holland America emails provide regular updates on deals, promotions and offers. They are invaluable for finding the best cruise deals. Sign up for them on the website. They will often have offers targeted at different types of travellers, such as solo travellers or families, and so are really worth looking out for if you fall into these traveller types.
They are also very active in social media with an active cruise blog with news and reports from the ships and passengers as well as being on Twitter, Facebook, YouTube, Instagram and Pinterest.
4: Make sure you chose the right dining option and approach.
You can chose to either have fixed seating at one of the two set dining times in the main restaurant (on the Nieuw Amsterdam this was upstairs in the Manhattan Restaurant) or you can also chose to opt into the any time dining. This means no fixed table, and the flexibility on dining time each evening. I think the latter is better – as you can then chose when to dine based on how busy your day has been.
5: Make sure you get insider tips and all your answers and concerns answered by experienced Holland America cruisers before you book and before your cruise.
I strongly recommend that you follow the Holland America Line forum on CruiseCritic.com. There is a wealth of advice from past passengers who will answer every question you possibly have, and will give you advice. You should sign up for the Roll Call for your cruise and also for the "Meet & Greet" that will take place on board. In these roll calls passengers provide tips on getting good airline deals, arrange to share transfers, plan to go on the same excursions – and may even make plans to group together and self tour if there is someone with lots of knowledge of the destination being visited.
Also make sure you review my tips for travellers on cruising with Holland America!
6: Make sure you budget correctly to get the cruise experience you really want to have.
While your accommodation, meals and entertainment is included in your fare, you should also make sure you include in your budget allowances for things that may be important to creating the sort of cruise experience you will enjoy. These may include:
Speciality dining

. While meals in The Lido, main restaurant and room service are included in your fare, there are a number of restaurants on the ships offering special menus that require an additional charge. For example, on the Nieuw Amsterdam these included The Pinnacle Grill serving large steaks and The Tamarind serving Asian fusion.

Private pool cabanas

. On the Nieuw Amsterdam there are some located pool side, but also there is the Cabana Club which is a private space overlooking the pool. This private deck area serves breakfast, lunch and afternoon treats and you have seating areas and loungers.

Excursions

. If you want to go on escorted excursions in ports of call you need to budget for between about $50 and $150 per person for each excursion. Many ports will have free bus transfers into town, but not all. Check with your agent or Holland America when booking for your budget.

Transfers

to and from the ship before and after the cruise.

Entertainment

such as gambling.

Duty free shopping

on board, and in ports.

Spa treatments

.
I

nternet access

. As on all ships this is fairly costly. I had a package that cost around $100 for 250 minutes, although you can also buy smaller and larger packages.
When budgeting remember that gratuities will be added onto your bill on board automatically.
7: Review and Pre book as much as you can before you go on your cruise, including excursions, spa and speciality dining.
You are able to pre book many of your on board activities and excursions before your cruise. You should be able to book from about 90 days before the cruise and up to about 3 days before online. It is worth doing this to ensure you get your first choices and ensure you have what you want to do confirmed.
8: When packing make sure you bring the right clothes for the dress code on your cruise.
There are 2 main dress codes for the evenings. There will usually be around one formal night per seven nights (dark suits and tie or tuxedo for men and formal or cocktail dresses for women) and smart casual other nights (which does not mean jeans but does mean short sleeve polo style shirts for men and smart but informal dresses for women). Make sure you have clothes to cover these evenings in addition to your day vacation wear.
9: Get involved in and take part in the "On Location" activities on board during your cruise.
Holland America have introduced an "On Location" program to bring more of the ports of call and region experience onto the ship. Each day there will be a range of activities which can include local drinks and food events, talks about the destination, local entertainment and local goods to buy. They are advertised in the daily program. I went to some amazing events and parties with incredible food.
10: Attend and enjoy the free activities and services provided by Holland America on board partners.
The cruise line has a number of partnerships with experts and famous brands and they provide free activities and events. These include:
Digital Workshop with Windows
Explorations Cafe, Cyber cafe and library with New York Times. You can view the paper and website for free on the computers in the cyber cafe.
Culinary Arts Center with Food and Wine magazine, with regular free cooking demonstrations.
"Dancing with the Stars", in association with the popular TV dance competition there will be lessons on dances from the show and a competition that runs through most cruises to find the dance champions for each one.
11: Watch the on-board TV channel to get information, insights and tips about the cruise, the ship, special activities, promotions and the destinations.
Often overlooked, this is the channel on the in-room TV that runs a daily program presented by the Cruise Director featuring events and activities. They also run the talks and presentations by the "On Location" port experts and cruise sales team. I learnt so much by having the channel on every time I was in my cabin, getting up in the morning and getting ready for dinner. I highly recommend doing the same.
Have you cruised on Holland America? If so what other essential tips would you add to this list?
Find and book your Holland America Cruise
For a good deal and added benefits explore and book your Holland America cruise with Tips For Travellers cruise agent partner CruiseDirect.com
If you enjoyed this post:




Declaration
I travelled as a guest of Holland America Cruises on their MS Nieuw Amsterdam ship on a 7 Night Mediterranean Cruise from Barcelona visiting Naples, Palermo, Civitavecchia (Rome), Livorno (Florence/ Pisa), and Toulon. Holland America are a Premium Cruise line with Dutch origins dating back to 1873.