Genoa Italy. City of Rich Maritime, Cruising & Ship Building Heritage
Genoa, ships are maritime adventure are inextricably linked.
So, if you are a ship and transportation geek, like me, then you will find that Genoa is actually a fascinating treasure trove of maritime and cruise liner history. Something that I had not realised before I went there, as it is not something that the travel sites and travel journals talk about. So much to my excitement, as a fully qualified ship geek, the more I explored the city the more I discovered.
There is a deep richness in Genoa's link to ships, the sea and maritime history.
I think that more could be made of Genoa's strong connection to ships. It is not that obvious in any of the official promotional material and tours either. They tend to focus more on the culinary delights and the cultural side of Genoa, which was a European City of Culture in 2004.  And yet, there is an exciting, vibrant and romantic link to ocean going that still is alive today. Maybe I am too much of a transport and ship geek, but I think this side of Genoa is worth making much more of than they do.
Christopher Columbus, who discovered America, originated from Genoa. It was the centre of the Italian transatlantic service. Today, cruise ships are built in the city, and hundreds of cruise ships and yachts visit every year. It is where the head office of the Italian Costa Cruise line is based, and there is a large and important maritime museum where one of Italy's most famous submarines is retired at. This and more makes Genoa a great city for any ship buff to explore.
Here are the most exciting things about Genoa's maritime connections worth exploring:
Christopher Columbus.
He came from Genoa, though it was the Spanish Crown that funded his expedition that is attributed with "discovering America". It is argued that a he was not the first European to go to the Americas, and that the Norse explorer called Leif Ericson had got there before him. Columbus set sail in 1492 with 3 ships (Santa Maria, Pinta and Nina) sailing in the opposite direction to the accepted route, in order to find a new route to Asia. Most thought he would fall off the end of the Earth, as it was believed the world was flat. He always though he had found a new route to Asia, rather than a route to new continent.
Today there is a large statute of Columbus in the Piazza Acquaverde outside the railway station in Genoa. The Genoa airport is called the Christopher Columbus airport.
Italy's transatlantic services used to set sail from Genoa, and the fastest ship was built here.
Genoa was the key port for people travelling from Italy to New York. The hotel today known as Grand Hotel Savoia was where the rich, famous and important would stay before boarding their ships. It is still a glorious and old fashioned hotel that reeks of that era of glamour (as my review and photos show). You could stay there to relive that atmosphere, or at least visit for tea or a drink in the beautiful public rooms.
The most famous and most plush of all the Italian Transatlantic liners was built in Genoa. It was called the SS Rex. Launched in 1931, it was the fastest ship crossing the Atlantic Westbound between 1933 and 1935. It held what was known as the "Blue Riband" for that period, this was the unofficial award that all nations and liners competed for. It was seen as very prestigious to hold this award, as it means you were the fastest ship crossing the Atlantic. Speed was king in those days. The Rex could cross in just 4 days and 13 hours at a speed of 18.92 knots.
The ship was bombed by the RAF in 1944 during the second World War. It burned for about 4 hours and keeled over and sank in shallow waters. It stayed there until 1947 when it was finally broken up.
Major Fincantieri cruise shipbuilding yard in Genoa.
One of the largest shipbuilders in the world has a major shipyard in Genoa, located in the Sestri Levante area. This is also where the airport is, and you can usually see the shipyards as you fly in or out.
Since 1990, over 60 cruise ships have been built in Genoa. They are mostly for the massive cruise company Carnival, that has ships built here for many of their cruise brands including the Carnival, Princess and Costa Lines that they own. The ill-fated Costa Concordia that sunk off the coast of Italy was built here.
Costa Cruise Line head office is in Genoa.
Although it came to be known globally through the Costa Concordia accident in 2012, Costa Crociere has a history dating back to 1854. Originally it was a freight line, but became a passenger carrying cruise company as far back as 1947 when it started transporting people to South America. It became part of the massive Carnival empire in 2000. It still is one of the largest cruise operations in Europe with over 14 ships that travel all over the globe out of Italy, and also runs the Aida German and Ibero Spanish cruise operations.
Busy and popular port, with almost 300 cruise ships visiting Genoa every year.
Genoa is a busy port with almost 300 cruise ships visiting each year, along with many more passenger ferries and yachts arriving. It is reported that around 4,000 passenger carrying vessels arrive every year at the port.
Genoa is used by many cruise lines as an embarkation/ disembarkation port, and you will often see at least 2 cruise ships in port. MSC, for example, include it on most of their Mediterranean routes and have used the port to name and new ships, including the massive MSC Preziosa in 2013. The ships dock close to the city centre and it is easy to walk into the old town. Or to explore the old port area which has been revitalised with the opening of the modern Galata Museo De Mare (Maritime Museum), the huge Aquario Di Genova (Aquarium) with 71 tanks and 10,000 species and the strange looking Bigo, which is inspired by old port cranes and take you 40 metres up in a rotating lift to view the city and surrounding areas.
There is a vast expanse of mooring areas for yachts and boats that stretch from right within the old port, and even out to the airport. There are some very expensive and impressive looking boats and yachts moored here.
Major maritime museum, with a decommissioned submarine moored at it.
The modern looking Galata Museo De Mare opened 2004, and is very interesting and impressive. It tells the history of exploration at sea. Though by far the most interesting part is the Nazario Sauro S 518 submarine that was decommissioned in 2002. This is one of the Italian designed and built submarine class that was launched from 1976, this one was launched in 1980. It was built by Ficentieri, but at their Monfalcone shipyard not in Genoa. It is a massive 64 metres long, had a crew of 49 and could travel at 19 knots under water.
You can don a hard hat and tour the inside of the submarine with the help of an audio guide. You get to see the controls, crew and officers mess and pretty much all of the submarine. As you need to be able to clamber about, there is also a replica of the inside of the submarine within the museum for those that do not want to clamber through it. Impressive as it is, I still think that the French Redoutable Submarine that you can tour in Cherbourg is even more impressive
Buy tickets for the museum in advance and save here
Roman Polanksi's Pirate ship is moored here.
In the old harbour among all the massive private yachts moored there, there is also an absolutely massive and full sized replica of a pirate galleon ship. This was built and used for the 1986 Roman Polanksi film called "Pirati" (Pirates). The film, and ship, was made in Tunisia and starred Walter Matthau. It was shown at the Cannes Film Festival in 1986. It was a financial flop. The ship, though, is impressive and striking. It can be toured and is popular photo opportunity.
Genoa International Boat Show
For well over half a century, a major international boat show has been held in Genoa. It is a massive affair where they claim you can see and buy anything from a dinghy to a massive billionaire's luxury mega-yacht. It is usually held in October over 9 days and attracts a lot of monied and boat enthusiasts. It is one of the most famous and established of all the boat shows on the circuit, reflecting the history and heritage of Genoa and shipbuilding.
Summary
Genoa is not only a beautiful city, but has a rich and exciting maritime history and heritage. This alone is worth visiting the city for in my view.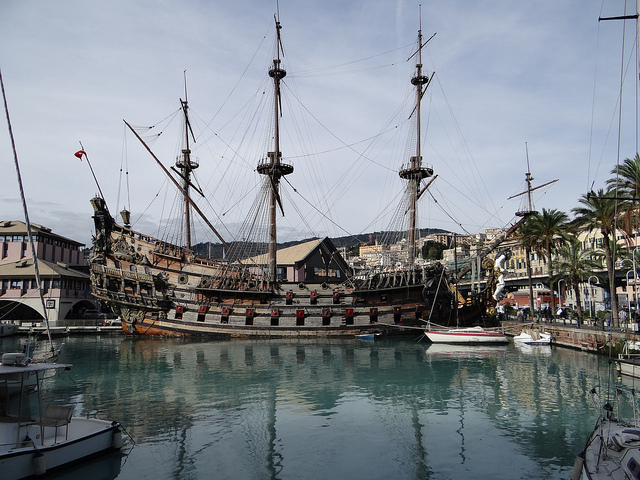 The Biga Elevator Ride in Genoa Harbour Italy
Be prepared and buy tour and entrance tickets for lots of Genoa attractions in advance
You can buy tickets for all the key attractions in Genoa before you go: click here
Read more that I have written about Genoa:
You can buy and download this article and city guide (along with others from Tips For Travellers) as a SmartPhone App with GPSmyCity