Why Girona Costa Brava Is Worth Travelling From Barcelona To Visit
If I had not gone to the Travel Blogger Conference TBEX, sponsored by the Costa Brava Tourist Board, I would never have thought of traveling to and visiting Girona nor the Costa Brava region.
I have been to the fabulous city of Barcelona, which is about 99km away, many times. The only place I had ventured to from there was to Sitges once. However, Girona is a real jewel of a destination and a perfect day trip from Barcelona, or a stop over before or after visiting that city.
It shows how astute the Costa Brava Tourist Board were in getting 350 travel bloggers to to this beautiful city. All of us are now writing and talking about this glorious city and region.
Ryanair think Girona is Barcelona.
If you are flying on Ryanair to Barcelona you fly to Girona. They call the route Girona Barcelona, even though the city is 99km away to the South. The airport and traffic has grown dramatically since Ryanair started to use it as a hub, and their flights are popular and packed. While Ryanair like to use the Girona Barcelona name, it is really known more formally as the Girona Costa Brava airport, and is the gateway to the region which spreads from here spanning from rocky interiors to the startlingly beautiful coastline.
Girona is proudly Catalan, and shows it.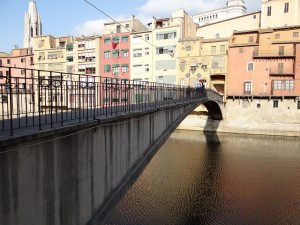 Girona is within the Catalan region of Spain. This is a rich province that provides a significant financial contribution to the Spanish government. People from the region often will tell you how they are funding a major part of the Spanish system, something that is of some contention while the country goes through a very tough economic period. Many in the region also desire independence. A bit like Scotland in the United Kingdom, a sizeable proportion of the population here would like the province to be a separate country.
No matter what the exact numbers are who support independence, it is very clear that the residents of Girona are proud of their city and their Catalan culture. The city is festooned with the bright yellow and red Catalan flag. Perhaps through a combination of this and the fact that most visitors are from the region and Spain, my impression was that it is less English language friendly than other parts of Spain. Even in the restaurants the English menu was more Catalan than English (which thanks to Google Translate meant I could still order with confidence). The waiters were less comfortable with english language ordering and questions. So a handy translation app and some intelligent guess work got me by just fine.
A history of sieges and occupation.
Girona is about 45 minutes drive inland from the sea, and is located where many rivers used to, and most still do, converge. It is not that far from the borders of France. It has always been a strategically positioned city and, as a result, been subjected to 25 sieges over its history! The most famous one was by the troops of Napoleon. Over 35000 of them surrounded Girona for 7 months until illness and lack of provisions meant the city had to surrender. The siege and the battle to take Girona is celebrated every September with mock battles on the hill and around the old city and cathedral. Dressed in uniform and firing blanks the event is loud and popular, and you can stroll among the residents dressed authentically as soldiers from both sides while the fake battles are underway.
You come away with a lasting impression of bridges.
My lasting impression of Girona is of bridges. There are 11 bridges along the main river in Girona. In the old part of town they are almost all pedestrian bridges of varied designs and styles. All are remarkable and pretty, and there is even one designed by Gustave Eiffel with his trademark metal grid look. This bridge was designed and built before he designed the Eiffel Tower. It is so distinctive of his style, the instant I saw it I thought of the Eiffel Tower – even though I had no idea he had designed a bridge in the town.
The old town along the river is charming and beautiful. There are colourful buildings that cling to and overhang the river banks. Behind them are narrow and stone cobbled streets with beautiful shops and places to sit out and have a coffee or a drink. It has a distinctive and unique feel to it. It is unlike other cities I have visited. It feels one of a kind.The new part of town is not attractive though. It is more standard city buildings and layout that many cities and towns have.
Public socialising outdoors is a way of life.
The old city is really stunning and is all pedestrianised and so fantastic for strolling about and exploring. There are many bars and tapas restaurants. People sit outside and eat as the weather is good, and the whole culture of the city is about strolling about, socialising and hanging out it seems. There are a number of places that are focal points for public socialising in the old city area. Two of them that were great were the very large square that was by the river between the Eiffel Bridge and bridge across to the Cathedral, and then the other around the cathedral itself.
It seemed to be a very young city in terms of population, there are some big universities in the city. But generally there were a lot of young people out and about, which gave the city a youthful and vibrant atmosphere.
There is a huge and very modern conference and cultural centre in Girona where the conference was held. The theatres were large, wooden panelled and with great acoustics and used for theatre and concerts.
My tips for travellers visiting Girona
Getting there
It is easy to get to Girona from Barcelona by train. It takes around an hour. This makes it an easy day trip. The walk from the station to the old town is about 10 to 15 minutes.
Many people will fly in by RyanAir. The airport is only about 10km from the city centre, and costs about 20 euros in a taxi. It really is worth spending some time in Girona before or after your flight and seeing the beautiful old town. It is a great addition to seeing Barcelona.
You can also driving there on a very good road motorway network.
What to see
The main thing to see is the old town, and just stroll around and explore and enjoy the beauty and distinctiveness of the city. If walking is an issue there is a bus train type thing that can take you through part of it, but walking is best as the train/ bus thing cannot access much of the most interesting areas.
1.    Old Town, River and Bridges: I have already mentioned that you should focus on the old town and see the many bridges, including the one by Eiffel. It is a lovely walk down along the river from the town centre down to the cathedral. You get to explore the stone cobbled roads and shops. Walk there on one side of the river, cross the bridge to the cathedral and then walk back on the other side.
2.    Cathedral. This dates back to the 11th century. It is an impressive and stunning Romanesque style building. All around it are winding roads and places to stroll.
3.    City Walls. You can from the cathedral stroll around and on the old town walls. Unfortunately much was torn down over the centuries as the city expanded. Some reconstruction has been done.
Girona is a real surprise.
I knew nothing about Girona before I went, and would never have considered it unless I was going to the conference. It is a beautiful and unique city that I would recommend that you try and visit if you are going to Barcelona. The whole Costa Brava region that surrounds and spreads out from Girona is quite spectacular too, and so explore the options more too!
See all the photos I took of Girona in my Flickr Album
You can buy and download this article and city guide (along with others from Tips For Travellers) as a SmartPhone App with GPSmyCity