Eastern Mediterranean And Greek Islands Cruise Tips And Watch Outs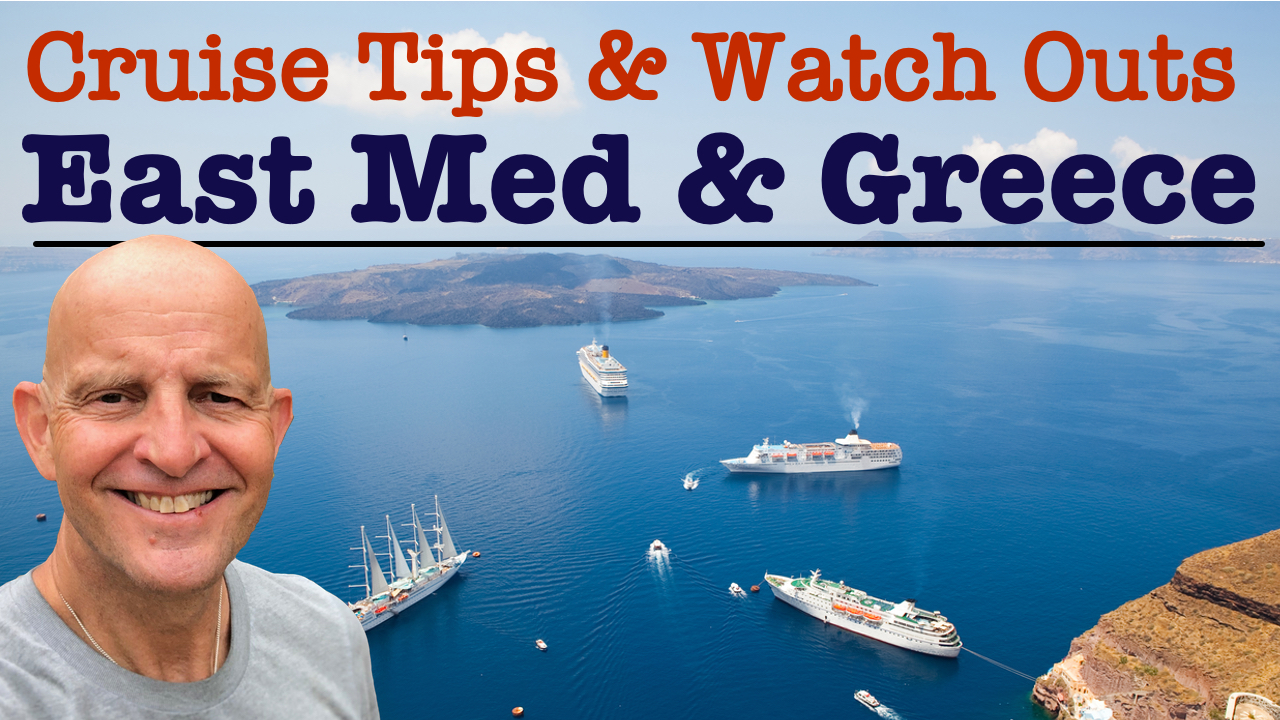 In this article you're going to learn about cruising Greece and the Greek islands, and I'm going to share with you 9 tips to make the most of any cruise vacation around this magnificent part of the world.
Watch My Video Of Tips
Watch the video on YouTube: https://youtu.be/tJApVe8gtQI
Why should you go?
First, why on earth should you actually go? It has something for pretty much everybody. The islands are beautiful, and all of the islands have unique characters, stories and landscape. Secondly, they have magnificent beaches and some islands have the best beaches in the world. So, if you're a beach lover you're going to love cruising the Greek islands. Thirdly, if you're a history buff like me you're going to love Greece. It's the cradle of civilization.
Both on the mainland stops and, on the islands, you're going to come across many magnificent historical and archaeological sites. Fourthly. if you're into shopping there's remarkable amounts of local produce, like olive oil and different foods, that you can buy and also there's a great range of crafts.
When is the best time to go?
The season really runs from May to late October. July and August are the most popular times and the islands and Greece can be absolutely packed, and also it can be very hot with temperatures up to the late 30s Celsius (over a hundred degrees Fahrenheit).
In my view the best times to go are in June and September or into early October. It's before and after the real madness of the season, but everything's open and the weather's is great.
What is the best itinerary?
There are three broad types of itineraries.
The first of these is the eastern Mediterranean. Many of them start in either Venice or Athens and they cruise down to Greece or from Greece, stopping at places along the Adriatic like Dubrovnik and Kotor in Montenegro. They also include, of course, a number of stops at some mainland parts of Greece and on a number of the islands. They do tend to focus on the bigger and more popular islands.
The second cruise you can choose is a Greek island only cruise. These tend to be operated by Greek owned cruise lines with smaller ships, and they will just go around a number of islands.
The third type of cruise, which used to be very big but are less big now because of lots of the issues with Turkey, but they used to be combined Greece and Turkey cruises. Many of these would then include a couple of stops at the Greek islands and go to some of the key sites in Turkey, and some of the cruises would then go on to places like Israel. However, there's fewer cruise lines that do this itinerary now because of many of the issues, certainly at the time of writing, with Turkey.
Personally, I really like the eastern Mediterranean or the Adriatic cruise because you get great chance to see some of the parts of the Adriatic, like Montenegro and Serbia, but you also get to spend time in the Greek islands – and of course you see the two iconic cities of Venice, which is magnificent, and Athens which is another magnificent city.
What are the best places to go?
Many of the cruises will focus on the big islands, so Mykonos, Santorini and perhaps Crete. Look at itineraries and cruises that include the following as these are for me the must-see places to go:
Santorini is a real must on an itinerary. The area of Santorini was created by massive volcanic activity so it's a big caldera and you have big 300-meter high cliffs with the town's perched on top of the cliffs.
Secondly, you want to go to Mykonos. It was very trendy and hip in the 70s and 80s, after a period of decline it's really back in vogue.
Also, very important are visiting places with huge historical significance. Obviously, Athens, so make sure if you're embarking or disembarking your cruise in Athens that you do spend time there and go visit the Acropolis, which is on a big outcrop overlooking the city, and also make sure you go and visit the new Acropolis Museum.
Make sure that you are going to Katakolon on your cruise and head out to Olympia, which is the site where the original Olympic Games were held, and still has a link to the Olympic games of today because the flame is created here for each of the Olympic Games.
I recommend that you ensure that Crete is on your itinerary and you head out to the incredible Palace of Knossos. This was the centre of the Minoan culture and of course is famous for the Minotaur which allegedly lived underneath it in the labyrinth, which was a half-man half-beast.
Another key island to go and visit is Patmos. It's a very beautiful island and not many cruises go there. You have the Monastery of Saint John and you have the famous cave where Jesus appeared to John and encouraged him to write the Book of Revelations, which is the last book in the New Testament.
Another great island which I recommend you look for on an itinerary is called Gythion. This is a very small island and it has a beautiful little town and you should head out to the Glyfada caves and go on a boat trip, which lasts about half an hour, weaving your way through this magnificent complex.
Another island which a lot of cruises will call on is Corfu. Corfu is great more if you want to go and have a beach type of scene.
So, those are my tips around the places and islands to look for. Make sure that you don't just go to the obvious islands and the trip does include some of those more unusual places.
What cruise line should you use?
Look at the itinerary and places you want to go to first and then decide the cruise line.
The good news is that pretty much every major Cruise Line visits Greece either for the whole season or part of the season. So, probably any cruise line that you want to cruise with is probably going to go to Greece and the Greek islands at some point during the year.
First of all, you could choose to go on one of the major cruise lines which operate bigger ships. You'll find they all go there so whether it's Princess, Holland America, Celebrity, Royal Caribbean or Norwegian. All those cruise lines will include Greece at some point during the year, so if you like to go on a ship with lots of facilities then definitely do that. However, bear in mind you can be on a ship with lots of people and some of these islands are quite small and can get really packed and really busy with the big ships in.
Secondly, which is my personal preference, is to go on a smaller ship Cruise Line. For example, on my most recent cruise around the Greek islands was with Azamara Club Cruises, but I've also done it with Windstar Cruises. Go on cruise lines which have much smaller ships. The advantage of those is they're much more likely to go to some of those smaller and out-of-the-way places, because they have a much smaller ships.
The third thing you can do if you wanted a real Greek experience is to go with one of the Greek cruise lines. For example, Celestyal cruises which does lots of Greece and Turkey cruises, and there's another cruise line called Variety which use much smaller ships and they'll do much more going around just the Greek islands.
What about excursions?
The next step is around what to do once you get to the islands. The simplest thing to do, of course, is to do excursions with your cruise line. The advantage of that is that cruise lines always guarantee if their own excursions are delayed the ship will wait for you.
The second thing you can do is go through independent providers which will offer very similar tours, often for a lower cost.
The other thing, which I like to do, is self-touring. You'll find many Cruise Lines will offer lots of resources. For example, on the Azamara cruise they gave us talks, they gave us port guides and also someone from the tourist board would come on board the ship when it docked and provide maps and other advice.
Most of the islands that you call on will have either a hop-on hop-off bus tour, which will normally leave from the port, or some of them will also have for example in Santorini there was a boat service and that will shuttle you to other parts of the island.
Also, when you get off the ship, at all of the islands you'll find taxis or providers ready to provide independent touring.
What things to watch out for?
My next tip is around things to watch out for and be aware of. Four things I really want to draw to your attention.
First of all, bear in mind it can get really hot. So, if you're going in the peak times of July and August it will get very hot and sticky, so make sure that you come prepared for that – make sure you've got sunscreen, hats and lots of water.
The second thing is be ready for crowds in the peak season. It's manically busy, and even in the off-season places can be very busy. One of things I recommend you do is if you want to go to the big famous sites, like Olympia, Acropolis or Palace of Knossos, is try and plan your day to get there really early so you miss the of peak around midday time.
The third thing is be ready to use tenders. Many of the ships will have to dock not on land but moor out in the harbour and use tender boats. Very likely have a lot of tendering, so one of the advantages again of booking a cruise line excursion is often they'll give you priority on the tenders.
The fourth thing to bear in mind is, of course, you're in Greece and Greek is going to be spoken everywhere – but you'll find all of the destinations you go to in the islands they are used to speaking English.
What should you pack?
Obviously, you need Euros, Sun Hat and other items to be ready for the heat. You also
need to make sure that you've taken into account the dress code of your particular cruise Line. Two other really important things are:
The archaeological sites that you visit have uneven and rough surfaces, so make sure that you've got the right sort of footwear. Good comfortable solid footwear.
If you are planning to go to some of the religious sites like into some of the churches, they are going to be Greek Orthodox and fairly conservative, so you have to make sure the things like your shoulders and knees are covered.
What is the best way to book?
There's three key ways you can do it.
The first which is by far the simplest and easiest, is to buy a package. For example, on my cruise, I went with a company called Titan Travel and they did a package which included some pre-stay at the lakes in Italy, a transfer to Venice and they met us at the end of the cruise to do some touring around Athens. They also included a door-to-door service, so they picked me up at home took me to the airport and once we got back from our trip, we were then had a transfer back home.
The second thing you could do if you want a more tailored package is obviously talk to a cruise agent, and they could then put together a package which may include some pre and post days.
The third of course is you can just go directly to the cruise lines and just book the cruise. Certainly, the simplest easiest way is buying a package.
Final Thoughts
Cruising Greece and the Greek islands is magnificent. There's lots of different ways that you can cruise it. I personally really like the Adriatic combination where you start in Venice or Athens, because it gives you a chance to see the Greek islands plus some of those magnificent places like a Kotor and Dubrovnik.
I also like going in a smaller ship as it makes sure this gets me to lots of those iconic and really important places, and not just the big regular places. You'll find you have a much more varied cruising experience.
There are lots of things to do whether you are a beach lover, history lover, somebody who likes shopping.
You're going to find lots of things to do, and it really is magnificent.
I hope you found that helpful and if you did, I'd love it if you watched my tips for travellers' videos to help you make much more of your travel time and money.