Las Vegas Travel Tips. Including Hotels. Shows. Weather. Attractions.
Here are my Tips for Travellers visiting Las Vegas.The best Las Vegas Hotels, Las Vegas Shows and Attractions. Best time to visit based on the weather in Las Vegas which can be boiling hot in August and very chilly in December. Also a brief history of the city and history and observations and thoughts on this great city.
1. THE BEST TIME TO VISIT
It is easy to think of Las Vegas as being permanently hot as it is right in the middle of the Mojave Desert, but this is not the case. It does get very hot indeed in the summer months of July and August with maximums of around 40 degrees Celsius, but in the middle of winter and around Christmas time it is much colder with temperatures at night below freezing (around -2 Celsius) up to about 16 degrees Celsius.
It is very hot indeed in the summer months and can even be too oppressive to walk far in the daytime and so, unless you like the heat, you should stay away and try and visit more in the Spring and Autumn months where the weather is more moderate to warm and still not too cool in the evenings. In summer the pools are even warm both from the sun but the many people trying to cool off. Though of course the coolest places to be are the chilled casinos and shopping malls. I have to say one thing that is amazing to see are the monstrous air conditioning units – well they are more like air condition sub-stations it seems – that sit behind all the big resorts, malls and conference centers!
You can check the temperatures on the very good BBC holiday destinations weather page for Las Vegas by clicking here


But there is a more important consideration, in my view, about the best time to visit than the time of the year to visit since you can regulate your exposure to the heat by venturing out more at night anyway or taking advantage of all that air-conditioning. This one is that, unless you absolutely have to, is to avoid being in Las Vegas on the weekends and be there on weekdays. This is for a few key reasons:
Rooms are dramatically cheaper weekdays than weekends. Prices soar especially on Friday and Saturday nights when the hoards of weekenders converge in their droves. As a result rooms, even though there is something like 75000 of them, can be hard to get on weekends. It is usual practice in Las Vegas to pay a different rate every night you stay in a hotel based on how many people are there. It is the most dramatic example I have ever come across of variable hotel pricing based on supply and demand. I guess they use a system like the airlines, which assess prices and constantly adjust them. On this trip I was there for 6 nights at the Bellagio, and our Friday night rate was close to double some of the rates for earlier in the week. Sunday was our cheapest night as I suspect that this was a day when the weekend pleasure trippers had left and before the conference crowd started to arrive on the Monday.
Related to this, we also noticed that the table minimums for games like Blackjack seemed to be higher on the weekend than during the week. I am not 100% sure that this is the norm but we did notice it on this trip
The hotels, casinos, pools and streets are not only much more crowded on the weekend but also much more rowdy and full of drunk, over boisterous people that makes having fun a bit less easy and comfortable. Although it is mostly good natured high-jinks you do feel a bit less relaxed and comfortable – something we especially noticed that groups of women felt. The casinos especially are just much less fun on the weekends for the casual gambler.
One watch out about going on weekdays is that most of the shows are "dark" (i.e. not on) at the beginning of the week as they run twice a day over the weekend and so if you want to see shows check out before you book your trip when they are on.


2. LENGTH OF STAY
Most people, in my view, stay for too short an amount of time in Las Vegas. So many people that I have met seem to think that 2 or 3 days in the city is enough. I really don't think it is as you never get a chance to do more than just flirt with what the city has to offer – and you risk never getting past just the brashness of the place.
The last 2 visits that I have been there were 6 nights and this gives you a chance to both relax as well as get to see shows and really start to take a chance to get out of the city.
There are 5 main things to do when visiting Las Vegas and you need time to do them. These are:
The mega-resorts as "destinations" in themselves

Going to shows and entertainment like concerts, extravaganzas

Getting out of the city into the Grand Canyon or Hoover Dam and Lake Mead

Gambling

Visiting the "old centre" of Las Vegas gambling where the Fremont Experience now runs in the evenings. This is a massive covered walkway with quite remarkable effects.
3. STAY ON "THE STRIP"
There are probably 4 main areas to stay in Las Vegas: "The Strip", "Off the Strip", "Glitter Gulch" and "Suburbs". The strip is where I would recommend people stay.
"The Strip" which is

Las Vegas Boulevard is where the "new" Las Vegas is. On the strip are all the mega-resorts and themed hotels and I think is really the area that captures what Vegas is about today. On the top of the strip towards the airport is where the younger, professional and more couples seem to stay. Lower down the strip towards the huge Stratosphere Tower & Hotel seems to be where more families stay. This is partly as the hotels like Circus-Circus have more family features and also they are more reasonably priced. This part of the strip also still has some "tackiness" to the area with loud trinket and souvenir shops and small style shops but seems safe despite some strange looking characters hanging about.

"Off the strip" has a mix of hotels that seem to attract a much older crowd, like the old Hilton. This may be because they have been in Las Vegas for a long time and so are familiar but may also be the fact that being off the always busy "Strip" they offer a less frantic place to stay. This may be why Las Vegas Hilton timeshares are also very popular for those who enjoy returning year after year. There are also, though, a number of "off the strip" hotels that are popular with celebrities, like Hard Rock and Rio, and this maybe as they attract less of a gawping crazy tourist type!

Glitter Gultch" is around the
Fremont Street 
area. This was the original heart of Las Vegas with many properties that have been there for a very long time. This area was pretty much driven into a dire state when all the mega-resorts opened and many people never venture there now despite the huge investment in this stunning covered pedestrian walkway down
Fremont Street 
that does light and sound shows. It is well worth seeing but the area, in my view, feels run down and unsafe and the casinos seem dated and attract a crowd that feel a bit frayed around the edges.
"The suburbs". On the outskirts of Las Vegas and even out at the Las Vegas Lake where the rich of Vegas live there are many other casino hotels to stay. Friends of mine who know people in Las Vegas often chose to stay there, but it seems you really need to know people in the city to be able to choose the best ones.
4. TOUR THE "MEGA-RESORTS" AND SEE THE FREEBIES

All of the huge mega-resorts are themed and have built in various free spectacles or features to try and lure the crowds in. There is such a formula to how they work to try and get people to have them on their "must see" list – and they are all designed to get you there on the hope that you will spend your gambling dollars there as that is where all the money to be made is.

Saying that they are worth planning to take a visit to. This is an advantage of staying for a few days, as you can then swing by to see one or two of them each day – using them as an escape from the too hot middle of the day when you start to fry if you stay by the pool at your hotel. Saying that some of the best free features are to be seen at nighttime and so plan around those.

The best mega-resorts to ensure you visit are the following:
The Luxor with its impressively huge Sphinx head and needle and pyramid shaped main hotel building. At night a beam shines from the top that is supposed to be visible from outer space should you ever find yourself in space and want to locate the hotel. Inside it is a veritable Egyptian overload with quite stunning replicas and the dizzy spectacle of looking up inside the atrium where a few jumbo jets could be stacked in theory.
The Venetian
. Although there are some paying attractions like Madam Tussard's wax works of mostly celebrities and Guggenheim Museum, the main attractions are the replica St Marks square and Venetian canals that run from outside through to the shopping mall inside where the gondola drivers burst into song once inside much to their passengers embarrassment and the shoppers delight.
Bellagio. This was the first of the (even) more up market mega-resorts and still advertises itself as "above all others". There is a man made 8.5 acre lake out the front that has the most staggeringly amazing fountain and music shows. These run every hour from until and then every 15 minutes until . They thunder over 30 stories high at some points and are not to be missed.

Four Seasons. This is a real favourite of mine. The Four Seasons is situated on the top four floors of the Mandalay Bay Hotel and has no casino, and a great pool.
The latest trend and development in Las Vegas is the huge City Center complex. A collection of modern hotels like the Oriental Mandarin, Aria and Vdara along with a large shopping complex of designer shops. This complex is a modern, cosmopolitan major global city style development that is targeted at a younger professional crowd that Las Vegas seems to be trying to attract. Visitors with a more discerning and modern style than the themed hotels.
The "best of the rest" includes the original mega-resort of Mirage with its volcano that goes off regularly at night that is very clever, and the Siegfried & Roy Secret garden with big cats and dolphins. The best shopping mall is at Caesar's Palace by a long way, while the newest resort The Wynn is on most people's list from a curiosity point of view. The New York and the MGM are ok but not a lot that really sets them apart.
This is at the lower end of the Strip and is one of the top 10 tallest structures in the world. On the top you not only get to have coffee at the highest Starbucks in the world but also ride on 4 of the scariest rides ever that test your ability to ensure heights. Even standing in the observation tower is scary let alone going on the rides. I have a full blog posting on this quite scary tower and its rides that is worth checking out. I do wonder if the rides are just too scary to make them any money!
6: SEE AT LEAST ONE MAJOR SHOW: 

There are so many shows in Las Vegas with every hotel having at least one show they hope will draw in the crowds. But there are a few really "big ones" and you need to try and see at least one of these.

If you are one of the big gamblers and on the casino's hot list you can ignore this next tip as they will find you any tickets you want, but if you are a more humble traveler then you should know that most shows put their tickets on sale exactly 3 months before the date. Therefore if you are going in more than 3 months time diarise to buy tickets on the 90th day before you go. I have found Ticketmaster.com as the best central place to buy as many of the hotel sites will only accept US address credit cards online. Some allow you to print off the tickets in advance and others you collect at the theatre.

The Circ Du Soleil dominates Las Vegas with shows on almost everywhere. My tip for the best is "O" (the water based one at Bellagio), and the new Beatles music one at Mirage is hot. I think the best show of its type is LeReve at Wynn which is similar to "O" and has had mixed success and is being revamped. There are also the headliner acts of Celine Dion, who alternates with Elton John, and Barry Manilow at the Hilton.

You should also try and see one of the big magician shows in the city of which there are many. It is a pity that Siegfried & Roy are no longer able to perform as there was dazzlingly amazing. But there are many similar types.

Men, beware of the people on the street promising you topless and nude dancing. No matter how drink you are and how good an idea it sounds, you will be ripped off as they are way outside of town and the cab and drinks will cost you more than you can possibly imagine.


GET OUT OF TOWN
So many people stay in the city and do not get out. There are at least 3 really fantastic days out that should be on your agenda.
The first is a trip to the Grand Canyon. You can get there by small plane and then helicopter that takes you down into it – or all the way on helicopter. The latter is the best and one of the most breathtakingly stunning trips. You zoom over the desert landscape while the pilot tells you some history and then you listen to music. You settle right down in the canyon and have a bite to eat and head back. It is not cheap and can cost up to $300 each, but there are often deals and offers. But money well spent
The next is to get out to Hoover Dam. This beautiful dam wall built in the 1930s is stylish as well as impressive and a short 30 miles from the city centre. The tour right down into the dam wall and the turbines is a must. The architecture is all art deco and quite awe-inspiring
Related to this is to spend time at and on Lake Mead. This is the lake created by the dam. It is cool and refreshing to swim in and you can hire jet skis or boats and zoom about this beautiful lake. You can even zoom up to the dam wall which is really fun to do. I hired a jet ski and found it a great experience storming across the lake and stopping in small coves for a cooling off dip. The boat harbor is called Las Vegas Boat Harbor and off a well marked turning before the Hoover Dam.


GET YOUR GAMBLING CARDS AND FREE DRINKS
All of the hotels and hotel chains offer you free membership of their club. They give you a card that you put in the machines or hand to the croupier and it adds up points. It is worth trying to stick to one chain of hotels for your gambling as it can mean free food, tickets and the like. One trick is to get duplicate cards if you are not big gamblers and use the same person's card to rack up points faster. But make sure you don't leave it in the machine which almost everyone does. Also remember that while you are gambling drinks are free and order from the hostesses passing by. We did not realize this and were going to the bar and buying drinks when they could have all been free!


MY LAS VEGAS OBSERVATIONS, HISTORY AND BACKGROUND
People, especially Americans, seem to be genuinely amazed when I told them that I was going to Las Vegas for 6 nights. Amazed because they said there was not enough to do – and the "full on" nature of the city would be too much to bear for more than 2 or maybe 3 days.
To view all my zillions of photos: click here
I have now been to Las Vegas 6 times and still feel that I have not even begun to do anything other than skim everything that this quite unique place has to offer. It changes so constantly, in fact it is changing so fast you can almost feel and see it happening right in front of you!
It is not difficult to see why some people could easily be put off by Las Vegas, and why they would want to limit their exposure to it by no more than a fast, fleeting whisk through. It is a loud, brash, frivolous and hectic city, which is not helped by the fact that the tourist activity is so tightly concentrated around 2 relatively small streets (Las Vegas Boulevard and Fremont Street). And yet the actual city itself is vast and sprawling as you can see when flying in. But, as far as the visitor is concerned, everything happens within these 2 small areas and so the millions of people that visit each year for vacation, boozy stag and hen weekends or one of the many conferences that take place here remain herded into blocks of bright lights, loud noises and temptations to blow their money.
It felt like not a very high percentage of people visiting hired a car, which perpetuates the concentration, and this is exacerbated by the fact that most of the resorts offer everything you may need to entertain, feed or buy. If you are there for just 2 or 3 nights there will be so much to do in such a small radius of where you are sleeping you will barely need to explore very much else.
How did Las Vegas Happen?
Sometimes instead of flying in I have driven into Las Vegas and as you come over the hill and look down into the valley where the city is, I start to wonder how this crazy place had developed and why it was here sitting several hundred miles from Los Angeles and then Salt Lake City way on the other side. It seems just so far from anywhere and is really in the middle of a very arid and rather uninhabitable looking desert.

I looked up the official governing body website and found a very dry and neat timeline of key events, but even the most oblivious visitor still knows that the history and story of Las Vegas is far from dry and ordinary – full of decadence, dodgy and suspect characters, dirty dealing, crime, corruption with a good dose of lust thrown in for good measure – lust for lots of sex, money and gambling.

What Happens In Vegas, Stays In Vegas
The official slogan used to promote the city is "What happens in Vegas, stays in Vegas" which seems to reflect the kind of appeal that created the city as we know it today, and has made it the fastest growing major city in North America (and I assume one of the fastest growing major cities in the world).
Started As An Oasis In The Desert
Las Vegas, like most cities in the world, was originally created and inhabited for 2 main reasons: water and transportation. The area was important to the original Indian population due to its natural springs which meant that not only was it an oasis but an important stop when traversing the desert. The many pathways that were used to cross the desert passed through the area. Once the European settlers discovered what the Indians knew about the springs in the area (the name Las Vegas means springs in Spanish apparently) it became an important stop on the route from Los Angeles to the Mormon settlements in Salt Lake City. It developed into a key stagecoach stop and then eventually a railway stop. Once the gold rush started the brothels and gambling dens thrived.
Gambling Was Banned In Las Vegas – For 3 Weeks…
So entrenched did these pursuits become that when in the 1900s gambling was banned by law that only lasted 3 weeks when the authorities relented and agreed it could be legal with the taxes funding education – and today still some 45% of tax from gambling is allocated to education.

Hoover Dam Drove Next Boom
The next major wave of growth came with the building of the Hoover Dam in the 1930s when the thousands of men living in nearby Boulder City took advantage of the pleasures of Las Vegas with gusto. In fact, so much so that the area barely noticed that the rest of the USA (and world) was suffering from the "Great Depression".


The Mob Made Las Vegas
The New York "Mob" is generally then attributed with providing the next surge of growth for Las Vegas as they muscled in and reinvented the offer to people visiting the city. It is Vegas legend that the renowned gangster Bugsy Siegel convinced his New York mob contacts to muscle in and take over the building of the "Flamingo" as the guy building it ran out of money. The vision the guy had was to build a resort much like still survives in Vegas where there was good accommodation, entertainment and other leisure activities like swimming and (of course) gambling. Bugsy was shot in the end by the mob at the home of his actress girl friend in Beverley Hills, as they believed he was skimming money off the building. The mobs seemed to then pretty much rule Vegas until changes were made in the licensing of casinos and who could hold the gaming licenses.


Howard Hughes Arrived, Bought It Up
In the 1970s the famous recluse Howard Hughes jetted into town and barracked himself in the top floor of the Desert sands and with all his influence and money seemed to take over from where the mob left off and created another wave of growth until he left some years later. He was so powerful in the city that you would find when watching a movie on TV it may suddenly stop, rewind a way and start playing again. That meant that Howard Hughes had missed some of the film and called them to go back.

The Steve Wynn Effect
The city then grew steadily with no major dramatic changes until Atlantic City got into the gambling business and Las Vegas entrepreneurs led by Steve Wynn decided the city needed to find a new angle and the era of the "mega-resort" began starting with the massive Mirage and soon followed by Bellagio, Paris, New York, Venetian and even the demolishing of Cesar's Palace to replace it with a mega-version. This boom is still fuelling the growth, as it seems that every time another 2000 plus hotel gets added more people come. It is till hard to get a room in Las Vegas at busy times!

Boom and Bust of 2000s

There was a massive boom during the easy money days before the financial crash. Old hotels were demolished and massive new ones started, but the crash came along and the money dried up and many now languish half completed all around Las Vegas. Residential property also expanded significantly as people were attracted there for the construction work and also the flow of money into the city. The crash came, the building stopped and jobs disappeared creating  a massive property crash and many houses being repossessed. Prices at hotels were slashed to attract visitors.
Young, slick and professional
This is the crowd that Las Vegas is now trying to draw in and attract with the modern complexes like City Center, and the pool parties with headline DJs and drinking.


There are 3 cities that I have visited over the last few years that change each and every time I go back. Las Vegas is one and the others are Shanghai and Dubai. This makes them exciting places to visit as you always face a mix of the familiar and the new.
The city seems to be attracting a younger crowd, and the place was buzzing with 20 and 30 "something's", young professionals who seemed to be attracted by and staying at the newer and flashier resorts. I know Las Vegas has become a popular place for stag and hen weekends, attracting parties from afar as the UK but that was only part of it. I noted the explosion in new nightclubs and that every resort had a trendy club and bar targeting the younger crowd.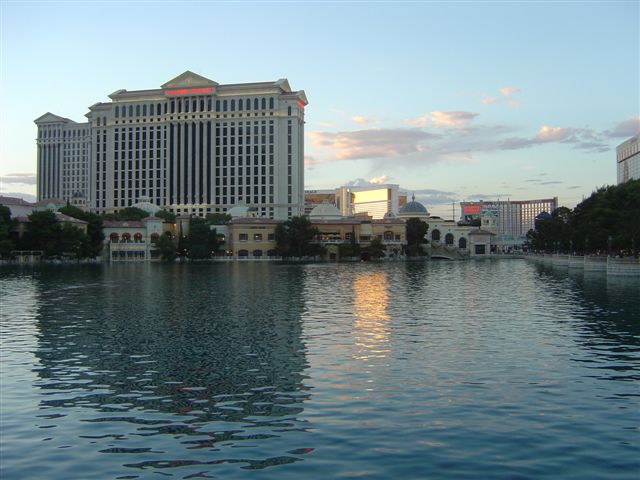 Cesars Palace
Despite All The Money Flowing Through Las Vegas It Lurches From Crisis To Crisis
There always seems to be a crisis in Las Vegas. The high stakes and high returns, and the constant changing offer means that hotels and businesses come into favour and fade. Every time I have been there it seems that things are going bankrupt or some major drama going on.
Even the monorail that runs along the strip has had its share of problems.
The monorail that runs from MGM down to the Sahara,  was funded with private money but struggles to make money. The monorail has had mixed success as first it  had technical problems on and off but also it runs parallel to "The Strip" and you have to struggle through large busy casinos and long passageway. At times it feels like you have walked longer to get from "the Strip" to the monorail station than if you had just walked down the road. It is probably handy of you are staying in one of the hotels with a station and at a conference at the massive conference centre. They are talking about extending it to the airport but it would be quite an ordeal having to haul luggage to the front desk!


Need For More Innovation
There is time for change in the entertainment offering in Las Vegas and I am sure we will start to see that coming. The Circ du Soleil group have a show on at what seems like very single major resort with a few opening, and then Dragone who used to be with them is behind some other shows like the Celine Dion and Wynn's le Reve. TA number of the major Broadway shows have tried Vegas runs and many of those have closed, and some of the Circ shows have failed like the Elvis one. It feels like something new is needed – and time the big players took a risk on the next big thing. It may be the headliner resident shows like Celine Dion, Elton John and Barry Manilow is the way, as these seem to be jam-packed.
All hotels now do the big pool parties and they all seem to copy each other.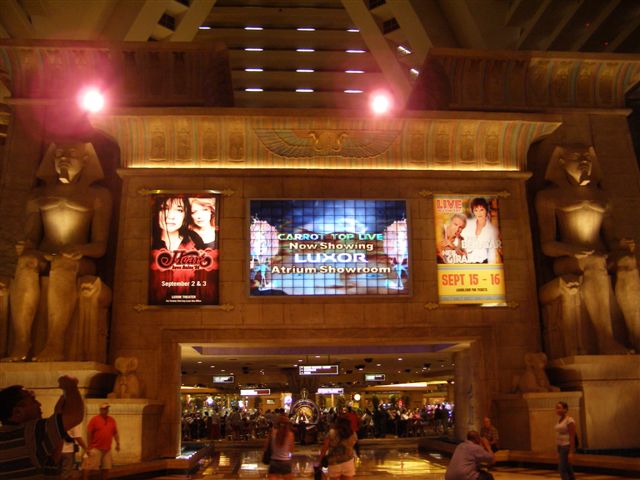 Luxor


GET A HOTEL DEAL IN LAS VEGAS NOW: